September 6 Peace Love Art Activism
US Labor History
Avondale Mine disaster
September 6, 1869: one of the worst disasters in the history of U.S. anthracite mining occurred at the Avondale Mine, near Scranton, Pa., when a fire originating from a furnace at the bottom of a 237-foot shaft roared up the shaft, killing 110 miners. (see Dec 28)
National textile strike of 1934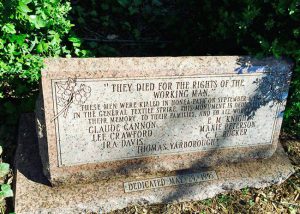 September 6, 1934: strikebreakers and special deputies opened fire on the 300 textile workers picketing the Chiquola Mill in Honea Path, South Carolina, killing six people and wounding dozens of others; a seventh man died the next day from his wounds. The national textile strike of 1934 saw nearly half a million textile workers from New England, the Mid Atlantic, and the South walk off the job to demand better wages and working conditions. (see Sept 12)
September 6 Peace Love Art Activism
Anarchism in the US
September 6, 1901: Leon Czolgosz, a Polish citizen associated with the Anarchist movement  shot President William McKinley twice in the stomach while McKinley was attending the Pan-American Exposition in Buffalo, New York. McKinley had been greeting the public in a receiving line. Czolgosz later confessed to the crime, signing a statement saying that the last public speaker he had heard was Emma Goldman, but added she had never told him to kill the president. (Biography article) (see Sept 10, 1901)
September 6 Peace Love Art Activism
Cultural Milestone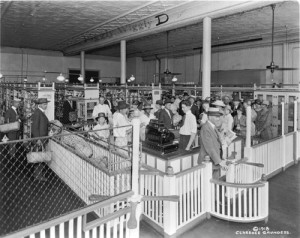 September 6, 1916: Clarence Saunders opened the first self-service grocery store, Piggly Wiggly, in Memphis, Tenn. [Piggly Wiggly site] (see October 28, 1919)
September 6 Peace Love Art Activism
BLACK HISTORY
12 Prisoners suffocated
September 6, 1913: twelve Black men held at a prison farm in Richmond, Texas, were placed in an underground cell as punishment for not picking cotton fast enough. Eight of those men died of asphyxiation. The cell was nine feet long, seven feet wide, and seven feet high, and temperatures outside neared 100 degrees Fahrenheit. The only ventilation in the cell came from four small holes connected to pipes in the ceiling that were "just large enough to admit a quarter." The next day, inspectors found that one of the holes had been plugged. [EJI story] (next BH, see March 31, 1914)
Emmett Till
September 6, 1955: Emmett Till was buried at Burr Oak Cemetery. The same day, a grand jury in Mississippi indicted Milam and Bryant for the kidnapping and murder of Emmett Till. They both plead innocent. They will be held in jail until the start of the trial.  (see Emmett Till)
Mississippi Southern College
September 6, 1965: after previous failed attempts, Clyde Kennard, Raylawn Young Branch, and Elaine Armstrong became the first African-American students enrolled at Mississippi Southern College (now University of Southern Mississippi). Branch had served as Forrest County NAACP secretary and as an active member of SNCC, CORE and SCLC. [more on Clyde Kennard] (see Sept 8)
Atlanta revolt
September 6, 1966: 4 days of rioting in Atlanta, GA. Authorities blamed without evidence SNCC and its leader Stockley Carmichael. (BH, see Sept 12; RR, see June 2, 1967)
Equal Justice Initiative
September 6, 2010: in September 2010, lawyers at the Equal Justice Initiative (EJI), a nonprofit civil rights law firm in Montgomery, Alabama, mailed a copy of Slavery by Another Name to client Mark Melvin, then incarcerated at Kilby Correctional Facility. Written by award-winning journalist Douglas Blackmon, the Pulitzer Prize-winning book documents the little known history of convict leasing in Alabama in the late 19th and early 20th centuries. As the book's title suggests, the exploitative and inhumane convict leasing system strongly resembled slavery. Under the pretext of criminal punishment, African Americans arrested on frivolous charges were sold to plantations, turpentine farms, mining companies, and railroads and forced to work in perilous conditions to pay off "debt" accumulated from unjust court costs and fines.
Deciding that the book's title was "too provocative," Kilby prison officials prohibited Mark Melvin from receiving Slavery by Another Name when it arrived in the mail. When Melvin used the internal grievance process to appeal the book's banning, prison officials defended their decision and insisted the book was properly banned under a rule prohibiting material that incites "violence based on race, religion, sex, creed, or nationality, or disobedience toward law enforcement officials or correctional staff." Alabama prison officials had previously limited prisoners' access to portrayals of Southern racial history; in the early 2000s, wardens in some Alabama prisons prohibited prisoners from watching a re-broadcast of the Roots miniseries.
In September 2011, represented by EJI lawyers, Mark Melvin sued the Alabama Department of Corrections to be able to read Slavery By Another Name. The civil litigation was settled in February 2013, when state officials finally agreed to allow prisoners to read the book.  [EJI site] (see Nov 15)
BLACK & SHOT
September 6, 2018: Dallas police officer Amber Guyger fatally shot Botham Shem Jean, a neighbor inside his apartment. Police said that Guyger claimed that she mistook his apartment for her own and believed he was an intruder.
After completing her shift, Guyger, still in her uniform, went to her apartment building across the street from the Dallas Police Department's headquarters, but she  did not go to her own unit and instead tried to enter the residence of Jean.
She then shot him, the authorities said. (B & S and BSJ, see Sept 9)
September 6 Peace Love Art Activism
Women's Health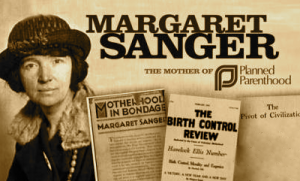 September 6, 1966: Margaret Sanger, the most famous advocate of birth control in American history, died on this day at age 86. She opened the first birth control clinic in the US, on October 16, 1916, and was arrested for doing so a week later, along with her sister. She rejected a plea bargain and served one month in jail. Sanger's career as a birth control advocate was filled with many dramatic events in addition to her arrest and jailing. Her magazine, Woman Rebel, was banned from the mails.  After her release from jail in 1917, she produced a short film, Birth Control, which had one private showing on May 16, 1917, after which it was banned. No print is known to survive. She was prevented from speaking on a number of occasions. Sanger's organization, the American Birth Control League, evolved into today's Planned Parenthood Federation. (NYT obit) (next WH, see April 6, 1967; Sanger, see July 21, 2020)
September 6 Peace Love Art Activism
INDEPENDENCE DAY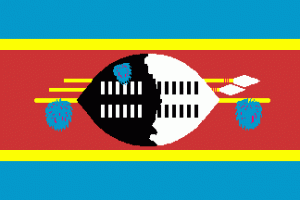 September 6, 1968: Swaziland independent from United Kingdom. [2018 Guardian article on name change] (see IDs for full list of 1960s Independence days)
September 6 Peace Love Art Activism
September 6 Music et al
Midwest Pop
September 6, 1969: First Annual Midwest Mini-Pop Festival, (Cleveland Zoo) (see Midwest for more))
Jimi Hendrix
September 6, 1970: Hendrix played at the Love and Peace Festival on the Isle of Fehmarn in Germany. He was supposed to play the day before but couldn't because of bad weather. The festival was not very successful financially and many of the scheduled bands didn't perform. Hendrix decided to stick around. He had been paid in advance. There were only about 10,000 people that saw him perform. They did not realize that they were watching history being made. It was the last concert Jimi would ever play. (see JH for more)
September 6 Peace Love Art Activism
Technological Milestone
September 6, 1978: US scientists announced the production of human-type insulin by a strain of E. coli bacteria, that had been genetically engineered after months of creative use of gene-splicing techniques. The work was a joint effort by research teams in California at the biochemical firm, Genentech Inc, San Francisco and the City of Hope National Medical Center, Los Angeles. A normal body's production of insulin takes place within cells of the pancreas, programmed by certain genes (segments of DNA). The scientists synthesized copies of these genes and inserted them into a weakened lab strain of the intestinal microbe Escherichia coli. In 1982, insulin was the first recombinant DNA drug to be marketed, Humulin by Eli Lilly & Co [Gene dot com article] (see July 2, 1979)
September 6 Peace Love Art Activism
Cannabis
September 6, 1988: Administrative law judge Francis Young was asked by the Drug Enforcement Administration in 1988 to comment on the merits of rescheduling marijuana in response to NORML's 1972 petition. Young suggested that marijuana be rescheduled from schedule I to schedule II for nausea associated with cancer chemotherapy. He also concluded that the evidence was insufficient to warrant the use of crude marijuana for glaucoma or pain. (next Cannabis, see December 30, 1989 or see CCC for expanded chronology)
September 6 Peace Love Art Activism
LGBTQ
September 6, 2005: the California legislature became the first state legislature to pass a freedom to marry bill. The landmark bill was vetoed soon after passage by Governor Arnold Schwarzenegger. Two years later, the legislature again passed a marriage bill, and again, it was vetoed by Gov. Schwarzenegger.  [Washington Post article] (California, see May 15, 2008; LGBTQ, see Oct 1, 2005)
September 6 Peace Love Art Activism
Terry Jones
September 6, 2010:  an Afghan imam in Kabul convened a demonstration in which protesters burn an effigy of Jones and chant "Death to America." (see Sept 7)
September 6 Peace Love Art Activism
Stop and Frisk Policy
September 6, 2011: a day after being stopped and detained by the NYPD, City Councilman Jumaane Williams and others urge for reforms to the stop-and-frisk policy. (see Oct 19)
September 6 Peace Love Art Activism
Environmental Issues
Arctic National Wildlife Refuge
September 6, 2023: the Biden administration announced that it would prohibit drilling in 13 million acres of pristine wilderness in the National Petroleum Reserve in Alaska and cancel all drilling leases in the Arctic National Wildlife Refuge.
The new regulations would ensure what the administration called "maximum protections" for nearly half of the petroleum reserve but would not stop the enormous $8 billion Willow oil drilling project in the same vicinity, which President Biden approved this year. [NYT article]
Hottest Summer on Record
September 6, 2023: according to data from the European Union's Copernicus Climate Change Service, 2023's June to August was the planet's warmest such period since records began in 1940,.
The global average temperature for the summer was 16.77 degrees Celsius (62.19 Fahrenheit), according to Copernicus, which was 0.66 degrees Celsius above the 1990 to 2020 average – beating the previous record, set in August 2019, by nearly 0.3 degrees Celsius.
Typically these records, which track the average air temperature across the entire world, were broken by hundredths of a degree. [CNN article] (next EI, see )
September 6 Peace Love Art Activism