Bullfrog 3 Festival 1969
August 22, 23, and 24
Pelletier Farm, St Helens, Oregon
1969 festival #34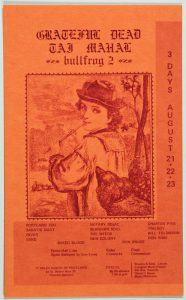 Bullfrog 3 Festival 1969
The Bullfrog 2 Festival
It is not a typo that this blog piece is about "The Bullfrog 3 Festival" and the poster pictured above refers to "The Bullfrog 2 Festival."
#3 was actually the impromptu festival that happened when, facing local opposition, the Bullfrog 2 Festival fell apart a few days before its scheduled August 21 start.
It is important to keep in mind the often angry and hatefully divisive opposition there was toward young people who wanted to get together and listen to what had come to be called "underground music." The residents of Wallkill, NY had successfully evicted Woodstock Ventures from their original site, forcing the festival to unexpectely find another venue.
Luckily for 400,000 + people, Max Yasgur said "Yes."
While festivals of this time did sometimes have some people who threw off their clothes, some who used illegal drugs, some who sold illegal drugs, and some whose view of the Establishment was simply anti-Establishment, most young people were simply working part-time for the summer, working full-time since high school, home on military leave, or about to be drafted.
Bullfrog 3 Festival 1969
No chaperones!
Scott Laird wrote of the days before: According to original articles published in The Sentinel-Mist Chronicle newspaper in the week prior, Bullfrog II was booked by Walsh and Moquin Productions at the Columbia County Fairgrounds in St. Helens and was scheduled to include national acts Taj Mahal and the Grateful Dead along with local performers "Portland Zoo," "Sabatic Goat," "The Weeds," "New Colony," and several others.  The plan called for twenty-four hour a day entertainment for two days.   Advertising for the concert also called for "petite mall lites, space balloons, rides and fireworks." Tickets were $6 in advance, $7 at the gate.
The day before the scheduled start of the event, Circuit Judge Glen Heiber ruled that the facilities at the fairgrounds were not adequate for overnight camping and sanitation and adequate traffic control was not available. He had agreed with Columbia County District Attorney Lou L. Williams who contested the original contract and stated a fear of  "…narcotics, intercourse in the open, and parking on private property, as well as a severe traffic congestion problem."
Williams had also contended that "…sanitation, parking, and the lack of sufficient law enforcement personnel to cope with a large influx of people, estimated to be about 6,000."
And no chaperoning arrangements!
Bullfrog 3 Festival 1969
Bullfrog 2 Festival
On Wednesday 20 August, the day of the cancellation and the day before the festival's scheduled start, some young fans  gathered in front of the St Helens's Courthouse. Local people gawked at the peaceful assembly.
On Thursday 21 August 21 the group grew and that afternoon, the Portland Zoo, a local band on the festival schedule, performed. All remained relaxed. Gawking continued. Business owners enjoyed the extra commerce the crowds brought. Fans cleaned up.
Bullfrog 3 Festival 1969
Mrs. Melvina Pelletier
Again from Scott Laird: Around 9:00 PM on [that] Thursday evening Mrs. Melvina Pelletier of St. Helens offered her property in the Happy Hollow area of Yankton for the festival. Details of the newly created Bullfrog III were  worked out on Friday. Original promoters Walsh and Moquin had already pulled out of the event, and Bob Wehe of Faucet International Promotions took over as promoter, agreeing to provide sanitation and security.
Bullfrog 3 Festival 1969
August 22 – 24, 1969
The truncated festival finally got underway on Friday night and continued until Sunday morning.
Cars crowded the roads, but many reported that local residents were among the jam trying to see these drugged kids with long hair, shoe-less, bra-less, or even (heaven forbid!) topless.
And chaperone-less, of course.
Fortunately for the festival, the Dead headlined and fortunately for us, the set is available on a soundboard recording (SBD) or a matrix if you prefer a little more audience in the mix. And this wasn't their first concert since their August 16th Woodstock performance. They'd already played in Seattle on August 20 and would play in on August 24…but where? Was it the Vancouver Pop Festival or in San Francisco?
There isn't much more available about the actual music at Mrs Pelletier's place, but we should thank her. A west coast Max Yasgur.
Bullfrog 3 Festival 1969
Cheryl Viuhkola Pelletier
In 2020, a Cheryl Viuhkola Pelletier commented (see below) on this post. I asked her if she had any other memories. This was her response:
Since I ended up marrying Melvina's son, Al Pelletier, I do have a first hand, eyewitness account of the festival.  I'm also writing about it and enjoy the research you provided.  So, far, your account sounds pretty accurate .  I do have some tid- bits from Al and myself as I attended with a good friend.  The traffic on Yankton Road was backed up for miles and miles ( very narrow two-lane twisty country road), and the cops were making it worse.  So, we left our cars parked where we were and started walking.  The police were trying to stop us from entering the farm, when I see this good-looking , dark-haired guy riding a white horse, shouting out to one and all, "Follow me.  I know a shortcut".  Of course he did.  He could walk those acres in his sleep I was to learn later.   Those were the days…
Thank you, Cheryl.
Bullfrog 3 Festival 1969
Bullfrog 3 Festival 1969
Next 1969 festival: Vancouver Pop Festival