September 25 Peace Love Art Activism
Technological Milestone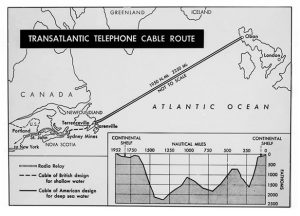 September 25, 1956: the first trans-Atlantic telephone cable went into service. [Atlantic Cable article] (see August 3, 1958)
September 25 Peace Love Art Activism
BLACK HISTORY
School Desegregation
September 25, 1957: in a dramatic and unprecedented move, President Dwight Eisenhower sent federal troops to Little Rock, Arkansas, to ensure the racial integration of Central High School. The Little Rock crisis was one of the most dramatic events in the history of the civil rights movement.
Arkansas Governor Orval Faubus and local authorities had resisted integration in the face of a court order to implement the Supreme Court's Brown v. Board of Education decision on May 17, 1954. Mobs had prevented the enrollment of nine African-American students (the "Little Rock Nine") on September 23, as local authorities failed to maintain public order. Central High School was successfully integrated on this day because of the federal troops.
In 1958, however, local officials resisted another court order, and that issue resulted in a landmark Supreme Court decision asserting the authority of the federal courts to enforce lawful court orders, Cooper v. Aaron, on September 12, 1958. Nonetheless, the Little Rock school board (which was not directly affected by the court decision) voted to close the schools rather than integrate, and the 1958–1959 academic year is known as the "lost year." The schools opened the following year. (BH & SD, see Oct 5; Central High School, see February 9, 1960)
Herbert Lee murdered
September 25, 1961: E.H. Hurst – a local white state legislator – shot and killed Herbert Lee in front of several eyewitnesses. Mr. Lee was a member of the Amite County, Mississippi, NAACP and worked with Bob Moses of the Student Nonviolent Coordinating Committee (SNCC) on a voter registration drive. Louis Allen, a black man who witnessed the murder, was initially coerced into saying that Hurst killed Herbert Lee in self defense; he later recanted and said Hurst had actually shot Lee for registering black voters.
Louis Allen spoke with the FBI about Lee's murder, but told federal authorities that he would need protection if he were to agree to cooperate in their investigation. The FBI refused to provide protection, and Allen did not testify against Hurst. However, news spread in the local community that Allen had spoken with federal investigators.
Beginning in 1962, Mr. Allen was targeted for harassment and violence: local whites cut off business to his logging company; he was jailed on false charges; and on one occasion, Sheriff Daniel Jones broke Allen's jaw with a flashlight. The son of a high ranking local Klansman, Sheriff Jones was suspected to also be a member of the Ku Klux Klan. Louis Allen filed complaints and testified before a federal grand jury regarding the abuse he suffered at the hands of Sheriff Jones, but his claims were dismissed. [Black Past article] (BH, see May 5, 1962; Lee, see January 31, 1964)
St. Matthew's Baptist Church burned down
September 25, 1962: a pre-dawn fire at St. Matthew's Baptist Church destroyed the building. It was the fifth black church to burn in the past month. (BH, see Sept 25;  see Albany for expanded story)
James H Meredith
September 25, 1962: Mississippi Governor Ross R Barnett's responded with two proclamations.
To sheriffs and law enforcement officers:  They were "authorized and directed to proceed to do all things necessary that the peace and security of the people of the State of Mississippi are fully protected."
The second, directed at Meredith stated in part that "in order to prevent violence and a breach of the peace…do hereby and finally deny you admission to the University of Mississippi." (see September 26, 1962)
Johnnie May Chappell
September 25, 1964:  soon after obtaining the confessions (see Aug 11), detectives Cody and Coleman were ordered to stop their investigation. Afterwards, Cody was not sure anything else was done to develop the case, but on this date a grand jury indicted all four men on the evidence in the murder of Johnnie May Chappell.
J.W. Rich was the first to go on trial. He says now that the prosecution didn't have anything on him. It's true that the case may have looked slim to a jury. The .22-caliber gun that Cody and Coleman recovered was never introduced at trial (it later disappeared from the evidence room). Cody himself wasn't called to testify. The other men's statements weren't submitted in court. The bullet taken from Chappell's body was introduced in a plain white envelope, not an evidence bag showing the date it had been recovered and from where. Perhaps unwilling to press for a first-degree murder charge in the death of a black woman, the prosecutor told jurors they could find Rich guilty on a lesser count. The jury found him guilty of manslaughter and the judge gave Rich 10 years. He would serve 3.
The State Attorney's Office released Wayne Chessman, Elmer Kato, and Alex Davis from prosecution for lack of evidence, despite their confessions. (BH, see Oct 14; Chappell, see December 4, 2002)
September 25 Peace Love Art Activism
The Cold War
Eisenhower/Khrushchev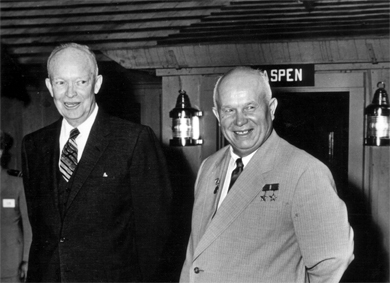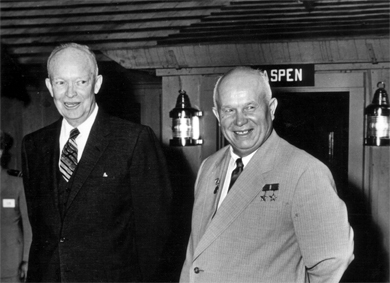 September 25, 1959: Soviet leader Nikita Khrushchev met with President Eisenhower. The two men came to general agreement on a number of issues, but a U-2 spy plane incident in May 1960 crushed any hopes for further improvement of U.S.-Soviet relations during the Eisenhower years. (NYT article) (see May 1)
Nuclear/Chemical News
September 25, 1962: Soviet Union above ground nuclear test. 19.1 megaton. (see Sept 27)
September 25 Peace Love Art Activism
September 25 Music et al
September 25, 1965: a cartoon series featuring The Beatles began in the US. Simply titled The Beatles, it ran until 1969 on the ABC network with 39 episodes produced over three seasons. The series was shown on Saturday mornings at 10.30am until 1968, when it was moved to Sunday mornings. Each episode was named after a Beatles song, with stories based on the lyrics. The Beatles themselves were not directly involved in the production, which was created by Al Brodax and Sylban Buck, and produced by King Features Syndicate. American actor Paul Frees provided the voices for John Lennon and George Harrison, while British actor Lance Percival did the same for Paul McCartney and Ringo Starr. (see Oct 9)
Eve of Destruction
September 25 – October 1, 1965: "Eve of Destruction" by Barry McGuire #1 on the Billboard Hot 100. (see Sept 30)
Eighth Big Sur Folk Festival
September 25, 1971:  the final one featured: Joan Baez, Kris Kristofferson, Mimi Fariña and Tom Jans, Mickey Newbury, Big Sur Choir, Lily Tomlin & Larry Manson
U2
September 25, 1976: the Irish rock band U2 formed after drummer Larry Mullen Jr. posted a note seeking members for a band on the notice board of his Dublin school.
September 25 Peace Love Art Activism
Vietnam & Operation Popeye
September 25, 1968: the southern region of North Vietnam was added to the operational area. (V, see Oct 14; see OP for expanded story)
September 25 Peace Love Art Activism
Feminism
September 25, 1981: Sandra Day O'Connor became the first woman appointed to the Supreme Court. [Makers dot com article] (see Nov 12)
September 25 Peace Love Art Activism
Irish Troubles
Maze Prison escape
September 25, 1983: 38 Irish republican prisoners, armed with six handguns, hijack a prison meals lorry and smash their way out of HMP Maze, in the largest prison escape since World War II and in British history. [BBC article]
Irish Republican Army
September 25, 2005:  two months after announcing its intention to disarm, the Irish Republican Army (IRA) gave up its weapons in front of independent weapons inspectors. The decommissioning of the group s substantial arsenal took place in secret locations in the Republic of Ireland. One Protestant and one Catholic priest as well as officials from Finland and the United States served as witnesses to the historic event. Automatic weapons, ammunition, missiles and explosives were among the arms found in the cache, which the head weapons inspector described as "enormous." (see Troubles for expanded story)
September 25 Peace Love Art Activism
Please follow and like us: