September 30 Peace Love Art Activism
US Labor History
Homestead, PA
September 30, 1892: authorities charged 29 strike leaders  with treason—plotting "to incite insurrection, rebellion & war against the Commonwealth of Pennsylvania"—for daring to strike the Carnegie Steel Co. in Homestead, Pa. Jurors will refuse to convict them. (see March 25, 1893)
Mother Jones
September 30, 1899: seventy-year-old Mother Jones organized the wives of striking miners in Arnot, Pa. to descend on the mine with brooms, mops, and clanging pots and pans.  They frighten away the mules and their scab drivers.  The miners eventually won their strike. (see May 19, 1902)
National Farm Workers Association
September 30, 1962: The first convention of the National Farm Workers Association (NFWA) met with hundreds of delegates assembled in an abandoned movie theater in Fresno. CA. The group's distinctive flag, a black eagle symbol on a white circle in a red field, was unveiled. (see NFWA for more)
September 30 Peace Love Art Activism
FEMINISM & Voting Rights
September 30, 1918:  President Wilson addressed the Senate asking for passage of federal woman suffrage amendment. Wilson's words on failed to drum up the necessary votes to pass the amendment. (see Oct 1)
September 30 Peace Love Art Activism
Black History
Elaine, Ark
September 30, 1919: Black farmers meet in Elaine, Ark., to establish the Progressive Farmers and Householders Union to fight for better pay and higher cotton prices.
White mobs descended on the black town destroying homes and businesses and attacking anyone in their path. Terrified black residents, including women, children, and the elderly, fled their homes and hid for their lives in nearby woods and fields. A responding federal troop regiment claimed only two black people were killed but many reports challenged the white soldiers' credibility and accused them of participating in the massacre. Today, historians estimate hundreds of black people were killed in the massacre. .
When the violence was quelled, sixty-seven black people were arrested and charged with inciting violence, while dozens more faced other charges. No white attackers were prosecuted, but twelve black union members convicted of riot-related charges were sentenced to death. The NAACP represented the men on appeal and successfully obtained reversals of all of their death sentences.  (next BH & Lynching, see Oct 1; for for expanded chronology, see American Lynching 2)
Gary, Indiana school integration
September 30, 1927: an agreement was reached: three of the original six black students at Emerson would be transferred, while the remaining three seniors would be allowed to graduate. The 18 black students transferred into Emerson would again be transferred out to other schools. The sum of $15,000 was also allocated for temporary facilities until a new black high school could be constructed. (BH, see Nov 18; SD, see Nov 21)
Emmett Till
September 30, 1955:  Milam and Bryant were released on bond. Kidnapping charges were pending. (BH, see Oct 10; see Emmett Till for expanded story)
James H Meredith/Paul Guihard/Ray Gunter
September 30, 1962: hundreds of federal marshals and thousands of Army and National Guard troops met a violent mob of segregationists from all over the South and the University of Mississippi campus became a battleground.
Paul Guihard was a French journalist who covered the Civil Rights struggle during the 60's for Agence France-Press. He had arrived in Oxford on September 29 on his day off. Guihard compared the atmosphere on the 30th to that of a carnival, and wrote of spirited singing and speeches of Southern pride and tradition. As the day wore on, protesters became restless. Marshals arrested several students and protesters responded by shouting and throwing debris. Guihard waded into the crowd, shrugging off warnings of physical danger. Debris rained down on the marshals and they responded with tear gas. The mob fired back with guns and the marshals responded with gunfire of their own. Guihard was found several hundred yards away lying face-up next to some bushes less than an hour later, dying from a gunshot to the back. Help was called but nothing could be done to save him.
Another man, Ray Gunter, a 23-year-old white jukebox repairman who came by out of curiosity, was also killed in what became known as the Battle for Ole Miss. Gunter's death was ruled accidental and investigations concurred that the bullet that killed him was a stray.
A federal investigation was initiated re the Guihard death, but neither killer nor motive was ever found. the second victim was 23-year-old Ray Gunter, a white jukebox repairman who came by out of curiosity. (see October 1, 1962)
Huey Newton
September 30, 1978: Huey Newton convicted in Oakland, Ca. on weapons charges. (see August 29, 1979)
Medgar Evers assassination
September 30, 1991: Nashville, TN. The Tennessee State Supreme Court ruled that Byron de la Beckwith must be extradited to Mississippi to stand trial a third time. Mr. Beckwith's lawyer then took the case to the Federal courts, asking for a temporary restraining order to block the extradition. Tennessee agreed to hold Mr. Beckwith until then. (Evers, see October 3)
September 30 Peace Love Art Activism
FREE SPEECH
September 30, 1942: until the early 1940s, the FBI had not taken much interest in pornography. That changed on this day, when it opened an "Obscene File" and began a decades-long crusade against sexually oriented materials. The federal laws justifying this effort involved use of the mails, interstate commerce and, by the 1970s, the federal RICO (Racketeer influenced and Corrupt Organizations) law. (see June 14, 1943)
September 30 Peace Love Art Activism
Vietnam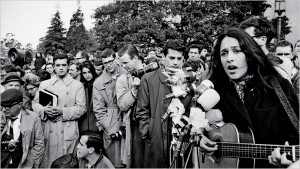 September 30, 1964: University of California at Berkeley students and faculty opposed to the war staged the first large-scale antiwar demonstration in the US. Polls showed that a majority of Americans supported President Lyndon Johnson's war policy. (see Nov 1)
News Music
September 30, 1965: Donovan appeared on Shindig! and plays Buffy Sainte-Marie's "Universal Soldier". (V, see Oct 15; NM, see Jan 15, 1966)
Video of Donovan (may or may not be from Shindig!)
Buffy Saint-Marie
September 30 Peace Love Art Activism
LSD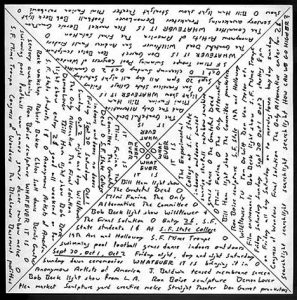 September 30 – October 2, 1966:  Acid Test. San Francisco State College. Whatever It Is Festival.  A  disguised Ken Kesey (just back from fugitive adventures in Mexico), the Grateful Dead, Hugh Romney, and others are there. [MJK article] (see Oct 6)
September 30 Peace Love Art Activism
INDEPENDENCE DAY
September 30, 1966: Botswana independent from United Kingdom. (see ID for full list of 1960s' new countries)
September 30 Peace Love Art Activism
LGBTQ
Oliver W. Sipple
September 30, 1975: Oliver W. Sipple filed a $15-million lawsuit against the press for reporting that he was homosexual. (next LGBTQ, see Oct 22; assassination attempt, see Nov 26)
In 1984 the California Supreme Court dismissed Sipple's suit, which upheld a lower court's finding that the sexual orientation of Oliver W. Sipple (the former marine who thwarted an assassination attempt on President Gerald R. Ford) had been known to "hundreds of people" before the news accounts, but Mr. Sipple's protest spurred a debate among news organizations about the individual's right to privacy versus freedom of the press. (next LGBTQ, see November 14, 1985; see Sipple for more)
Roy S. Moore
September 30, 2016: Alabama's Court of the Judiciary, a nine-member body made up of selected judges, lawyers and others suspended chief justice of the Alabama Supreme Court, Roy S. Moore for the remainder of his term in office for ordering the state's probate judges to defy federal court orders on same-sex marriage. While the court did not remove Chief Justice Moore from the bench entirely, as it did in 2003 after he defied orders to remove a giant monument of the Ten Commandments from the state judicial building, it effectively ended his career as a Supreme Court justice. His term would end in 2019, and Chief Justice Moore, 69, will be barred by law from running again at that time because of his age.  [NYT article] (see Dec 22)
September 30 Peace Love Art Activism
The Cold War
September 30, 1978: the Belmont Report, issued on this day, was the official report of the National Commission for the Protection of Human Subjects of Biomedical and Behavioral Research. The Commission had been established by Congress with the National Research Act on July 12, 1974, following revelations of abuse of people in biomedical research. The most notorious case was the Tuskegee Syphilis Experiment, which involved grotesque abuses of African-Americans in a research study that began in the 1930s. That experiment was exposed on July 26, 1972, and President Bill Clinton issued an official apology to the survivors on May 16, 1997.
The exposé of the Tuskegee Experiment played a major role in forcing Congress to act on human subjects' protection. The Belmont Report helped establish the current standards for the protection of human subjects.Universities, for example, are required to maintain an Institutional Review Board (IRB) to review and approve research on human subjects.
Another of the  notorious experiments on human subjects without informed consent involved the CIA's MKULTRA project, which it began on April 13, 1953. [text] (see Dec 15)
September 30 Peace Love Art Activism
Nuclear/Chemical News
September 30, 1999: five people died in an accident at the Mihama power plant (Japan) in the Fukui province. Seven people are also injured when hot water and steam leaks from a broken pipe. Officials insist that no radiation leaked from the plant, and there is no danger to the surrounding area. (see December 13, 2001)
September 30 Peace Love Art Activism
SEPARATION OF CHURCH AND STATE
September 30, 2017: the U.S. District Court for the Middle District of Florida struck down the Brevard County, Fla., Board of County Commissioners' exclusion of nontheists from giving pre-meeting invocations. In its ruling, the court said a local governing body cannot limit invocation officiants exclusively to those from monotheistic traditions.
"The great promise of the Establishment Clause is that religion will not operate as an instrument of division in our nation," the court stated in its concluding section. "Regrettably, religion has become such an instrument in Brevard County. The county defines rights and opportunities of its citizens to participate in the ceremonial pre-meeting invocation during the county board's regular meetings based on the citizens' religious beliefs. As explained above, the county's policy and practice violate the First and 14th Amendments to the United States Constitution and Article I, Sections 2 and 3 of the Florida Constitution."  [ACLU-Florida article] (see Oct 18)
September 30 Peace Love Art Activism
Student Rights
September 30, 2019:  Gov. Gavin Newsom of California signed into law a plan to allow college athletes to strike endorsement deals, intensifying the legal and political clashes that could ultimately transform the economics of college sports.
The governor's signature opened a new front of legal pressure against the amateurism model that had been foundational to college sports but had restricted generations of students from earning money while on athletic rosters. [NYT article] (next SR, see Oct 24; NCAA, see Oct 29)
September 30 Peace Love Art Activism