December 13 Peace Love Art Activism
Cold War
December 13, 1951: the State Department dismissed foreign Service Officer John S. Service after a determination by the Civil Service Commission's Loyalty Board that there was "reasonable doubt" concerning his loyalty to the United States.
Service was one of a number of so-called "China hands"— State Department officials who were experts on China and the Far East—who saw their careers ruined during the 1950s by Senator McCarthy. McCarthy targeted John Service and several of his coworkers. McCarthy charged that Service and other State Department officials had effectively "lost" China to the communists, either through incompetence or through sympathy with the communist cause. The case against Service centered on the 1945 Amerasia scandal. In that year, FBI agents raided the offices of the magazine Amerasia and found classified government documents concerning America's policy in China. Service was implicated because he had given de-classified background information to the magazine's editor.
A grand jury, a House subcommittee, and the State Department's Loyalty Board subsequently cleared him. In 1950, however, McCarthy singled out Service as one of what he called "the 205 known communists" in the Department of State. In short order, Service's case was reviewed once again, and this time he was dismissed. Service declared that the decision was "a surprise, a shock, and an injustice." Senator McCarthy exclaimed, "Good, good, good!"
Service fought the dismissal and was eventually reinstated in 1957, but his career never recovered from the damage.(see February 6, 1952)
December 13 Peace Love Art Activism
Nuclear News
Chalk River, Ottawa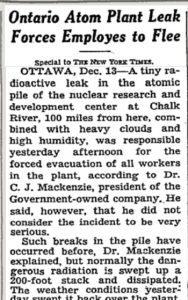 December 13, 1952: at Chalk River, Ottawa, Canada a partial meltdown of the reactor's uranium fuel core resulted after the accidental removal of four control rods. Although millions of gallons of radioactive water accumulated inside the reactor, there were no injuries. [NE article] (Red Scare, see Dec 29, NN, see January 7, 1953)
Anti-Ballistic Missile Treaty
December 13, 2001: President George W. Bush served formal notice that the United States was pulling out of the 1972 Anti-Ballistic Missile Treaty with Russia. [NYT article] (see January 10, 2003)
North Korea
December 13, 2019: North Korea conducted another test at a satellite launch station near the Chinese border, saying the unspecified test would help bolster the country's nuclear deterrent.
The test was the second in less than a week at the Sohae Satellite Launching Station in Tongchang-ri, a site near the Chinese border that has been used to test rocket engines and launch satellites into space in the past.
The test lasted from 22:41 to 22:48 local time, the statement said, in what could be a reference to a rocket-engine test, similar to the one that experts concluded had been carried out six days before.
"The research successes being registered by us in defense science one after another recently will be applied to further bolstering up the reliable strategic nuclear deterrent of the Democratic People's Republic of Korea," a spokesman for North Korea's Academy of National Defense Science said in a statement. [Washington Post article] (next N/C N, see Dec 31)
December 13 Peace Love Art Activism
December 13 Music et al
The Beatles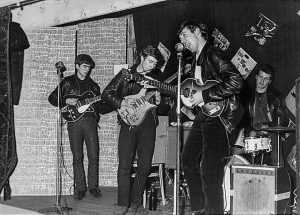 December 13, 1961: Mike Smith, an A&R rep from Decca Records watched the Beatles perform at the Cavern Club to decide if Decca should offer them a record contract.
The Beatles had performed at the earlier lunchtime show. For this evening performance they shared a bill with Gerry and the Pacemakers, and The Four Jays.
Although Smith did not consider The Beatles impressive enough to be signed on that day, he did arrange a formal audition in London, to take place on January 1.
After that January 1 audition, Decca decided not to sign them.(Beatles, see Dec 17)
Bob Dylan
December 13, 1963: the Emergency Civil Liberties Committee gave Dylan the Tom Paine award. It was an honor given to a public figure that supported social justice. A drunk Dylan spoke without preparing and made fun of those present. He also said he "saw some himself in Oswald" to the obvious upset of those present. (see January 13, 1964)
Paul/LSD
December 13, 1965: after the other three Beatles had taken LSD, Paul McCartney took it for the first time. [Beatles Bible ] (see Dec 18)
FM Rock
December 13, 1965: an announcement that the Federal Communications Commission gave formal consideration to requests from radio broadcasters seeking exemption from a proposed rule that their FM stations must cease duplicating AM programs by 50 per cent. (see FCC delivers FM Rock)
December 13 Peace Love Art Activism
BLACK HISTORY
Albany Movement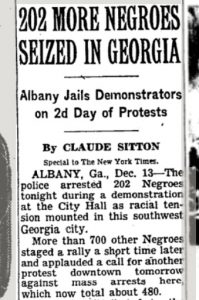 December 13, 1961: Albany, Georgia police arrested 202 peaceful protesters during a demonstration at the City Hall. (see Albany for expanded chronology)
Nelson Mandela
December 13, 1989: South African President F.W. de Klerk met for the first time with imprisoned African National Congress leader Nelson Mandela, at de Klerk's office in Cape Town. (see February 2, 1990)
December 13 Peace Love Art Activism
Space Race
Relay 1
December 13, 1962: the US launched Relay 1, a communication satellite. (SR, see June 16, 1963; Relay, see November 22, 1963)
Space
December 13, 2018: the NYT reported that SpaceShipTwo, a Virgin Galactic spacecraft, flew more than 50 miles above the Mojave Desert in California on, climbing into the edge of space for about a minute, a crucial milestone in the race to make big-business space tourism a reality.
The craft soared at speeds topping out at 2.9 times the speed of sound — around 2,200 miles per hour — through nearly three layers of Earth's atmosphere to reach space, the company said. SpaceShipTwo topped out at an altitude of 51.4 miles, just surpassing the Federal Aviation Administration's definition of where space begins but lower than the widely accepted boundary of 62 miles. (see Dec 31)
December 13 Peace Love Art Activism
Vietnam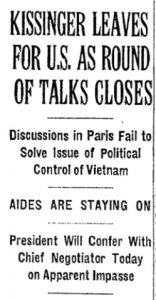 December 13, 1972: in Paris, peace talks between the North Vietnamese and the Americans broke down.  (see Dec 18)
December 13 Peace Love Art Activism
AIDS
December 13, 1992: Ricky Ray (see August 28, 1987)  died of AIDS-related illness. (AIDS, see February 6, 1993; Rays, see October 20, 2000)
December 13 Peace Love Art Activism
Jack Kevorkian
December 13, 1994,: the Michigan Supreme Court upheld the constitutionality of Michigan's 1993-94 ban on assisted suicide and also rules assisted suicide is illegal in Michigan under common law. The ruling reinstated cases against Kevorkian in four deaths. (see JK for expanded chronology)
December 13 Peace Love Art Activism
Bush v. Gore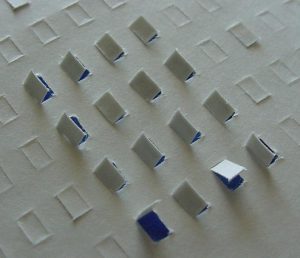 December 13, 2000, Bush v. Gore: the U.S. Supreme Court stopped the Florida presidential recount, effectively giving the state, and the Presidency, to George W. Bush. (NYT article)
December 13 Peace Love Art Activism
TERRORISM
December 13, 2001: the Pentagon released a captured videotape of Osama bin Laden in which the al-Qaida leader said the deaths and destruction achieved by the September 11 attacks exceeded his "most optimistic" expectations. (NYT article) (see Dec 22)
December 13 Peace Love Art Activism
Sexual Abuse of Children
December 13, 2002: while Archbishop of Boston, Bernard Francis Law had extensive knowledge of sexual abuse committed by dozens of Catholic priests within his archdiocese. One priest alone was alleged to have raped or molested 130 children over decades, while Law and other local officials moved him among churches rather than going to the authorities. On this day, Cardinal Law resigned. (his profound resignation letter) (see April 2003)
December 13 Peace Love Art Activism
Iraq War II
December 13, 2003:  U.S. forces captured Iraqi leader Saddam Hussein while hiding in a hole under a farmhouse in Adwar, near his hometown of Tikrit. (NYT diagram) (see Dec 24)
December 13 Peace Love Art Activism
Cannabis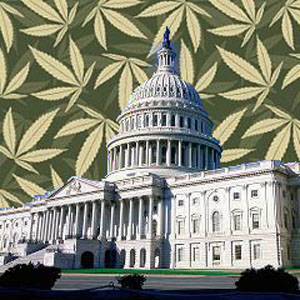 December 13, 2014: Congress's spending bill contained protections for medical marijuana and industrial hemp operations in states where they were legal.  The spending bill included an amendment that prohibited the Department of Justice from using funds to go after state-legal medical cannabis programs. The bill would bring the federal government one step closer to ending raids on medical marijuana dispensaries, as well as stopping arrests of individuals involved with pot businesses that are complying with state law. (next Cannabis, see Dec 16; for expanded Cannabis chronology, see CCC)
December 13 Peace Love Art Activism
Environmental Issues
December 13, 2018: a three-judge panel of the 4th U.S. Circuit Court of Appeals in Richmond threw out a permit for the Atlantic Coast Pipeline to cross two national forests, including parts of the Appalachian Trail. The court harshly criticized regulators for approving the proposal and blasted the U.S. Forest Service for granting a special-use permit to build the natural gas pipeline through parts of the George Washington and Monongahela National Forests, and granting a right of way across the Appalachian Trail.
"A thorough review of the record leads to the necessary conclusion that the Forest Service abdicated its responsibility to preserve national forest resources," Judge Stephanie Thacker wrote for the panel in the unanimous ruling.
The court said the agency had "serious environmental concerns" about the project that were "suddenly, and mysteriously, assuaged in time to meet a private pipeline company's deadlines."
December 13 Peace Love Art Activism
Women's Health
December 13, 2019: US Appeals Court Judge Patrick Higginbotham  of the Fifth Circuit Court of Appeals struck down Mississippi's 15-week abortion ban, the latest legal blow to an effort by a conservative-leaning state looking to restrict abortion.
None of the bans passed by Mississippi and eight other states this year restricting abortion past a certain point in pregnancy have gone into effect, with most of them having been blocked by federal judges.
"States may regulate abortion procedures prior to viability so long as they do not impose an undue burden on the woman's right, but they may not ban abortions," Higginbotham wrote in the ruling. "The law at issue is a ban. Thus, we affirm the district court's invalidation of the law."
"Prohibitions on pre-viability abortions … are unconstitutional regardless of the State's interests," added Higginbotham, who said the the ban's "obstacle is insurmountable, not merely substantial" for women in Mississippi seeking to obtain an abortion. [CNN article] (next WH, see Dec 20; Mississippi, see January 17, 2020)
December 13 Peace Love Art Activism