1966 Beatles Release Revolver
UK, August 5, 1966
US, August 8, 1966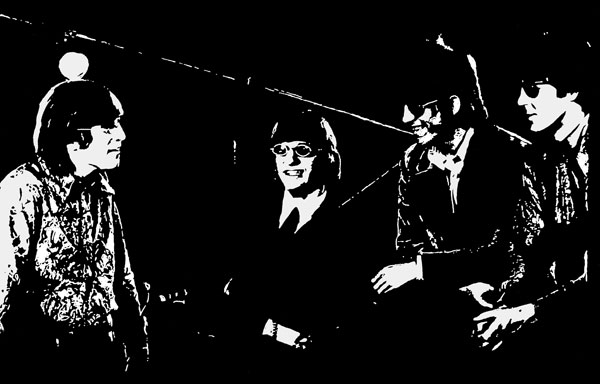 1966 Beatles Release Revolver
1965
When we think of the 1960s' powerful music, certain musicians and albums come to mind. Albums in particular, but it wasn't until the mid-60s that performers released those albums.
1965 is the turning point.
Bob Dylan released "Bringing It All Back Home" on  March 22 that year. He'd recorded it over three days, January 13 – 15, 1965. Exclamation point.
The Beatles had recorded Rubber Soul between  October 12 and November 15, 1965. That album that changed the way many bands envisioned making music and created albums, . They released the album December 3, 1965.
1966 Beatles Release Revolver
Got Back
From 6 April 6 – June 21, 966, the Beatles were back in the studio to record again. As you hear above, Paul thinks of this album as Rubber Soul part 2.
I think it is, but then again not so much.
It's a matured Rubber Soul if that's true. The newness of Rubber Soul  isn't new now. We know that the Beatles are still helping us explore places we didn't know existed.
And using typical Beatle humor, why Revolver? What does a record do? Yup. That simple.
1966 Beatles Release Revolver
UK v US
The Brit kids heard Revolver two days before we Yanks, but they also heard the album that the Beatles created, not the album that Capital Records made out of that album.
Most now know that the British-released Beatle albums had 14 songs, unlike the typical 12 that Americans got. (That difference would change in 1967 with Sgt Pepper.)
Americans didn't get I'm Only Sleeping", "And Your Bird Can Sing," and "Doctor Robert" on their album, but they'd actually already gotten those three on Yesterday and Today.
1966 Beatles Release Revolver
Cover
Klaus Voormann [BBC article], an old Beatle friend, did the cover. illustrations. Voormanb was a name that Beatle fans regularly saw over the Beatle years including occasionally playing bass.
Clever Voormann put his  own photograph and name (Klaus O.W. Voormann) into Harrison's hair on the right-hand side of the cover. Click on the pic to enlarge and view better.
Robert Whitaker took the photos that are incorporated into Voormann's drawings. He also took the back cover photograph as well as the infamous and belatedly cancelled butcher cover for Yesterday and Today.  [2011 NYT Whitaker obit]
1966 Beatles Release Revolver
Track by track
Think about what you heard on each of Revolver's songs:
Side one
George Harrison's "Taxman." Few if any of us were in the same financial position as George and his mates were as far as taxation, but if George complained about the government then we were on board with that, too.

"Eleanor Rigby." What were we listening to? If we'd read an English literature by now (and many of us had) we thought perhaps the Beatles had ripped off a Bronte sister. "Wearing a face that she keeps in a jar by the door."

"I'm Only Sleeping." Not as simple as the title.  And that backward guitar. More going on here than meets sleep. "Stay in bed, float upstream."

George Harrison's "Love to You" with its sitar dominating the instrumentation. We now knew that sitar was not a misspelling of guitar. "Make love all day long."
Paul's "Here There and Everywhere." A slow song supreme. "Knowing that love is to share."
Ringo's "Yellow Submarine." What fun! "So we sailed up to the sun
Till we found the sea of green." Uncredited, Patti Boyd, Donovan, Marianne Faithful, and Brian Jones help with background vocals.
John's "She Said She Said." "I know what it's like to be dead."
Side two
"Good Day Sunshine." "Then we'd lie beneath the shady tree
I love her and she's loving me." You hear it now and still sing along at the fading end repeating the title with Paul.
"And Your Bird Can Sing." American fans likely didn't realize bird meant girl. "You tell me that you've heard every sound there is
And your bird can swing, But you can't hear me, you can't hear me."
"For No One." Back to lost love. "You stay home, she goes out."
"Dr Robert." Amphetamines, but I'm not sure we knew that. "He helps you to understand."
George's "I Want To Tell You." Is that piano out of tune? Cool. "But if I seem to act unkind, it's only me it's not my mind"

"Got to Get You Into My Life."

In 1967 we'd have "A Day in the Life." At the end of Revolver we have "Tomorrow Never Knows." What is going on? Have I ever heard anything like this? Tibetan Book of the Dead we heard. George brought India to our ears. John put Tibet in our heads.
1966 Beatles Release Revolver
The best?
Rob Sheffield, writing in The Rolling Stone Album Guide (2004), said that the album found the Beatles "at the peak of their powers, competing with one another because nobody else could touch them", and concluded that, "these days, Revolver has earned its reputation as the best album the Beatles ever made, which means the best album by anybody." [Brackett, Nathan; with Hoard, Christian (eds) (2004). The New Rolling Stone Album Guide (4th edn). New York, NY: Fireside/Simon & Schuster.]
1966 Beatles Release Revolver
The future was close…
The Beatles started recording Sgt Pepper's on Nov 24,  1966.
1966 Beatles Release Revolver