Singer Activist Joan Baez
Many Happy Returns!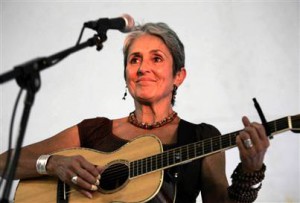 Joan Chandos Báez was born in Staten Island, NY  on January 9, 1941. Although often associated with Bob Dylan, it should be that he is associated with her as Bob was Joan's guest at the 1963 Newport Folk Festival. It was she featured on the November 23, 1962 cover of Time magazine.
…but associated they are.
Singer Activist Joan Baez
Many areas
To quickly explain Joan's career would do a disservice to her.  Some associate Joan with the early 1960s civil rights movement. True. Some associate her with the 1964 Berkeley Free Speech movement. True. Some may even know of her participation in the 2011 Occupy Wall Street demonstrations. True again
In other words, Joan has had a lifetime of peace, love, art, and activism.
Singer Activist Joan Baez
David Harris
During the Woodstock Music and Art Fair, she was pregnant and married to David Harris. Authorities had jailed Harris for refusing to be drafted. That night, Baez played her hour set with Richard Festinger and Jeffrey Shurtleff.
Their set was:
Oh Happy Day
The Last Thing On My Mind
I Shall Be Released

Story about how the Federal Marshalls came to take David Harris into custody  

No Expectations
Joe Hill
Sweet Sir Galahad

Hickory Wind
Drug Store Truck Driving Man
I Live One Day at a Time
Take Me Back to the Sweet Sunny South
Let Me Wrap You in My Warm and Tender Love
Swing Low, Sweet Chariot
We Shall Overcome
Here is her rendition of International Workers of the World hero Joe Hill from that misty night. The lyrics are based on a 1925 poem by Alfred Hayes that Earl Robinson had put to music in 1936.
The compensation that each of the Woodstock performers received has long been of interest, but documents clearly showing the amount are hard to come by.
Joan Baez received $10,000 (approximately $71,000 in 2019 dollars) and here is the actual documentation: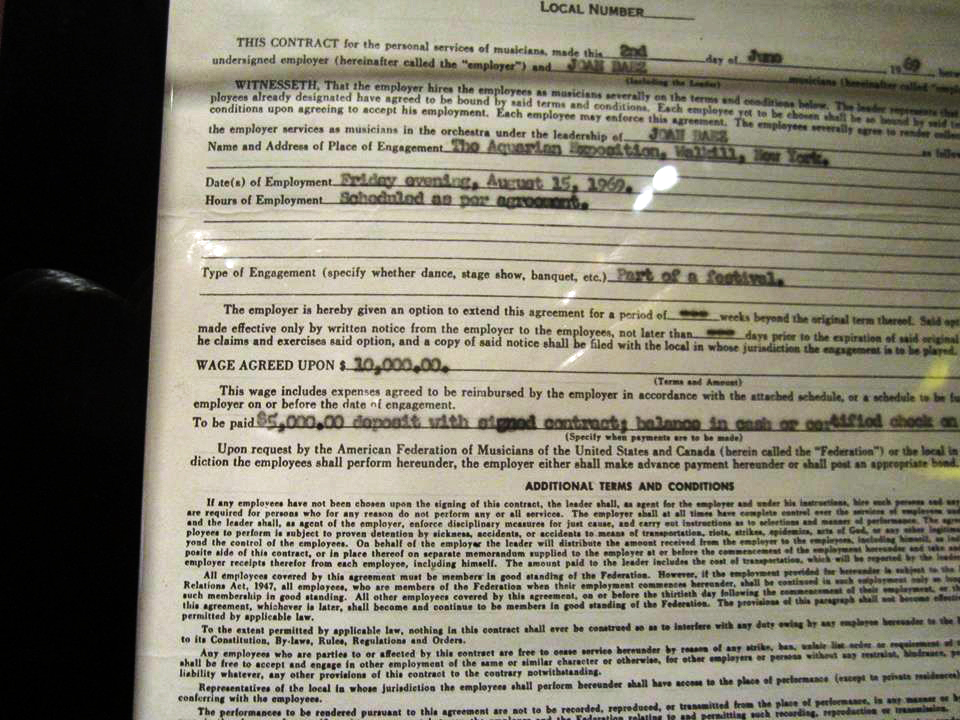 Click on the picture to enlarge it.
Letter to Joan
Dear Joan Baez,
We don't love you because of all the albums you have released. And you have! We don't love you because of that voice. And it is amazing! We don't love you because are in the Rock and Roll Hall of Fame. And you are.
We love you for all you have contributed. We love for all you continue to contribute. We love you because you have been a role model to anyone willing to listen and watch.
From all of us to you.
We Shall Overcome.
Singer Activist Joan Baez
For more about Joan and her music, visit >>> Hubpages