Sweetwater Albert Moore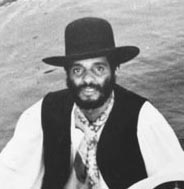 Moore Sweetwater
As noted previously, I typically do such an essay on the performer's birthday, but Moore's birth date, like all the members of Sweetwater, is not available. 
Albert Moore was one of the original members of Sweetwater. He was among the group that, Nancy Nevins,  the eventual Sweetwater singer, met before Sweetwater had formed. The various musicians were sitting around "The Scarab" and Nancy walked in and sang along for awhile before leaving.
When we think of a rock band, a flute is not the first instrument that comes to mind. Of course, the most famous rock flautist is likely Ian Anderson of Jethro Tull, a band that did precede Sweetwater by a year. Keep in mind that by 1968 the idea of what could be rock and roll had evolved and expanded to include nearly any type of music. One of the things that separated Sweetwater from nearly every other rock band of the time, including Jethro Tull, was the absence of a guitarist.
Like most other band members who played at the Woodstock Music and Art Fair, the internet does not have much content. The Sweetwater site has the following: "A former policeman, Albert, who played flute, sang, and wrote some of the songs, was quite a recognizable image and a great presence on stage. He was an energetic, happy guy who loved playing music. We had a lot of great times together. After he hung up his big Amish, Sweetwater hat, he became a schoolteacher in northern California. He died from lung cancer in 1994." 
Sweetwater Albert Moore
So much to ask about that. A policeman? Before? After before being a school teacher? What kind of teacher? What grade level? Did he teach music? Another art? 
Fortunately, Woodstock Ventures recorded and filmed their historic event without realizing it would be historic. And though the following video isn't the best quality, it is better than nearly any other festival recording of that summer.
Sweetwater was a great band and not just a great band of the eclectic Sixties. Fortunately for us then, organizers and the music business were willing to give bands like them the chance to perform for larger audiences and prove their wonderful worth. Also as noted imperviously, it was unfortunate that they missed the cut in both the subsequent movie and album.
Sweetwater Albert Moore