Richard Pierce Richie Havens
Remembering and appreciating
Richie Havens
January 21, 1941 – April 22, 2013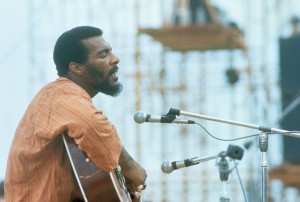 The above recording is Richie Havens on the Voice of America. He performed the song, Freedom, while explaining the cultural significance of Woodstock and his own performance there.
Richard Pierce Richie Havens
Doo-wop
Richie Havens. Doo-wop. Gospel. Drop out. Greenwich Village. Open D tuning. Mixed Bag. Just Like a Woman. And though he didn't write the words, no one ever say them better (Jerry Merrick's "Follow")
The rising smell of fresh-cut grass,
Smothered cities choke and yell with fuming gas;
I hold some grapes up to the sun
And their flavor breaks upon my tongue.
With eager tongues we taste our strife
And fill our lungs with seas of life.
Come taste and smell the waters of our time.
And close your lips, child, so softly I might kiss you,
Let your flower perfume out and let the winds caress you.
As I walk on through the garden,

I am hoping I don't miss you
If all the things you taste ain't what they seem,
Then don't mind me 'cos I ain't nothin' but a dream.
Richard Pierce Richie Havens
Lighthouse
Richie Havens was a lighthouse for the sixties' rough seas. After a February meeting in 1969, Woodstock Ventures, the quartet of John Roberts, Joel Rosenman, Artie Kornfeld, and Michael Lang, frolicked, staggered, and romanticized its way to August 15, 1969. 500,000 cultural refugees arrived in Bethel, NY with bated breath and found a place to harmoniously exhale.
Richard Pierce Richie Havens
Woodstock
The Woodstock Music and Art Fair was a tumultuously peaceful gathering, an acoustic jewel set athwart the 1960's cultural maelstrom. The decade embroiled, alienated, and divided American families, friends, and neighbors. It was the decade of the Cold War and nuclear proliferation, murderous violence against an expanding civil rights movement, scores of race riots, thousands of casualties in an escalating Viet Nam War, draft card burnings, anti-war demonstrations, patriotic exhibitions, protest music, student radicalization, assassinations, war atrocities, the Stonewall riots, a burgeoning drug culture, a growing ecological sensibility, a generally anti-establishment attitude by many young people, and the founding of the Black Panther Party, the National Organization for Women, the American Indian Movement, and the National Farm Workers Association.
Only months away were Altamont, the Mayday Tribe's attempt to shut down Washington DC, the invasion of Cambodia, six students shot and killed at Kent State and Jackson  State, the takeover of Alcatraz, the Weatherman bombings, 200,000 Post Office workers striking,  and the Beatle break-up were. The Grateful Dead would play 143 more shows within the year; 1,891 before Jerry Garcia's death in 1995.
Richard Pierce Richie Havens
Keystone
Richie Havens was the accidental opening act, but became the exposition's keystone in its arch of apprehensions, anticipations, and hallucinations. He continued to be more than one generation's underpinning for 44 years.
After a half century of loving performances and a life dedicated to seeking peaceful solutions, Richie Havens died on April 22, 2013 at age 72.
Thank you Mr. Havens for being so much to so many. As you wrote in "Three Day Eternity"
If you could only see the thousands
Of the days I'm standing in between
All because you hold my hand so tightly
As we both walk and we laugh.
Richard Pierce Richie Havens
Bullet-points
A quick incomplete bullet-point summary of his life:
Richie Havens
born in Bedford-Stuyvesant, Brooklyn on January 21, 1941.

joined street-corner doo-wop groups when he was about 12

at 14 he joined the McCrea Gospel Singers.

dropped out of high school.

in his late teens migrated to Greenwich Village, where he wandered the clubs working as a portrait artist.

in his early 20s he discovered folk music and he was soon playing several engagements a night at clubs like Why Not? and the Fat Black Pussycat.

developed an unorthodox guitar tuning so he could play chord patterns not possible with conventional tunings.

signed with the influential manager Albert Grossman and got a record deal with the Verve Forecast label. Verve released "Mixed Bag" in 1967, which featured "Handsome Johnny," which he wrote with the actor Louis Gossett Jr.; "Follow," which became one of his signature songs; and a cover of Bob Dylan's "Just Like a Woman."

In 1971, he released the only single that would put him in the Top 20, a rendition of George Harrison's "Here Comes the Sun."

In the mid-1970s he founded the Northwind Undersea Institute, an oceanographic children's museum on City Island in the Bronx. He later created the Natural Guard, an environmental organization for children, to use hands-on methods to teach about the environment.

His music had a new burst of popularity in the 1980s, and he found success as a jingle writer and performer for Amtrak, Maxwell House Coffee and the cotton industry ("The fabric of our lives").
He acted in a few movies, including "Hearts of Fire" (1987), which starred Bob Dylan.
Memorial
One of Richie Haven's final requests was that his ashes be spread on the Woodstock field. On  August 18, 2013 there was a special celebration at Bethel Woods Center for the Arts that preceded the fulfillment of that request.
DJ Dennis Elsas was MC and many of Richie's old and young friends spoke or performed. Among them were, Dayna Kurtz, Michael Lang, Joel Rosenman, Walter Parks, Sajoy Bandapadhyay, Guy Davis, Jose Feliciano, Danny Glover, John Sebastian, John Hammond, and Lou Gosset, Jr.
The featured image of this post is of that event and you can follow this link to see other pictures of the celebration.
New York Times obit for Richie Havens
Richard Pierce Richie Havens