Sweetwater Fred Herrera
Woodstock's opening band
Sweetwater is often described as the opening band at the Woodstock Music and Art Fair. That is true as long as we exclude Richie Havens, Daniel Ben Zebulon, and Paul "Deano" Williams preceding performance.
Sweetwater deserves the title considering the path their lead singer Nancy Nevins and then the rest of band endured shortly after the famed Woodstock.
Sweetwater Fred Herrera
Jay Walker and the Pedestrians
Sweetwater evolved out of a band called Jay Walker and the Pedestrians, a band that bassist Robert 'Bob' Barboza  had formed in Rhode Island. Barboza relocated to Los Angeles and reformed his band there.
In June 1967, Pedestrians Alex Del Zoppo (keyboards) , Albert Moore (flute), Pete Cobian (percussion), and Andy Friend (guitar) along with newcomer Nevins (vocals) left Jay Walker and started a new band. It remained unnamed for a bit, but after Moore told Nevins that some stream water he'd just quenched his thirst with wasn't bad at all, it was sweetwater, they realized they'd found a name.
Sweetwater Fred Herrera
Fred Herrera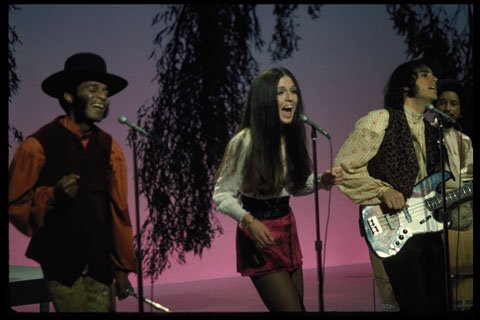 Fred Herrera had not been in Jay Walker and the Pedestrians.  Del Zoppo knew him from playing other gigs and knew him to be a good rock bassist. Rock was the direction that Sweetwater wanted to head in.
Keep in mind that by 1967 the definition of rock had expanded to include the influences from all areas of music. They included idea of jazz jamming along with the feel of free wheeling rock. The odd thing about the band was that it had no guitarist. 
The band became one of the main opening groups for many other suddenly famous bands like the Doors, the Grateful Dead, and Johnny Winter. They joined those bands and many more on the festival circuit.
TV had realized that this "new music" sold well–that is, advertisers would buy time on shows if they featured such bands.  On June 10, 1969, Sweetwater played on the Los Angeles TV show, "New Sound." Unusual for these new shows, Sweetwater played live. Herrera recalls, "They actually recorded us video and audio live at the same time, which was never done at that time. All of the other TV shows we did in those day either took the feed directly from the album which we then lip-synched to, or recorded the band offstage beforehand. Then they would come in and 'stage' us according to the music to allow for correct camera angles. It was refreshing that they didn't care what we did. They just turned on the camera and said, 'Go!' It was a lot different than just about everything else on TV that was going down then."
Sweetwater Fred Herrera
Woodstock Music and Art Fair
Bruce Blatman was Sweetwater's manager. He suggested the band add another festival to their 1969 summer itinerary: "an intimate, no-pressure music and art fair itn ehcountryside of upstate New York called Woodstock."  (see Horror stories).
Keyboardist Alex Del Zoppo was in the Air Force Reserves at the time. When facing the reality of fighting in Viet Nam, many young men of the time joined a reserved branch of the US military. Though the length of service was longer, the chance of deployment was far less. Del Zoppo told Blatman that his 2-week summer training started Sunday that weekend. Blatman said they'd be the opening act on Saturday afternoon, Del Zoppo could get to JFK Airport in plenty of time to fly to California and his base on time for Sunday.
We know that didn't quite work out as planned. The word plan that Woodstock weekend had a very loose meaning.
Sweetwater Fred Herrera
Aftermath
Del Zoppo got in trouble but also eventually got out of the reserves without having to serve. The point was moot since on December 8, 1969 a drunk driver t-boned the car that lead singer Nancy Nevins sat in. She was in a coma for two weeks and awoke with damaged vocal cords.
Sweetwater did not make the 1970 movie's soundtrack or the movie itself. It became a footnote, a bar bet: what Woodstock band had no guitarist?
The appetite for Woodstock has never gone away. Surprisingly to many, there are many gen-Xers who arrive in Bethel, NY at the Bethel Woods Center for the Arts seeking inspiration. Some of Sweetwater's Woodstock music is now available . Though three of the original members have died, the others, including a recovered Nevins, continue to play music.
Herrera's credits include playing or producing Grupo Fuego (1993), The Exies (2000 and 2003), and Father John Misty (2015).
Sweetwater Fred Herrera
2019 Bethel Woods opening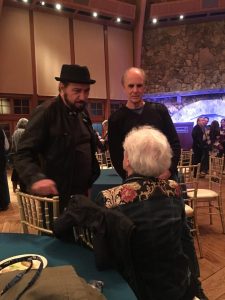 When Bethel Woods Center for the Arts had its 2019 season's grand opening, Fred Herrera was there to speak and feel the love so many expressed to him for his and the band's presence 50 years earlier. Those at the opening found him to be a thankful and gracious speaker.
Thank you.
Sweetwater Fred Herrera