Maya Kulkarni Chadda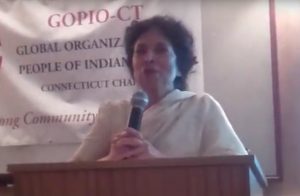 Maya Kulkarni Chadda excels in three areas: that of dancing, that of playing the tanpura, and that of being an academic.
Dancing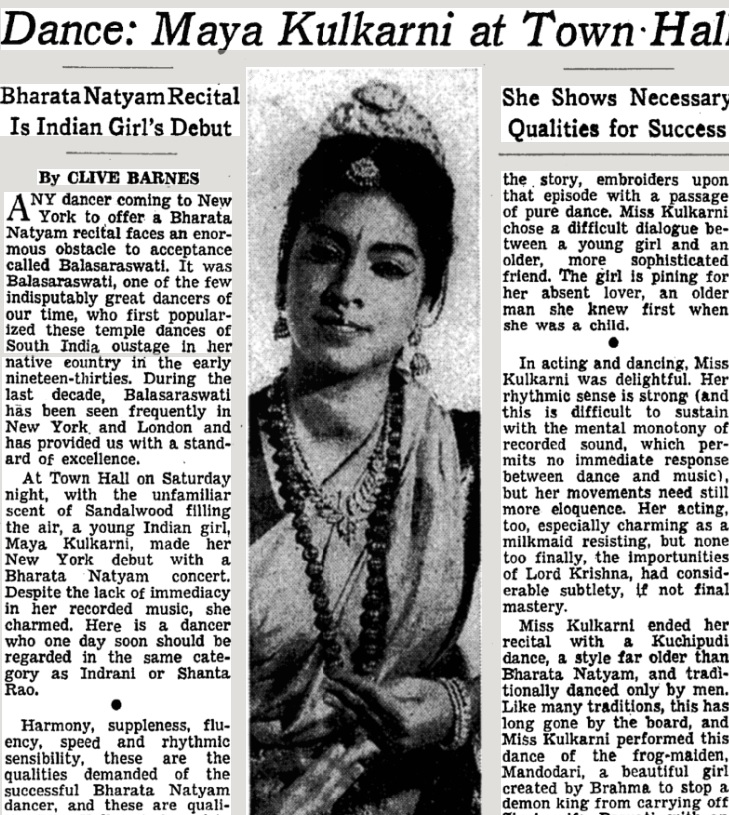 A September 19, 1966 Clive Barnes article in the New York Times wrote of Maya Kulkarni, "In acting and dancing, Miss Kulkarni was delightful. Her rhythmic sense is strong (and this is difficult to sustain with the mental monotony of recorded sound, which permits not immediate response)….
Maya Kulkarni Chadda
Woodstock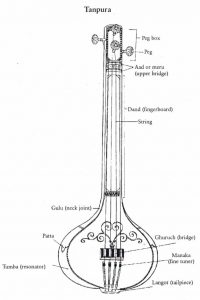 Three years later, Maya was a 22-year-old postgraduate student when she serendipitously became part of Ravi Shankar's tour, replacing an ill tanpura player. She joined the Pandit Shankar and the celebrated tabla player Ustad Alla Rakha Khan.
I know little about Indian music and perhaps the tanpura (or tampura) can be a lead instrument, but  at Woodstock, it appears that Maya was simply a background musician to Shankar and Khan.
According to a 2012 article by Somya Lakhani for the Indian Express, "Woodstock was not Chadda's introduction to Shankar or his sitar notes. As a young child, she used to be a regular at Bhulabhai Desai Institute in Mumbai, where she learnt Bharatnatyam. 'Raviji used the institute to work on his own productions. I also worked on one, a dance-drama called Chandalika, written by Rabindranath Tagore, to which he gave music. Vyjayantimala Bali had choreographed the piece and I was her chief assistant. Raviji and I developed a strong bond of affection, and he would invite me to all his performances and to his home."
Also, from a 2019 Hindustan Times article: Maya Kulkarni was on a scholarship at New York University to study economics. She knew Pandit Ravi Shankar, the sitar maestro, from her Bombay days, where she had been assisting actor Vyjayanthimala in the production of a dance drama. "Ravi ji had given its music," says the artist and academic Maya Chadda (formerly Kulkarni) talking over the phone from New Jersey. "So when his regular tanpura player, Kamala Chakravarty, fell ill just before Woodstock, and there was need for a quick replacement, I stepped in. Alla Rakha ji was accompanying him on the tabla. There was no question of saying no. Besides, for me, Woodstock was always more than rock 'n' roll…."
Maya Kulkarni Chadda
Hendrix
In the same article, Chadda relates an unusual story. ""Once, we were to share a helicopter with a rock band, and I saw a man chasing a chicken around the farm while we were waiting for the helicopter. Later, during the ride, he sat in the cabin pulling hair from of his chest with studied concentration. While I sat frozen in embarrassment, Raviji kept smiling away at his antics. Later, I found out he was Jimi Hendrix," 
Maya Kulkarni Chadda
"Incredible Thread"
In a 2012 liveMINT article, Chadda related how the Woodstock experience was one of a kind: ""The distinctions between artist and audience collapsed—not physically, but there was an incredible thread stretching between us," she notes. "It's a spontaneity that I have never encountered since then."
Maya Kulkarni Chadda
Choices
Though her live for music and dance remained, her career choice became academia. Dr Chadda is on the staff of William Paterson University (Wayne, NJ) and according the staff site she holds an M.A. in Government from NYU and a Ph. D. From the Graduate Faculty, The New School of Social Research and is a research fellow at the Southern Asian Institute, Columbia University.
Her publications include Indo-Soviet Relations (Bombay, Vora & Co.); Paradox of Power: The United States Policy in Southwest Asia (Santa Barbara, California, Clio Press);Ethnicity Security and Separatism in South Asia ( New York, Columbia University Press/Oxford University Press) and Building Democracy in South Asia: Pakistan, Nepal and India (Lynne Rienner Publishers, March 2000). Maya Chadda has worked as a consultant to the United Nations Development Program (UNDP) and the United Nations Family Planning Agency (UNFPA).
In 1998 she was appointed as the Director of Undergraduate Research for William Paterson University responsible for setting up a grant and scholarship program and served on the review board of the United States Institute of Peace, a prestigious think tank in Washington D. C.
Chadda is a recipient of many grants, the most recent among these is the Rockefeller Residency Fellowship at Bellagio, Italy. In 1998 she was given the Excelsior award for excellence in academic achievement by the Association of Indians in America and the Network of Indian Professionals.
Maya Kulkarni Chadda
Dancing Feet
Writer Lavina Melwani was walking in New York City, she came upon the Anamika Navatman Studios and a production called Bhinna Pravaaha: Memories of a Performing Artist – Maya Kulkarni.
Melwani found the experience "a rare treat." In a 2017 blog piece, she described the early life of Maya.
Her father, Gopalrao Kulkarni, was a writer and editor of Harijan, a newspaper published by Gandhi. Her mother, Nalini, was a political activist who also briefly served in the Indian Parliament after Independence. Her parents spent many months in jail during the freedom struggle, and were part of every satyagraha from Dandi March to the Quit India movement. Their lives were tied to Gandhi and they lived with him, and two of their sons were born in the ashram.
Melwani continued.
Ask her about the greatest joy that she has got from performing and she says, "I live for that moment when movement, music and emotions all blend to elevate the self beyond bodily existence. The dancer simply melts away and what remains is that indescribable state of being. Unfortunately not every time one dances one experiences it. But if one had, then you live for it. I have many times, but not often enough for me. To me that is nirvana."
Maya Kulkarni Chadda