Bassist Charlie Bilello
November 3, 1943 – March 19, 1989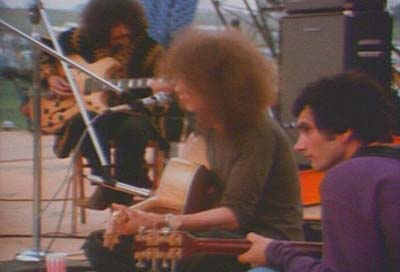 Bassist Charlie Bilello
Bert Sommer's band
Here is another Woodstock Music and Art Fair performer for whom little can be found.
Charlie Bilello played bass with Bert Sommer that Friday 15 August in Bethel, NY.  Woodstock fan, blogger and autograph hound Jack Lokensky wrote that he has not been able to locate Bilello, but did seek out Ira Stone, the other musician with Sommer that day.
Jlokensky
According to Jlokensky, Stone and his wife Max were part of a fund-raiser the day he met Ira. Their [the Stones's] set was dedicated to the memory of Bert Sommer. Three of the four songs they played were played by Mr. Sommer as part of his ten song set. "Jennifer", which was a song written about fellow "Hair" cast member, and future singer, Jennifer Warnes, opened the set. Max then told a story about how Tim Hardin borrowed and made off with Bert Sommer's guitar just prior to Mr. Sommer's set. They then played Tim Hardin's "If I Were a Carpenter". They played a cover of Simon & Garfunkel's "America", a song which allegedly earned Bert Sommer the first standing ovation of the Woodstock Festival. They concluded with another Bert Sommer original, "Smile".
Wade Lawrence
Wade Lawrence, the former director and head curator at Bethel Woods Center for the Arts' Museum, had similar problems finding much about Bilello: Bass player Charlie Bilello hasn't been heard from for a number of years and is presumed to have retired from the music business or died.
I highly recommend reading Lawrence's WoodsTALK blog which covers each of the Woodstock performers.
According to a comment made by a "Les" at the West Virginia Surf Report site, "Charlie died in an accident in 1989."
According to a Facebook comment by Lynda Galindo: Charlie Bilello died n March 1984 when he was hit in a hit and run n West Hempstead New York…
I've since found after a communication with Charlie's son Ryan Bilello said that Charlie died on March 19, 1989.
And another Facebook comment by Sharon Watts:  Charlie was a Sam Ashe music store employee, and on the Zax CD, you can hear Bert correcting himself to say Hempstead (the Sam Ashe branch). 
Sharon also mentions him dying in a hit and run accident.
A Nancy Dunn Kurlish commented on  my post: Here is a pic of Charlie sleeping. He was a friend when I lived in NY. We lost touch.
In response,  Ryan Bilello  wrote: Hi Nancy Dunn Kurlish, my name is Ryan and Charlie Bilello is my father. Sadly, as Lynda Galindo stated, he passed in 1989 when I was 2 years old and my sister was 6. Thank you for sharing that picture of him as there aren't many that we have. Please do let me know if you come across any others. All the best! 
Bassist Charlie Bilello