Glen Moore Jazz Bassist
Happy birthday
October 28, 1941
"Oxeye" by Glen Moore
The opening day at the Woodstock Music and Art Fair was planned as a folk-oriented one. Folk musicians often play solo, but only the unscheduled Melanie did that on Friday. And other than Sweetwater–and  not exactly a folk band–each performance carried the name of their leader.
Richie Havens, Bert Sommer, and Joan Baez each had two others accompanying them. Arlo Guthrie had three others, and surprisingly (to me at least) Tim Hardin had the most,  five others. I say surprisingly because of all the performers, Hardin was the one to my mind that would have, could have performed solo.
Glen Moore Jazz Bassist
Glen Moore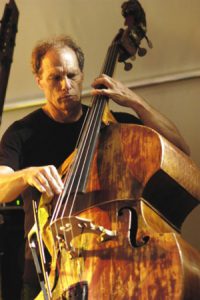 Glen Moore played bass in Hardin's band that day. He was 27 years old and had been playing bass for 14 years already. He continues to play bass today and like many lifetime musicians, his credit list is a long one (Allmusic.com list). Using that list as a guide, it seems that Moore is only associated with Hardin on one album, Bird on a Wire, and that two years after Woodstock.
Oregon and beyond
Glen Moore is best known for his part in the band Oregon. He had helped form the band with Ralph Towner (who also played at Woodstock with Hardin) in 1970. Towner and Moore had met in 1960 as students at the University of Oregon and like so many musicians before and since, found themselves in New York City by 1969.
There they worked with Hardin, but also more importantly began working with the Paul Winter Consort whose style of music let to the formation of Oregon. It was while Moore was playing with the Paul Winter Consort that that band recorded the song "Icarus" the well-known  instrumental, particularly to fans of the late Pete Fornatale, one of the first DJs for New York's famous WNEW-FM. Fornatale used "Icarus" as his theme song and its melody transport his fans back to those days.
Moore remained with Oregon until 2015 and by then the band had released 28 albums, but he has played with  Larry Coryell, Misty River, Susan McKeown, String Alchemy,  Afrique,  Rabih Abou-Khalil,and many more. Also, he has been credited as a composer on dozens of albums. Here is an amazing performance in a collaboration with David Friesen:
He has also released of eleven of his own albums. The most recent was Bactrian in 2015 with David Friesen.
In other words, although my personal "discovery" of Moore may have sprung from his sitting beside the "star" Tim Hardin at the Woodstock Music and Art Fair, Moore's lifetime oeuvre  far surpasses that 30 minute performance however famed it may have been.
Glen Moore Jazz Bassist