November 9 Music Beatles James Brown
The Beatles
Cavern Club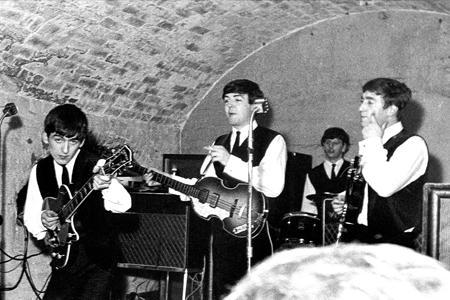 On November 9, 1961 The Beatles performed at the Cavern Club at lunchtime. That night they appeared at Litherland Town Hall, Liverpool (their final performance at that venue).
This was a major day for The Beatles, although they are unaware of it at the time–in the audience at the Cavern Club show was Brian Epstein, dressed in his pin-stripe suit and seeing The Beatles for the first time.
Accompanying Epstein was his assistant Alistair Taylor. Epstein will recall his first impressions in a 1964 interview: "They were fresh and they were honest, and they had:star quality. Whatever that is, they had it, or I sensed that they had it." Over the next few weeks, Epstein becomes more and more interested in possibly managing The Beatles and he does a lot of research into just exactly what that would entail. When he speaks with the group's embittered ex-manager Allan Williams, he is told, "Brian, don't touch 'em with a fucking bargepole." Nonetheless, Epstein invited The Beatles to a meeting at his record store on December 3.
Five years later…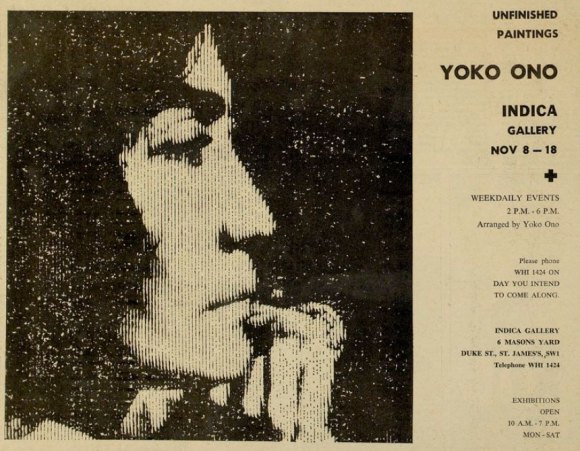 November 9 Music Beatles James Brown
Yoko Ono @ The Indica Gallery
November 9, 1966: John Lennon visited the Indica Gallery in London where he met Yoko Ono who was displaying her art. The Indica Gallery was in the basement of the Indica Bookshop in Mason's Yard, just off Duke Street in Mayfair, London and co-owned by John Dunbar, Peter Asher, and Barry Miles, and was supported in its early years by Paul McCartney.
November 9 Music Beatles James Brown
James Brown
Say It Loud, I'm Black and I'm Proud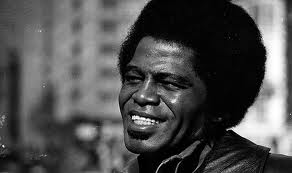 November 9, 1968: singer James Brown gave support to the civil rights movement with his song, "Say It Loud — I'm Black and I'm Proud (Part 1)," which hit number one on the R & B charts for a record sixth straight week.
From schmoop.com: …the song was also – more of a rarity for the Godfather of Soul – deeply political. "Say It Loud (I'm Black and I'm Proud)" was almost a revolutionary statement in 1968, and one laced with more than a little bit of irony. Brown said he recorded the tune as a kind of children's song, hoping to instill pride in the younger generation. But many whites heard it only as militant and angry, costing Brown a good chunk of his interracial crossover audience. And those kids happily shouting out the chorus, "I'm black and I'm proud"? In another ironic twist, most of them were actually white or Asian schoolchildren.
November 9 Music Beatles James Brown