Atlantic City Pop Festival
August 1, 2, & 3, 1969
Atlantic City Racetrack
1969 festival #30
Atlantic City Pop Festival
Atlantic City
The Atlantic City Pop Festival of 1969. The penultimate festival. This was 1969's 30th festival, the first occurring back in May with the Aquarian Family Festival. On my list of festivals for that summer, Atlantic City's was the last before THE Woodstock Music and Art Fair in mid-August.
Herb, Allen and Jerry Spivak, Shelley Kaplan and Larry Magid produced the event and not unlike Woodstock Ventures, they envisioned an event that featured top-flight entertainment along with about 70 craft and food booths in a relaxed, outdoor atmosphere.
According to a 2011 Atlantic City Weekly article, "The festival was a sellout with 40,000 in attendance each day…. 
In the end, the musicians were the glue that kept the festival together with their performances. Procul Harum's show on the first was a highlight, spotlighting the guitar work of guitarist Robin Trower and organist Matthew Fisher."
Atlantic City Pop Festival
Nice mixed line-up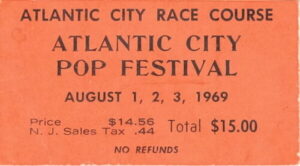 There are not many criticisms about the Woodstock line-up. The typical statement both from those who were there and those not  is that it was the greatest lineup ever. Of course, that's not true. And greatness is in the ear of the listener.
For all the great acts that appeared at Woodstock, it did not have the mix that the Atlantic City Pop Festival had.
Friday 1 August

Biff Rose*

Aum

Lothar and the Hand People

Booker T. & The M.G.s

Chicago Transit Authority

Crosby, Stills & Nash

Iron Butterfly

Johnny Winter

Joni Mitchell

Procol Harum

Santana Blues Band

The Chambers Brothers*

Tracy Nelson & Mother Earth

Saturday 2 August

American Dream

BB King

The Byrds

The Crazy World Of Arthur Brown

Creedence Clearwater Revival

Hugh Masekela

Lighthouse

Cass Elliot

Tim Buckley.

Sunday 3 August

Buddy Rich

Buddy Miles

Dr. John

Little Richard

Sir Douglas Quintet

The Mothers Of Invention

Three Dog Night
Atlantic City Pop Festival
No Shows and walk offs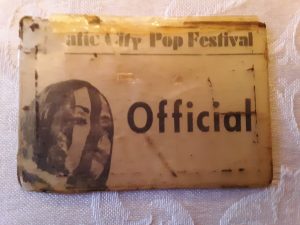 The reason a few band's names are crossed out is that although scheduled, they did not appear. Crosby, Stills, and Nash because of Nash's illness; Johnny Winter because his equipment didn't arrive on time; and though Joni Mitchell did sing a few songs, the audience was not as receptive as she wanted and she walked off. Biff Rose, the festival's MC, filled in and so became part of the list.
Joni was certainly not going to compose an ode to Atlantic City after that experience!
Notice the names like Buddy Rich, the Mothers of Invention, BB King, Hugh Masekela, and Procol Harum. Great choices and there were no equivalents at Woodstock.
The differences
The differences between the two events are even fewer than the differences between it and other similar festivals that summer. Most had great line ups. Most were multiple days. And AC was in the NY media's circle of coverage: a great advantage that Woodstock also had.
The Atlantic City Pop Festival was in a race-track. No camping as at Woodstock, thus much less an opportunity for attendee to bond and become part of a whole weekend.
Though, in the comments below, a Norman Gaines writes: "No camping as at Woodstock". Wrong, bad research. We camped ON THE GREENS  at Atlantic City Friday and Saturday nights at the invitation of the racetrack owners and it was announced over the PA system. We had running water, real restrooms and were able to get cleaned up each morning before the show started on Saturday and Sunday. We had real food available. Also, we had direct bus shuttles from the AC bus terminal to the track when the festival ended. And shaded seats. I was at Woodstock and AC. AC was the better of the two because it wasn't a disaster, like we all know Woodstock was. And respectfully, it had a much more eclectic lineup."
I'll defend my research by saying that
the organizers did not provide the camping (as Woodstock Ventures had), but were invited by the racetrack owners.
Woodstock had running water. It was an amazing system of pipes and faucets surrounding the area.
While Mr Gaines Woodstock experience may have been a "disaster," mine certainly wasn't. Discomfort and disaster are two different things.
And re the AC lineup, see above, but I'll repeat: "For all the great acts that appeared at Woodstock, it did not have the mix that the Atlantic City Pop Festival had."
And as far as other differences, I'll mention two more:
Estimates are about 100,000 people attended each day. A great number, but far less than the "astronomic" half-million in Bethel.
Finally, like nearly every other festival that summer, there is no official audio or visual record of the event. Over the years, various people have written their impressions, but the organizers did not do more than create a great weekend.
There is this brief home movie and sound of Janis:
A March 8, 2020 article from NJ.com relates a bit more about the concert including a few photos by Peter Stupar who hitchhiked to the concert from Potomac, MD.  Stupar's site has many more of his pictures from that weekend.
Woodstock
Woodstock Ventures did not set out to create a legacy by filming and recording their event, but in my opinion, their festival would simply be another one on that summer's long list of festivals had they not done those things.
Atlantic City Pop Festival
Next 1969 festival: Ann Arbor Blues Festival