Atlantic Records Ahmet Ertegun
Remembering and appreciating
July 31, 1923 – December 14, 2006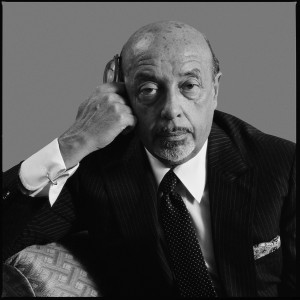 When I was a kid listening to (and looking at) an Atlantic Records album or single, the words Ahmet Ertegun regularly appeared. To this Boomer, it was an odd set of words. A person? An expression? A technical term?
Little did I realize how much Ahmet Ertegun (a person!) shaped my sense of American pop music and how much I am indebted to him for being a beacon guiding me to great music.
Atlantic Records Ahmet Ertegun
Ahmet Ertegun crosses Atlantic
Ahmet Ertegun was born in Istanbul, Turkey on July 31, 1923. With his family (his father was an ambassador) he would eventually emigrate to Washington, DC in  1935, but while living in Great Britain, Ahmet and his older brother Nesuhi had attended concerts by American musicians like Cab Calloway and Duke Ellington. They loved that sound.
In the United States, Ahmet and Nesuhi continued to search out such  music. Ahmet later said, "I began to discover a little bit about the situation of black people in America and experienced immediate empathy with the victims of such senseless discrimination, because, although Turks were never slaves, they were regarded as enemies within Europe because of their Muslim beliefs." (from: Greenfield, Robert (January 25, 2007).
"Atlantic Records founder Ahmet Ertegun signed everyone from Ray Charles to the Rolling Stones and Led Zeppelin". Rolling Stone.)
After an initial failed record label start in 1947, Ertegun began  Atlantic Records with Herb and Mariam Abramson. He signed Ruth Brown in 1949 and she had a hit in 1950 with "Teardrops From My Eyes."
Success sparks bonfire
Ahmet Ertegun even wrote some songs. The Covers' "Fool Fool Fool" was one of his hits.
Atlantic signed Ray Charles in 1952
Atlantic Records Ahmet Ertegun
Wexler, Dowd, & the Drifters
While Herb Abramson served in the military, Ertegun  brought on Jerry Wexler,   and  audio engineer Tom Dowd recorded numerous hits including The Drifter's "Save The Last Dance For Me."
ATCO, a spin-off of Atlantic, began in 1955. It had the hit "Splish Splash" with Bobby Darin.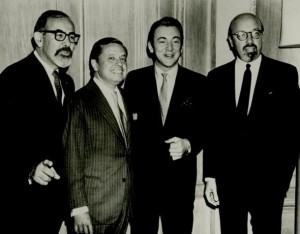 Atlantic Records Ahmet Ertegun
Blues the base
Atlantic Records continued to produce the type of music that had attracted Ahmet Ertegun from the beginning: Otis Redding, Percy Sledge, Solomon Burke, Wilson Pickett, and Aretha Franklin. But the west coast music scene attracted him, too.
He signed Sonny and Cher and  Buffalo Springfield.
Though sold to Warner Brothers in 1970, Ertegun remained with the label and  signed The Rolling Stones to Atlantic Records, The  70's also brought Led Zeppelin, Yes, Crosby, Stills, Nash & Young, Cream, and Bad Company to Atlantic.
The 80s found Rush, Genesis, AC/ DC,Twisted Sister, Skid Row, Debbie Gibson, and Phil Collins on Atlantic.
Rock and Roll Hall of Fame
In 1983 with Jann Wenner, the founder and editor of Rolling Stone, Jerry Wexler, Seymour Stein, Allen Grubman, and Bob Krasnow, Ahmet Ertegun helped establish the Rock & Roll Hall of Fame. They approved the Hall's construction plans in Cleveland, Ohio. Ahmet was inducted into The Rock & Roll Hall of Fame in 1987.
On October 29, 2006, while attending a Rolling Stones benefit concert at the Beacon Theatre in NYC, Ertegun tripped and fell. He was brought to the hospital and though  initially in stable condition, he  took a turn for the worse and slipped into a coma.
Ahmet Ertegun died on December 14, 2006 ( NYT obit)
Atlantic Records Ahmet Ertegun