March 23 Music et al
March 23 – 29, 1963: "Our Day Will Come" by Ruby & the Romantics #1 on the Billboard Hot 100.
March 23 Music et al
In His Own Write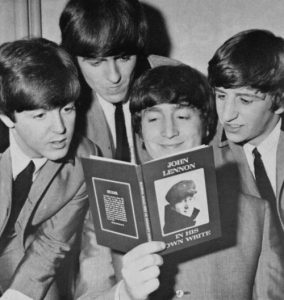 March 23, 1964: release of John's first book, In His Own Write. 
The New York Times wrote, "The author is a Beatle, a kind of upper­class choir boy with a churl's haircut, and he writes like a Beatle possessed. What he is possessed with is the feeling that if there isn't a word like the one he needs to use, there should be one. He has the touch of inspired nonsense and a gift for illustrating his notions with strangely funny drawings, even though his taste runs to the weird" (see Apr 4)
Good Dog Nigel
Arf, Arf, he goes, a merry sight
Our little hairy friend
Arf, Arf, upon the lampost bright
Arfing round the bend.
Nice dog! Goo boy,
Waggie tail and beg,
Clever Nigel, jump for joy
Because we are putting you to sleep at three of the clock, Nigel.
March 23 Music et al
Elvis Costello's father sings Michelle
March 23, 1967: at a ceremony held at the Playhouse Theatre in London, The Beatles were awarded three Ivor Novello awards for 1966: Best-selling British single 'Yellow Submarine', most-performed song 'Michelle', and next-most-performed song 'Yesterday'. None of the Beatles attended and the winning songs were played by Joe Loss and his Orchestra. The lead vocal for 'Michelle' was sung by Ross MacManus, whose son would go on to become the professional musician Elvis Costello. (see Mar 30)
March 23 Music et al
Fear of Rock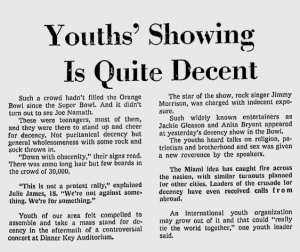 After the Jim Morrison incident in Miami on March 1, 1969 where he supposedly exposed himself while onstage (very likely did not) a group of kids from a local church decided to hold a 'Decency Rally' to show the world that the youth of Florida was not corrupted by the evils of Rock and Roll.
March 23, 1969, the "Rally For Decency" (or "Decency Rally") was held at the Orange Bowl in Miami. The rally featured top name entertainers including Jackie Gleason, The Lettermen, Kate Smith, and Anita Bryant and promising that the crowd of 30,000 will contain no "longhairs and weird dressers."  (see April 28, 1982)
March 23 Music et al
Concert For Bangladesh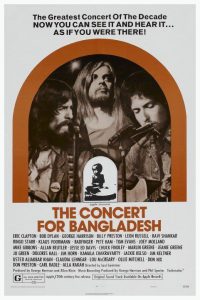 March 23, 1972: the film of The Concert For Bangladesh featuring George Harrison, Bob Dylan and Eric Clapton premiered in New York. The event was the first benefit concert of this magnitude in world history. The concert raised $243,418.51 for Bangladesh relief, which was administered by UNICEF. Sales of the album and DVD continue to benefit the George Harrison Fund for UNICEF. (see Mar 31)
March 23 Music et al
John Lennon v Immigration
March 23, 1973: purportedly because of a disputed conviction for possession of hashish in England in 1968 and as part of a three-and-a-half-year-long campaign by the U.S. government to deport former Beatle John Lennon, the Immigration and Naturalization Service (INS) ordered him to leave the country within 60 days.
In reality, the government sought to deport Lennon because of his anti-Vietnam War activities and other criticisms of the U.S. government. The deportation campaign finally ended on October 7, 1975, when a federal appeals court reversed his deportation, ruling that the government could not selectively deport someone because of his or her political views. (see April 3)
March 23 Music et al