March 22 Peace Love Art Activism
Feminism
Christine de Pizan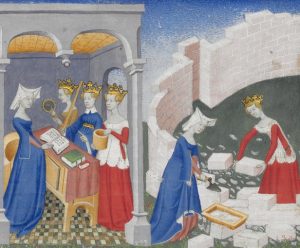 In 1405: Christine de Pizan's The Book of the City of Ladies (Le Livre de la Cité des Dames) published. It is Pizan's most famous literary work. The book served as her response to Jean de Meun's The Romance of the Rose and its sexist beliefs by creating an allegorical city of ladies. She defended women by collecting a wide array of famous females throughout history. These women were "housed" in the City of Ladies, which is actually Christine's book. As Christine builds her city, she uses each famous woman as a building block for not only the walls and houses of the city, but also as building blocks for her defense of female rights. Each woman added to the city adds to Christine's argument towards women as active participants in society. She also advocated for female and male equality within the realm of education. (see World Digital Library for more)
SEPARATION OF CHURCH AND STATE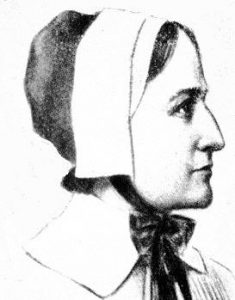 March 22, 1638: the Boston Church excommunicated Anne Hutchinson. She moved with her family to Rhode Island to land purchased from the Narragansetts. They were invited by Roger Williams, who had founded the new colony as a democratic community with no enforced church doctrine. (History of Massachusetts article)  (Feminism, see June 15, 1648; Separation, see November 4, 1646)
Equal Rights Amendment
March 22, 1972:  the Equal Rights Amendment, with language revised by Alice Paul in 1943, approved by the Senate. Having already passed in the House of Representatives (12 October 1971), it was sent to the states for ratification. The revised language of the essential phrase reads, "Equality of rights under the law shall not be denied or abridged by the United States or by any state on account of sex." (see Apr 17).
Women's Health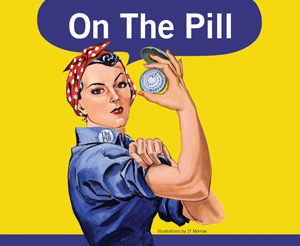 March 22, 1972: the U.S. Supreme Court, ruling in Eisenstadt v. Baird that a state cannot stand in the way of distribution of birth control to a single person, struck down a Massachusetts law prohibiting the sale of contraceptives to unmarried women. (Oyez article) (see January 22, 1973)
Malala Yousafzai
March 22, 2018: Malala Yousufzai returned to Pakistan for a brief visit.
"Today I am very happy. After five-and-a-half years, I have stepped on my soil again. I can't believe that this is happening. I have been dreaming about returning to my country since I left.  When I travel to cities like London or New York I always imagined that I am driving in Islamabad or Karachi ," she said. (next F, see May 22; MY, see )
March 22 Peace Love Art Activism
BLACK HISTORY
Dred Scott
March 22, 1852: in Scott v. Emerson, the Missouri Supreme Court reversed the lower court and declared that Scott was still a slave. The decision was frankly political. The court decided the case not on the basis of legal precedent, but because of popular prejudice. Chief Justice William Scott stated,
Times are not now as they were when the former decisions on this subject were made. Since then not only individuals but States have been possessed with a dark and fell spirit in relation to slavery, whose gratification is sought in the pursuit of measures, whose inevitable consequence must be the overthrow and destruction of our government. Under such circumstances it does not behoove the State of Missouri to show the least countenance to any measure which might gratify this spirit. She is willing to assume her full responsibility for the existence of slavery within her limits, nor does she seek to share or divide it with others.
Thus, Chief Justice Scott overturned twenty-eight years of Missouri precedents. (see Dred Scott for expanded story)
Black Codes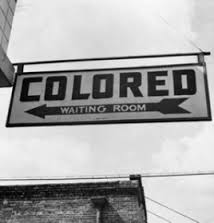 March 22, 1901: the Civil War and emancipation threatened to overturn Southern culture and social relations, which were based in white supremacy and racial hierarchy. After Reconstruction ended and white politicians and lawmakers regained control and power in the South, many efforts were made to restore that racial order through very strict laws that mandated segregation and made it illegal for black and white people to interact as equals; interracial marriage, integrated education, and even interracial athletic events were strictly banned.
An example of these laws in action occurred on March 22, 1901, when a white woman and a black man were arrested in Atlanta, Georgia, and accused of walking and talking together on Whitehall Street. In a news article entitled, "Color Line Was Ignored," The Atlanta Constitution newspaper reported that Mrs. James Charles, "a handsomely dressed white woman of prepossessing appearance," and C.W. King, "a Negro cook," were arrested after Officer J.T. Shepard reported having seen the two talk to each other and then "walk side by side for several minutes."
Mrs. Charles gave a statement after her arrest, not challenging the law itself, but fervently denying the accusation. She insisted she had exchanged no words with Mr. King, and merely smiled as she passed him dancing on the street:
"As I paused to listen to the music I noticed a negro man, the one arrested with me, dancing on the sidewalk. I smiled at his antics and was about to pass on when a policeman touched me on the arm and said he wanted to talk to me. I stopped and he asked why I talked to a negro. I denied having spoken to any negro. I told him I was a southern born woman, and his insinuations were an insult."
Mr. King also denied having spoken to Mrs. Charles; he said he never knew there was a white woman near him.
No further reporting on the arrests was published, and it is not clear whether they were convicted and fined when tried the next afternoon. [EJI article] (see Sept 3)
King fined and imprisoned
March 22, 1956: King was found guilty of violating the boycott statute in Montgomery, Ala., and fined $500. When he decided to appeal, the judge added 386 days of imprisonment.  (see Boycott for expanded chronology)
Third march
March 22, 1965: 3,200 civil rights demonstrators, led by the Reverend Martin Luther King, Jr., and under protection of a federalized National Guard, began a third attempt at a week-long march from Selma, Alabama, to the state capitol at Montgomery in support of voting rights for black Americans.. (see March for expanded story)
George Whitmore, Jr
March 22, 1966: Whitmore's retrial for the attempted rape and assault of Elba Borrero opened before a Kings County jury and Supreme Court Justice Aaron F. Goldstein. (see Whitmore for expanded story)
James C. Anderson
On June 26, 2011 James C Anderson was standing near his car at a Jackson, Mississippi  motel about 5 a.m. Two carloads of teenagers pulled off the Interstate and into the motel parking lot. Several jumped from the vehicles and beat Mr. Anderson.
A white sport utility vehicle drove away. As Mr. Anderson stumbled along the edge of the parking lot, the police said, the driver of a green Ford F250 pickup truck, Deryl Dedmon, accelerated and drove over him. Mr. Anderson was pronounced dead at a local hospital. (see Aug 7)
On March 22, 2012,  Deryl, Dedmon, 19, and his friends John A. Rice, 18, and Dylan Butler, 20, were charged in US District Court in Jackson, Mississippi with one count each of conspiracy and one of violating James. Anderson's civil rights. They pleaded guilty in the afternoon. They faced up to five years for the conspiracy charge and up to life for the hate-crime violations. It was the first time the new federal hate-crime law, enacted in 2009, had been used in the Deep South. (BH, see Mar 24; JCA, see Mar 28)
Stop and Frisk Policy
March 22, 2012: black and latino lawmakers, upset with the frequency with which NYC police officers stop and frisk  minority men pushed for legislation to rein in the practice. (see Mar 28)
137 SHOTS
March 22, 2018: the City of East Cleveland's prosecutor's office filed a motion asking Judge William Dawson to set a trial date in the Timothy Russell and Malissa Williams case that had dragged on for more than half a decade.
The filing came after East Cleveland Law Director Willa Hemmons had offered to drop the charges (see Mar 15) if each supervisor paid $5,000, Kevin Spellacy, a lawyer representing one of the supervisors charged.
Michael Donegan, 44 of Cleveland, Patricia Coleman, 50 of Brooklyn, Randolph Dailey, 46 of North Ridgeville, Jason Edens, 44 of Avon, and Paul Wilson, 51 of Cleveland had all pleaded not guilty to the charges. (see Apr 12)
Antwon Rose, Jr
March 22, 2019: a jury acquitted Michael Rosfeld on all counts in connection with the shooting death of black teenager Antwon Rose, Jr,
The verdict came after a four-day trial and less than four hours of jury deliberation. (B & S, see Apr 25; AR, see Aug 29)
March 22 Peace Love Art Activism
March 22 Music et al
March 22, 1963, The Beatles before their US appearance: UK release of Beatles first album, Please Please Me.
Producer George Martin, a Fellow of the Zoological Society of London, owners of the London Zoo, thought that it might be good publicity for the zoo to have the Beatles pose outside the insect house for the cover photography of the album. However, the Zoological Society of London turned down Martin's offer and instead, Angus McBean was asked to take the distinctive color photograph of the group looking down over the stairwell inside EMI's London headquarters in Manchester Square. Martin was to write later: "We rang up the legendary theatre photographer Angus McBean, and bingo, he came round and did it there and then. It was done in an almighty rush, like the music…"
John Lennon (22); Paul McCartney (20); George Harrison (20); and Ringo Starr (22) (see Apr 8)
LSD/Marijuana
March 22, 1966: Prankster Mountain Girl fined $250 for marijuana possession. (see Mar 25)
March 22 Peace Love Art Activism
Vietnam
Poison gas
March 22, 1965: the State Department acknowledged that the US had supplied the South Vietnamese armed forces with a "non-lethal gas which disables temporarily" for use "in tactical situations in which the Viet Cong intermingle with or take refuge among non-combatants, rather than use artillery or aerial bombardment." The announcement triggered a storm of criticism worldwide. The North Vietnamese and the Soviets loudly protested the introduction of "poison gas" into the war. (see Mar 24)
 My Lai Massacre
March 22, 1968: a Vietnamese village chief reports to the leader of the Son Tinh District that 570 civilians had been killed and 90% of Son My village had been destroyed, including homes, animals and property. (see My Lai for expanded story)
Gen. Creighton Abrams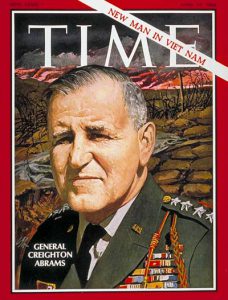 March 22, 1968: President Lyndon B. Johnson announced the appointment of Gen. William Westmoreland as Army Chief of Staff; Gen. Creighton Abrams replaced him as commander of U.S. forces in Vietnam.
Westmoreland had first assumed command of U.S. Military Assistance Command Vietnam in June 1964, and in that capacity was in charge of all American military forces in Vietnam. One of the war's most controversial figures, General Westmoreland was given many honors when the fighting was going well, but when the war turned sour, many Americans blamed him for problems in Vietnam. Negative feeling about Westmoreland grew particularly strong following the Tet Offensive of 1968. (see Mar 25)
March 22 Peace Love Art Activism
Irish Troubles
March 22, 1981:  Raymond McCreesh, an Irish Republican Army (IRA) prisoner in the Maze Prison, and Patsy O'Hara, then leader of Irish National Liberation Army (INLA) prisoners in the Maze, joined the hunger strike. (see Troubles for expanded story)
March 22 Peace Love Art Activism
US Labor History
Baseball lockout
March 22, 1990: a 32-day lockout of major league baseball players ended with an agreement to raise the minimum league salary from $68,000 to $100,000 and to study revenue-sharing between owners and players (see August 31, 1991)
March 22 Peace Love Art Activism
Environmental Issues
Exxon Valdez oil spill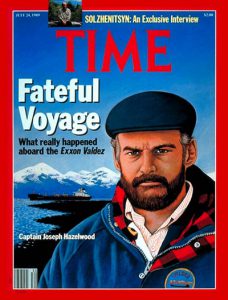 March 22, 1990: a jury in Anchorage, Alaska, found former tanker captain Joseph Hazelwood innocent of three major charges in connection with the Exxon Valdez oil spill, but convicted him of a minor charge of negligent discharge of oil. (NYT article) (see March 13, 1991; Hazelwood, see July 11, 1992)
March 22 Peace Love Art Activism
Native Americans
La Framboise Island
March 22, 1999: Sioux people established the Oceti Sakowin spiritual camp on La Framboise Island in the Missouri River near Pierre, South Dakota, in protest of the treaty-breaking Danklow Acts (Terrestrial Wildlife Habitat Restoration Act and Water Resources Development Authorization), which gave 200,000 acres of tribal lands to the state of South Dakota. (see July 7, 1999)
March 22 Peace Love Art Activism
Crime and Punishment
March 22, 2016: South Dakota Governor Dennis Daugaard signed SB 140, which abolished life imprisonment without parole sentences for all children under age 18 at the time of the crime. The new law eliminated life imprisonment, which was the mandatory sentence for juveniles convicted of Class A, B, and C felonies, and replaced it with a term of years in the state penitentiary. (see Apr 22)
March 22 Peace Love Art Activism
ADA
March 22, 2017:  in an 8 – 0 vote, the US Supreme Court ruled in Endrew F. v. Douglas County School District that school districts must give students with disabilities the chance to make meaningful, "appropriately ambitious" progress. The decision in could have far-reaching implications for the 6.5 million students with disabilities in the United States.
The case centered on a child with autism and attention deficit disorder whose parents removed him from public school in fifth grade. He went on to make better progress in a private school. His parents argued that the individualized education plan provided by the public school was inadequate, and they sued to compel the school district to pay his private school tuition.
The Supreme Court's decision sided with the family, overturning a lower court ruling in the school district's favor.
The federal Individuals With Disabilities Education Act [IDEA] guarantees a "free appropriate public education" to all students with disabilities. The Supreme Court's  opinion held that "appropriate" goes further than what the lower courts had held.
"It cannot be right that the IDEA generally contemplates grade-level advancement for children with disabilities who are fully integrated in the regular classroom, but is satisfied with barely more than de minimis progress for children who are not," read the opinion, signed by Chief Justice John Roberts. (Oyez article) (see March 26, 2019)
March 22 Peace Love Art Activism