March 15 Peace Love Art Activism
BLACK HISTORY
Ballie Crutchfield lynched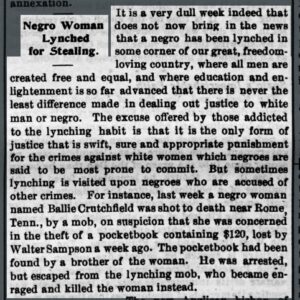 March 15, 1901: a white mob in Rome, Tennessee, lynched a Black woman named Ballie Crutchfield. Ms. Crutchfield was accused of no crime, and targeted simply because the mob had earlier that night failed in its attempt to lynch her brother.
A week earlier, a white man in Rome had reportedly lost a wallet containing $120. As word spread that a young Black boy had found the wallet and given it to a young Black man named William Crutchfield, white residents accused William of stealing the wallet.
Though there was no evidence supporting the claim that William Crutchfield had stolen the wallet, he was promptly arrested and taken to the local jail. That night, a white mob stormed the jail and abducted Mr. Crutchfield from police custody, but as they prepared to lynch him, he escaped.
The lynch mob searched but failed to find Mr. Crutchfield; determined to take out their vengeance on someone, they instead seized his sister, Ballie Crutchfield, from her home. Though she was not even alleged to be in any way involved with the lost wallet, the mob took Ms. Crutchfield—whose first name was also reported as "Sallie"—to a bridge a short distance from the town, tied her hands behind her back, shot her in the head, and threw her body into the creek below. [EJI article] (next BH, see March 22, 1901, next Lynching, see Oct 31 or see AL2 for expanded chronology)
Julian Bond
March 15, 1960: Julian Bond, civil rights activist and future Georgia state senator, led more than 200 Atlanta area students in the first sit-in protest in Atlanta, challenging segregated public accommodations. They presented "An Appeal for Human Rights" to city officials. (next BH, see Apr 1; Atlanta,  see Greensboro Four  for expanded chronology)
Orangeburg, SC
March 15, 1963: Tom Gaither, Student Council President at Claflin College, and South Carolina State College freshman Charles "Chuck" McDew together led nearly 1,000 students on a peaceful march in downtown in Orangeburg, S.C., to protest segregation and support the sit-ins. Police attacked them with tear gas and fire hoses. Hundreds of marchers were herded behind fences in one of the largest mass arrests in the civil rights movement. Two years later, the U.S. Supreme Court overturned their convictions. (see Apr 2)
Voting rights
March 15, 1965: President Lyndon B. Johnson addressed a joint session of Congress to urge the passage of legislation guaranteeing voting rights for all. (BH, see Mar 16; VR, see August 10, 1965)
Hosie Miller
March 15, 1965: in Newton, Georgia Cal Hall, a white farmer, shot Hosie Miller, a black farmer and Baptist deacon, during a livestock dispute. Miller died ten days later. Hall, claimed he killed Miller in self-defense, was charged at least three times in connection with Miller's death, but grand juries declined to prosecute him each time. (see Mar 16)
Rodney King
March 15, 1991: Sgt. Stacey Koon and officers Laurence Michael Powell, Timothy Wind, and Theodore Briseno indicted by a Los Angeles grand jury in connection with the beating.  (BH, see Apr 24; King, see May 10)
137 SHOTS
March 15, 2018: Cleveland's Fox 8 reported that defense attorneys for the five Cleveland police supervisors charged in connection with the fatal shootings of Timothy Russell and Malissa Williams said that East Cleveland offered to drop their charges if they each paid $5,000,.
The supervisors would still go on trial on dereliction of duty charges, but Law Director Willa Hemmons made the offer to drop the charges if they paid the money. Defense lawyer Henry Hilow told FOX 8 the offer was made to him twice.
"And there's no basis for it in law, no basis for a practicing attorney. In fact, to a lay person, this would be extortion," he told the station.
East Cleveland Mayor Brandon King told the station he was aware of it, but waited to comment until the law director was with him.
A letter from Hemmons said she intended to prosecute, but the city also looked to "mitigate charges." (see Mar 22)
Medgar Evers
March 15, 2019:  Congressional Black Caucus chairwoman Karen Bass of California said Mississippi's Republican Gov. Phil Bryant was "clearly despicable" for not acknowledging work by Rep. Bennie Thompson, the state's only black congressman, to get the home of a slain civil rights leader named a national monument.
On Twitter, Gov Bryant praised Trump and Mississippi's two Republican U.S. senators for the monument designation.
Thompson tweeted back: "Give adequate credit. I've worked on this for 16 years." (next BH, see Mar 26; see ME for expanded chronology)
Jesuit Reparations
March 15, 2021: in one of the largest efforts by an institution to atone for slavery, the Jesuit order of Catholic priests vowed to raise $100 million to benefit the descendants of the enslaved people it once owned and to promote racial reconciliation initiatives across the United States.
The move by the leaders of the Jesuit conference of priests represented the largest effort by the Roman Catholic Church to make amends for the buying, selling and enslavement of Black people, church officials and historians said.
"This is an opportunity for Jesuits to begin a very serious process of truth and reconciliation," said the Rev. Timothy P. Kesicki, president of the Jesuit Conference of Canada and the United States. "Our shameful history of Jesuit slaveholding in the United States has been taken off the dusty shelf, and it can never be put back." [NYT story] (next BH, see Apr 11; also see April 26 for Harvard University's announcement)
March 15 Peace Love Art Activism
March 15 Music et al
The Beatles
March 15, 1963: in the US, the Beatles' "Please Please Me" peaked at number 35 after four weeks on Chicago's WLS "Silver Dollar Survey" chart. The song did not chart on any of the major national American surveys. (see Mar 22)
Dizzy
March 15 – April 11, 1969: "Dizzy" by Tommy Roe #1 on the Billboard Hot 100.
Rock and Roll Hall of Fame
March 15, 1999: Paul McCartney and George Martin inducted into the Rock and Roll Hall of Fame.  (see Dec 30)
March 15 Peace Love Art Activism
Vietnam
My Lai Massacre
March 15, 1970: the Army pressed charges against 25 men, including Captain Eugene Koutoc (aggravated assault,) Colonel Oran Henderson (dereliction of duty, failure to report a war crime, perjury,) and Brigadier General George Young (dereliction of duty, failure to obey lawful regulations.) (next Vietnam see Apr 2; see My Lai for expanded story)
March 15 Peace Love Art Activism
Irish Troubles
March 15, 1981:  Francis Hughes, an Irish Republican Army (IRA) prisoner in the Maze Prison, joined Bobby Sands on hunger strike.  (Hughes obit from anphoblacht dot com) (see Irish Troubles for expanded story)
March 15 Peace Love Art Activism
Dissolution of the USSR & INDEPENDENCE DAY
Lithuania
Lithuania had declared it's independence on March 11, 1990. On  March 15  the Soviet Union announced that Lithuania's declaration of independence was invalid. (next Dissolution, see May 4; or see USSR for expanded chronology; next ID, see Mar 21)
March 15 Peace Love Art Activism
Somalia
March 15, 1994: U.S. troops begin withdrawing from Somalia. They will complete the withdrawal on March 25. (NYT article)
March 15 Peace Love Art Activism
Occupy
March 15, 2012: Scott Olsen's attorney stated that Olsen was hit in the head by a beanbag projectile, not a teargas canister, fired by a policeman during the October protest. "The fact that it was a beanbag shot, which was not what we thought, puts it in a completely different light," said Mark Martel, who is preparing to file a claim against Oakland. "If he was hit by a tear gas canister, that would just be stupid or negligent. But if it was a beanbag – those are meant to hit people, and it tells me that whoever did it, did it intentionally." (see July 21, 2015)
March 15 Peace Love Art Activism
LGBTQ
NCAA/South Carolina
March 15, 2017: since Confederate battle flag was no longer flying at the State Capitol in Columbia, South Carolina, the NCAA allowed tournament games to be held in South Carolina for first time in 15 years
Since 2002, the N.C.A.A. had kept its championships out of states flying the flag. When the South Carolina Legislature passed a bill in 2015 ending the flag's display on the statehouse grounds, the NCAA lifted that restriction.
The timing proved fortuitous when, a year later, the N.C.A.A. imposed a similar championship ban on neighboring North Carolina because of a contentious law seen by its critics as anti-gay. Just like that, tournament games set to be held in Greensboro, N.C., this week needed a new home. Greenville was happy to step in. (LGBTQ & NC, see Mar 30)
Pope Francis/Same-sex unions
March 15, 2021 The Vatican said that the Catholic Church would not bless same-sex unions, in a statement Pope Francis  approved and that threatened to widen the chasm between the church and much of the LGBTQ community.
Explaining their decision in a lengthy note, the Holy See referred to homosexuality as a "choice," described it as sinful and said it "cannot be recognized as objectively ordered" to God's plans. The stance is certain to disappoint millions of gay and lesbian Catholics around the world.
"The blessing of homosexual unions cannot be considered licit," the Vatican's top doctrinal office, the Congregation for the Doctrine of the Faith, wrote in the statement.
God "does not and cannot bless sin," the statement added. [CNN article] (next LGBTQ, see Mar 24)
March 15 Peace Love Art Activism
Environmental Issues
Fuel economy rollback
March 15, 2017: President Trump traveled to Detroit to announce a rollback of stringent fuel economy standards for cars and trucks that were put in place by the Obama administration — a welcome message to American automakers but one that could slow the push for a new generation of efficient vehicles. (EI, & Emissions, see Mar 24)
Student protest
March 15, 2019: students worldwide skipped classes to demand that world leaders take action on climate change.
The movement, inspired by the actions of 16-year-old Swedish environmental activist Greta Thunberg, spanned more than 100 countries and 1,500 cities, where students gathered in the streets and at their state capitols to call for action.
"Today, the tens of thousands, maybe hundreds of thousands, maybe millions of kids who are striking around the world are doing it not because we want to skip school, but because we are scared," 12-year-old Haven Coleman, who co-founded and co-directed the US Youth Climate Strike, said at a news conference in Washington, D.C.
"Climate change is the largest threat to our lives, our future and our world," she said. [next EI, see Apr 8]
Ice Shelf Collapse
March 15, 2022: the US National Ice Center reported that the Antarctica's Conger Ice Shelf (nearly the size of Los Angeles) disintegrated within days of extraordinary warmth on the continent.
The shelf spanned approximately 460 square miles. It was around the time temperatures soared to minus-12 degrees Celsius (10.4 F), more than 40 degrees warmer than normal (-61.6 F), at the Concordia research station.
Rob Larter, a marine geophysicist at the British Antarctic Survey said, "I don't think there has been a shelf collapse like this in East Antarctica since we've been able to receive satellite data. Conger is a very small ice shelf which has been decreasing in size for many years and this was just the final step which caused it to collapse." [CNN article] (next EI, see Mar 31)
March 15 Peace Love Art Activism
Immigration History
Refugee ban stayed
March 15, 2017: U.S. District Judge Derrick K. Watson in Hawaii issued a sweeping freeze of President Trump's new executive order, hours before it would have temporarily barred the issuance of new visas to citizens of six Muslim-majority countries and suspended the admission of new refugees.
In a blistering, 43-page opinion, Watson pointed to Trump's own comments and those of his close advisers as evidence that his order was meant to discriminate against Muslims and declared there was a "strong likelihood of success" those suing would prove the directive violated the Constitution.
Watson declared that "a reasonable, objective observer — enlightened by the specific historical context, contemporaneous public statements, and specific sequence of events leading to its issuance — would conclude that the Executive Order was issued with a purpose to disfavor a particular religion."
He lambasted the government, in particular, for asserting that because the ban did not apply to all Muslims in the world, it could not be construed as discriminating against Muslims. (Vox dot com article) (see Mar 16)
Trump's Wall
March 15, 2019: as he had said he would, President Trump vetoed the bill denying his declaration of a national emergency to fund a southern border wall. (next TW, see Mar 26; or see Wall for expanded chronology)
Abused immigrant children
March 15, 2019: Judge John Koeltl of the U.S. Court for the Southern District of New York ruled that the Trump administration broke the law when it denied hundreds of visa applications for immigrants who had been abused, neglected, or abandoned by a parent as minors under the Special Immigrant Juvenile program.
The U.S. Citizenship and Immigration Services had issued internal guidance that led to a denial of applications for people who applied for SIJ status after they'd turned 18. (next IH, see Mar 19)
March 15 Peace Love Art Activism
TERRORISM
March 15, 2018:  the Anti-Defamation League's Center on Extremism reported that from May 20, 2017, through March 12, 2018 it had found 72 episodes of white supremacists hanging banners in public places, such as from highway overpasses and rooftops, to promote their views.
Before that period, the A.D.L. had not documented any white supremacist banners since Dec. 11, 2016, said Jake Hyman, a spokesman for the group.
Most of those documented in the report were racist or anti-immigrant in nature, with messages ranging from "America first: End immigration" to "'Diversity' is a code word for white genocide." Others were anti-Muslim (a banner displayed on an overpass near Dearborn, Mich., home to one of the largest mosques in North America, read "DANGER: Sharia city ahead"), anti-Semitic ("UNjew HUMANITY") or misogynistic ("Feminists deserve the rope"). (T, see May 4; IH, see Mar 26, F, see Mar 22; BH, see Mar 25)
March 15 Peace Love Art Activism
DEATH PENALTY
March 15, 2018: Michael Eggers had a personal and family history of mental illness. His brother was institutionalized in a mental hospital with schizophrenia, and family observed that Michael showed symptoms similar to his brother.
In 1985, when he was 17, narcotics officers in California compelled him to make some controlled marijuana purchases. Since then, Mr. Eggers believed that the Mexican Mafia and other outlaw groups, law enforcement agencies, and the government were conspiring to persecute him — following him from California as he fled to eight different states to evade them; checking into the psych ward to torment him when he was involuntarily committed for emergency psychiatric care; and even killing his father in retaliation for the killing of his former employer in Walker County, Alabama, in 2000.
Jail and prison authorities recognized Mr. Eggers's mental illness and treated him with anti-psychotic medications. Correctional officers observed he was paranoid, delusional, and suicidal, and placed him in protective custody after he tried to kill himself.
Alabama executed Michael Eggers on this date after a judge allowed him to fire his attorneys and abandon his appeals despite his mental illness. (see Mar 19)
March 15 Peace Love Art Activism
Native Americans
March 15, 2021: Deb Haaland, a member of New Mexico's Laguna Pueblo, became the first Native American Cabinet secretary in U.S. history.
The Senate voted 51-40 to confirm the Democratic congresswoman to lead the Interior Department, an agency that will play a crucial role in the Biden administration's ambitious efforts to combat climate change and conserve nature.
Her confirmation was as symbolic as it is historic. For much of its history, the Interior Department was used as a tool of oppression against America's Indigenous peoples. In addition to managing the country's public lands, endangered species and natural resources, the department is also responsible for the government-to-government relations between the U.S. and Native American tribes.
"Indian country has shouted from the valleys, from the mountaintops, that it's time. It's overdue," Sandia Pueblo tribal member Stephine Poston told NPR after Haaland was nominated. [NPR story] (next NA, see Mar 30)
March 15 Peace Love Art Activism