April 24 Peace Love Art Activism
Early "News" Music
Claude de Lisle
April 24, 1792: Claude de Lisle (1760 –1836) wrote "La Marseillaise" which became the French National Anthem three years later.
Hard Times Come Again No More
In 1854: Stephen Foster. "Hard Times Come Again No More," is a song by Stephen Foster. It was written in 1854 as Foster's Melodies No. 28. Well-known and popular in its day, both in America and Europe, the song asks the fortunate to consider the plight of the less fortunate and ends with one of Foster's favorite images: "a pale drooping maiden".
Follow the Drinking Gourd
In 1860s: African Americans sang of their dream for freedom and equality before the Civil War, during it, and long after. Though its origin is sometimes disputed, Follow the Drinking Gourd is still thought of as a song used by "riders" on and "conductors" of the Underground Railroad system used to help slaves escape to safety and freedom by using coded directions. The "drinking gourd" likely refers to the North Star in the Little Dipper's handle.
The Internationale
In 1871:  Frenchman, Eugène Pottier (1816–1887), wrote "The Internationale."  Pierre De Geyter (1848–1932) set the poem to music in 1888 and shortly thereafter it became widely used. In 1944 it became the national anthem of the Soviet Union and is often still sung today as a worker anthem. Its lyrics are even more rousing than "La Marseillaise." (see "News music)
April 24

Peace Love Art Activism
BLACK HISTORY
Reconstruction Ends
April 24, 1877: as part of a political compromise that enabled his election, President Rutherford B. Hayes withdrew federal troops from Louisiana—the last federally-occupied former Confederate state—just 12 years after the end of the Civil War. The withdrawal marked the end of Reconstruction and paved the way for the unrestrained resurgence of white supremacist rule in the South, carrying with it the rapid deterioration of political rights for Black people. [EJI article] (next BH, see April 17, 1878)
Lije Strickland and Albert Sewell lynched
April 24, 1899: at some point during his lynching, Sam Hose (see April 23, 1899) was said to have implicated Lije Strickland, a preacher, in the murder. That same night, the same mob fell upon Rev. Strickland and despite pleas and explanations from the plantation owner Major Thomas who repeatedly vouched for Strickland's innocence, a crowd took Strickland. Despite Thomas's repeated pleadings and insistence of his innocence from Strickland himself, he was murdered.
The Detroit Evening News reported, "The body of Lige Strickland, the negro who was implicated in the Cranford murder by Sam Hose, was found this morning swinging to the limb of a persimmon tree…. Before death was allowed to end the sufferings of the Negro, his ears were cut off and the small finger of his left hand was severed at the second joint. One of these trophies was in Palmetto to-day. On the chest of the Negro was a scrap of blood-stained paper, attached with an ordinary pin. On one side this paper contained the following: "We must protect our Ladies."
The same day, the crowd also sought out and lynched an Albert Sewell, a Black man, who had reportedly voiced a negative view of the Hose and Strickland lynchings. [Times-Herald article] (next BH and Lynching, see Apr 27 or see Lynchings for expanded chronology)
George Stinney, Jr
April 24, 1944: Stinney was tried for the murder of Betty June Binnicker. An all-white male jury was selected and the trial concluded that same day during a special term of court with Judge P.H. Stoll presiding. Appearing on behalf of the State was Solicitor Frank McLeod, who presented evidence from law enforcement that Stinney confessed to the crime. While law enforcement testified that a confession occurred, no written confession exists in the record today. Nothing remains from documentary evidence indicating whether a murder weapon, bloody clothes or other demonstrative evidence were admitted at trial.
Few or no witnesses were called by the Defense and little to no cross examination conducted. After ten minutes of deliberation by the jury of twelve, Stinney was found guilty of the murder of Betty June Binnicker and was that same day sentenced to death by electrocution. No appeals were filed and no stays of execution. (BH & DP,  see July 16; see George Stinney for expanded story)
Biloxi Beach Wade-In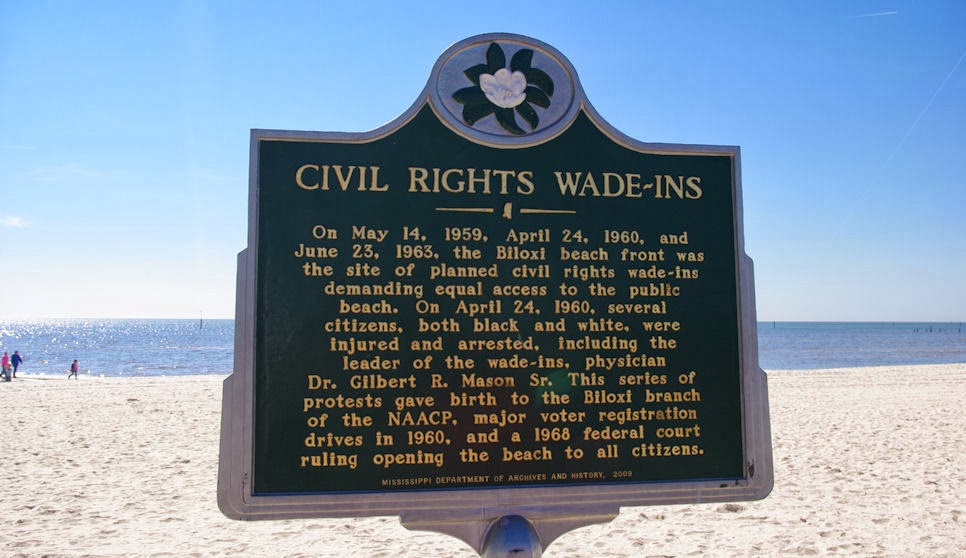 April 24, 1960: a mob attacked protesters with iron pipes and chains, including Dr. Gilbert Mason, after they walk onto "whites-only" Biloxi Beach. Police attacked and arrested protesters. By the time dawn broke, more than 20 African Americans had been injured. Before the violence ended that week, two young African-American men had been killed. (2010 Smithsonian dot com article) (see May 4)
George Whitmore, Jr
April 24, 1964: cruising Brownsville, NYPD Patrolman Frank Isola and Detective Richard Aidala spotted Whitmore and, despite the discrepancy between his appearance and that of the assailant Isola had seen, took Whitmore to the 73d Precinct station for questioning. After Detective Aidala called Elba Borrero and told her a suspect was in custody, she viewed Whitmore through a peephole in a door and said Whitmore was the man who tried to rape her. (This was the first mention of attempted rape.) Whitmore had in his possession a photograph of a young white woman whom Detective Edward Bulger identified as Janice Wylie. (see Whitmore for expanded story)
James Byrd
April 24, 2019: the State of Texas executed John William King, 44 with a dose of pentobarbital. King had been convicted two decades ago for killing James Byrd Jr. in an act of unfathomable racist brutality in the small town of Jasper.
The execution, carried out at the state's death chamber in Huntsville, came after the United States Supreme Court turned down King's last petition for a stay. He was pronounced dead at 7:08 p.m., said Jeremy Desel, a spokesman for the Texas Department of Criminal Justice. [NYT article]
INDEPENDENCE DAY
Ireland
April 24, 1916: Ireland independent from the United Kingdom. (see December 6, 1917)
April 24

Peace Love Art Activism
Nuclear/Chemical News
April 24, 1945:  President Harry Truman learned the full details of the Manhattan Project, in which scientists were attempting to create the first atomic bomb. (see July 16)
April 24

Peace Love Art Activism
Bay of Pigs
Cuban Missile Crisis
April 24, 1961: President Kennedy accepted "sole responsibility" following Bay of Pigs invasion of Cuba. (see  Crisis for expanded story)
April 24

Peace Love Art Activism
see  
April 24 Music et al
for more
Doug Clifford
April 24, 1945: Doug Clifford of Creedence Clearwater Revival born.
Bob Dylan
April 24, 1961: Harry Belafonte recorded "Midnight Special". Bob Dylan played harmonica on the recording. It was Dylan's first official recording and he received a $50 session fee. (see May 6)
Runaway
April 24 – May 21, 1961: "Runaway" by Del Shannon #1 Billboard Hot 100.
Game of Love
April 24 – 30, 1965: "Game of Love" by Wayne Fontana & the Mindbenders #1 on the Billboard Hot 100.
Paul and John, the last time
April 24, 1976: Paul and Linda McCartney spent the evening with John Lennon at his New York Dakota apartment and watched Saturday Night Live. Producer of the show Lorne Michaels made an offer on air asking The Beatles to turn up and play three songs live. Lennon and McCartney thought about taking a cab to the studio, but decided they were too tired. This was the last time Lennon and McCartney were together. (see July 27)
William "Billy" Zantzinger
April 24, 1991: William "Billy" Zantzinger–made infamous by Bob Dylan's song, "The Lonesome Death of Hattie Carroll,"  became front page news again. The Maryland Independent ran a story by reporter Kristi Hempel revealing that Zantzinger had been collecting rent for five years from several poor black families even though he no longer owned the houses where they lived. The county had foreclosed on the properties in 1986 because Zantzinger had failed to pay taxes on them. The houses, located in a place called Patuxent Woods, were battered wooden shacks, with no running water or toilets or even outhouses. The tenants had to dump their wastes in the woods, which polluted the water in their shallow hand-pumped wells. Not only had Zantzinger collected rent after losing the properties, he'd actually raised the rent, and he'd even taken some tenants to court for nonpayment. And won. (see June 5)
April 24

Peace Love Art Activism
Space Race
Echo 1 balloon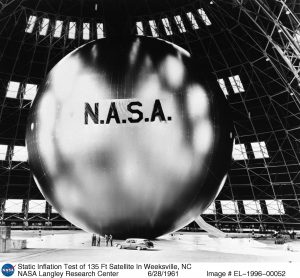 April 24, 1962: the Massachusetts Institute of Technology achieved the first satellite relay of a television signal, using NASA's Echo 1 balloon satellite to bounce a video image of the letters "M.I.T." transmitted from Camp Parks, Calif., to Westford, Mass. (2010 Space dot com article) (see July 10)
April 24

Peace Love Art Activism
Vietnam
President Ngo Dinh Diemwas
April 24, 1963: the CIA reported to President Kennedy that South Vietnam President Ngo Dinh Diemwas was about to ask that the number of American advisers be greatly reduced. Kennedy told a friend that evening, "We don't have a prayer of staying in Vietnam. These people hate us. They are going to throw our asses out of there at almost any point. But I can't give up a piece of territory like that to the communists and then get the people to re-elect me." (see May 6)
General Westmoreland
April 24, 1967: General Westmoreland condemned anti-war demonstrators saying they give the North Vietnamese soldier "hope that he can win politically that which he cannot accomplish militarily." Privately, he had already warned President Johnson "the war could go on indefinitely." American attacks on North Vietnam's airfields began The attacks inflicted heavy damage on runways and installations. By the end of the year, all but one of the North's Mig bases has been hit. (see April 28)
My Lai Massacre
April 24, 1968: a second investigation regarding the My Lai Massacre concurs with that of Colonel Henderson. (see My Lai for expanded story; Vietnam see Apr 27)
B-52 attacks
April 24, 1969: U.S. B-52s launch biggest attack on North Vietnam. Protests in 40 cities. (see May 1)
Qui Nho
April 24, 1971: North Vietnamese troops hit Allied installations throughout South Vietnam. In the most devastating attack, they blew up the ammunition depot at Qui Nho. 
Vietnam Veterans Against the War
April 24, 1971: seven hundred Vietnam Veterans Aganist the War gathered at the US Capital. The Nixon administration had erected a wire and wood fence at the bottom of its steps.One by one, the veterans stepped up to a microphone to identify themselves and speak out against the war if they liked, then hurl their medals onto the Capital steps—Silver Stars, Purple Hearts, Bronze Stars, Distinguished Flying Crosses. (VVAW site) (see Apr 26)
April 24

Peace Love Art Activism
Symbionese Liberation Army
April 24, 1974: in a sixth audio tape, Patty offered evidence of her full participation in the bank robbery — at no time did her comrades have a gun pointed at her. She refers to her family as the "pig Hearsts" and to Steven Weed, her fiancé, as "an ageist, sexist pig." (see Hearst for expanded story)
April 24

Peace Love Art Activism
Iran hostage crisis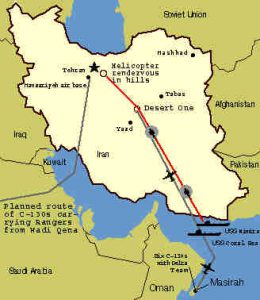 April 24, 1980: an American military aborted rescue mission in Iran after mechanical problems ground the helicopters. Eight United States troops are killed in a mid-air collision during the failed operation. (see July 27)
April 24

Peace Love Art Activism
DEATH PENALTY
Antiterrorism and Effective Death Penalty Act
April 24, 1996: between 1985 and 1995 death penalty proponents had made successful efforts at both the state and federal level to streamline the capital appeals process and expedite executions. The most significant of these efforts was the Antiterrorism and Effective Death Penalty Act of 1996 (AEDPA). Capital punishment proponents argued that death row inmates abused the writ of habeas corpus by filing multiple, repetitive petitions. Congress passed AEDPA to restrict the availability of federal habeas relief in several significant manners." The bill passed 293-133-7 in the House of Representatives and 91-8-1 in the Senate. It was signed into law on Apr. 24, 1996. (related article) (see February 3, 1997)
Arkansas
April 24, 2017: Arkansas executed two convicted murderers, the first time in almost 17 years that any state has executed two inmates on the same day, as the state carried out a series of capital punishments before one of its lethal injection drugs expired. Jack H. Jones Jr. died at 7:20 p.m. local time, and Marcel Williams at 10:33 p.m., both from the injection of a three-drug combination, after a flurry of failed, last-ditch appeals.(see Apr 27)
April 24

Peace Love Art Activism
CLINTON IMPEACHMENT
April 24, 2000: CNN learned that in the previous week Independent Counsel Robert Ray has subpoenaed records from the National Archives in an attempt to determine whether the White House deliberately withheld electronic mail messages in an attempt to stymie investigations pertaining to the Monica Lewinsky affair and other Clinton Administration controversies. (see Clinton for expanded story)
April 24

Peace Love Art Activism
Terri Schiavo
April 24, 2001, after three years of legal proceedings by Terri Schiavo's husband, Michael, the Court permits the removal of her feeding tube. It was reinserted several days later. (see February 25, 2005)
April 24

Peace Love Art Activism
Deepwater Horizon Oil Spill
April 24, 2010: BP reports a leak 1,000 barrels (42,000 US gallons) a day (see Apr 27)
April 24

Peace Love Art Activism
Immigration History
April 24, 2018: Judge John D. Bates of Federal District Court for the District of Columbia said that the Trump administration's decision to terminate the Deferred Action for Childhood Arrivals, or DACA, program was based on the "virtually unexplained" grounds that the program was "unlawful."
The judge stayed his decision for 90 days and gave the Department of Homeland Security, which administers the program, the opportunity to better explain its reasoning for canceling it. If the department failed to do so, it "must accept and process new as well as renewal DACA applications," Judge Bates said in the decision. (next IH & DACA, see May 1; Bates, see Aug 3)
April 24

Peace Love Art Activism