July 10 Peace Love Art Activism
BLACK HISTORY
Separate Car Act
July 10, 1890: Louisiana governor Francis Nicholls signed the Separate Car Act, which mandated the racial segregation of railroad passengers. [Railroad article] (see Nov 1)
E. Frederic Morrow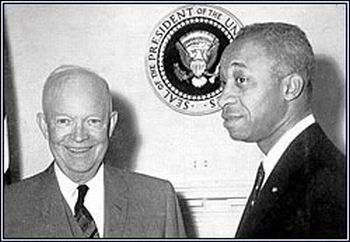 July 10, 1955: E Frederic Morrow moved to the White House on this day to become an aide to President Dwight D. Eisenhower and as such he became the first African-American to serve in that capacity. His autobiography vividly describes his difficulties in trying to persuade the administration to take a strong stand on civil rights. Morrow, for example, tried unsuccessfully to get President Eisenhower to issue a statement regarding the brutal murder of Emmett Till, a 14-year-old African-American, in Mississippi on August 28, 1955. He did, however, finally convince Eisenhower to meet with civil rights leaders in the White House, a meeting that occurred on June 23, 1958.  [1994 NYT obit]  (see August 21)
Albany Movement
July 10, 1962: Martin Luther King Jr and Ralph Abernathy, convicted of having violated a street and sidewalk assembly ordinance without a permit on December 16, 1961, went to jail to emphasize their nonviolent defiance of racial barriers. They had been given the choice of a $178 fine each or 45 days in jail. They choose jail. (see Albany for expanded story)
July 10 Peace Love Art Activism
Religion and Public Education
SEPARATION OF CHURCH AND STATE
July 10, 1925: the Scopes trial began with jury selection. Judge John Raulston asks the Rev. Lemuel M. Cartright to open the proceedings with a prayer. (see Scopes for expanded story)
July 10 Peace Love Art Activism
July 10 Music et al
LSD
July 10, 1960: Sidney Cohen's survey of 5,000 individuals who had taken LSD 25,000 times concluded it was safe. (see June 1961)
Bobby Lewis
July 10 – August 27, 1961: "Tossin' and Turnin'" by Bobby Lewis #1 Billboard Hot 100.
A Hard Day's Night
July 10, 1964: recorded 29 Jan, 25 – 27 Feb, 1 Mar and 1 – 4 June 1964 at EMI Studios, London and Pathé Marconi Studios, Paris, Parlophone released A Hard Day's Night, the Beatles' third studio album. Side one contained songs from the soundtrack to their film A Hard Day's Night. United Artists Records had released the American version  two weeks earlier on 26 June 1964 with a different track listing. This was the first Beatles album recorded entirely on four-track tape, allowing for good stereo mixes.
In contrast to their first two albums, John Lennon and Paul McCartney wrote all 13 tracks, showcasing the development of the band's songwriting talents. (see July 12)
July 10 – August 6, 1965: "(I Can't Get No) Satisfaction by the Rolling Stones #1 on the Billboard Hot 100, the first of five #1 Billboard Hot 100 songs in the 1960s.
Beatles VI
July 10 – August 20, 1965: Beatles VI  is the Billboard #1 album. (see July 29)
Third Big Sur Folk Festival
July 10, 1966: The Third Big Sur Folk Festival. (see June 28 – 29, 1967)
Featuring:

Joan Baez

Judy Collins

Mark Spoelstra

Malvina Reynolds

Nancy Carlen

Al Kooper

Mimi Fariña

panel discussion w Ralph Gleason: "What's Happening Baby"
The [bumpy] Road to Bethel: July 10, 1969
Peter Goodrich and John Roberts meet in Peter Marshall's office with Charles Baxter, Jeffrey Joerger, and Lee Howard of Food for Love to discuss providing food at the festival. Because of the lack of any other companies offering their services and the late date, Roberts approved Food for Love's application. (see July 10)

the entire production staff met to go over all progress that had been made since they began. Most were pleased with the many tasks accomplished and plans in place. (see  Chronology for expanded story)
Grateful Dead
July 10, 1986: Jerry Garcia went into a five day diabetic coma, resulting in the band withdrawing from their current tour. (see July 29, 1987)
July 10 Peace Love Art Activism
Space Race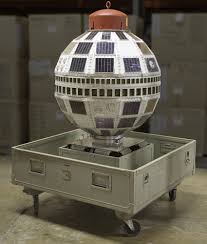 July 10, 1962: Telstar satellite launched by NASA. It was the…
first active, direct-relay communications satellite

first satellite to relay television, telephone and high-speed data communications

first transatlantic television [NASA article] (Space race, see Sept 12; relay satellite, see Dec 13; Telstar, see Dec 22)
July 10 Peace Love Art Activism
Feminism
July 10, 1971: more than 200 women — Republicans, Democrats and independents — met to inaugurate a new organization aimed at increasing the number of women holding public office. The group called itself the National Women's Political Caucus. [NWPC site]  (see Nov 22)
July 10 Peace Love Art Activism
Vietnam
July 10 > 14, 1972: The Democratic National Convention meets in Miami Beach. Senator George McGovern, who backed the immediate and complete withdrawal of U.S. troops from South Vietnam, was nominated for President. He named fellow Senator Thomas Eagleton as his running mate. [NYT article] (see Aug 11)
July 10 Peace Love Art Activism
INDEPENDENCE DAY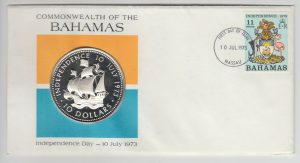 July 10, 1973: Bahamas independent of United Kingdom. [Bahamas site] (see Sept 24)
July 10 Peace Love Art Activism
UK rioting
July 10, 1981: three days of rioting that took place in the Handsworth area of Birmingham, England. The disturbances resulted in 121 arrests and 40 injuries to police officers, alongside widespread damage to property. [Birmingham article] (see July 12)
July 10 Peace Love Art Activism
Irish Troubles
July 10, 1981:  funeral for Joe McDonnell. The British Army moved to arrest an IRA firing party at the funeral and seized a number of weapons and made several arrests. Rioting broke out following this incident. (see Troubles for expanded story)
July 10 Peace Love Art Activism
Environmental Issues
July 10, 1985: French Direction Générale de la Sécurité Extérieure agents  (France's external intelligence agency) bombed and sank the Greenpeace vessel Rainbow Warrior in Auckland harbor. [2015 Guardian article] (see April 23, 1988)
July 10 Peace Love Art Activism
Immigration History
July 10, 2018: facing a legal deadline to return young migrant children separated from their parents at the border, federal officials said that they had reunited four families, with an additional 34 reunions scheduled before the end of the day. The relatively slow pace of unwinding the Trump administration's family separation policy fell short of an original court order, which had directed that all children under age 5 — a total of 102, by the government's latest count — be returned to their families by this date.  (see July 14)
July 10 Peace Love Art Activism
FREE SPEECH, US Labor History & Colin Kaepernick
July 10, 2018: the NFL players union filed a grievance over the league's new requirement that players stand for the national anthem or wait in their dressing rooms, a policy that followed President Donald Trump's denunciation of pregame protests.
The National Football League said on May 23 it would require any player who did not wish to stand during the playing of "The Star-Spangled Banner" before games to stay off the field until the ceremony ended.
Before the league announced the new policy, the NFL Players Association (NFLPA) had offered to discuss other ways to defuse tensions over the protests, which were prompted by a series of police killings of unarmed black men in Missouri, New York and other cities.
"The union's claim is that this new policy, imposed by the NFL's governing body without consultation with the NFLPA, is inconsistent with the collective bargaining agreement and infringes on player rights," the NFLPA said. (FS, see July 14; LH, see July 17; CK, see July 19)
July 10 Peace Love Art Activism
Cultural Milestone
July 10, 2019: in Puebla, Mexico, Volkswagen made the last Beetle, a third-generation Denim Blue coupe. (next CM, see October 11, 2021)
July 10 Peace Love Art Activism
Women's Health/Affordable Care Act
July 10, 2020:  US District Judge Catherine Blake in Maryland blocked a new federal regulation that would have required insurers on the Obamacare exchanges that cover abortions to issue separate bills for that coverage.
The decision marked a setback in the Trump administration's long-standing efforts to limit abortion access through federal programs. Planned Parenthood of Maryland and several individuals who bought health insurance on their states' exchanges filed the lawsuit in February, with lawyers from Planned Parenthood Federation of America and the American Civil Liberties Union Foundation representing plaintiffs.
Blake found that the rule from the Centers for Medicare & Medicaid Services (CMS) ran afoul of a section of the Affordable Care Act barring "unreasonable barriers" to health care, since "it makes it harder for consumers to pay for insurance because they must now keep track of two separate bills."
The insured individuals who helped bring the suit "are in danger of losing non-Hyde abortion coverage if states allow issuers to drop the coverage and if issuers decide that the 'separate billing' rule is too burdensome," Blake wrote. [CBS News article] (next ACA/Healthcare,see July 13; next WH, see July 21)
July 10 Peace Love Art Activism