July Peace Love Art Activism
Sometimes, even with the internet, it's hard to pin down an event's exact date. All of the following happened in July, but I cannot find a date. If you can, let me know and the source. I'd appreciate it.
BLACK HISTORY
Washing Society
July 1881: 20 home laundry workers in Atlanta, Georgia formed a trade organization, the Washing Society. They sought higher pay, respect and autonomy over their work, and established a uniform rate at a dollar per dozen pounds of wash. With the help of African American ministers throughout the city, they held a mass meeting and called a strike to achieve higher pay at the uniform rate.
[AFL-CIO article] (see July 4)
Scottsboro Boys Travesty
July 1948: Haywood Patterson escaped from prison. Patterson sought the help of a journalist, Earl Conrad, and together they write The Scottsboro Boy, an account of Patterson's life.
July 1977: Victoria Price's defamation and invasion of privacy suit against NBC for its movie "Judge Horton and the Scottsboro Boys,"  dismissed.
In 1979: Clarence Norris, in "The Last of the Scottsboro Boys," a 1979 autobiography written with Sybil D. Washington, contended that the black youths were scapegoats, caught at the wrong place at the wrong time with two white women who were afraid they would be accused of fraternizing with blacks.
In 1982: Victoria Price died without ever having apologized for her role in the injustice her testimony brought upon the innocent defendants. (see Scottsboro for expanded story)
Rosa Parks
In July 1955: Rosa Parks visited the Highlander Folk School.  [Rosa Park Bio page article] (BH, see July 10; Montgomery Bus Boycott, see October 21)
Department of Defense Directive 5120.36
In July 1963: Secretary of Defense Robert S. McNamara issued Department of Defense Directive 5120.36 The directive dealt with the issue of racism in areas surrounding military communities. The directive declared:
It is the policy of the Department of Defense to conduct all of its activities in a manner which is free from racial discrimination, and which provides equal opportunity for all uniformed members and all civilian employees irrespective of their color.
The military departments shall . . . issue appropriate instructions, manuals and regulations in connection with the leadership responsibility for equal opportunity, on and off-base, and containing guidance for its discharge.
Every military commander has the responsibility to oppose discriminatory practices affecting his men and their dependents and to foster equal opportunity for them, not only in areas under his immediate control, but also in nearby communities where they may live or gather in off-duty hours.
The directive empowered commanding officers to use economic power to influence local businesses. With the approval of the Secretary of Defense, the commanding officer could declare an area off-limits to military personnel. [MLDC article] (see July 2)
Rainey Pool
July 1970: despite indictments, the circuit court enters an order granting nolle proseque [decision to voluntarily discontinue criminal charges either before trial or before a verdict is rendered.] (BH, see July 28)
In 1998: after more than twenty-eight years, five men were indicted for the murder of Pool in 1998.   Two of the five men had severed trials. (Pool, see June 30, 1999; BH, see Mar 12)
July Peace Love Art Activism
US Labor History
USPS weight limits
July 1916: to the huge relief of Post Office Department employees, the service set a limit of 200 pounds a day to be shipped by any one customer.  Builders were finding it cheaper to send supplies via post than via wagon freight. In one instance, 80,000 bricks for a new bank were shipped parcel post from Salt Lake City to Vernal, Utah, 170 miles away.  The new directive also barred the shipment of humans: a child involved in a couple's custody fight was shipped—for 17¢—from Stillwell to South Bend, Ind., in a crate labeled "live baby" (see February 9, 1917)
César E. Chávez
July – August 1975: to educate farm workers about their newly-won rights, Chavez embarked upon his longest, and least known, march, a 1,000-mile 59-day trek from the Mexican border at San Ysidro north along the coast to Salinas and then from Sacramento south down the Central Valley to the UFW's La Paz headquarters at Keene, southeast of Bakersfield. Tens of thousands of farm workers march and attend evening rallies to hear Chavez and organize their ranches. (see May 1976)
July Peace Love Art Activism
Emma Goldman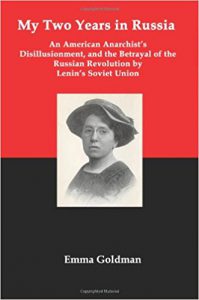 July – December 1922: Goldman completed a manuscript, My Two Years in Russia and sells the rights to the book. It was published in 1923 as My Disillusionment in Russia. (see Goldman for expanded story)
July Peace Love Art Activism
Religion and Public Education
July 1945: Vashti McCollum brought legal action against the Champaign, Illinois public school district. McCollum's suit stated that her eight-year-old son had been coerced and ostracized by school officials because his family had chosen to not participate in the district's in-school religious instruction program. McCollum's suit argued that religious instruction held during regular school hours on public school property constituted an establishment of religion in violation of the U.S. Constitution, and violated the Equal Protection Clause of the Fourteenth Amendment. [NYT obituary] (see September 10, 1945)
July Peace Love Art Activism
Vietnam
Chinese withdraw
In July 1946: Chinese troops withdrew from Vietnam. (see Dec 19)
General Paul D Harkins
In July 1962: General Paul D Harkins, head of the Military Assistance Command, told US Secretary of Defense Robert McNamara that once South Vietnam's ARVN [Army of the Republic of Vietnam] and Civil Guard were fully trained and engaged in hunting down the communists, their military potential could be eliminated within twelve months.
He left in 1964. (see Aug 22)
July Peace Love Art Activism
Fear of Rock
July 1957: ABC TV show "The Big Beat"  with Alan Freed began a short run. Though popular, in an early episode Frankie Lymon, a Black singer, was seen dancing with a white girl. Southern stations protested and ABC cancelled the show. (see In October)
The Rainbow Quest
July 1960: Pete Seeger released The Rainbow Quest album on which was the song "Where Have All the Flowers Gone"
FCC adopted non-duplication rule
July, 1964:  the Federal Communications Commission (FCC) adopted a non-duplication rule prohibiting FM radio stations in cities of more than 100,000 people from merely running a simulcast of the programming from their AM counterparts. Stations fought the rule and delayed implementation. (CM, see September 5, 1965; RR, see December 13, 1965)
Sidewinder
In July 1964: Lee Morgan's Sidewinder album released. He recorded it at Van Gelder Studios in Englewood Cliffs, NJ.
Bob Dylan
In July 1965:  Dylan and Sara Lownds purchased an eleven-room mansion in the Arts and Crafts Movement Colony of Byrdcliffe named Hi Lo Ha on Camelot Road one mile from Woodstock, NY. (next Dylan, see July 25; Lowands, see Nov 22)
Tim Hardin 1
July, 1966: Tim Hardin (age 25) released first album, Tim Hardin 1. (see Aug 15)
Cultural Milestone
July 1967: the Summer of Love in San Francisco. (see Sept 3)
Future Woodstock Performers
In July, 1967: Canned Heat released first album, Canned Heat.
"Sky Pilot"
July 1968: Eric Burdon and the Animals released "Sky Pilot" and Phil Ochs "The War Is Over." (Vietnam, see August)
Mind Games
July – August, 1973: in New York's Record Plant East studio, John Lennon began work on the Mind Games album. Mind Games was completed within a period lasting around two weeks, with Lennon producing it himself. The band was credited as the Plastic U.F.Ono Band.
By that summer John Lennon and Yoko Ono's marriage was on the rocks. Ono suggested that Lennon embark on an affair with their assistant, May Pang. That decision led to Lennon's "Lost Weekend," the 18 months that he lived with Pang in her New York apartment and later a a rented home in Los Angeles. (see Sept 24)
July Peace Love Art Activism
Nuclear/Chemical News
July 1961: Ban The Bomb demonstrations start worldwide. (CW, see Aug 12; NN, see July 3)
July Peace Love Art Activism
Daniel Ellsberg/Pentagon Papers
July 1971: President Nixon appointed Egil "Bud" Krogh, Jr. and Kissinger aide David Young, Jr. to head a special investigations unit (nicknamed "the plumbers") to obtain evidence to discredit Ellsberg, who Henry Kissinger has deemed "the most dangerous man in America" who "has to be stopped." Krogh and Young hired G. Gordon Liddy and E. Howard Hunt, who hatched a plan to burglarize the offices of Ellsberg's one-time psychiatrist in Los Angeles. They carry out the plan in September 1971. (see DE/PP for expanded story)
July Peace Love Art Activism
Symbionese Liberation Army
July 1973: a group of Berkeley-area activists organized a revolutionary group, the Symbionese Liberation Army. The S.L.A. believed a timely example will spark revolt in Black America. Their goals include closing prisons, ending monogamy, and destroying "all other institutions that have made and sustained capitalism." (see Nov 6)
July Peace Love Art Activism
Sexual Abuse of Children
July 1992: US bishops meeting in South Bend, Indiana, admitted attempts by some of their number to hide abuse. [My Plainview article]  (see Oct 10)
July Peace Love Art Activism
Cannabis
In July 1999: in response to a rescheduling petition from Unimed, [Marinol] was moved administratively by DEA to Schedule III to make it more widely available to patients. The rescheduling was granted after a review by DEA and the Department of Health and Human Services found little evidence of illicit abuse of the drug. In Schedule III, Marinol is now subject to fewer regulatory controls and lesser criminal sanctions for illicit use. (next Cannabis, see June 14 or see CCC for expanded chronology)
July Peace Love Art Activism
Iraq War II
In July 2006: White House budget document revealed that administration will ask for another $110 billion to fund the wars in Iraq and Afghanistan. (see Aug 19)
July Peace Love Art Activism