July 14 Peace Love Art Activism
FREE SPEECH
Sedition Act
July 14, 1798: Congress passed the Sedition Act, making it a federal crime to publish false, scandalous or malicious writing about the U.S. government. [Our Documents text] (see February 23, 1915)
Free press
July 14, 2018: John Saro Balian, a Glendale, California narcotics detective had pleaded guilty on July 12 to federal charges that he had accepted a bribe, obstructed justice and lied to federal investigators about his involvement with organized crime. Judge John F. Walter of United States District Court for the Central District of California ordered the plea agreement sealed, but a reporter found it posted online on July 13 in a public database of federal court documents.
The Los Angeles Times published the article about the plea agreement on the same day and subsequently received a court order from Walter to remove the article.
The LA Times did so on this date, but said it would appeal the court order. (see July 19)
July 14 Peace Love Art Activism
US Labor History
The Great Uprising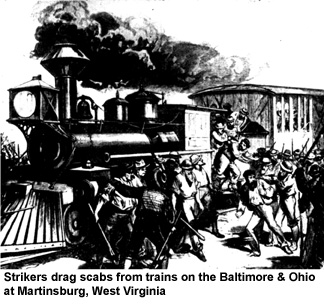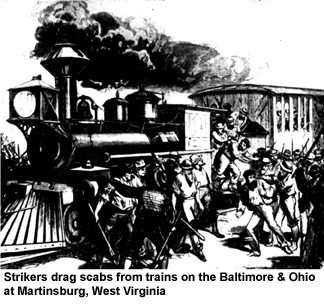 July 14, 1877: The Great Uprising nationwide railway strike began in Martinsburg, W Va, after railroad workers were hit with their second pay cut in a year. In the following days, strike riots spread through 17 states. The next week, federal troops were called out to force an end to the strike. [2015 Politico article] (see July 23)
MLB umpire strike
July 14, 1999: major league baseball umpires voted to resign and not work the final month of the season. (see October 3, 2001)
July 14 Peace Love Art Activism
Feminism
Voting Rights
July 14, 1917: the National Women's Party picketed in front of the White House to raise awareness about the suffrage movement. Police arrest protesters and some, including Lucy Burns, to go on hunger strikes while in jail. This level of militancy yields sympathy from some quarters but disdain from others. (see July 17)
Jean Westwood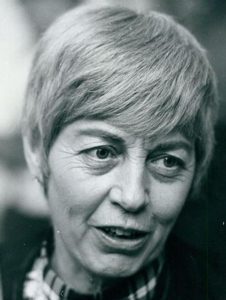 July 14, 1972:  Jean Westwood is elected the leader of the Democratic National Committee, becoming the first woman to chair a major political party. [1997 NYT obit]  (next Feminism see September 5, 1972)
Women's Health
July 14, 2015: the U.S. Court of Appeals for the 10th District ruled that Little Sisters of the Poor cannot receive a full exemption from the law's contraception rules because they "do not substantially burden plaintiffs' religious exercise or violate the plaintiffs' First Amendment rights."
Under the contraception mandate, nonprofit religious groups such as Little Sisters of the Poor were permitted to opt out of the requirement if they report their concerns to their insurance companies or the federal government. But that group and others had objected to any extra steps to obtain the exemption. Instead, they were seeking the same treatment as houses of worship, which were not required to fill out additional paperwork in order to avoid fines under the law. [Baltimore Sun article] (see Aug 10)
July 14 Peace Love Art Activism
Religion and Public Education
SEPARATION OF CHURCH AND STATE
July 14, 1925: the third day of the Scopes trial, attorney Clarence Darrow objected to the practice of opening the trial with a prayer. Judge Raulston overruled the objection, noting that he had instructed the ministers who offer the prayer to "make no reference to the issues involved in this case." (see Scopes for expanded story)
July 14 Peace Love Art Activism
Vietnam
July 14, 1941: Japan demanded and received approval from the Vichy French government to establish military bases in southern Vietnam in addition to bases in northern Vietnam. (see July 25)
July 14 Peace Love Art Activism
BLACK HISTORY
Anti-lynching law platform
July 14, 1948: President Harry Truman and the Democratic Party adopted a platform that called for a federal anti-lynching law, the abolition of poll taxes and the desegregation of armed forces. Three days later, Southern "Dixiecrats" held their own convention and nominated South Carolina Governor Strom Thurmond for president.  [text of platform] (next BH, see July 26); next Lynching, see April 28, 1951; for expanded chronology of lynching, see also AL4)
Plainfield, NJ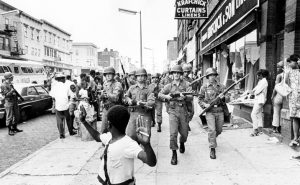 July 14 – 20, 1967: Plainfield, NJ race riot mirrored the Newark riot a few days before. [My Central Jersey article] (see July 17)
School Desegregation
July 14, 1999: race-based school busing in Boston ended after 25 years. (BH, see Aug 2; SD, see July 17, 2001)
Chaney, Goodman, and Schwerner
July 14, 2006: Mississippi Circuit Court judge Marcus D. Gordon refused to let Edgar Ray Killen out of prison while he appealed his conviction in the killing of three civil rights workers in 1964. It was the second time that Mr. Killen, 81, had asked to be freed on bond because of poor health. (next BH, see July 25; see Murders for expanded story)
July 14 Peace Love Art Activism
July 14 Music et al
Bobby Vinton
July 14 – August 10, 1962: "Roses Are Red (My Love)" by Bobby Vinton #1 Billboard Hot 100.
July 14, 1969: the movie Easy Rider premiered.
The Band/Bob Dylan
July 14, 1969: Dylan made a guest appearance with The Band at the Mississippi River Festival. He came out for the Band's encore and played four songs with them. This was his first concert performance since the Woody Guthrie concert on January 20, 1968. (see August 15)
The bumpy road to Bethel
July 14, 1969:  THE meeting. Woodstock Ventures presented its application for the festival's approval based on the new ordinance. The meeting lasted until 1 AM. (see Chronology for expanded story)
July 14 Peace Love Art Activism
Space Race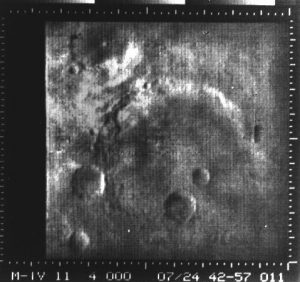 July 14, 1965: American space probe Mariner 4 passed within 6,200 miles of Mars, capturing the first close-up images of the Martian surface. [NASA article] (see Dec 4 – 18)
July 14 Peace Love Art Activism
CLINTON IMPEACHMENT
July 14, 1998: Ken Starr subpoenas Larry Cockell, head of the president's security detail. The Justice Department, backed by the Secret Service, requests a full panel appeal of the Secret Service testimony decision from the U.S. Court of Appeals. (see Clinton for expanded story)
July 14 Peace Love Art Activism
LGBTQ
July 14, 2004: the US Senate voted 50-48 against a constitutional amendment banning gay marriage. (see Nov 2)
July 14 Peace Love Art Activism
Terry Jones
July 14, 2010: the Web site EuroIslam.Info posted Jones's announcement under the "Islamaphobia Observatory" section of its site. (see July 30)
July 14 Peace Love Art Activism
Westboro Baptist Church
July 14, 2013: the Satanic Temple, a New York-based organization that seeks to foster "benevolence and empathy among all people" through Satan, performed a ritual called a "pink mass" at the Mississippi gravesite of Catherine Idalette Johnston, mother of WBC founder Fred Phelps Jr. "Upon completion of the pink mass ceremony, Catherine Johnston is now gay in the afterlife," notes the Satanic Temple website. "Fred Phelps is obligated to believe that his mother is now gay … [and] if beliefs are inviolable rights, nobody has the right to challenge our right to believe that Fred Phelps believes that his mother is now gay." The latter assertion appears to be a play on the WBC's own stance that their beliefs are totally infallible. (see July 29)
July 14 Peace Love Art Activism
Nuclear/Chemical News
July 14, 2015: Iran and a group of six nations led by the United States agreed to an historic accord to significantly limit Tehran's nuclear ability for more than a decade in return for lifting international oil and financial sanctions against Iran. [NYT article](next N/C N, see July 15; next Iran, see Sept 2)
July 14 Peace Love Art Activism
ADA
July 14, 2015: the U.S. Department of Justice charged Georgia with illegally segregating thousands of students with behavioral disorders in schools that often were dirty, in poor repair and, in some cases, once served as blacks-only facilities before court-ordered integration.
In a strongly worded letter to Gov. Nathan Deal and Attorney General Sam Olens, the DOJ said the state was "unnecessarily segregating students with disabilities from their peers." Further, the letter said, those students were receiving inferior instruction and had few if any opportunities to participate in extracurricular activities.
"Students with disabilities who have been inappropriately segregated from their peers without disabilities also face tremendous ongoing harms: they may become victims of unwanted stigma and may be deprived of essential opportunities to learn and to develop skills enabling them to effectively engage with their peers in ways that teach them to participate in mainstream society as they mature into adulthood," the DOJ said.
The department said the Georgia Network for Educational and Therapeutic Support, which operated in 24 locations around the state, was violating the Americans with Disabilities Act. If Georgia did not make substantial changes, the department would take the state to court to force improvements. (see February 22, 2017)
July 14 Peace Love Art Activism
Immigration History
July 14, 2017: federal judge Derrick K. Watson of Federal District Court in Honolulu in Hawaii ruled that the Trump administration's temporary ban on travelers from six predominantly Muslim countries and on refugees should not prevent grandparents and other close relatives of residents from entering the United States. Watson also declared that refugees with ties to a resettlement agency that was committed to receiving them had a relationship that made them eligible to enter the country. [NYT article] (Immigration, see July 24; Trump policy, see Sept 7)
July 14 Peace Love Art Activism