August 2 Peace Love Art Activism
Native Americans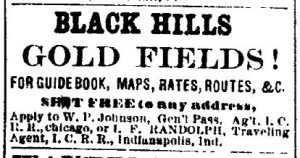 August 2, 1874: gold discovered in the Black Hills of western South Dakota during an expedition led by Colonel Custer. The land belonged to the Sioux but was invaded by prospectors. Sioux leaders Crazy Horse and Sitting Bull retaliated. (Gold Rush Nuggets dot com article) (see June 17, 1876)
August 2

Peace Love Art Activism
Marijuana
August 2, 1937: The 1937 Marijuana Tax Act signed. It is widely regarded as a major milestone in the U.S. policy of criminalizing drugs, which escalated into a "war on drugs" in the 1970s — resulting in many civil liberties violations. The law was prompted in part by a national panic over the dangers of marijuana, as can be seen in the now famous 1936 film Reefer Madness (Leafly dot com article) (see Oct 2)
August 2

Peace Love Art Activism
Nuclear News
August 2, 1939: Albert Einstein signed a letter to President Franklin D. Roosevelt urging creation of an atomic weapons research program. (text via Atomic Archive) (see December 2, 1942)
August 2

Peace Love Art Activism
Cold War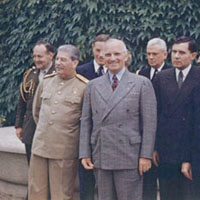 August 2, 1945: the Potsdam Conference ended with the Potsdam Agreement that organized the division and reconstruction of Europe after World War II. The US, France, Great Britain, and the Soviet Union decided to split Germany's capital, Berlin, into four zones. The Allied powers also agree to start legal trials at Nuremberg of Nazi war criminals. (Office of he Historian article) (see August 6, 1945)
August 2

Peace Love Art Activism
August 2 Music et al
Bob Dylan
August 2, 1962: Robert Zimmerman changed his name to Bob Dylan. [Ultimate Classic Rock article] (see "September 1962")
William S Burroughs
August 2, 1997: William S. Burroughs died. (see December 22, 2014)
August 2

Peace Love Art Activism
Vietnam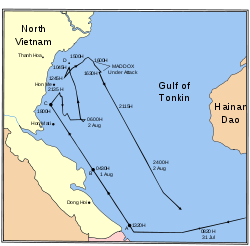 August 2, 1964: Gulf of Tonkin incident.  The first sea "battle" between USS Maddox and North Vietnamese Navy torpedo boats. (see Tonkin for expanded story)
August 2

Peace Love Art Activism
Black History
Jersey City revolt
August 2, 1964: the Jersey City Riots began when police attempted to arrest Dolores Shannon, a 26-year-old black woman, in the Booker T. Washington housing project for alleged disorderly conduct. Walter Mays, 34, a black man sitting on his nearby porch, objected that police were handling Ms. Shannon too harshly. Though police claimed Mr. Mays attacked them, witnesses insisted police physically attacked Mr. Mays and then arrested him. A crowd of black people who had gathered at the scene chanted "police brutality!" in protest, and responding patrolmen were pelted with rocks and garbage. In the three days of riots that followed, black community members angered by police mistreatment and economic depression stoned cars and looted from local stores.
Experiencing the most extreme impacts of the city's economic downturn, Jersey City's African American community of 280,000 people was primarily comprised of low-income families living in racially segregated neighborhoods plagued by police brutality, limited recreational resources, and poor environmental maintenance from the city government. When the riots erupted, leaders from the local NAACP chapter and the Congress of Racial Equality (CORE) stepped forward to mediate between the African American community and Jersey City authorities led by Mayor Thomas J. Whelan. (2017 Jersey Journal article) (see Aug 3)
Rainey Pool Murder
August 2, 1999: Joe Oliver Watson entered a guilty plea for manslaughter in the Pool case. (Northeastern University article) (BH & RP, see Nov 10 – 13, 1999)
BLACK & SHOT/Eric Garner
August 2, 2017: according to lawyers involved in the case, a Staten Island (NY) judge approved nearly $4 million in payments to the family of Eric Garner from a $5.9 million wrongful death settlement with the city. [NY Post article] (B & S, see Sept 12; Garner, see April 20, 2018)
August 2

Peace Love Art Activism
Irish Troubles
August 2, 1981, Irish Troubles:  the eighth hunger striker died. Kieran Doherty (25) died after 73 days on hunger strike. (see Troubles for expanded story)
August 2

Peace Love Art Activism
Iraq War I
August 2, 1990: Iraq invades Kuwait. (Nation article) (see Aug 6)
August 2

Peace Love Art Activism
Deepwater Horizon Spill
August 2, 2010: Flow Rate Technical Group reported that the well initially was dumping 62,000 barrels of oil per day initially after the spill and that it dwindled to 53,000 barrels when it was capped as the well was depleted. This means that 4.9 million barrels were went into the Gulf (see July 2, 2015)
August 2

Peace Love Art Activism
Death Penalty
August 2, 2016: the Delaware Supreme Court ruled the state's death penalty law was unconstitutional. The court said Delaware's current capital punishment statute violates the U.S. Constitution by giving judges, and not juries, the final say to impose a death sentence. (NY Times article) (see Nov 9)
August 2

Peace Love Art Activism
Immigration History
August 2, 2017: President Trump supported a proposal to slash legal immigration to the United States in half within a decade by sharply curtailing the ability of American citizens and legal residents to bring family members into the country.
The plan would enact the most far-reaching changes to the system of legal immigration in decades and represented the president's latest effort to stem the flow of newcomers to the United States. Since taking office, he had barred many visitors from select Muslim-majority countries, limited the influx of refugees, increased immigration arrests and pressed to build a wall along the southern border.
In asking Congress to curb legal immigration, Mr. Trump intensified a debate about national identity, economic growth, worker fairness and American values that animated his campaign last year. Critics said the proposal would undercut the fundamental vision of the United States as a haven for the poor and huddled masses, while the president and his allies said the country had taken in too many low-skilled immigrants for too long to the detriment of American workers.  (2017 NYT article) (see Aug 25)
August 2

Peace Love Art Activism
Please follow and like us: