September 5 Peace Love Art Activism
BLACK HISTORY
Clinton, Mississippi riot
September 5, 1875: Republicans in Hinds County, Mississippi, held a barbecue and meeting in the town of Clinton that was attended by 3000 people. Hoping to curb the risk of violent political conflict, Clinton authorities appointed special police and prohibited serving liquor. When the Republican speakers began making their political speeches in the afternoon, Democratic party representatives unexpectedly joined the meeting and requested speaking time. In the interest of keeping peace, Republicans accommodated the request and arranged for a public discussion between Judge Amos R. Johnston, a Democratic candidate for state senate, and Captain H.T. Fisher, Republican editor of the Jackson Times.
Both speakers were to be given an equal amount of speaking time, and Johnston spoke first, giving a cordial address. Fisher expressed optimism that meetings between the parties could take place peacefully in the future but eight minutes into his address the crowd was disrupted by an altercation. Soon after, a gunfight erupted between whites and blacks, and bystanders panicked in a rush to escape the danger. About 15 minutes later, three whites and four blacks were dead, and six whites and 20 blacks ;were wounded.
Newspapers reported that the blacks who fired weapons did so in self defense but local whites were enraged by the show of force. That night, armed whites from Clinton and Vicksburg formed roving bands intent on killing black men. By the next day, an estimated 50 blacks had been killed and many more had been forced into the woods and swampland to avoid attack, where they remained until the violence subsided on September 6, 1875. [Black Past article] (BH, see Nov 2; RR, see November 3, 1883)
Walter Johnson lynched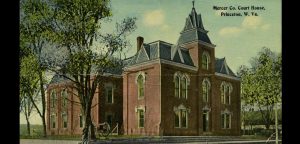 September 5, 1912: a white mob in Princeton, West Virginia lynched a black man named Walter Johnson.
After Mr. Johnson was accused of assaulting a white girl, sheriff's officials anticipated a lynch mob would form and moved him from Bluefield to Princeton. When the move was discovered, an armed mob of white men came to Princeton and seized Mr. Johnson. The local judge urged the mob to let the court conduct a "speedy trial," and the state governor warned a lynching should not be allowed — but the mob was determined.
After kidnapping Mr. Johnson from police custody, the enraged mob beat Mr. Johnson with clubs and rocks, strung him to a telegraph pole "in the presence of the judge, sheriff, and armed guards" and shot him with hundreds of bullets. Despite their purported efforts to dissuade the mob, police did not attempt to use force to save Mr. Johnson's life, and the judge did not order any members of the lynch mob arrested.
After the lynching, the growing mob patrolled the town terrorizing other African Americans, threatening to lynch other black people they encountered – including those who attempted to cut down Mr. Johnson's hanging corpse. Instead, the mob cut the dead body down, stripped off most of the clothing to keep as souvenirs, and then again hanged the corpse from the same pole.
According to press reports, authorities later acknowledged a growing possibility that Mr. Johnson had been wrongly identified and was innocent of the alleged assault. Nevertheless, a grand jury convened to investigate the murder declined to return a single indictment, and no one was ever arrested or prosecuted for his lynching.
Walter Johnson was one of ten known lynching victims in Mercer County, West Virginia.
Mr. Johnson is one of more than 4,000 documented African American victims of racial terror lynching killed in the United States between 1877 and 1950. (next BH & Lynching, see September 10 following)
Rob Edwards lynched
September 10, 1912: a 24-year-old Black man named Rob Edwards was lynched and hung in downtown Cumming, Edwards was one of several Black men arrested on suspicion of involvement in the fatal assault of a young white woman named Mae Crow.
At least 2,000 white residents of Forsyth County formed a mob and stormed the jail. They found Edwards in his cell, brutally beat him with a crowbar, and shot him repeatedly. The mob then dragged Edwards through the streets to the town square, where they hung his mutilated body and left it on display. Subsequently, two Black teenagers who were also arrested for Mae Crow's assault, Ernest Knox and Oscar Daniels, were convicted by all-white juries after trials that lasted one day each.   They were hanged before thousands of white spectators.
Edwards's lynching and the mob violence that followed terrorized the remaining 1,098 Black residents of Forsyth County, who fled the county in fear. The loss of Black-owned property in order to flee arbitrary mob violence was common during this era, and Forsyth's Black residents left behind their homes and farms to escape, taking with them only what they could carry. Forsyth County would remain essentially all white until the 1990s.
No one was ever held accountable for Mr. Edwards's lynching or the mass exodus of Black residents that followed. [EJI story] [video story] (next BH, see Oct 18; next Lynching, see March 31, 1914; for for expanded chronology, see American Lynching 2)
Muhammad Ali
September 5, 1960: After winning three preliminary bouts, Cassius Clay defeated Poland's Zbigniew Pietrzkowski to win the light heavyweight gold medal. He became the World Light Heavyweight Olympic Champion less than six years after his bicycle is stolen in Louisville. Cassius Clay returned to the US to a hero's welcome. He was an honoree at parades in both New York City and Louisville. Despite his accomplishments for the US, he was denied service in a segregated restaurant in Kentucky. (BH, see Oct 17; Ali, see October 29, 1960)
Virginia Theological Seminary
September 5, 2019:  Virginia Theological Seminary (VTS) announced that the Seminary would create an endowment fund from which the income will fund reparation.
It's statement read in part: Virginia Theological Seminary recognizes that enslaved persons worked on the campus, and that even after slavery ended, VTS participated in segregation. VTS recognizes that we must start to repair the material consequences of our sin in the past.
The income from the endowment would be allocated annually in conversation with key stakeholders for the following purposes:
the needs emerging from local congregations linked with VTS;
the particular needs of any descendants of enslaved persons that worked at the Seminary;
the work of African American alumni/ae, especially in historic Black congregations;
the raising up of African American clergy in The Episcopal Church;
other activities and programs that promote justice and inclusion. (next BH, see Oct 8)
September 5 Peace Love Art Activism
US Labor History
First Labor Day Parade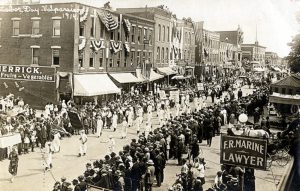 September 5, 1882: some 10,000 workers assembled in New York City to participate in America's first Labor Day parade. After marching from City Hall, past reviewing stands in Union Square, and then uptown to 42nd Street, the workers and their families gathered in Wendel's Elm Park for a picnic, concert, and speeches. This first Labor Day celebration was eagerly organized and executed by New York's Central Labor Union, an umbrella group made up of representatives from many local unions.  Debate continues to this day as to who originated the idea of a workers' holiday, but it definitely emerged from the ranks of organized labor at a time when they wanted to demonstrate the strength of their burgeoning movement and inspire improvements in their working conditions.  [US DoL article] (see June 13, 1884)
DoJ raids  IWW
September 5, 1917: U.S. Department of Justice agents made simultaneous raids on dozens of International Workers of the World meeting halls across the country. Minutes books, correspondence, mailing lists, and publications were seized, with the U.S. Department of Justice removing five tons of material from the IWW's General Office in Chicago alone. This seized material was scoured for possible violations of the Espionage Act of 1917 and other laws, with a view to future prosecution of the organization's leaders, organizers, and key activists. (see Sept 11)
September 5 Peace Love Art Activism
September 5 Music et al
September 5, 1957: Jack Kerouac's On The Road published. It was based on the travels of Kerouac and his friends, particularly Neal Cassady and Allen Ginsberg, across America. It is considered a defining work of the postwar Beat Generation with its protagonists living life against a backdrop of jazz, poetry, and drug use. The novel underwent several drafts before Kerouac completed it in April 1951.
When the book was originally released, The New York Times hailed it as "the most beautifully executed, the clearest and the most important utterance yet made by the generation Kerouac himself named years ago as 'beat,' and whose principal avatar he is."  (next Beat Generation, see Oct 3; see Road for expanded story)
September 5 – 25, 1964: "House of the Rising Sun" by the Animals #1 on the Billboard Hot 100.
Hippie coined
September 5, 1965: San Francisco writer Michael Fallon applied the term "hippie" to the SF counterculture in an article about the Blue Unicorn coffeehouse, where LEMAR (Legalize Marijuana) & the Sexual Freedom League met. (see September 8, 1966)
September 5 Peace Love Art Activism
Vietnam & My Lai Massacre
September 5, 1969: the day before his scheduled discharge from the Army, Lieutenant Calley was charged with six counts of premeditated murder. The public information office issued a press release stating Calley was being retained because of an ongoing investigation. (Vietnam, see Sept 24;  see My Lai for expanded story)
September 5 Peace Love Art Activism
Feminism
September 5, 1972:  Sarah Lawrence College began a graduate program in Women's History, the first such Master's degree program to be offered by a major college. [Sarah Lawrence site article] (see Sept 12)
September 5 Peace Love Art Activism
TERRORISM
Munich Massacre
September 5 – 6, 1972: eleven Israeli athletes at the 1972 Summer Olympics in Munich are murdered after 8 members of the Arab terrorist group Black September invade the Olympic Village; 5 guerrillas and 1 policeman are also killed in a failed hostage rescue. [CBS News article] (see December 15, 1981)
Lynette Fromme
September 5, 1975, in Sacramento, California, Lynette Fromme, a follower of jailed cult leader Charles Manson, attempted to assassinate President Gerald Ford, but was thwarted by a Secret Service agent. [Rolling Stone article on Fromme] (see Sept 22)
September 5 Peace Love Art Activism
Immigration History
September 5, 2017: President Trump ordered an end to the Deferred Action for Childhood Arrivals program, known as DACA. It had shielded young undocumented immigrants from deportation, calling the program an "amnesty-first approach" and urging Congress to replace it with legislation before it began phasing out on March 5, 2018.
"I do not favor punishing children, most of whom are now adults, for the actions of their parents," Mr. Trump said in a written statement. "But we must also recognize that we are nation of opportunity because we are a nation of laws." [NBC News story] (Immigration, see Sept 7; DACA, see Sept 14)
September 5 Peace Love Art Activism
Sexual Abuse of Children
September 5, 2019:  Education Secretary Betsy DeVos announced that Michigan State University would pay a record $4.5 million fine for failing to protect students from sexual abuse following a sweeping investigation into the university's response to allegations against a former team doctor and convicted sex criminal, Lawrence G. Nassar.
The fine was part of a settlement with the Education Department, which initiated two investigations into the university's handling of abuse allegations against Mr. Nassar. (next SAC, see Sept 13; next Nassar, see July 14, 2021)
September 5 Peace Love Art Activism
Census
September 6, 2020:  CNN reported that Judge Lucy Koh ordered the Trump administration to temporarily stop "winding down or altering any Census field operations." The order applied nationwide.
The temporary restraining order was the first court order this fall impacting how the final weeks of counting would unfold. Several other lawsuits were pending in courts across the country. This order is in effect until a hearing on September 17.
Groups protesting the move said the practice risked undercounting minority groups, including both legal and undocumented immigrants.
Koh, who sits in California, noted in the temporary restraining order the concern from the groups suing the government "that each day that the Census does not conduct its field operations to reach and count hard to reach populations increases the inaccuracy of the Census count and thus increases their irreparable harm."
The Census Bureau sent a message to its field operations leadership informing them of the order from the federal judge to continue Census field work. (next Census, see Sept 10; next Kohl, see Sept 25)
September 5 Peace Love Art Activism