September 3 Peace Love Activism
BLACK HISTORY
Frederick Douglass
September 3, 1838:  Frederick Douglass escaped from slavery in Baltimore. He later published his autobiography, Narrative of the Life of Frederick Douglass, An American Slave, Written by Himself. Douglas became a leading abolitionist. (see Oct 1838)
Georgia removes black legislators
September 3, 1868: the Georgia House of Representatives voted to remove black members of that body on the grounds that the state Constitution did not recognize the right of black citizens to hold public office. Of the 29 black representatives, four mulatto members were allowed to hold their seat, while the remaining 25 were removed. Ten days later, the Georgia Senate removed its three black members. Black legislators appealed to President Ulysses Grant to intervene to get them readmitted, which took a year. (see Sept 28)
Cotton pickers strike–mobs kill them
September 3, 1891: African-American cotton pickers organize and strike in Lee County, Texas, against miserably low wages and other injustices, including a growers' arrangement with local law enforcement to round up blacks on vagrancy charges, then force them to work off their fines on select plantations. Over the course of September a white mob put down the strike, killing 15 strikers in the process. (see Sept 20)
Alabama prohibits interracial marriages
September 3, 1901: Alabama adopted a new state constitution that prohibited interracial marriage and mandated separate schools for black and white children. The state constitutional convention's primary purpose was to legally disenfranchise black voters and the new constitution included several electoral policies to intentionally and effectively do that.

Because the Fourteenth Amendment prohibited race-based disenfranchisement, the discriminatory policies had to be appear race-neutral but be applied with bias. The constitution called for the appointment of three registrars from each county who were expected to act with an intent to minimize African American voter registration. The constitution's new registration rules required that voters be able to read and write any section of the United States Constitution and be lawfully employed for the previous 12 months. Anyone who did not meet the employment specification could still register if he or his wife had real estate and possessions taxed at $300. The constitution also included a "grandfather clause," allowing otherwise ineligible voters to vote with proof that one of their grandfathers had been an eligible voter.

Prior to the enactment of the new constitution, there were approximately 75,000 registered African American voters in Alabama. It was estimated that the new rules would reduce the African American electorate to less than 30,000. Alabama delegates approved the constitution 132-12, with only one Democrat voting against it. Alabama has amended the 1901 constitution since its adoption, but has never held a convention to create a wholly new one. Several of the discriminatory provisions of the 1901 constitution, including the mandate to maintain racially segregated public schools, remain in place today. (see Oct 16)
Emmett Till
September 3, 1955: Till's body was taken to Chicago's Roberts Temple Church of God for viewing and funeral services. Emmett's mother decides to have an open casket funeral. Thousands of Chicagoans wait in line to see Emmett's brutally beaten body. (see Emmett Till)
Native Americans
Squaw Killer Harney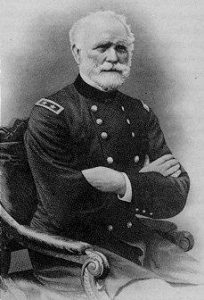 September 3, 1855: General William S Harney and 700 soldiers took revenge for the so-called "Grattan Massacre" and attacked a Sioux village in Nebraska that left 100 Native American men, women, and children dead. For the rest of his life Harney was plagued with the nickname of "Squaw Killer Harney." One Sioux boy who witnessed the brutal massacre would never forget or forgive and would take his own revenge 21 years later at the Battle of the Little Bighorn. His name was Crazy Horse. 
Civil War/Native Americans
1861 – 1865: native Americans served in both the Union and Confederate military participating in battles such as Pea Ridge, Second Manassas, Antietam, Spotsylvania, Cold Harbor, and in Federal assaults on Petersburg.
Ely Samuel Parker
The most notable Native American to serve was Ely Samuel Parker (1828 – August 31, 1895), (born Hasanoanda, later known as Donehogawa) who was a Seneca attorney, engineer, and tribal diplomat.  He helped draft the surrender documents, which are in his handwriting. At the time of surrender, General Lee mistook Parker for a black man, but apologized saying, "I am glad to see one real American here." Parker was said to respond, "We are all Americans, sir." (see July 12, 1861)
Veronica Brown
September 3, 2013: lawyers gathered with the Oklahoma Supreme Court to discuss who should raise Veronica Brown: a South Carolina couple who have attempted to adopt her since birth or the girl's biological father, who claimed a federal law requireed that she be raised in a Native American home.

Dustin Brown, the biological father, and Matt and Melanie Capobianco, the adoptive parents, were present at the Oklahoma Supreme Court chambers for nearly 90 minutes but left without comment. (see Sept 23)
US Labor History
Adamson Act
September 3, 1916: The Adamson Act established an 8-hour workday for employees of interstate railroads, with overtime for working longer hours. (see Nov 16)
Hamlet, N.C workers die in fire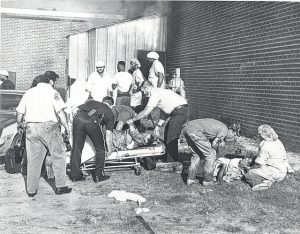 September 3, 1991: twenty-five workers die, unable to escape a fire at the Imperial Poultry processing plant in Hamlet, N.C. Managers had locked fire doors to prevent the theft of chicken nuggets. The plant had operated for 11 years without a single safety inspection. (see February 5, 1993)
Vietnam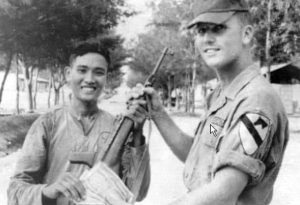 September 3, 1950: a U.S. Military Assistance Advisory Group (MAAG) of 35 men arrived in Saigon to screen French requests for American military aid, assist in the training of South Vietnamese troops, and advise on strategy. (see Dec 22)
Environmental Issues
September 3, 1964:  from the UPI article: President Johnson today signed into law the wilderness conservation bill -- a gift from the present generation to the future of 9 million acres of woodland recreation areas. In a White House bill-signing ceremony, Johnson termed the event "a very happy and history occasion for all who love the out of doors, and that includes me." Under the wilderness bill, 61 million acres of woodland eventually could be preserved in the same state as when Indians roamed the land. Most of the 9 million acres immediately covered is in the Western states. (see June 22, 1969)
September 3 Music et al
September 3 – 9, 1966: "Sunshine Superman" by Donovan #1 on the Billboard Hot 100.
Herb Albert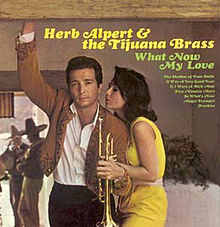 September 3 – 9, 1966: Herb Albert's What Now My Love returns to the Billboard #1 album position.
The Adventures of Ozzie and Harriet
September 3, 1967: last episode of the TV show The Adventures of Ozzie and Harriet airs on ABC. The show is still the longest running live-action (non-animated like The Simpsons) American sitcom in television history (14 Seasons, 435 Episodes). (see Sept 10)
Ringo returns
September 3, 1968: Ringo Starr rejoined the group. He later stated: I got a telegram saying, 'You're the best rock'n'roll drummer in the world. Come on home, we love you.' And so I came back. We all needed that little shake-up. When I got back to the studio I found George had had it decked out with flowers - there were flowers everywhere. I felt good about myself again, we'd got through that little crisis and it was great. And then the 'White' album really took off - we all left the studio and went to a little room so there was no separation and lots of group activity going down.

Although the others celebrated Ringo's return from Sardinia, there was little for him to do in this recording session, which took place in Abbey Road's studio two from 7pm until 3.30am the following morning. George Harrison worked alone, recording a backwards guitar solo for While My Guitar Gently Weeps. (see Sept 28)
LSD impregnated paper
In the early 1970s, LSD impregnated paper ("blotter") first hit the streets. Very quickly the paper began being printed with colorful art.  Blotter paper begins to emerge as the most common form of LSD sold on the street. Previously it had been tablets and powder, but blotter and gel-tabs proved more consistent in purity and potency. (see Nov 19, 1975)
LSD
September 3, 1971 : Albert Hoffman, discoverer of LSD, and LSD's most vocal proponent, Timothy Leary, met in Lausanne, Switzerland, while Leary was there in exile from the United States. Leary faced a possible ten years in prison for charges related to possession of a small amount of cannabis.(see Nov 19, 1975)
September 3 Peace Love Activism
IRAQ
September 3, 1996: the U.S. launched Operation Desert Strike against Iraq in reaction to the attack on Arbil. (see December 16, 1998)
LGBTQ
Gay marriage ban upheld
September 3, 2014: bucking a nationwide trend, U.S. District Judge Martin Feldman in Louisiana upheld a state ban on same-sex marriage writing that "any right to same-sex marriage is not yet so entrenched as to be fundamental" and that gay marriage was "inconceivable until very recently." "The Court is persuaded that a meaning of what is marriage that has endured in history for thousands of years, and prevails in a majority of states today, is not universally irrational on the constitutional grid," Feldman wrote.

Feldman noted that his was the only federal court to uphold a gay marriage ban since the Supreme Court struck down the Defense of Marriage Act in 2013.
St Patrick's Day Parade in NYC
September 3, 2014: the organizers of the New York City St. Patrick's Day parade announced that they were lifting a ban on gay groups participating in the march, ending a policy that had prompted protests, court battles and bitter debate for decades.

The decision to allow a gay group to march under its own banner came as Mayor Bill de Blasio threatened to once again boycott the parade and the organizers faced pressure from employees of NBC Universal, which broadcasts the festivities.

One of the event's biggest sponsors, Guinness, pulled out of 2013's parade and more companies had threatened to follow. The Irish government also threatened not to send a delegation unless the policy changed, according to an official familiar with the negotiations.

Christine C. Quinn, the former speaker of the City Council, who was gay and had long fought to have the policy changed, said that the ban had been a personal affront. "To have the parade point a finger and say to me and others, 'You're not as good as these other Irish people,' has been very, very painful," Ms. Quinn said. "That is now coming to an end." (see Sept 4)
Kim Davis arrested
September 3, 2015,:  Rowan County (Kentucky) Clerk Kim Davis who refused to issue marriage licenses to same-sex couples on religious grounds was found in contempt by federal District Court Judge David Bunning for defying his order to do so and taken into custody. Davis was led away by U.S. marshals.

"The court doesn't do this lightly," Bunning said in ordering Davis be taken into custody. "The court cannot condone the willful disobedience of its lawfully issued order….If you give people the opportunity to choose which orders they follow, that's what potentially causes problems."

Judge Bunning said Ms. Davis would be released once she agreed to comply with his order and issue the marriage licenses.

Later that day, Davis rejected a proposal that would have allowed her deputies to grant same-sex marriage licenses. Through her lawyer, Davis said she would not agree to allow the licenses to be issued under her authority as county clerk. (see Sept 4)
September 3 Peace Love Activism, September 3 Peace Love Activism, September 3 Peace Love Activism, September 3 Peace Love Activism, September 3 Peace Love Activism, September 3 Peace Love Activism, September 3 Peace Love Activism, September 3 Peace Love Activism, September 3 Peace Love Activism, September 3 Peace Love Activism, September 3 Peace Love Activism, September 3 Peace Love Activism, September 3 Peace Love Activism, September 3 Peace Love Activism, September 3 Peace Love Activism, September 3 Peace Love Activism, 
Please follow and like us: