Victor Lidio Jara Martínez
Victor Jara
September 28, 1932 – September 16, 1973
Victor Jara was born in Lonquén, Chile which is approximately 25 miles away from Santiago, the capital of Chile.  The family struggled to survive from the land. His mother loved folk music and when the family rented a room to a teacher who knew how to play guitar, Victor learned a bit of playing.
Amanda, his mother, took Victor and his siblings to Santiago both to find an education for them and to escape an alcoholic father. In Santiago a local resident took a liking to Victor and his quick ability with songs and taught Victor more guitar.
Victor Lidio Jara Martínez
Seminary and military
Amanda died when he was 15 and seeking to fill the hole in his life and following the advice of a priest, Victor entered the seminary. For two years Victor struggled with the strict rules of his future priesthood, particularly that of celibacy.  He left the seminary in 1952. The army drafted him within two weeks.
Though army life suited him and he did well, he left after the year required and began to seek a life in music.
Victor Lidio Jara Martínez
Many paths
As with many aspiring singers, his path led him to various temporary jobs. In a chorus. As a mime. As an actor. A student in the theater program at the University of Chile in the late 1950s.
He met Joan Turner Bunster, an instructor. They would fall in love and marry in 1965.
In 1957 he met Chilean folksinger Violeta Parra. She encourage singers to write about everyday life using traditional Chilean folk styles. Jara followed that path.
Victor Lidio Jara Martínez
Nueva canción songwriter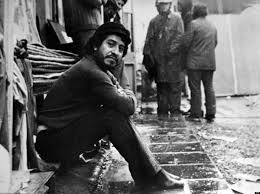 Though Jara continued to be involved in actingm writing and performing music became his center. He wrote songs continually.
He released his first album, Canto a lo humano , in 1966.  The songs often stabbed at the status quo. One, "La beata" was about a nun that fell in love with a priest. In a predominantly Catholic country as Chile, such a topic was taboo. Radio stations banned the song. Record shops removed it. His music also became part of a genre known as "nueva canción," a style that used the traditional style  Violeta Parra had introduced Jara to with a strong populist content.
Jara's songs spread outside Chile and were known to and performed by American folk artists such as Joan Baez, Pete Seeger, and Phil Ochs.
Victor Lidio Jara Martínez
Socialist
More than that, though, was Jara's increasingly connected himself with socialism. He supported the political views of  Salvador Allende. Jara composed "Venceremos" (We Will Triumph), the theme song of Allende's Unidad Popular (Popular Unity) movement, and he welcomed Allende's election to the Chilean presidency in 1970.
Allende's success enabled Jara and his wife to help in a Chilean cultural renaissance. They helped organize events that supported the country's new socialist government.
The right-wing politicians, with the aid of the American Central Intelligence Agency, planned a revolt.
Victor Lidio Jara Martínez
Martyr
On September 11, 1973, troops under the command of General Augusto Pinochet overthrew Allende government.  The military took hundreds of Allende sympathizers to the Estadio Chile, a large sports stadium.
Jara was among them.
For four days, soldiers tortured him. Starved him. Broke his hands and told him to sing with his guitar.
He sang "Venceremos" and began writing a new song describing the carnage going on in the stadium, as many of those imprisoned were killed; the words of the new song were smuggled out by a prisoner who survived.
---
Jara was taken to a deserted area and shot. His murder kept secret. His songs forbidden. Joan Jara escaped On May 9, 1974, Phil Ochs held a benefit. Among those who performed were Pete Seeger, Dave Van Ronk, Dennis Hopper, Arlo Guthrie, Mike Love, Dennis Wilson, Melanie, and Bob Dylan (NYT announcement)
Victor Lidio Jara Martínez
Legacy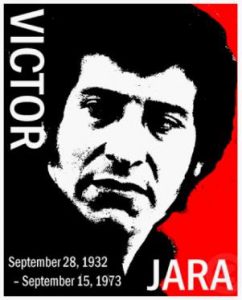 In 2003 the Estadio Chile became the Víctor Jara Stadium.
In 2012 eight retired Chilean army officers were charged with Jara's murder and on June 27, 2016 a Florida jury found  former Chilean army officer Pedro Pablo Barrientos Nuñez liable for the 1973 torture and murder of Jara. The jury awarded  $28m in damages to his widow and daughters in one of the biggest and most significant legal human rights victories against a foreign war criminal in a US courtroom.
And on July 3, 2018, a statement from Chile's courts authority said that Judge Miguel Vázquez  had sentenced eight retired Chilean military officers to 15 years in prison for the murder of Victor Jara.
Vázquez handed down the sentences after leading a long-running inquiry into Jara's death.
A ninth suspect was jailed for five years for his role in covering up the killings.
Victor Lidio Jara Martínez