Activist Buffy Sainte Marie
Happy birthday
Clip of Buffy's Starwalker live from her most recent album, Medicine Songs
Buffy Sainte-Marie was born on February 20, 1941 on the Piapot Cree First Nation reserve in the Qu'Appelle Valley, Saskatchewan. 
If you are familiar with her, then you are certainly familiar with her most famous song, Universal Soldier which Vanguard Records  originally released on Sainte-Marie's debut album It's My Way! in 1964.
Neither the album nor the song were successful until Donovan covered Universal Soldier on a UK EP.  That success led to a US single release of his cover which had enough success that Sainte-Marie finally got a bit of the spotlight.
Activist Buffy Sainte Marie
Early musician
Although born in Canada, after the untimely deaths of both parents, relatives Albert and Winifred Sainte-Marie, who lived in Massachusetts adopted her. They nicknamed her Buffy.
In a 2015 Vogue interview, Sainte-Marie said that, "As a little kid when I was three, I discovered a piano and I found out it made noise and I was fascinated and taught myself how to do what I wanted to do on it. I could play fake Beethoven, and do other things with strange chords that other people didn't use but that I liked. I banged on pots and pans, I'd play with rubber bands, I'd blow on grass, I played the mouth bow."
Activist Buffy Sainte Marie
Education
Sainte-Marie attended the University of Massachusetts in Amherst. In a 2009 Democracy Now interview, she told Amy Goodman that while there, "…I started playing songs for the girls in my dorm and my housemother Theresa de Kerpely, who was from Europe. She really encouraged me, and she encouraged me to listen to people like Edith Piaf, Carmen Amaya, the flamenco dancer-singer, people from other countries. So, from the start of playing for other people, I was absorbing and reflecting, I think, a very wide world culture. International students at the university were a big influence on me."
Activist Buffy Sainte Marie
Greenwich Village
Like so many other thoughtful singers of that time, Sainte-Marie went to Greenwich Village, but because of its New York location, "…she [would] go up to Akwesasne, the Mohawk reservation…. And it kind of became the paradigm of my life. I wasn't intentionally trying to become a bridge for anything, but I did see that people in the cities, they wanted to know. "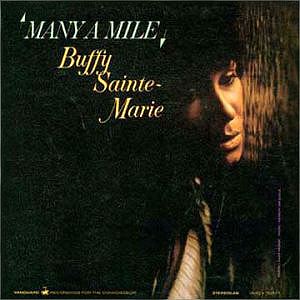 In 1965 Vanguard released Many a Mile, her second album. Her song "Until It's Time for Your To Go."  It became her most commercially successful single because so many have covered it including Elvis,  Cher, Bobby Darrin, Andy Williams, Glen Cam;bell, Jim Nabors, Nancy Sinatra, Petula Clark, Shirley Bassey, Willie Nelson, Barbara Streisand, and a "few" others including Neil Diamond. 
Activist Buffy Sainte Marie
Not mainstream
Despite that commercial success, Buffy Sainte-Marie was no pop star. Her aim was and continues to be more than 50 years later: raise awareness of necessary social changes, particularly the area of Native Americans.
In 1966 her third album,  Little Wheel Spin and Spin,  featured her
"My Country 'Tis of Thy People You're Dying."
Now that your big eyes have finally opened,
Now that you're wondering how must they feel,
Meaning them that you've chased across America's movie screens.
Now that you're wondering how can it be real
That the ones you've called colorful, noble and proud
In your school propaganda
They starve in their splendor?
You've asked for my comment I simply will render:
My country 'tis of thy people you're dying.
Activist Buffy Sainte Marie
Actor
According to the director Leo Penn, before she agreed to be a part of an episode of the popular TV show The Virginian she insisted "the studio cast Native actors for all the Indian parts ('No Indians, no Buffy'). She also advocated that the writers bring complexity to her own role. She told them, '[I'm] not interested in playing Pocahontas.'"
Activist Buffy Sainte Marie
Nihewan Foundation
In 1969 She founded the Nihewan Foundation which "is a small private non-profit foundation dedicated improving the education of and about Native American people and cultures. 
Activist Buffy Sainte Marie
Sesame Street
In 1976 she became a part of Sesame Street and in a TV first was shown explaining breastfeeding to Big Bird while nursing her son Cody.
Activist Buffy Sainte Marie
Oscar
She left Sesame Street in 1981 and in 1982 co-wrote  "Up Where We Belong," the theme song to the film An Officer and a Gentleman, with Will Jennings. The song won an Best Song Oscar. 
Sainte-Marie donated the Oscar to the Smithsonian as it was the first time that a Native American had won one.
Activist Buffy Sainte Marie
20th into the 21st Century
Buffy Sainte-Marie has never stood still and has always expanded her artistic panorama far beyond that of music. A 2016 Canadian Broadcasting Corporation article listed 75 Things You Need To Know…about her.
And her own site lists the dozens of awards and honorary degrees others have given to her recognizing her lifetime of peace, love, and activism.
On November 10, 2017 she released her latest album, Medicine Songs. She described the album as, "…a collection of front line songs about unity and resistance — some brand new and some classics — and I want to put them to work. These are songs I've been writing for over fifty years, and what troubles people today are still the same damn issues from 30-40-50 years ago: war, oppression, inequity, violence, rankism of all kinds, the pecking order, bullying, racketeering and systemic greed. Some of these songs come from the other side of that: positivity, common sense, romance, equity and enthusiasm for life."
Many happy returns Buffy
Activist Buffy Sainte Marie