September 4 Peace Love Art Activism
Native Americans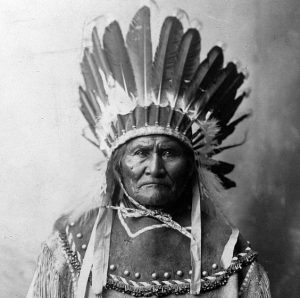 September 4, 1886: Apache chief Geronimo surrendered to U.S. government troops. For 30 years, the Native American warrior had battled to protect his tribe's homeland; however, by 1886 the Apaches were exhausted and hopelessly outnumbered. General Nelson Miles accepted Geronimo's surrender, making him the last Indian warrior to formally give in to U.S. forces and signaling the end of the Indian Wars in the Southwest. [Native Voices article] (see February 8, 1887)
September 4 Peace Love Art Activism
Cold War
Peekskill riot
September 4, 1949: more than 140 attendees at a benefit for a civil rights group were injured in the "Peekskill Riots" in Peekskill, N.Y. The victims were among the 20,000 people leaving a concert featuring African-American Paul Robeson, well-known for his strong pro-unionism, civil rights activism and left-wing affiliations. The departing concert-goers had to drive through a miles-long gauntlet of rock-throwing racists and others chanting "go on back to Russia, you niggers" and "white niggers" [Commentary article] (BH, see Nov 14 ; Red Scare, see Sept 22; Terrorism, see November 1, 1950)
---
Lucille Ball/HUAC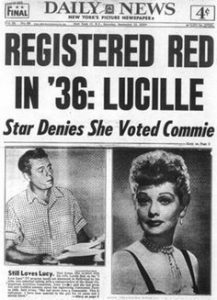 September 4, 1954: an investigator with the House Un-American Activities Committee (HUAC) interviewed Lucille Ball, star of the enormously popular television show I Love Lucy, on this day. She had registered to vote as a Communist in the 1930s but was not otherwise active in the Communist Party. The I Love Lucy show was the most popular television program at the time, and HUAC was apparently reluctant to publicly challenge her. [LA Times article] (see Sept 8)
September 4 Peace Love Art Activism
Technological Milestone
September 4, 1951: in the first live coast-to-coast TV broadcast, President Harry S. Truman addressed the nation from the Japanese peace treaty conference in San Francisco. (see October 9)
September 4 Peace Love Art Activism
BLACK HISTORY
Claymont High School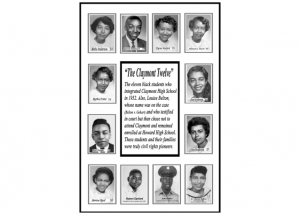 September 4, 1952: eleven black students attended the first day of school at Claymont High School, Delaware, becoming the first African-American students in the 17 segregated states to integrate a previously all-white public school. [Community News article] (see Dec 30)
Orval Faubus
September 4, 1957: Arkansas Gov. Orval Faubus called out the National Guard to prevent nine black students from entering Central High School in Little Rock. The Soviet Union used the event to  propagandize tales of the horrors suffered by African Americans. [Faubus NYT obit] (BH, see Sept 9; Cold War, see Sept 17)
Arthur D Shores
September 4, 1963: in Birmingham, AL, terrorists bombed the home of Arthur D Shores, a lawyer who played a major role in desegregation  cases. The home was located in an area referred to as "Dynamite Hill" because there had been almost a bombing a year for the past decade.
Local residents came out of their homes and began demonstrating. Police were called to restrain the demonstration. John Coley, a 20-year-old, was shot in the back of the neck and through his chest. He died later. Police said Coley had burst from the front door of a home firing a gun. A local camera crew denied that the victim had a gun. [Shores NYT obit] (BH, see Sept 9)
Trayvon Martin Shooting
September 4, 2013: Shellie Zimmerman, the wife of George Zimmerman,  presented a petition for divorce in Seminole County in central Florida according to her lawyer Kelly Sims. (see Sept 9)
September 4 Peace Love Art Activism
September 4 Music et al
Michael
September 4 – 17, 1961: a Civil War slave song, "Michael" by The Highwaymen #1 Billboard Hot 100.
Beatles back in studio
September 4, 1962: following The Beatles' first session for EMI on 6 June 1962, they returned for a second attempt at recording their debut single. This was Ringo Starr's first recording session with the group. (see Sept 11)
Beatles #1
September 4 – 24, 1965, The Beatles: from their second movie, "Help!" #1 on the Billboard Hot 100. (see Sept 11)
September 4 Peace Love Art Activism
Vietnam
September 4, 1968: the Central Intelligence Agency (CIA) delivered the fourth in a series of reports on the anti-Vietnam War movement, entitled "Restless Youth." The reports had been ordered by President Lyndon Johnson, who was convinced that the movement was supported by foreign governments. CIA Director Richard Helms told Johnson that spying within the U.S. would violate the CIA charter and be illegal, but Johnson ordered him to do it anyway. After their meeting, the secret CIA spying began on August 15, 1967. None of the CIA investigations reported any foreign government support for the anti-war movement. The first three reports were delivered to the president on November 15, 1967; December 22, 1967, and January 5, 1968.
The CIA spying continued and evolved into a larger program, known as CHAOS, which The New York Times exposed on December 22, 1974. Following the revelations — and enormous political uproar — about the CIA by the Times, President Gerald Ford tried to head off Congressional investigations by creating the Rockefeller Commission to investigate the CIA on January 4, 1975, but that effort failed when Congress established its own committees to investigate the CIA and the other intelligence agencies. The Senate created the Church Committee on January 27, 1974, and the House created the Pike Committee on February 19, 1975. (see Sept 9)
September 4 Peace Love Art Activism
Sexual Abuse of Children
September 4, 2003:  Bishop Wilton Gregory, president of the U.S. Conference of Catholic Bishops rejected a plea from priests to allow married men to join the priesthood, questioning whether such a move would increase the number of priests. This was in answer to a request from about 160 Milwaukee priests. The group, more than a quarter of the archdiocese's clerics, called in August for opening the priesthood to married men. [CBS News article] (see Sept 9)
September 4 Peace Love Art Activism
Hurricane Katrina
September 4, 2005: in New Orleans, Sgt. Kenneth Bowen and Sgt. Robert Gisevius and Officers Anthony Villavaso and Robert Faulcon jumped in a Budget rental truck with several other officers and raced to the Danziger Bridge in eastern New Orleans, responding to a distress call. (HK, see Sept 9; officers, see January 3, 2007)
September 4 Peace Love Art Activism
LGBTQ
Democratic Party
September 4, 2012: the Democratic Party became the first major U.S. political party in history to officially endorse the freedom to marry in their national party platform when the platform is ratified at the Democratic National Convention. The plank supporting the freedom to marry was the focus of Freedom to Marry's Democrats: Say I Do campaign calling for the plank. (see Sept 19)
Department of Veterans Affairs
September 4, 2013:  the Obama administration escalated its effort to dismantle federal barriers to same-sex marriages and announced that the Department of Veterans Affairs would immediately begin providing spousal benefits to gay men and lesbians despite a federal statute that limits such benefits to veterans' spouses who are "of the opposite sex." [NYT article] (see Sept 7)
Same-sex marriage
September 4, 2014: a U.S. appeals court in Chicago ruled that gay marriage bans in Wisconsin and Indiana were unconstitutional. The decision by a three-judge panel at the U.S. 7th Circuit Court of Appeals bumped the number of states where gay marriage will be legal from 19 to 21. The decision was unanimous.
The Wisconsin and Indiana cases shifted to Chicago after their attorneys general had appealed separate lower court rulings in June tossing the bans. The 7th Circuit stayed those rulings pending its own decision.
During oral arguments in August, one judge appointed by a Republican likened same-sex marriage bans to laws once barring interracial marriage. Judge Richard Posner said they derived from "hate … and savage discrimination" of gays.
The states had argued the prohibitions helped foster a centuries-old tradition. [Washington Post article] (see Sept 22)
James Yates and William Smith, Jr.
September 4, 2015: James Yates, 41, and William Smith, Jr., 33, received a marriage license in Morehead, KY, the first such couple to get one a day after the county clerk, Kim Davis, was jailed by District Court Judge David Bunning for refusing court orders to issue the licenses.
Yates and Smith, Jr. entered the Rowan County Courthouse shortly after it opened, walking through throngs of protesters. Supporters of Ms. Davis yelled Bible passages and held up signs, including one briefly held up by Ms. Davis's husband, Joe Davis, that read, "Welcome to Sodom and Gomorrah." (NYT video) (see Sept 8)
Vatican/Kim Davis
September 4, 2018: the Vatican had originally denied that there had been  a meeting between Pope Francis and Kim Davis on September 23, 2015, then admitted there had been a meeting, but that the Pope didn't know who Davis was. On his date, the Vatican admitted that the Pope did know who Davis was.
At the time Vatican officials had told news outlets that "the meeting with Kim Davis irked Pope Francis," saying that he didn't know the specifics of Davis' situation before the meeting. (next LGBTQ, see Sept 18; next Davis, see Nov 6)
September 4 Peace Love Art Activism
Immigration History
September 4, 2015: U.S. District Court Judge Susan Bolton upheld the Arizona's landmark immigration law after challengers failed to show that police would enforce the statute differently for Latinos than it would for people of other ethnicities.
The ruling could signal the end of the case and give a victory to backers of the 2010 law.  Bolton upheld the law's controversial requirement that police, while enforcing other laws, can question the immigration status of those suspected of being in the country illegally. The Supreme Court also upheld the requirement, but the law's challengers continued to try to get it overturned at a lower-level court. [Reuters article] (see Dec 9)
September 4 Peace Love Art Activism
FREE SPEECH & Colin Kaepernick
September 4, 2016: National Women's Soccer League Megan Rapinoe knelt during the national anthem in support of Colin Kaepernick. Before the NWSL match between the Seattle Reign and Chicago Red Stars, Rapinoe took a knee during the national anthem, while the rest of her teammates remained standing. She expressed solidarity with Kaepernick, saying that, as a gay American, she knows "what it means to look at the flag and not have it protect all of your liberties," and that "it's important to have white people stand in support of people of color on this." [USA Today article] (FS & CK, see Sept 9)
September 4 Peace Love Art Activism
Please follow and like us: