April 12 Peace Love Art Activism
US Labor History
Puddlers
April 12, 1858: a group of "puddlers"—craftsmen who manipulated pig iron to create steel—met in a Pittsburgh bar and formed The Iron City Forge of the Sons of Vulcan. It was the strongest union in the U.S. in the 1870s, later merging with two other unions to form what was to be the forerunner of the United Steel Workers. (merthyr-history.com article) (see January 10, 1860)
Auto-Lite strike
April 12, 1934: the Toledo (Ohio) Auto-Lite strike begins with 6,000 workers demanding union recognition and higher pay. The strike was notable for a 5-day running battle in late May between the strikers and 1,300 members of the Ohio National Guard. Known as the "Battle of Toledo," the clash left two strikers dead and more than 200 injured. The 2-month strike, a win for the workers' union, is regarded by many labor historians as one of the nation's three most important strikes. (parallelnarratives dot com article) (LH, see May 9;  see Toledo for expanded chronology)
DNAinfo and Gothamist
April 12, 2017: reporters and editors at the New York news organizations DNAinfo and Gothamist agreed to unionize after combining their operations in March.
An "overwhelming" majority of the 26 members of the newsroom staffs of the two websites signed cards agreeing to be represented by the Writers Guild of America East, according to organizers and staff members, who requested anonymity because they were not authorized to speak publicly about their workplace.
The owners challenged the vote to the National Labor Relations Board. (subsequent shut down by owners NYT article) (Labor see Apr 26; DNA/Goth, see Oct 27)
Oklahoma teachers
April 12, 2018: Oklahoma's largest teachers' union called for educators to return to the classroom and to shift their efforts to supporting candidates in the fall elections who favor increased education spending.
At a news conference, Alicia Priest, president of the Oklahoma Education Association, characterized the nine-day walkout as "a victory for teachers," even as it fell short of its goals. (see Apr 26)
April 12 Peace Love Art Activism
BLACK HISTORY
Fort Pillow Massacre
April 12, 1864: Confederate General Nathan Bedford Forrest led around 1,500 troops on a raid to recapture Fort Pillow on the Mississippi in Tennessee. Far outnumbered, the less that 600 Union soldiers (made up of the 13th United States Cavalry) fought, but overrun, many eventually laid down their arms to surrender, but the Confederate troops continued to shoot the unarmed men.
Many of the soldiers belonged to the United States Colored Troops and the Confederate soldiers particulalry targeted those surrendered troops. While around 20 percent of the white Union soldiers died as a result of the battle, approximately 70 percent of the USCT soldiers at Fort Pillow were killed. [Smithsonian article] (next BH, see October 4, 1894)
MARTIN LUTHER KING, JR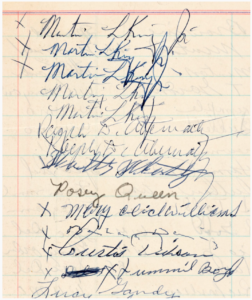 April 12, 1963: police arrested King, Reverend Abernathy and Rev. Fred Shuttlesworth for leading a demonstration in defiance of an injunction obtained by Bull Connor. Dr. King was placed in solitary confinement and refused access to counsel. During his incarceration, he penned his "Letter from the Birmingham Jail," a response to a statement by eight leading local white clergymen — Protestant, Catholic, and Jewish — who had denounced him as an outside agitator and urged blacks to withdraw their support for his crusade. In this eloquent statement, Dr. King set forth his philosophy of nonviolence and enumerated the steps that preceded the Gandhian civil disobedience in Birmingham. Specifically citing Southern segregation laws, he wrote that any law that degraded people was unjust and must be resisted. Nonviolent direct action, Dr. King explained, sought to foster tension and dramatize an issue "so it can no longer be ignored." (see Apr 16)
Malcolm X
April 12, 1964: in Detroit, Michigan, Malcolm X delivered the "The Ballot or the Bullet." speech. (BH, see Apr 14; MX, see June 28)
George Whitmore, Jr
April 12, 1965: Whitmore's trial for the  Minnie Edmonds slaying opened before an all-male blue-ribbon jury and Kings County Supreme Court Justice Dominic S. Rinaldi. (Blue-ribbon juries — criticized by liberal groups as self-righteous and conviction-prone — are composed of persons from high educational and economic levels and permitted in counties with more than a million population under a New York statute enacted in the 1930s.) (see Whitmore for expanded story)
Rainey Pool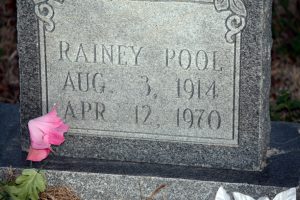 April 12, 1970: a group of white men beat Rainey Pool, 54, a one-armed sharecropper, outside a Mississippi Delta Nightclub. They dumped his body in the Sunflower River. Two days later police found Pool's body. Police arrested four men and charged them with assault and murder. One man confessed. (1999 Journal Times article on trial) (BH, see May 11; Poole, see July 1970)
137 SHOTS
April 12, 2018: supervisors Michael Donegan, 44, of Cleveland; Patricia Coleman, 50, of Brooklyn; Jason Edens, 44, of Avon; Paul Wilson, 51, of Cleveland; and Randolph Dailey, 46, of North Ridgeville pleaded not guilty when they appeared at arraignments in East Cleveland Municipal Court. (see 137 for expanded chronology)
Starbucks
April 12, 2018: a Starbucks employee in Philadelphia called police after  Rashon Nelson and Donte Robinson, two black men, waited for a third person to have a business meeting at the Starbucks. Police took both men from the cafe in handcuffs. (BH & Starbuck see May 2)
April 12 Peace Love Art Activism
April 12 Music et al
Roots of Rock
April 12, 1954: Bill Haley and the Comets recorded "(We're Gonna) Rock Around The Clock." It was included as the B-side of "Thirteen Women" also recorded that day. The record—with "Thirteen Women" as the A-side, will only be a moderate success. (see May 7)
"Last Thoughts on Woody Guthrie"
April 12, 1963: at New York's Town Hall Bob Dylan recited "Last Thoughts on Woody Guthrie," a long evocation of old memories, a youth searching for himself by the railroad tracks, down the road, in fields and meadows, on the banks of streams, in the "trash can alleys." And, he says, somehow during that search Woody was his companion. There's this book comin' out, an' they asked me to write something about Woody…Sort of like "What does Woody Guthrie mean to you?" in twenty-five words…
And I couldn't do it — I wrote out five pages and… I have it here, it's…Have it here by accident, actually… but I'd like to say this out loud…So… if you can sort of roll along with this thing here, this is called… (see Bob Dylan Woody Guthrie Last Thoughts for audio and lyrics) (see May 12)
The Byrds
April 12, 1965: The Byrds released their first single, Bob Dylan's Mr Tambourine Man. It will become the Billboard #1 on June 26. (see May 8)
Maharishi Mahesh Yogi
April 12, 1968:  after nearly two months in Rishikesh, India, studying Transcendental Meditation with Maharishi Mahesh Yogi, John Lennon and George Harrison left the camp. Also with them were Cynthia Lennon, Pattie Harrison and their friend 'Magic' Alex Mardas. They had decided to leave after Mardas convinced the others that Maharishi had attempted to gain sexual favours from female meditators at the camp. The accusation was likely unfounded. (next Beatles, see May 19; see Rishikesh for expanded story)
Fifth Dimension
April 12 – May 23, 1969: "Aquarius/Let the Sunshine In" by the Fifth Dimension #1 on the Billboard Hot 100.
Road to Bethel
April 12, 1969: Mel Lawrence and Tom Rounds arrived in NY. They had organized rock concerts in Hawaii, the Fantasy Fair, and had organized Miami Pop in 1968. (see Road for expanded story)
April 12 Peace Love Art Activism
Technological Milestone
Polio vaccine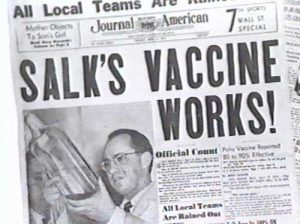 April 12, 1955: researchers announced the polio vaccine was safe and effective and it quickly became a standard part of childhood immunizations in America. In the ensuing decades, polio vaccines would all but wipe out the highly contagious disease in the Western Hemisphere. (Jonas Salk NYT obit) (see June 29, 1956)
April 12 Peace Love Art Activism
Space Race
Yuri Gagarin
April 12, 1961: the first human in space. Vostok 1 carried Soviet cosmonaut Yuri Gagarin into orbit. The Soviets refer to Gagarin as a "cosmonaut." The Americans had considered "cosmonaut" as a title but had already settled on "astronaut."  (NASA article on Gagarin) (see May 2)
April 12 Peace Love Art Activism
Vietnam
April 12, 1966: NY Stock Exchange hit with anti-war leaflets. (see Apr 13)
April 12

Peace Love Art Activism
Watergate Scandal
April 12, 1996: historian, Stanley I. Kutler won a legal victory that would lead to the slow but steady release of more than 3,000 hours of secretly recorded Nixon White House tapes. In a deal struck with the estate of former President Richard M. Nixon and the National Archives, the first set of the tapes — more than 200 hours chronicling the abuses of power known collectively as the Watergate scandals – were to be released by November, 1996. The agreement came 21 years after Congress ordered that the tapes be made public.
Kutler his lawyer, Alan Morrison of the advocacy group Public Citizen, and the National Archivist, John Carlin, said that the rest of the tapes, which cover almost everything of importance that Mr. Nixon and his aides said at the White House, at the Old Executive Office Building next door and at Camp David, Md., from February 1971 to July 1973, when their existence was disclosed, will gradually be released in the coming years. (see Watergate for expanded story)
April 12 Peace Love Art Activism
CLINTON IMPEACHMENT
April 12, 1999: U.S. District Judge Susan Webber Wright found President Bill Clinton in civil contempt of court for his "willful failure" to obey her repeated orders to testify truthfully in the Paula Jones case. Wright also orders Clinton to pay Jones "any reasonable expenses including attorneys' fees caused by his willful failure to obey this court's discovery orders," directing Jones' lawyers to submit an accounting of their expenses and fees. She also rules Clinton must reimburse the court $1,202 for the judge's travel expenses. Wright traveled to Washington at Clinton's request to preside over what she now calls "his tainted deposition." (see Clinton for expanded story)
April 12 Peace Love Art Activism
LGBTQ
April 12, 2012: a U.S. federal grand jury issued the first-ever indictment to charge a violation of the sexual orientation section of the federal hate crimes law. According to the indictment, David Jason Jenkins and Anthony Ray Jenkins enlisted two women to trick Kevin Pennington into getting into a truck with the defendants, so that the defendants could drive Pennington to a state park and assault him. According to the indictment, the defendants then drove Pennington a secluded area of the Kingdom Come State Park in Kentucky and assaulted him.
The indictment charged the men with committing a hate crime in violation of the Matthew Shepard and James Byrd Jr. Hate Crimes Prevention Act,  (2013 DOJ article on case) (see April 25, 2012)
April 12 Peace Love Art Activism
Women's Health
April 12, 2019: Ohio Gov. Mike DeWine signed the "Human Rights Protection Act," SB 23 which outlawed abortions as early as five or six weeks into a pregnancy, before many women would know they were pregnant. It is one of the most restrictive abortion laws in the country.
The bill included an exception to save the life of the woman, but no exceptions for cases of rape or incest. (see Apr 19)
April 12 Peace Love Art Activism
Immigration History
Reunification
April 12, 2019: a federal court settlement announced that it would allow almost 2,700 children living in Central America to safely reunite with their parents, who are living in the United States under protected status.
The settlement between the families and the Trump administration affected children who had been conditionally approved by the government to join their parents before the White House canceled the Central American Minors program in August 2017.
The program began under the Obama administration in 2014. It allowed the children of parents who are lawfully in the United States to apply for permanent residency as refugees. [NYT article]
Asylum seekers
April 12, 2019: a three-judge panel of the United States Court of Appeals for the Ninth Circuit said that the Trump administration could temporarily continue to force migrants seeking asylum in the United States to wait in Mexico while their cases are decided.
The panel issued a stay of an April 8 lower court ruling that had blocked the administration's protocol. The appeals court would consider whether to extend that stay  and allowed the Trump administration policy to remain in effect for until another ruling. [NYT article] (see Apr 16)
April 12 Peace Love Art Activism
Right to Die
April 12, 2019: New Jersey's Medical Aid in Dying for the Terminally Ill Act (P.L. 2019, c.59) was approved, with an effective date of August 1, 2019. Known as the "Medical Aid in Dying for the Terminally Ill Act," this law permitted terminally ill, adult patients residing in New Jersey to obtain and self-administer medication to end their lives peacefully and humanely. (next RtD, see September 22, 2020)
April 12 Peace Love Art Activism
Cannabis
April 12, 2021: New Mexico Gov. Michelle Lujan Grisham (D) signed a bill to legalize marijuana in the state, as well as a separate measure to expunge records for people with prior, low-level cannabis convictions.
Grisham gave final approval to the legislation, a key accomplishment for her administration after she listed legalization as a 2021 priority. Although lawmakers failed to pass a legalization bill before the regular session's end last month, the governor convened a special session to ensure they got the job done.
"The legalization of adult-use cannabis paves the way for the creation of a new economic driver in our state with the promise of creating thousands of good paying jobs for years to come," the governor said in a press release. "We are going to increase consumer safety by creating a bona fide industry. We're going to start righting past wrongs of this country's failed war on drugs. And we're going to break new ground in an industry that may well transform New Mexico's economic future for the better." [MM article] (next Cannabis, see  Apr 29, or see CAC for expanded chronology)
April 12 Peace Love Art Activism
Environmental Issues
April 12, 2023:  the Biden administration proposed the nation's most ambitious climate regulations to date, two plans designed to ensure two-thirds of new passenger cars and a quarter of new heavy trucks sold in the United States were all-electric by 2032.
The new rules would require nothing short of a revolution in the U.S. auto industry, a moment in some ways as significant as the June morning in 1896 when Henry Ford took his "horseless carriage" for a test run and changed American life and industry.
The government's challenge to automakers was monumental; In 2922, all-electric vehicles were just 5.8 percent of new cars sold in the United States. All-electric trucks were even more rare, making up fewer than 2 percent of new heavy trucks sold. [NYT article] (next EI, see Apr 26)
April 12 Peace Love Art Activism