Beatles Rishikesh India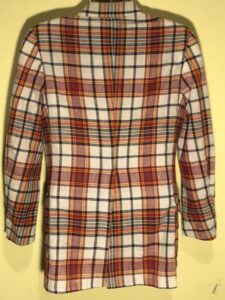 My memory: it was the mid-60s and Madras was popular. Its multi-color design was interesting and apparently it had the unique quality of changing color schemes after washing because the dyes ran.
Did I know the cloth came from India? Maybe. Did I know that Madras was a place in India? Probably not. The connection between Great Britain (the Empire) and India (the former colony) and what that implied were lost to me.
But I was a Beatle fan and their growing association with Indian culture offered glimpses that were new to me.
Beatles/India
The Beatles first visit to India was simply a very brief stopover on the morning of 8 June 1964 in Calcutta while on their (only) world tour. Their first proper visit was on July 6, 1966, the day after their troubled trip to the Philippines ended.
It was simply planned as a visit. No concert, but even though landing at night, over 600 fans gathered to greet them.
George Harrison recalled, "We got in the car and drove off, and they were all on little scooters, with the Sikhs in turbans all going, 'Hi, Beatles, Beatles!' I thought, 'Oh, no! Foxes have holes and birds have nests, but Beatles have nowhere to lay their heads.'" [George Harrison, Anthology]
Beatles Rishikesh India
Maharishi Mahesh Yogi
The following year on August 23, 1967, encouraged by Pattie Harrison, The Beatles and their partners – minus Ringo  and Maureen Starkey, whose second child Jason had been born five days previously – attended a lecture by Maharishi Mahesh Yogi at the Hilton Hotel on Park Lane, London.
Impressed by the yogi, they made arrangements to travel the following day to Bangor, North Wales to attend his 10-day series of seminars.
And so on  August 24, The Beatles, along with Cynthia Lennon, Pattie Harrison, her sister Jenny, Alexis Mardas, Mick Jagger and Marianne Faithfull, left by train to attend that conference.
Well, all but Cynthia. In the hectic scrum of getting on the train, John abandoned Cynthia to carry the bags.  She was left crying. "I was crying because the incident seemed symbolic of what was happening to my marriage. John was on the train, speeding into the future, and I was left behind." [Cynthia Lennon, Cynthia]
Neil Aspinall, Beatle road manager, drove Cynthia to Bangor.
The second day of the seminar the Beatles announced that they'd given up drugs.
On  August 27, Brian Epstein died and the next day the Beatles left Bangor. They also postponed a trip to Rishikesh, India, the site of the yogi's ashram,
Beatles Rishikesh India
Academy of Transcendental Meditation
The Maharishi's Academy of Transcendental Meditation in Rishikesh was situated in a guarded compound in the foothills of the Himalayas, 150 feet above the River Ganges.
"The land was bordered by a dense, dusty, tak forest interspersed with evergreen rosewood (sheesham) and inhabited by langur monkeys, elephants, tigers, crows, peacocks, parrots, vultures, chipmunks, pythons, and cobras." [from Maharishi & Me: Seeking Enlightenment with the Beatles' Guru by Susan Shumsky]
Built in 1963, the American heiress Doris Duke had funded the academy with a $100,000 donation. There were six long bungalows each containing five or six double rooms. In addition to the Maharishi's own bungalow, there was a post office, a lecture theater and a swimming pool.
Beatles Rishikesh India
Arrival
On February 16, 1968 John and Cynthia Lennon and George and Pattie Boyd quietly arrived in New Delhi, India, but it was still a long 50-mile taxi ride to Rishikesh.
Four days later, Paul, Jane Asher, Ringo and wife Maureen joined. And it wasn't just the Beatles' retinue.  Pattie Boyd recalled in her book, Wonderful Today:
There were probably about sixty of us at the ashram, an interesting collection of people from across the world – Sweden, Britain, America, Germany, Denmark – and everyone was so nice. Despite that, we felt cut off from the rest of the world so it was always exciting when letters came in the post – my mother wrote regularly with news of home – or when others joined us. One of the newcomers was Donovan, with his manager, 'Gipsy Dave'. We had known Donovan for some years. He and the Beatles had recorded together, and he'd contributed to the Yellow Submarine album [sic]. He had fallen in love with Jenny [Boyd] – for whom he wrote Jennifer Juniper. Mike Love, lead singer of the Beach Boys, also turned up, as did the actress Mia Farrow, with her brother Johnny and sister Prudence.
Paul McCartney initially described the ashram and the experience as a summer camp. Photographer Paul Salzman recalled, ""The weeks the Beatles spent at the ashram were a uniquely calm and creative oasis for them: meditation, vegetarian food and the gentle beauty of the foothills of the Himalayas. There were no fans, no press, no rushing around with busy schedules, and in this freedom, in this single capsule of time, they created more great music than in any similar period in their illustrious careers. "
Beatles Rishikesh India
Inspiration
The setting and the whole meditative experience inspired John and George in particular.
Donovan taught John a guitar finger-picking technique that John would use in, Julia and Dear Prudence, songs he wrote wrote while at Rishikesh. He also wrote Child of Nature, The Continuing Story of Bungalow Bill, Everybody's Got Something to Hide Except For Me and My Monkey , I'm So Tired, Sexy Sadie, there.
Paul wrote, among others,  Mother Nature's Son, Rocky Raccoon  and Back In the USSR 
Ringo found things more difficult, particularly because of his sensitive digestive system. He'd brought cans of beans with him. The insects were also an issue.
He said in The Beatles Anthology: "You'd have to fight off the scorpions and tarantulas in a bath. Then you'd get out of the bath, get dry and get out of the room because all the insects came back in."
Also homesick for their children, the Starrs left on March 1, 10 days after arriving. He did write, Don't Pass Me By while there, though.
Paul McCartney and Jane Asher left a few weeks later on March 26, disenchanted with the Maharishi's style. He seemed to be into more than teaching transcendence, though.  Others speak of his managerial side as well.
The press interviewed McCartney and Asher the following day.
In his book With the Beatles, Lewis Lapham recounted the time when the Maharishi organized a group photo of his students, including the Beatles. "He cast himself as the director on a movie set," Lapham wrote of the Maharishi. In preparation for the photo shoot, the Maharishi oversaw the construction of a tier of bleachers as well as the seating arrangements. He reportedly told the photographer, "Before you snap, you must shout 1, 2, 3 … any snap and you must shout." The Maharishi then told his pupils, "Now come on everybody, cosmic smiles … and all into the lens."
Yet, Life magazine would proclaim 1968 "The Year of the Guru," and featured Maharishi on the cover with groovy, hallucinogenic spirals framing his face.
Beatles Rishikesh India
Maharishi — what have you done?
Two weeks after Paul's departure, a disenchanted John and George left the ashram after Alexis "Magic Alex" Mardas, who according to Wikipedia "was a Greek electronics engineer, charlatan and conman, who is best known for his close association with the Beatles" accused the yogi of sexual improprieties with a teacher.
The accusations were never proven. Harrison later said in The Beatles Anthology that the rumor was basically jealousy about the Maharishi: "This whole piece of bullshit was invented. … There were a lot of flakes there; the whole place was full of flaky people. Some of them were us."
John's Sexy Sadie was originally entitled Maharishi.
While John returned directly to the UK, George and Pattie Harrison, plus her sister Jenny, visited Ravi Shankar in Madras, where they stayed until 21 April 1968. Pattie Boyd in Wonderful Tonight wrote,
George didn't want to go straight from two months of meditation into the chaos that was waiting for him in England – the new business, finding a new manager, the fans and the press. Instead we went to see Ravi Shankar and lost ourselves in his music.
Beatles Rishikesh India
Rolling Stone magazine article…Beatles in India: 16 Things You Didn't Know.
Rolling Stone magazine article…How the Beatles in India Changed America

The World article…50 Years On…

The National article…How the Beatles Were Affected By Their Famed Trip to India