April 4 Peace Love Art Activism
Feminism
Mayor Susanna M Salter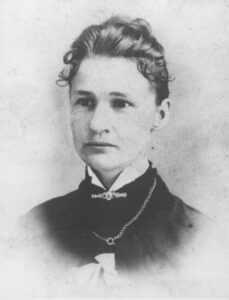 April 4, 1887: voters elected 27-year-old Susanna M Salter mayor of Argonia, Kansas. She became the first woman elected as mayor and one of the first women to serve in any political office in the United States.
Her election was a surprise because a group of men against women in politics had placed her name representing the Prohibition Party as a prank on a slate of candidates. They hoped to secure a loss that would humiliate women and discourage them from running.
Because candidates did not have to be made public before election day, Salter herself did not know she was on the ballot before the polls opened.
When, on election day itself, she agreed to accept office if elected, the Woman's Christian Temperance Union abandoned its own preferred candidate and voted for Salter en masse. Additionally, the local Republican Party Chairman sent a delegation to her home and confirmed that she would serve and the Republicans agreed to vote for her, helping to secure her election by a two-thirds majority.
Voting rights/Women
In 1897 New York State Association Opposed to Woman Suffrage founded. (next Feminism, see April 25, 1898)
US Labor History
The Labor Review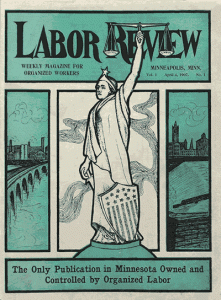 April 4, 1907: the first issue of The Labor Review, a "weekly magazine for organized workers," was published in Minneapolis. Edna George, a cigar packer in Minneapolis, won $10 in gold for suggesting the name "Labor Review." The Labor Review has been published continuously since then, currently as a monthly newspaper. (see Dec 5)
April 4

Peace Love Art Activism
FREE SPEECH
Strange Fruit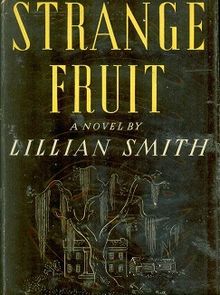 April 4, 1944: Harvard Professor Bernard DeVoto bought a copy of the novel,  Strange Fruit by Lillian Smith, as Boston police officers watched and then arrested him. The arrest was an pre-arranged test of a police ban on the book for "lewdness." DeVoto was assisted by  the Civil Liberties Union of Massachusetts, but the Harvard Law Book Store, which sold the book, was fined $200. An appeal failed, and the book remained technically banned in Boston for several decades.
The novel is the story of an interracial romance between a white man and an African-American woman in Georgia. It was also banned in Detroit because of its alleged "lewd" theme, and by the U.S. Post Office in May 1944. The ban lasted only three days, because First Lady Eleanor Roosevelt asked her husband, the president, to have it lifted. He did.
The novel's title was taken from the famous song of the same name, first recorded by Billie Holiday on April 20, 1939. Holiday's song was a searing indictment of the lynching of African-Americans, but the novel aroused censors because it dealt with an interracial romance. Smith denied that she took the title from the song. (see January 8, 1945)
Smothers Brothers
April 4, 1969: CBS canceled the Smothers Brothers Comedy Show because CBS considers it too controversial. (2010 NPR story) (see Apr 21)
April 4

Peace Love Art Activism
Cold War
NATO
April 4, 1949: The North Atlantic Treaty Organization (NATO) is founded by Belgium, Canada, Denmark, France, Iceland, Italy, Luxembourg, the Netherlands, Norway, Portugal, the United Kingdom, and the United States, in order to resist Communist expansion. (NATO site)  (see Apr 7)
April 4

Peace Love Art Activism
April 4 Music et al
Roots of Rock
April 4, 1956:  Elvis Presley played the first of two nights in San Diego Arena in San Diego, California. The local Police chief issued a statement saying if Elvis ever returned to the city and performed like he did, he would be arrested for disorderly conduct. (pictures from Elvis Presley Music dot com) (see Apr 7)
Technological Milestone
April 4, 1960: RCA Victor Records announced that it would release all pop singles in mono and stereo simultaneously, the first record company to do so. Elvis Presley's single, "Stuck on You," is RCA's first mono/stereo release. (TM, see Apr 13; Elvis, see Apr 8)
The Beatles
April 4 – May 8, 1964: the band occupied all five top positions with their singles "Can't Buy Me Love", "Twist and Shout", "She Loves You", "I Want to Hold Your Hand", and "Please Please Me." (see Apr 10)
April 4

Peace Love Art Activism
Nuclear/Chemical News
Campaign for Nuclear Disarmament
April 4, 1958: the start of a three-day 52-mile nuclear disarmament march from London to the Atomic Weapons Research Establishment at Aldermaston.
It was organized by the Direct Action Committee and supported by Campaign for Nuclear Disarmament. Gerald Holtam's "Disarmament Symbol" (see Feb 21 above) made its public debut. (see Apr 16)
Chemical weapons ban
April 4, 1984:  President Reagan calls for an international ban on chemical weapons. (UPI archives article) (see August 22, 1986)
Syria uses gas weapons
April 4, 2017: President Bashar al-Assad used sarin gas in an attack on northwestern Syrian province of Idlib. The attack killed up to 100 civilians, including at least 11 children.
Doctors treating victims at makeshift hospitals in the area said dozens of victims from Khan Sheikhoun showed signs of sarin poisoning, including foaming at the mouth, breathing difficulties and limp bodies.
Moments after the attack a projectile hit a hospital in the area, bringing down rubble on top of medics as they struggled to treat victims.  (BBC report) (see July 7)
April 4

Peace Love Art Activism
INDEPENDENCE DAY
April 4, 1960: Senegal independent from France. (see ID for complete listing of 1960s Independence days)
April 4

Peace Love Art Activism
BLACK HISTORY
Dorothy Bell
April 4, 1963: Dorothy Bell, 19, of Birmingham, Alabama, waited at a downtown Birmingham lunch counter for service that never came. She was later arrested with 20 others in sit-in attempts. (see April 12)
MLK/Vietnam
April 4, 1967: Martin Luther King, Jr delivered "Beyond Vietnam – A Time to Break Silence" speech in Riverside Church, New York City. "A time comes when silence is betrayal." He will die in exactly one year. (Link to text and audio) (Vietnam, see Apr 5; MLK, see Apr 30)
Martin Luther King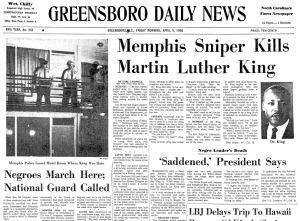 April 4, 1968: Martin Luther King shot and killed in Memphis. The week following King's murder sees black uprisings in 125 cities across the U.S. 
DC Revolt
April 4 – 8, 1968: Washington, DC revolts following King's assassination. (see Apr 6)
Scottsboro Nine
April 4, 2013: Alabama Lawmakers voted to issue posthumous pardons to nine black teenagers who were wrongly convicted of raping two white women more than 80 years ago based on false accusations. The bill setting up a procedure to pardon the group, known as the Scottsboro Boys, must be signed by Gov. Robert Bentley to become law. He plans to study the legislation but has said he favors the pardons. (see Scottsboro for expanded story)
Walter L. Scott
April 4, 2015: in North Charleston, South Carolina, officer, Michael T. Slager, 33 and white, saying he feared for his life because Walter L. Scott, 50 and black, had taken his stun gun in a scuffle after a traffic stop, fired eight times as Scott fled. Scott died. ((B & S and Scott, see Apr 7)
Church Burning
April 4, 2019: the Mount Pleasant Baptist Church in Opelousas, Louisiana burned, the third Black church since March 26. (see Apr 11)
April 4

Peace Love Art Activism
Vietnam
March for Victory
April 4, 1970: the "March for Victory" marked the era's largest pro-war demonstration, attracting about 50,000 protesters — simultaneously objecting to President Nixon's reduction of U.S. troop levels and "hippies and yippies everywhere."
Led by the Rv. Carl McIntire and his International Council of Christian Churches, many saw  reduction of American forces as running away from our duty to fight against communism.
"We're going to demonstrate against the President's policy of Vietnamization, which is a synonym for retreat," McIntire had proclaimed a few days before the march
"Millions of people voted for President Nixon, thinking he would seek victory in Vietnam, and now he's backing out…We should give our generals the green light to win this war. (see Apr 15)
Airlift disaster
April 4, 1975:  a major U.S. airlift of South Vietnamese orphans begins with disaster when an Air Force cargo jet crashes shortly after departing from Tan Son Nhut airbase in Saigon. More than 138 passengers, mostly children, were killed. Operation Baby Lift was designed to bring 2,000 South Vietnamese orphans to the US for adoption by American parents. (2016 Daily Mail article on Operation Babylift) (see Apr 7)
April 4

Peace Love Art Activism
World Trade Center
April 4, 1973: the Center officially opens. (NY Daily News article) (see August 7, 1974)
April 4

Peace Love Art Activism
LGBTQ
Kidnap/assault
April 4, 2011: David Jason Jenkins, 37, and Anthony Ray Jenkins, 20, kidnapped and assaulted Kevin Pennington because of Pennington's sexual orientation. (see June 13, 2011)
NCAA lift ban
April 4, 2017: the NCAA announced it lifted its ban on holding championship events in North Carolina after the state repealed its controversial and costly "bathroom bill." 
Gay workers protected
April 4, 2017: the United States Court of Appeals for the Seventh Circuit in Chicago ruled that the 1964 Civil Rights Act protects gay workers from job discrimination, expanding workplace protections in the landmark law to include sexual orientation.
The decision by the Seventh Circuit, the highest federal court yet to grant such employment protections, raised the chances that the politically charged issue might ultimately be resolved by the Supreme Court. While an appeal was not expected in this case, another appellate court, in Georgia, last month reached the opposite conclusion, saying that the law does not prohibit discrimination at work for gay employees. (see May 1)
Church of Jesus Christ of Latter-day Saints
April 4, 2019:  The Church of Jesus Christ of Latter-day Saints repealed rules unveiled in 2015 that banned baptisms for children of gay parents and made gay marriage a sin worthy of expulsion.
The surprise announcement reversed rules that had banned baptisms for children living with gay parents until they turn 18, disavowed same-sex relationships and received approval from global church leaders.
With the change, children of gay parents could  be baptized as long as their parents approved the baptisms and acknowledged that the children would be taught church doctrine.
The statement said that the Church was not changing its doctrinal opposition to gay marriage and still considered same-sex relationships to be a "serious transgression," but people in same-sex relationships would no longer be considered "apostates" who must be kicked out of the religion. (next LGBTQ, see May 28)
April 4

Peace Love Art Activism
Hurricane Katrina shootings and cover-up
April 4, 2012: the four officers directly involved in the shooting were sentenced in federal court to lengthy terms ranging from 38 to 65 years, while a police sergeant who was charged with investigating the shooting, and instead helped lead the efforts to hide and distort what happened, was sentenced to six years. Three police officers who pleaded guilty and later testified at the trial were involved in the shooting on the bridge and received sentences ranging from five to eight years. Two others, a detective and a police lieutenant who helped orchestrate the cover-up, were sentenced to three and four years. (2015 NPR story) (see Katrina for expanded chronology)
April 4

Peace Love Art Activism
Sexual Abuse of Children
August 4, 2015: the Roman Catholic Archdiocese of Milwaukee said that it would pay $21 million to more than 300 victims of clergy abuse in a settlement that would end a four-year bankruptcy proceeding.
The proposed deal, which would be part of a reorganization plan submitted to a bankruptcy court later this month, was to be reviewed by a judge overseeing the case at a Nov. 9 hearing. Archbishop Jerome Listecki called the settlement a "new Pentecost," but an attorney for the victims, along with advocates for those abused by clergy, decried the settlement as a paltry amount. (March 1, 2016)
April 4

Peace Love Art Activism
Voting Rights
April 4, 2016: in Evenwell et al, v Abbott, Gvoernor of Texas, et al the US Supreme Court refused to change the way state and municipal voting districts were drawn, denying an effort by conservatives that could have increased the number of rural, mostly white districts at the expense of urban, largely Hispanic ones.
The "one person, one vote" case was among the most consequential of the high court's term, and once again the court's liberal wing won out. The ruling left intact Texas' method — followed by all states — of drawing districts with roughly equal numbers of residents. (see Apr 22)
April 4

Peace Love Art Activism
Stop and Frisk Policy
April 4, 2016: Mayor Bill de Blasio announced that NYC had seen a significant drop in major crimes in the first quarter of 2016 with the fewest murders and shootings in its recorded history.
"We are the safest big city in America. This quarter's statistics prove it once again," de Blasio said.
In the first three months of the year, New York City saw a 21 percent drop in murders compared with the same period last year, a statistic de Blasio called "extraordinary." The city also saw a 14 percent decrease in shootings compared with those months in 2015. (see November 17, 2019)
April 4

Peace Love Art Activism
Immigration History
Trump backs down
April 4, 2019: President Trump backed down from his threat to shut down the U.S. southern border.
Trump had issued the warning in a bid to curtail surging border crossings by asylum-seekers from Central America. Instead, on this date he gave Mexico "a one-year warning" to address his concerns about its handling of immigrants traveling through the country on the way to the US.
He also demanded that Mexico tamp down on the flow of drugs.
Motel 6 settlement
April 4, 2019: hotel chain Motel 6 agreed to pay $12 million to settle a lawsuit filed by the state of Washington after several locations gave information on thousands of guests to Immigration and Customs Enforcement without warrants.
Washington State Attorney General Bob Ferguson said that Motel 6 had shared the information of about 80,000 guests in the state from 2015 to 2017.
That led to targeted investigations of guests with Latino-sounding names, according to Ferguson. He said many guests faced questioning from ICE, detainment or deportation as a result of the disclosures.
Motel 6 also signed a legally binding commitment to no longer share guest information without a warrant at any of its locations nationwide, a practice the chain says it had already ended. (next IH,  see Apr 5)
April 4

Peace Love Art Activism