April 10 Music et al
Black History
April 10, 1956, Nat King Cole was performing before a white-only audience of 4000 at the Municipal Auditorium in Birmingham, Alabama, when he was attacked and knocked down by a group of white men. The attack happened so quickly that some audience members believed the attackers had rushed the stage to attack a drunk man near the front row who had been jeering at Mr. Cole, "Negro, go home." Police present at the concert in case of trouble apprehended Cole's attackers quickly. Four men were charged with inciting a riot while two others were held for questioning. Outside the arena, officers later found a car containing rifles, a blackjack, and brass knuckles. (see May 13)
April 10 Music et al
Elvis's GI Blues
April 10 – 16, 1961: Elvis's GI Blues returns to Billboard #1 album for a third time.  The song was from the movie and album of the same name. Sid Tepper and Roy C. Bennett wrote the song. (see May 22)
April 10 Music et al
Stu Sutcliffe died
April 10, 1962: Stu Sutcliffe died. The Beatles original bassist, Sutcliffe was with the band when he and John Lennon decided to call themselves "The Beatals", which would later be changed to "The Beatles".
Stu Sutcliffe is one of the people that are often referred to as "The Fifth Beatle".
In July 1961 Sutcliffe left the band to pursue his career as an artist, enrolling in the Hamburg College of Art, studying under future pop artist, Eduardo Paolozzi, who later wrote a report stating that Sutcliffe was one of his best students.
Stu had also met Astrid Kirchherr in Hamburg and was engaged to her. While in college in Germany, Sutcliffe began experiencing severe headaches and acute sensitivity to light. In the first days of April 1962, he collapsed in the middle of an art class after complaining of head pains. German doctors performed various checks, but were unable to determine the exact cause of his headaches.
On 10 April 1962, he was taken to hospital, but died in the ambulance on the way. The cause of death was later revealed to have been an aneurysm. Sutcliffe was  21 years old. (see April 11)
April 10 Music et al
The Beatles' Second Album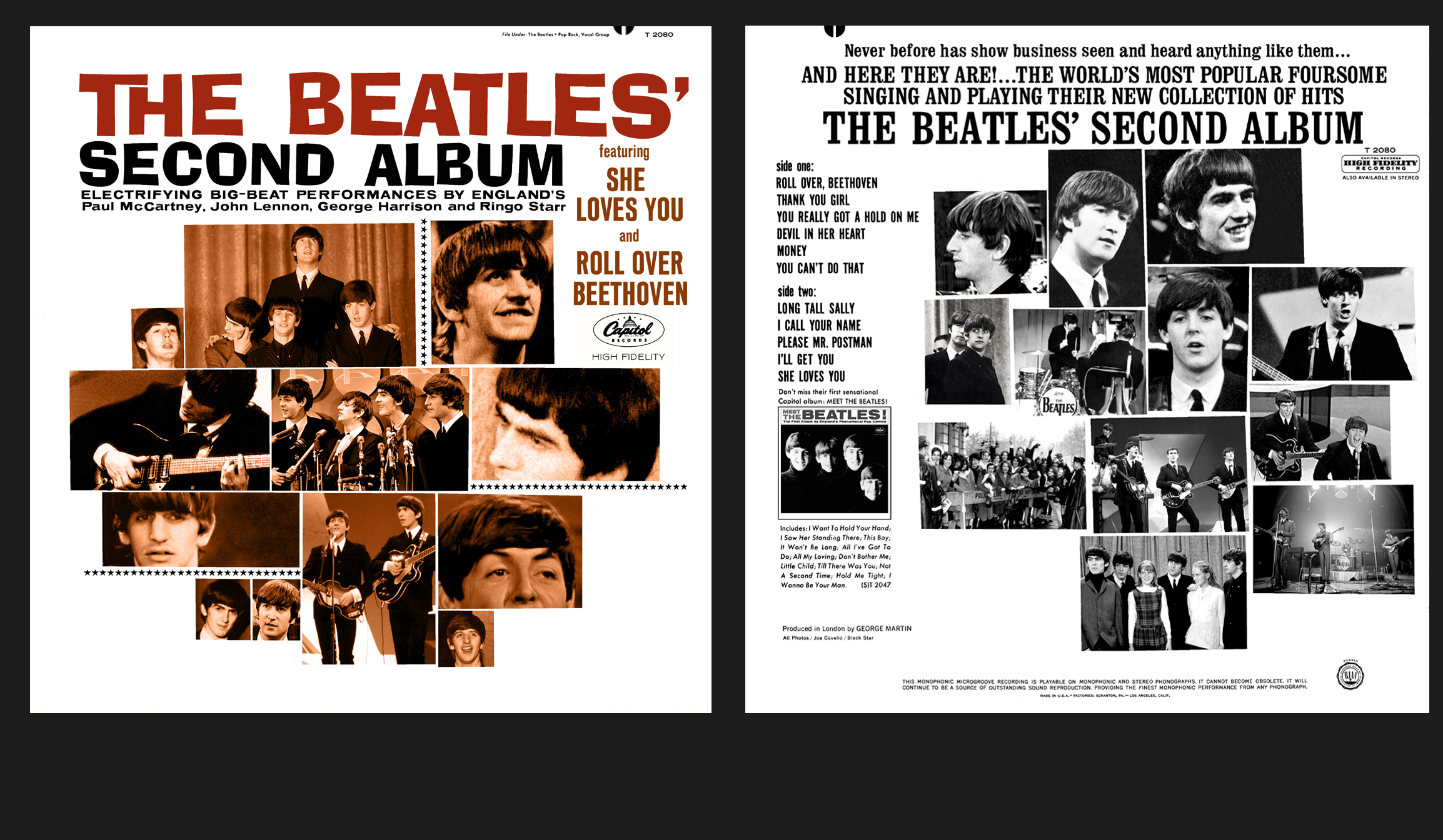 April 10, 1964, Capital Records released The Beatles' Second Album. It was their second Capitol Records album and their third album released in the United States including Introducing… The Beatles released three months earlier on Vee-Jay Records.
The Beatles' Second Album replaced Meet the Beatles! at number one on the album charts in the US.
It was not an album that the Beatles had put together as an album, but a collection of their songs unreleased in the US to that point.
The Beatles wrote five (*) of the eleven songs. (see Apr 11)
Side 1:

Roll Over Beethoven
Thank You Girl *
You Really Got a Hold On Me
Devil in Her Heart
Money (That's What I Want)
You Can't Do That *

Side 2:

Long Tall Sally
I Call Your Name *
Please Mister Postman
I'll Get You *
She Loves You *
April 10 Music et al
I'm Telling You Now
Apr 10 – 23, 1965: "I'm Telling You Now" by Freddy and the Dreamers #1 on the Billboard Hot 100. The video has both Frankie Avalon and Annette Funicello "dancing" along.
April 10 Music et al
Mary Poppins soundtrack
April 10 – July 9, 1965: the Mary Poppins soundtrack returned to the Billboard #1 album spot.
April 10 Music et al
Oscars
A Man for All Seasons
April 10, 1967: 1966 Oscars held. Bob Hope hosted. A Man for All Seasons best  picture. Here is Sir Thomas More's speech about the primacy of man's laws over God's laws.
In the Heat of the Night
April 10, 1968: 1967 Oscars held after two-day delay after Martin Luther King Jr's assassination. Bob Hope hosted. The winner in the Best Picture category was In the Heat of the Night (with seven nominations and five wins – Best Picture, Best Actor, Best Screenplay, Best Film Editing, and Best Sound).
April 10 Music et al
Beatles Break Up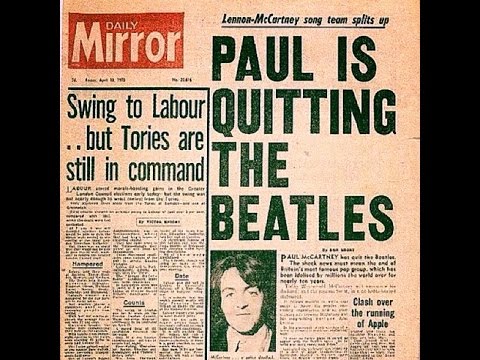 April 10, 1970: The Daily Mirror, Paul McCartney made the Beatles' secret breakup public by issuing a press release to announce that he has left the group, done in the form of a fake interview: "Q: Is your break with the Beatles temporary or permanent, due to personal differences or musical ones? PAUL: Personal differences, business differences, musical differences, but most of all because I have a better time with my family. Temporary or permanent? I don't really know."
John Lennon was furious, especially since the breakup, already agreed upon by the group, was announced just one week prior to the British release of McCartney's first solo album. When a reporter tracks down Lennon for his thoughts, he replies, "Paul hasn't left. I sacked him." (see April 20)
April 10 Music et al