April 7 Peace Love Art Activism
Feminism
Deborah Sampson
April 7, 1785 Deborah Sampson married Benjamin Gannet from Sharon, Massachusetts. Together they had three children, Earl, Mary, and Patience.(see Sampson for expanded story)
Married Women's Property Act
April 7, 1848: NY State passed the Married Women's Property Act. It was later used by other states as a model
The People of the State of New York, represented in Senate and Assembly do enact as follows:
Sec. 1. The real and personal property of any female who may hereafter marry, and which she shall own at the time of marriage, and the rents issues and profits thereof shall not be subject to the disposal of her husband, nor be liable for his debts, and shall continue her sole and separate property, as if she were a single female.
Sec. 2 The real and personal property, and the rents issues and profits thereof of any female now married shall not be subject to the disposal of her husband; but shall be her sole and separate property as if she were a single female except so far as the same may be liable for the debts of her husband heretofore contracted.
Sec. 3. It shall be lawful for any married female to receive, by gift, grant devise or bequest, from any person other than her husband and hold to her sole and separate use, as if she were a single female, real and personal property, and the rents, issues and profits thereof, and the same shall not be subject to the disposal of her husband, nor be liable for his debts.
Sec. 4. All contracts made between persons in contemplation of marriage shall remain in full force after such marriage takes place. (Memory Loc gov article)  (see July 19)
The Feminine Mystique
April 7, 1963: The New York Times  gave a sharply critical review of Betty Friedan's The Feminine Mystique. The reviewer for the Times, a woman, accused Friedan of making "sweeping generalities" about American culture and essentially concluded that women were to blame for their own problems. She argued that there was nothing to stop a women from reading about public affairs (but said nothing about the barriers to professional careers). Borrowing from Shakespeare, the review wrote, "The fault, dear Mrs. Friedan, is not in our culture, but in ourselves." (see June 10)
April 7 Peace Love Art Activism
FREE SPEECH
Free Speech League
April 7, 1911: the Free Speech League, founded in 1902, preceded the ACLU by 18 years and is properly considered the first freedom of speech defense organization in the U.S. It was organized in 1902, but not formally incorporated until this day. It was led by Theodore Schroeder, who was a prolific writer but not a good organizer. The FSL handled a number of important free speech cases, including several involving the radical I.W.W. (see the San Diego fight, below). It never developed into a large national organization, however, and it quietly disappeared during the World War I years. Schroeder wrote several books, but unfortunately very little has been written about him or the League.  (Elastic bean stalk article) (see July 19)
Judicial Milestone
April 7, 1969: the US Supreme Court ruled in Stanley v. Georgia that laws prohibiting private possession of obscene materials were unconstitutional. (see February 25, 1987)
Robert Mapplethorpe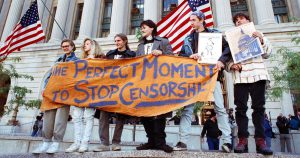 April 7, 1990: a display of Robert Mapplethorpe photographs opened at Cincinnati's Contemporary Arts Center; the center and its director were indicted on obscenity charges. (FS, see June 11; Mapplethorpe, see Oct 6)
April 7 Peace Love Art Activism
Black History
Scottsboro Nine
April 7 – 8, 1931: Haywood Patterson was tried, convicted, and sentenced to death. 
April 7, 1933: Summing up for the State at the close of the first of the new-Scottsboro trials, Wade Wright, circuit solicitor of Morgan County, Alabama, made a frank appeal to local pride, sectionalism, race hatred, and bigotry.
"Show them," he said pointing at the counsel table at which were seated Samuel S Leibowitz of NY, chief defense counsel and Joseph Brodsky, counsel for the International Labor Defense, a Communist affiliate, — "show them that Alabama justice cannot be bought and sold with Jew money from New York" (see Scottsboro for expanded story)
Booker T. Washington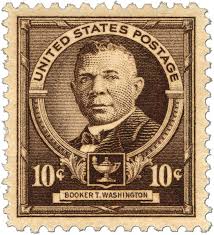 April 7, 1940: Booker T. Washington became the first black to be pictured on a U.S. postage stamp. (see June 10)
School Desegregation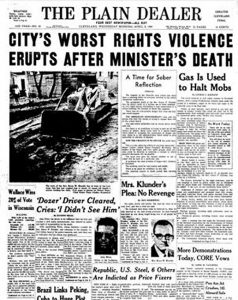 April 7, 1964: Bruce Klunder, a white Presbyterian minister, was among civil rights activists protesting the building of a segregated school in Cleveland, Ohio, by placing their bodies in the way of construction equipment. Klunder was crushed to death when a bulldozer backed over him. He headed the local chapter of the Congress of Racial Equality and had led a sit-in in Sewanee, Tenn., in 1962. He is among 40 martyrs listed on the Civil Rights Memorial in Montgomery, Ala. (SPLC article) (BH, see April 11; SD, see May 25)
Aftermath of King assassination
April 7 – 14, 1968: Chicago riots. (see April 9)
Tulsa Reparations Coalition
April 7, 2001: The Tulsa Reparations Coalition, sponsored by the Center for Racial Justice, Inc., was formed to obtain restitution for the damages suffered by Tulsa's Black community, as recommended by the Oklahoma Commission. (see June 2001)
Hurricane Katrina cover-up
April 7, 2010: Katrina shootings and cover-up:: Michael Hunter, one of the seven officers originally charged with attempted murder in 2007, pleaded guilty to misprision of a felony and obstruction of justice. (see Katrina for expanded chronology)
Trayvon Martin Shooting
April 7, 2012: Neo-Nazis conducted heavily armed patrols in and around Sanford, Florida and are "prepared" for violence in the case of a race riot. Commander Jeff Schoep of the National Socialist Movement stated that the patrols are to protect "white citizens in the area who are concerned for their safety" in the wake of the Trayvon Martin shooting:. "We are not advocating any type of violence or attacks on anybody, but we are prepared for it," he said. "We are not the type of white people who are going to be walked all over." (see Apr 9)
Walter L. Scott
April 7, 2015: in North Charleston, S.C. officer, Michael T. Slager was charged with murder after a video surfaced showing him shooting in the back and killing an apparently unarmed Walter L. Scott while Scott ran away.
North Charleston was South Carolina's third-largest city, with a population of about 100,000. African-Americans make up about 47 percent of residents, and whites account for about 37 percent. The Police Department is about 80 percent white, according to data collected by the Justice Department in 2007.  (B  & S and Scott, see Apr 8) 
Danroy Henry, Jr
April 7, 2015: the United States attorney in Manhattan announced that the Justice Department would not bring civil rights charges against Aaron Hess, white police officer, who fatally shot Danroy Henry, Jr,  a black Pace University football player outside a Westchester County bar in 2010. (B & S, see Apr 8; Henry, see March 14, 2016)
Supreme Court Justice Ketanji Brown
April 7, 2022: in a 53-to-47 vote, with three Republicans joining all 50 members of the Democratic caucus in backing her, the Senate confirmed Judge Ketanji Brown to the Supreme Court.
Judge Jackson's confirmation was historic: When she would replaces Justice Stephen G. Breyer at the end of the current term, she would be the first Black woman, as well as the first public defender, to serve as a Supreme Court justice. [CNN article] (next BH, see Apr 26)
April 7 Peace Love Art Activism
Japanese Internment Camps
April 7, 1942: at a conference in Salt Lake City, Utah officials of the War Relocation Authority and the governors and other officials of nine western and mountain states debated what to do with the Japanese Americans, who were being forcibly evacuated from the West Coast. President Franklin D. Roosevelt's Executive Order 9066 (February 19, 1942) mentioned only evacuation and said nothing about what would happen to the evacuees. State officials strongly objected to having evacuees in their states. As a result, the decision was made to create a network of Relocation Centers, which have been more properly characterized as concentration camps. (A New York Times article on the conference referred to the "voluntary movement" of Japanese-Americans.) (see Internment for expanded story)
April 7 Peace Love Art Activism
US Labor History
National Federation of Telephone Workers
April 7, 1947: some 300,000 members of the National Federation of Telephone Workers, soon to become CWA, strike AT&T and the Bell System. Within five weeks all but two of the 39 federation unions had won new contracts. (see June 23)
April 7 Peace Love Art Activism
The Red Scare
South Pacific
April 7, 1949: South Pacific opened on Broadway. The production enjoyed immense critical and box-office success and became the second-longest running Broadway musical to that point. The play won the Pulitzer Prize for Drama in 1950.
Some criticized South Pacific for its commentary regarding relationships between different races and ethnic groups. In particular, "You've Got to Be Carefully Taught" was subject to widespread criticism, judged by some to be inappropriate. Sung by the character Lieutenant Cable, the song is preceded by a lyric saying racism is "not born in you! It happens after you're born…"
Rodgers and Hammerstein risked the entire South Pacific venture in light of legislative challenges to its decency or supposed Communist agenda. While the show was on a tour of the southern US, lawmakers in Georgia introduced a bill outlawing entertainment containing "an underlying philosophy inspired by Moscow." One legislator said that "a song justifying interracial marriage was implicitly a threat to the American way of life." (see May 12)
April 7 Peace Love Art Activism
Technological Milestone
IBM 701
April 7, 1953: IBM unveiled the IBM 701 Electronic Data Processing Machine. It was IBM's first commercially available scientific computer. (see Apr 25)
April 7 Peace Love Art Activism
Vietnam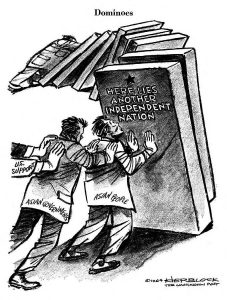 April 7, 1954: President Dwight D. Eisenhower coined one of the most famous Cold War phrases when he suggested the fall of French Indochina to the communists could create a "domino" effect in Southeast Asia. The so-called "domino theory" dominated U.S. thinking about Vietnam for the next decade. (Red Scare, see Apr 13; Vietnam, see May 7)
Lyndon Johnson
April 7, 1965:  Lyndon Johnson spoke before a television audience at Johns Hopkins University to offer his rationale for recently ramped up American military presence in Vietnam and to tell the world of U.S. intentions to come to the aid of the people of Southeast Asia in a bold new way. The president suggested the whole area be developed and modernized as an alternative to continued war. The speech was designed to encourage those in Hanoi to agree to stop warring and to take part in the development of the region, and also to put a good face on the new American measures implemented since February, including sustained aerial bombardment and combat troops. (see Apr 14)
Ho Chi Minh Campaign
April 7, 1975: North Vietnamese forces prepared to launch the "Ho Chi Minh Campaign," designed to set the conditions for a final communist victory in South Vietnam. By this time, well over two-thirds of South Vietnam was under communist control as South Vietnamese forces had fallen back in panic when the North Vietnamese pressed the attack. (see Apr 14)
April 7 Peace Love Art Activism
Rock 'n' Roll Dance Party
April 7, 1956: the CBS Radio Network premiered the first regularly scheduled national broadcast rock & roll show, Alan Freed's 'Rock 'n' Roll Dance Party.' (see Apr 21)
Ealing Club
April 7, 1962: Mick Jagger and Keith Richards meet Brian Jones at The Ealing Club, a blues club in London. (see April 29, 1963)
Johnny Angel
April 7 – 20, 1962: "Johnny Angel" by Shelley Fabares #1 Billboard Hot 100.
San Francisco's KMPX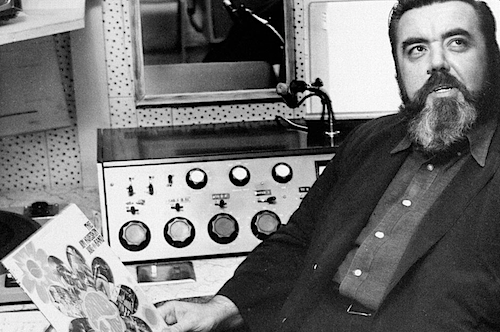 April 7, 1967: San Francisco's KMPX became the first FM station to play "deep cuts" from albums, rather than merely singles, a "free-form" non-format that transformed rock radio. It was a format / style that hadn't been heard before. Everybody was used to the pop music sounds of AM radio. The format was led by the great Tom Donohue and his wife Rachel Donohue.  (see July 25, 1984)
April 7 Peace Love Art Activism
Nuclear/Chemical News
Neutron bomb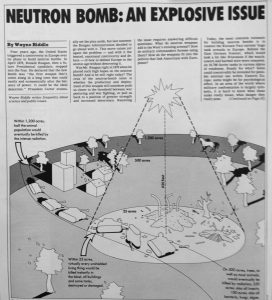 April 7, 1978: President Jimmy Carter deferred production of America's neutron bomb. In a statement on enhanced radiation weapons, he announced neither a commitment nor a rejection of the neutron bomb, but production was "deferred," dependent on subsequent actions of the Soviet Union. He said: "I have decided to defer production of weapons with enhanced radiation effects. The ultimate decision regarding the incorporation of enhanced radiation features into our modernized battlefield weapons will be made later, and will be influenced by the degree to which the Soviet Union shows restraint in its conventional and nuclear arms programs and force deployments affecting the security of the United States and Western Europe." (see March 28, 1979)
Komsomolets
April 7, 1989:  the Komsomolets,  a Soviet submarine, carrying nuclear weapons sank in the Norwegian Sea. It was able to surface after the fire started and remained afloat for approximately 5 hours before sinking. Of the 42 crew members who died, only 4 were killed by the fire and smoke, while 34 died of hypothermia and drowning in the frigid waters while awaiting rescue that did not arrive in time. Because of this shocking loss of life a very public enquiry was conducted and, as a result, many formerly classified details were revealed by the Soviet news media. (see July 18)
April 7 Peace Love Art Activism
Iran/Iraq
Iran hostage crisis
April 7, 1980: the US severs diplomatic relations with Iran and imposes economic sanctions, following the taking of American hostages on November 4, 1979. (see Apr 24)
Iran–Contra Affair
April 7, 1990: John Poindexter found guilty of 5 charges for his part in the scandal; the convictions are later reversed on appeal. (see December 9, 1992)
Iraq War II
April 7, 2009:  Muntader al-Zaidi's sentence was reduced to one year from three years. (Iraq, see Apr 30; al-Zaidi, see Sept 15)
April 7 Peace Love Art Activism
CLINTON IMPEACHMENT
April 7, 1998: Presidential diarist Janis Kearney testified before the grand jury. Harolyn Cardozo, daughter of multimillionaire fund-raiser and Clinton pal Nate Landow and a former White House intern, testifies before the grand jury. She is questioned on Kathleen Willey's accusations of unwanted sexual advances made by the president.  (see Clinton for expanded story)
April 7 Peace Love Art Activism
TERRORISM
David Ritcheson
April 7, 2007: David Ritcheson (see April 22, 2006) went public with his story and testified before the U.S. House of Representatives Judiciary Committee in favor of strengthening federal hate crime laws. "With my humiliation and emotional and physical scars came the ambition and strong sense of determination that brought out the natural fighter in me," Ritcheson testified. "I am glad to tell you today that my best days still lay ahead of me."
Both David Tuck and Keith Turner were prosecuted and convicted for assaulting Ritcheson. Tuck was sentenced to life in prison and Turner was sentenced to 90 years.
Ritcheson later committed suicide. (Terrorism, see Apr 11, Ritcheson, see July 1)
April 7 Peace Love Art Activism
LGBTQ
April 7, 2009: the Vermont Legislature voted to override Gov. Jim Douglas's veto of a bill allowing gays and lesbians to marry, legalizing same-sex marriage. It is the first state to legalize gay marriage through the legislature; the courts of the other states in which the marriage is legal—Massachusetts, Connecticut, and Iowa—gave approval. (see Apr 29)
April 7

Peace Love Art Activism
Cannabis
April 7, 2021: the Virginia House of Delegates and Senate both accepted Gov. Ralph Northam's amendment to their respective versions of legislation to legalize marijuana in the state, including a revision that would push up the timeline to allow adults to possess and cultivate cannabis for personal use this summer instead of in 2024.
Northam had been strongly advocating for the reform, and lawmakers sent bills to legalize marijuana for adult use to his desk in February. Late last month, the governor formally submitted substitute language to the bills, and on this date, both chambers approved the proposed changes to their own versions, with the House accepting its revised measure, 53-44, and the Senate clearing its legislation by a vote of 21-20, with Lt. Gov. Justin Fairfax (D) breaking a tie.
Following those initial votes, both bodies then passed the opposite chamber's bill as amended, meaning the legislation is now enacted without need for any further gubernatorial action since Northam's revisions have been approved as submitted.  [MM article] (next Cannabis, see Apr 12 or see CAC for expanded chronology)
April 7

Peace Love Art Activism
Women's Health
April 7, 2023: federal Judge Matthew J. Kacsmaryk in Texas issued a preliminary ruling invalidating the Food and Drug Administration's 23-year-old approval of the abortion pill mifepristone, an unprecedented order that — if it stands through court challenges — could make it harder for patients to get abortions in states where abortion is legal, not just in those trying to restrict it.
The drug  continues to be available at least in the short-term since Kacsmaryk stayed his own order for seven days to give the F.D.A. time to ask an appeals court to intervene.
Less than an hour after Judge Kacsmaryk's ruling, federal Judge Thomas O. Rice in Washington state issued a ruling in another case, which contradicted the Texas decision, ordering the F.D.A. to make no changes to the availability of mifepristone in the 18 states that filed that lawsuit.
The conflicting orders by two federal judges, both preliminary injunctions issued before the full cases have been heard, appear to create a legal standoff likely to escalate to the Supreme Court. [NYT article] (next WH, see Apr 14)
April 7

Peace Love Art Activism