April 9 Peace Love Art Activism
Native Americans
Ely Samuel Parker
April 9, 1865: Iroquois Ely Samuel Parker was brevetted brigadier general of volunteers in the Union Army.
During the Civil War, Parker, a close friend and colleague of General Ulysses S. Grant, served the Union cause and penned the final copy of the Confederate army's surrender terms at the Appomattox Courthouse in 1865.
Parker was the first Native American commissioner of Indian affairs. (2014 Native Heritage Project article) (see June 23)
April 9 Peace Love Art Activism
Black History
Fair Housing
Civil Rights Act of 1866
April 9, 1866: the Civil Rights Act of 1866, enacted. It was a federal law that was mainly intended to protect the civil rights of African-Americans, in the wake of the American Civil War. The Act had been approved by Congress in 1865 but vetoed by President Andrew Johnson. In April 1866 Congress again passed the bill. Although Johnson again vetoed it, a two-thirds majority in each house overcame the veto and the bill became law.
The act made it illegal to discriminate in jobs and housing on the basis of race. However, federal penalties were not provided for, so that remedies were left to the individuals involved. Because those being discriminated against had limited access to legal help, this left many victims of discrimination without recourse. (House dot gov article) (see May 15, 1911)
Scottsboro Nine
April 9, 1931:  the case against Roy Wright, aged 13, ended in a hung jury when 11 jurors seek a death sentence, and one votes for life imprisonment. That same day, Judge Hawkins sentenced the eight convicted defendants to death by electric chair.  Hawkins set the executions for July 10, 1931, the earliest date Alabama law allowed. 
April 9, 1933: a jury found Haywood Patterson guilty and sentenced him to death in the electric chair. (see Scottsboro for expanded story)
Marian Anderson
April 9, 1939: Marian Anderson performed at the Lincoln Memorial in Washington, D.C., after she was denied the use of Constitution Hall by the Daughters of the American Revolution because of her race. (see Aug 21)
Journey of Reconciliation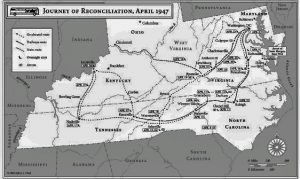 April 9, 1947: in response to the U.S. Supreme Court decision (see June 3, 1946) that outlawed segregation on interstate buses, a group of 16 black and white men rode South together on the first freedom ride, known as the "Journey of Reconciliation." The Congress of Racial Equality and the Fellowship of Reconciliation sponsored the ride, meant to challenge Jim Crow laws. Two African Americans, Bayard Rustin and Andrew Johnson, served on a chain gang for 30 days after their conviction in North Carolina. (Ncpedia article) (see Apr 15)
Corporal Roman Ducksworth Jr–Black & Shot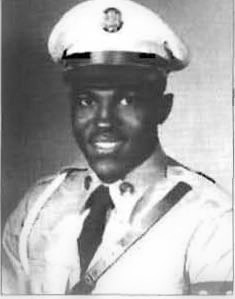 April 9, 1962: stationed at Fort Ritchie, Maryland, Corporal Roman Ducksworth Jr. ,27, was on emergency leave and taking a bus to his hometown, Taylorsville, Mississippi, where his family had lived for more than 50 years. He was going home to be with his wife during a difficult pregnancy.
Ducksworth was asleep on the bus when he arrived home. William Kelly, a local policeman, struck Ducksworth and ordered him off the bus. Kelly hit Ducksworth again and then shot him. Kelly claimed he shot Ducksworth in self-defense.
Later Kelly sent a message to Ducksworth's father: "If I'd known it was your son I wouldn't have shot him." The father replied, "I don't care whose son it was, you had no business shooting him."
Ducksworth's wife gave birth that same day to their sixth child. 
Ducksworth was buried with full military honors, including a 16-gun salute by an integrated honor guard. He is among 40 martyrs listed on the Civil Rights Memorial in Montgomery, Ala.
A grand jury refused to indict Officer Kelly. (2017 black then article) (BH, see May 5; B & S, see February 2, 2012)
Mississippi Anti-Picketing Law
On April 8, 1964 the Mississippi legislature had enacted the Mississippi Anti-Picketing Law, which, as amended, prohibited "picketing . . . in such a manner as to obstruct or unreasonably interfere with free ingress or egress to and from any county . . . courthouses. . . ." On April 9, 1964, the sheriff read the new law to the pickets, ordered them to disperse, and removed the barricades. (see Apr 10)
Riots following murder of Martin Luther King, Jr
April 9, 1968: riots in Kansas City, Missouri riot and Trenton, NJ (BH, see Apr 11; RR, see Apr 25)
Trayvon Martin Shooting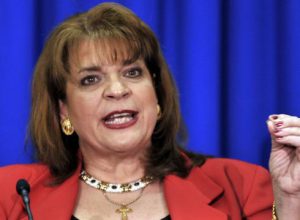 April 9, 2012: Florida State Attorney Angela Corey,  special prosecutor appointed to investigate the killing of 17-year-old Trayvon Martin, said that she had decided not to convene a grand jury in the case. The prosecutor said in a statement that her decision "should not be considered a factor in the final determination of the case." (see Apr 10)
137 Shots
April 9, 2015: on the third day of testimony, Cleveland police officer Michael Demchak refused to testify. Prosecutors had gotten through just a couple basic questions about the identity and work history of Demchak before he invoked his Fifth Amendment right against self-incrimination on the witness stand.
According to a report from the Bureau of Criminal Investigation, Demchak was one of the 13 officers that fired their guns on the night of November 2012, when the two unarmed suspects were killed. Investigators had concluded Demchak fired his gun four times. (see 137 for much expanded chronology)
April 9 Peace Love Art Activism
Space Race
NASA Astronauts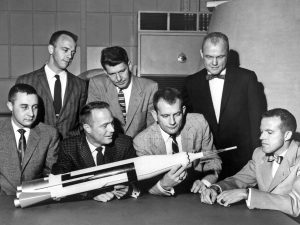 April 9, 1959: the newly formed National Aeronautics and Space Administration introduced the first seven astronauts to the world. Without yet performing a task, they are instantly hailed and embraced as heroes by the American public. (see May 28)
April 9 Peace Love Art Activism
FREE SPEECH
April 9, 1961: Greenwich Village folk song fans battled the police for two hours in Washington Square. Police arrested ten demonstrators. Several persons, including three policemen, were hurt. (see Ban for expanded story)
West Side Story
April 9, 1962: 1961 Oscars held. Bob Hope hosts. The Best Picture winner was West Side Story. The film had eleven nominations and ten Oscar wins (losing only its Screenplay nomination) – close to matching the record established by Ben-Hur (1959) with its twelve nominations and eleven Oscars.
(You're My) Soul and Inspiration
April 9 – 29, 1966: "(You're My) Soul and Inspiration" by The Righteous Brothers #1 on the Billboard Hot 100.
Nashville Skyline
April 9, 1969 Dylan released his last album of the 1960s: Nashville Skyline. Recorded Feb 12 – 21, 1969.
In August, although in his "backyard," Dylan was never in serious negotiation to play at Woodstock. Instead, in mid-July, Dylan had signed to play the Isle of Wight Festival of Music.
Dylan set sail for England on Queen Elizabeth 2 on August 15, the day the Woodstock Festival started. His son was injured by a cabin door and the family disembarked. Dylan, with his wife Sara, flew to England the following week. (see Isle for that festival story)
"It Don't Come Easy"
April 9, 1971: Ringo's "It Don't Come Easy"  released in UK. It will be released in US on April 16. (see Apr 15)
Phil Ochs
April 9, 1976: Phil Ochs committed suicide.
April 9 Peace Love Art Activism
Technological Milestone
Astrodome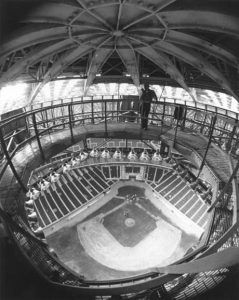 April 9, 1965:  (from the AP) HOUSTON, Tex. — There was a bomb scare but President Johnson showed no concern Friday night as he and 47,876 other fans watched air conditioned baseball. An anonymous report that a bomb had been placed in the $31.6 million Harris County Domed Stadium proved false but it caused the President and the first lady to be late for the opening of the all-weather structure. They saw 7 1/2 innings as the Houston Astros opened their astrodome by beating the New York Yankees 2-1 in 12 innings. The President told newsmen he was impressed with the stadium, which permits professional baseball to move indoors for the first time. Because of the bomb scare, the presidential party watched the game from the private suite of Roy Hofheinz and R.E. (Bob) Smith, owner of the Astros. The suite is 30 feet above the right field pavilion and the crowd saw the President and Mrs. Johnson only through its windows. They did not go down on the playing field. [ballparksofbaseball dot com article] (see Apr 27)
April 9 Peace Love Art Activism
Vietnam
STUDENT ACTIVISM
April 9, 1969: approximately 300 students seized the Harvard University Administration Building. They were mostly members of the Students for a Democratic Society. Before the takeover ended, 45 were injured and 184 arrested. (Vietnam, see Apr 23; Student Activism, see May 15)
April 9 Peace Love Art Activism
AIDS & Ryan White
April 9, 1986: White's case is presented in U.S. Circuit Court. (see Ryan White for expanded story)
April 9 Peace Love Art Activism
Dissolution of the USSR
INDEPENDENCE DAY
April 9, 1991:  the Supreme Council of the Republic of Georgia declared independence from the Soviet Union. (NYT article) (see Aug 20)
April 9 Peace Love Art Activism
CLINTON IMPEACHMENT
April 9, 1998: a second White House steward called to testify before the grand jury in a supposed effort to learn of meetings between the president and Monica Lewinsky.  (see Clinton for expanded story)
April 9 Peace Love Art Activism
Iraq War II
April 9, 2003:  U.S. forces seized control of Baghdad, ending the regime of Saddam Hussein. (Washington Post article) (see May 1)
April 9 Peace Love Art Activism
Tulsa shootings
April 9, 2012: Judge William Hiddle set bail at $9.1 million each for Alvin Watts and Jacob C. England. (see Apr 13)
April 9 Peace Love Art Activism
US Labor History
April 9, 2021: Amazonworkers at a giant warehouse in Alabama voted decisively against forming a union, squashing the most significant organizing drive in the internet giant's history and dealing a crushing blow to labor and Democrats when conditions appeared ripe for them to make advances.
Workers cast 1,798 votes against a union, giving Amazon enough to emphatically defeat the effort. Ballots in favor of a union trailed at 738, fewer than 30 percent of the votes tallied, according to federal officials.
The lopsided outcome at the 6,000-person warehouse in Bessemer, Ala., came even as the pandemic's effect on the economy and the election of a pro-labor president had made the country more aware of the plight of essential workers. [NYT story] (next LH, see Apr 26)