June 23 Peace Love Art Activism
BLACK HISTORY
The rape of slave Celia
June 23, 1855: in the summer of 1850, Robert Newsom, a sixty-year-old white man, purchased Celia, a fourteen-year-old black girl, from a man in a neighboring county. Before Newsom had even returned to his farm, he raped the enslaved girl, and he continued to do so frequently over the next five years. Newsom regularly came to Celia's cabin and forced himself on her, and she gave birth to a child in 1855. At some point during the course of this abuse, Celia entered into a relationship with a man named George who was also enslaved by Newsom. When Celia became pregnant again in late winter of 1855, George insisted that she put an end to Newsom's sexual abuse.
Celia begged Newsom to stop "forcing her while she was sick" and even appealed to his daughters for help. The assaults continued. On June 23, 1855, Newsom told Celia he was "coming to her cabin" that night. When Newsom arrived and began to lower his face over hers, Celia struck him in the head with a stick. Eventually, Celia realized that Newsom had died from the blow. Not knowing what to do, she disposed of the evidence by cremating the body in her fireplace. (see Celia for expanded story; next BH, see In May)
George White lynched

June 23, 1903: a white mob of more than 4,000 people in Wilmington, Delaware, burned a Black man named George White to death before he could stand trial. Mr. White, who had been arrested and accused of killing a young white woman, adamantly denied any involvement in the crime and never had the opportunity to defend himself in court.
Within one week of Mr. White's arrest, two lynch mobs attempted to abduct him from the workhouse where he was being held. White Wilmington residents talked openly about these lynching plans. In a sermon on June 21, local white pastor Robert Elwood urged white residents to exact swift public vengeance by lynching Mr. White. A lynch mob began forming the next day, and its members spent the next two days meticulously planning the public spectacle lynching that took place on June 23. Despite this public planning, in which mob members even shared their plans in advance with police officers, authorities charged with protecting him did not relocate him to a different jail and the local court refused to advance his trial date.  [EJI article] (next BH and next Lynching, see February 7, 1904 or see AL2 for expanded chronology)
Marcus Garvey
June 23, 1919: Marcus Garvey assisted with the incorporation of the Black Star Line, the Universal Negro Improvement Association's vehicle for promoting worldwide commerce among black communities. In Garvey's vision, Black Star Line ships would transport manufactured goods, raw materials, and produce among black businesses in North America, the Caribbean, and Africa, and become the linchpin in a global black economy. (see Garvey for expanded story)
Dyer Anti-lynching bill
June 23, 1922: at its thirteenth annual conference in Newark, the NAACP pledged the Association membership to "punish" those who oppose the Dyer bill. "The Republican Party has always received the bulk of the negro vote; the Republican Party is in power; the Republican Party has promised by its platform and its President to pass the Dyer bill. Unless the pledge is kept we solemnly pledge ourselves to use every avenue of influence to punish the persons who defeat it. We will regard no man as our friend who opposes this bill."  (see June 30)
Rev. Douglas E. Moore
June 23, 1957:  in Durham, North Carolina, a local minister, Rev. Douglas E. Moore, led seven attendees from his Sunday session at Asbury United into the segregated Royal Ice Cream Parlor, located nearby at the corner of Roxboro and Dowd Streets. A group of African-Americans entered through the back door, sat in the section reserved for white patrons, and asked to be served. The manager on duty that day called the police and the group was charged with trespassing.
All members of the group were found guilty of trespassing the next day and were each fined $10 plus court costs. On appeal, the case went to Durham County Superior Court and a jury trial. An all-white jury rendered a guilty verdict on each defendant. The case was then appealed to the North Carolina Supreme Court, which upheld the law regarding segregated facilities. The group's attorneys tried to appeal the decision to the United States Supreme Court, but they refused to hear the case.
After the unsuccessful attempt at desegregating the store, a group of high school NAACP members, of which more than half were girls, organized regular pickets outside the Royal Ice Cream Parlor under the direction of Floyd McKissick.  [Black Then article] (see Aug 29)
Eisenhower meets Black leaders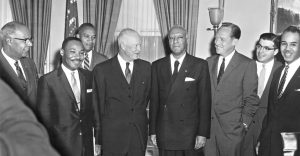 June 23, 1958: President Dwight Eisenhower had been urged to meet with civil rights leaders for some time, and finally agreed to do so on this day. Attending were A. Philip Randolph, Dr. Martin Luther King, Roy Wilkins of the NAACP, and Lester Granger of the National Urban League. The meeting was cordial, even though the civil rights leaders had been critical of the president's lack of leadership on racial justice. Eisenhower, for example, had failed to give a strong endorsement to the historic Brown v. Board of Education decision declaring separate but equal schools unconstitutional (May 17, 1954). The great African-American baseball star Jackie Robinson, who was normally not politically active, publicly criticized Eisenhower on May 13, 1958 for his lack of leadership on civil rights. The group at the meeting on this day presented him with a list of demands, but Eisenhower did not act on any of them. (BH, see June 29; MLK, see Sept 20)
Byron De La Beckwith
June 23, 1963: the FBI announced the arrest in Greenwood, MS of Byron De La Beckwith in the slaying of Medgar Evers in Jackson, MS. (BH, see June 25; Evers, see June 26)
Murders of Civil Rights Workers Chaney, Goodman, and Schwerner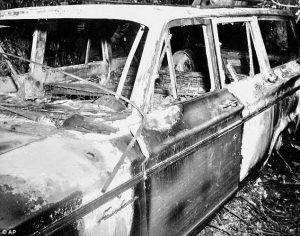 June 23, 1964: the Neshoba Democrat reported that: "The car driven by three integrationists who disappeared after being arrested last Sunday night here has been found by Federal Bureau of Investigation officers about 13 miles from Philadelphia, in the northeast corner of Neshoba County. The car, a 1963 or 1964 Ford station wagon, was located in heavy sweetgum growth on Highway 21, about 100 feet from the Bogue Chitto creek and about 100 feet off the highway. The station wagon had been burned." (BH, see June 24; Murders, see June 29)
Exactly 41 years later, on June 23, 2005, Edgar Ray Killen was sentenced to 60 years in prison for the killing of Chaney, Goodman, and Schwerner. (see Murders for expanded story)
Vernon Dahmer
June 23, 1966: a Federal grand jury returned indictments against 15 alleged Ku Klux Klansmen in connection with the firebomb slaying of Vernon Dahmer. (Dahmer, see March 8, 1968)
Jim Bulloch
June 23, 1966: Black students in Grenada, Miss., tried to purchase tickets in the "white" section of the local movie theater — only to be denied service. When they sat down in front of the theater, police arrested 15 students, including Jim Bulloch, an SCLC organizer.  [crmvet dot org article] (see June 25)
African National Congress
June 23, 1992: the African National Congress announced that it was withdrawing from talks on the political future of South Africa until the white-controlled Government took steps to restore the trust shattered by the Boipatong massacre. The 90-member executive committee of the congress led by Nelson Mandela said it was halting the peace process, which seemed just a month ago to have brought South Africa to the brink of majority rule, because of what it called a systematic Government campaign to subvert democracy through violence. (see Mandela for his expanded chronology)
Grutter v. Bollinger
June 23, 2003: Colleges and universities have a legitimate interest in promoting diversity. Barbara Grutter alleged that her Equal Protection rights were violated when the University of Michigan Law School's attempt to gain a diverse student body resulted in the denial of her admission's application. The Supreme Court disagreed and held that institutions of higher education have a legitimate interest in promoting diversity. [Oyez article] (next BH, see Oct 10; next Affirmative Action, see June 29, 2023)
Murders of Civil Rights Workers
June 23, 2005: Edgar Ray Killen was sentenced to 60 years in prison. (see Murders for expanded story)
Trayvon Martin Shooting
June 23, 2013:  the trial opened.  (see June 25)
Church Burning
June 23, 2015: an arsonist was blamed for a fire in the sanctuary s at God's Power Church of Christ in Macon, Ga. (CB, June 24)
Confederate battle flag
June 23, 2015: South Carolina Gov Nikki R Haley called for the removal of the Confederate battle flag from in front of State House building in capital Columbia, marked reversal from her previous seeming indifference to issue; said the symbol must be viewed differently in light of church massacre in Charleston. (BH, see June 24; T, see January 10, 2017)
Affirmative Action
June 23, 2016: in a victory for diversity in higher education, a hamstrung Supreme Court narrowly upheld the affirmative action program at the University of Texas at Austin, effectively allowing the school to keep using race as one of many factors in its admissions process.
Justice Anthony Kennedy — joined by Justices Ruth Bader Ginsburg, Stephen Breyer and Sonia Sotomayor — ruled for a 4-3 majority that the university program did not violate the Constitution's guarantee of equal protection of the laws. (next BH, see June 25; next AA, see July 3, 2018)
June 23 Peace Love Art Activism
Native Americans
June 23, 1865:  at Doaksville in the Choctaw Nation, General Stand Watie signed a cease-fire agreement with Union representatives for his command, the First Indian Brigade of the Army of the Trans-Mississippi. He was the last Confederate general in the field to surrender. (see April 29, 1868)
June 23 Peace Love Art Activism
LGBTQ
Nazis
June 23, 1935: the Nazis began a legal campaign against homosexuals by adding to paragraph 175 another law, 175a, which created ten new criminal offenses including kisses between men, embraces, even homosexual fantasies. The Gestapo and the SS, under the leadership of Heinrich Himmler, became involved in a campaign to work gays to death in the camps. Himmler is quoted as follows: 'Just as we today have gone back to the ancient Germanic view of the question of marriage mixing different races, so too in our judgment of homosexuality a symptom of degeneracy that could destroy our race we must return to the guiding Nordic principle: extermination.…" (see January 5, 1948)
Dale Jennings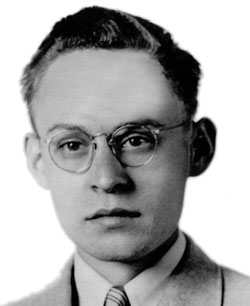 June 23, 1952: the trial of Dale Jennings began and lasted ten days. Jennings confessed to being a homosexual but denied any wrongdoing. While there were different accounts of what exactly occurred, by the end of the trial the jury voted 11–1 for acquittal on the basis of police intimidation, harassment, and entrapment of homosexuals, and the case was dismissed. [2000 NYT obit] (see January 1953)
Stonewall Inn a city landmark
June 23, 2015: a unanimous vote by the New York City's Landmarks Preservation Commission voted unanimously to make the Stonewall Inn a city landmark. The designation would afford the bar a new set of protections, and marked the first time the city had landmarked a location due to its involvement in the Gay Rights Movement. (see NYT article)
The Christopher Street tavern served as a focal point at the start of the fight for gay rights—it was the site of the 1969 Stonewall riots, after police raided the bar and launched an ongoing movement. Though the Stonewall was part of the Greenwich Village Historic District, activists and elected officials had been attempting to get the bar landmarked for decades in hopes of increasing its level of protection. "We don't want to see an important historical site turn into a nail salon. With real estate as crazy as it is, I would consider these sites to be generally threatened from those type of pressures," said state Senator Brad Hoylman. [NYT article] (see June 26)
Discrimination allowed
June 23, 2017: the New Orleans-based 5th U.S. Circuit Court of Appeals ruled that LGBT activists and other plaintiffs did not have standing to challenge a controversial Mississippi law that allowed businesses to deny marriage-related services to same-sex couples.
The Court of Appeals reversed a federal judge who had blocked the law, House Bill 1523, from taking effect, [ABA article] (LGTBQ, see June 30; House Bill 1523, see January 8, 2018)
June 23 Peace Love Art Activism
US Labor History
Taft-Hartley Act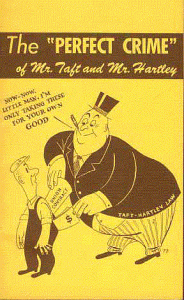 June 23, 1947: Taft-Hartley Act (also known as the Labor-Management Relations Act): Congress overrode President Truman's veto of the Taft-Hartley bill,  legislation that rolled back many of the advantages labor gained in the 1935 Wagner Act. Truman would subsequently use it twelve times during his presidency. [NLRB article] (CW, see July 26; Labor History see Dec 12)
Brown lung
June 23, 1978: the Occupational Safety and Health Administration (OSHA) issued a cotton dust standard to protect 600,000 workers from byssinosis, also known as "brown lung." (see Apr 25)
Court Limits Recruiting
June 23, 2021: the Supreme Court ruled that a California regulation allowing union organizers to recruit agricultural workers at their workplaces violated the constitutional rights of their employers.
The vote was 6 to 3, with the court's three liberal members in dissent.
Chief Justice John G. Roberts Jr., writing for the majority, said that "the access regulation grants labor organizations a right to invade the growers' property." That meant, he wrote, that it was a taking of private property without just compensation.  [NYT article] (next LH, see Dec 9)
June 23 Peace Love Art Activism
June 23 Music et al
Modern Sounds in Country and Western Music
June 23 – September 28, 1962: Ray Charles's Modern Sounds in Country and Western Music is Billboard's #1 album. [see RC for expanded story]
The [bumpy] Road to Bethel
June 23, 1969: Jim Grant, a friend of Wes Pomeroy and asked by Pomeroy to go along with Stanley Goldstein to the Hog Farm meeting, sent at letter to Woodstock Ventures regarding the Hog Farm: "the entire affair appeared to be completely without organization or management." (see Chronology for expanded story)
June 23 Peace Love Art Activism
Nuclear/Chemical News
June 23, 1965:  Sen. Robert F. Kennedy called on the Johnson administration to give top priority to the problem of halting the spread of nuclear weapons — a problem he termed more urgent than the war in Vietnam. He added that at an ''appropriate time and manner'' the United States must ''vigorously pursue negotiations on this subject with China.'' ''China is there, China will have nuclear weapons. And without her participation it will be infinitely more difficult, perhaps impossible in the long run to prevent nuclear proliferation.'' Sen. Kennedy urged that in the ''journey towards peace'' the partial nuclear test ban treaty of 1963 be extended to cover certain underground tests. (see January 17, 1966)
June 23 Peace Love Art Activism
Feminism
Title IX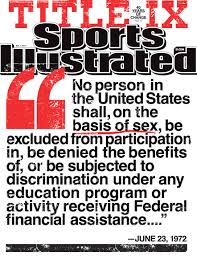 June 23, 1972:  Congress enacted a series of Educational Amendments including Title IX, which states that "no person in the United States shall, on the basis of sex, be excluded from participation in, be denied the benefits of, or be subjected to discrimination under any education program or activity receiving Federal financial assistance." While Title IX impacts multiple areas of federally subsidized education, its impact on athletics is the most controversial. Within 30 years, the number of girls participating in high school sports will double.  [DoJ article] (see June 21, 1972)
Women Make Movies
June 23, 1972: Women Make Movies is founded in NY to address the scarcity of women in the film industry and the stereotypical representations of women promoted by the media. The non-profit organization is committed to cultural and racial diversity, and especially to advancing the work of women of color. Women Make Movies assists in the promotion, distribution, and exhibition of independent films and videos created by or focusing on women. [American U article] (see June 21, 1973)
June 23 Peace Love Art Activism
Watergate Scandal
June 23, 1973: Nixon's adviser, H.R. Haldeman, told the president to put pressure on the head of the FBI to "stay the hell out of this [Watergate burglary investigation] business." In essence, Haldeman was telling Nixon to obstruct justice. (see Watergate for expanded story)
June 23 Peace Love Art Activism
FREE SPEECH
June 23, 1978: Frank Collin and Nazi sympathizers cancelled their planned demonstration in Skokie scheduled for June 25.  (see June 25)
June 23 Peace Love Art Activism
Religion and Public Education
June 23, 1997:  in Agostini v. Felton, the US Supreme Court overturned an earlier decision that a New York City program designed to provide tutoring and remedial education services to low-income children could not deliver these service on a religious school campus. Holding that allowing public employees to provide tutoring on a religious school campus would not constitute a "symbolic union" of church and state, the Court holds that the federally-funded program could deliver its services on a religious school campus without violating the establishment clause. [Oyez article] (see February 1998)
June 23 Peace Love Art Activism
Environmental Issues
June 23, 2014: in Utility Air v. E.P.A., a divided Supreme Court blocked the Obama administration from requiring permits for greenhouse gas emissions from new or modified industrial facilities, but the ruling won't prohibit other means of regulating the pollutant that causes global warming.
The court's conservative wing ruled that the Environmental Protection Agency exceeded its authority by changing the emissions threshold for greenhouse gases in the Clean Air Act to regulate more stationary sources. That action can only be taken by Congress, Justice Antonin Scalia's opinion said.
The 5-4 ruling, which partially reverses a 2012 federal appeals court decision, represents a moral but somewhat hollow victory for industry and state government opponents of the federal regulations. They have complained that the rules could cost billions of dollars to implement and threaten thousands of jobs.
But the court said the EPA can regulate greenhouse gas emissions from industries already required to get permits for other air pollutants. Those generally are the largest power plants, refineries and other industrial facilities responsible for most such emissions.  [SCOTUS article] (see Sept 20)
June 23 Peace Love Art Activism
Immigration History
Supreme Court
June 23, 2016: the Supreme Court did not reach a majority for or against President Barack Obama's plan to defer deportation for millions, effectively leaving his executive actions on hold and undocumented immigrants in limbo.
In a one-sentence ruling, the justices simply said, "The judgment is affirmed by an equally divided court." But they didn't indicate how they voted — a sign that the court was sharply at odds along ideological lines.
The split decision meant a lower court ruling that effectively blocked the program will stand, and no national precedent will be set as to whether the president acted within the law when he announced it in November 2014. [NYT atricle] (see Nov 13)
Trump's Wall
June 21, 2017: "We're thinking about building the wall as a solar wall so it creates energy and pays for itself and this way Mexico will have to pay much less money, and that's good, right? Is that good?" Trump told a crowd in Cedar Rapids, Iowa. The solar wall idea was later abandoned. (IH see June 26; TW, see July 12)
June 23 Peace Love Art Activism
Sexual Abuse of Children
June 23, 2017: Michigan District Judge Donald Allen ruled there was probable cause to send Larry Nassar to trial on 12 counts of first-degree criminal sexual conduct.
The charges relate to six women and girls who testified during the three-day preliminary hearing that Nassar had sexually assaulted them during medical appointments while in their teens.
Four of the counts with which Nassar is charged involve a victim under the age of 13; the other eight involve victims between ages 13 and 15.  [Michigan Radio article] (SAC, see July 28; Nassar, see Nov 22)
June 23 Peace Love Art Activism
Student Rights & FREE SPEECH
June 23, 2021: the Supreme Court ruled in favor of a former high school cheerleader who argued that she could not be punished by her public school for posting a profanity-laced caption on Snapchat when she was off school grounds.
The case involving a Pennsylvania teenager was closely watched to see how the court would handle the free speech rights of some 50 million public school children and the concerns of schools over off-campus and online speech that could amount to a disruption of the school's mission or rise to the level of bullying or threats.
Justice Stephen Breyer wrote the 8-1 majority opinion.
"It might be tempting to dismiss (the student's) words as unworthy of the robust First Amendment protections discussed herein. But sometimes it is necessary to protect the superfluous in order to preserve the necessary," Breyer wrote. (next SR, see June 28; next FS, see Oct 29)
June 23 Peace Love Art Activism