June 10 Peace Love Art Activism
DEATH PENALTY & Feminism
Bridget Bishop
June 10, 1692: Chief Justice William Stoughton condemned  Bridget Bishop of Salem  for witchcraft after the special Court of Oyer, "to hear," and Terminer, "to decide," convened in Salem, Massachusetts.  She would become the first person executed for witchcraft during the Salem witch trials in 1692.  [Virginia edu article] (see September 22)
June 10 Peace Love Art Activism
BLACK HISTORY
Norris Dendy Lynched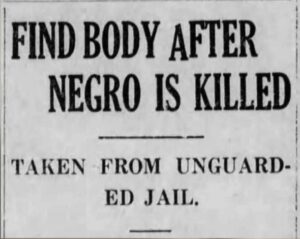 July 4, 1910: a white mob in Clinton, South Carolina, seized a 35-year-old Black man named Norris Dendy from a local jail cell, beat him, and hanged him. The mob then dumped Mr. Dendy's brutalized body in a churchyard seven miles from Laurens County. Even though several Black people witnessed the mob seizing Mr. Dendy from the local jail, no one was ever held accountable. [EJI article] (next BH, see Sept 2; next Lynching, see May 24, 1911 or see AL2 for expanded chronology)
Marcus Garvey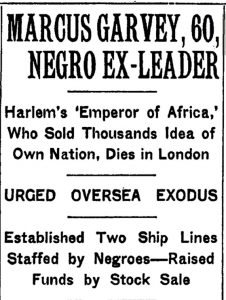 June 10, 1940: Garvey died in London. [NYT obit] (next BH, see June 20; see MG for expanded story)
Fighting school desegregation
June 10, 1954: governors and representatives from twelve Southern states met in Richmond, Virginia, and resolved not to voluntarily comply with the United States Supreme Court's decision in Brown v. Board of Education, released less than a month earlier. Virginia Governor Thomas Stanley called the meeting to discuss potential approaches the Southern states could take in responding to Brown. The governors of Georgia, South Carolina, and Mississippi had publicly stated their intent to maintain the separation of white and black students, even if it required them to dissolve the public education systems in their respective states. The governors of Louisiana, North Carolina, and Virginia had been less radical but had expressed an interest in legal methods of avoiding integration.
Representatives met for six hours to discuss their concerns. In the end, only representatives from Maryland, West Virginia, and Kentucky – states with comparatively small African American populations – indicated they would comply with the desegregation order.
Said Governor Stanley of the meeting, "No one had any thought of doing anything wrong. Everyone is just trying to find a solution to what they consider a major problem." It was not until a later meeting of Southern governors, in January 1956, that Southern officials created a concrete plan for resisting Brown. At that meeting, four Southern governors agreed to interposition, by which a state can attempt to declare federal actions unconstitutional. (BH, see July 11; SD, see Aug 23)
Ben Chester White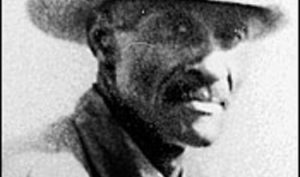 June 10, 1966: three Klansmen approached Ben Chester White at his home near Natchez, Mississippi, and asked for him help in finding a lost dog.  The men  drove White, a 67-year old sharecropper,  to the Homochitto National Forest, where they shot him repeatedly, then dumped his body over a  bridge into the creek bed below.
The three men, Ernest Avants , Claude Fuller, and James Lloyd Jones, had allegedly killed White in an attempt to lure Martin Luther King, Jr. to Natchez, Mississippi.  Ernest Avants was tried in 1967 but acquitted.
In 2003, the New York Times described Chester this way: Ben Chester White used twists of wire to hold the soles on his shoes, patched his own clothes with scrap and said "yes, sir," to white men, and when he made a little money, he wrapped the $1 bills in wax paper so they would not be ruined by his own sweat. He was not registered to vote, and had never fought against the segregation that was as much a fact of life for him as a hoe handle or cotton sack.  [Clarion Ledger article] (White, see February 2003; BH, see June 11; MLK, see Aug 5)
James Earl Ray escapes
June 10, 1977: Ray, the convicted assassin of Martin Luther King Jr., escaped from Brushy Mountain State Prison in Tennessee with six others; he was recaptured Jun 13. [Ozy dot com article] (see February 15, 1978)
June 10 Peace Love Art Activism
Cultural Milestone
Alcoholics Anonymous
June 10, 1935: Bill Wilson and Dr. Bob Smith found Alcoholics Anonymous in Akron, Ohio. [AA site/history] (see June 4, 1937)
June 10 Peace Love Art Activism
US Labor History
Republic Steel pays vigilantes
June 10, 1937: in an effort to break the picket line by striking steelworkers at Newton Steel – a subsidiary of Republic Steel – in Monroe, Michigan, city leaders deputized a vigilante mob who attack the strikers with tear gas and clubs. Eight people were injured and hospitalized. An inquiry later revealed that Republic Steel had paid the city for the purchase of the weapons. (see June 19)
Anderson v. Mt. Clemens Pottery Co
June 10, 1946: the US Supreme Court held that preliminary work activities, where controlled by the employer and performed entirely for the employer's benefit, are properly included as working time under Fair Labor Standards Act. This decision is known as the "portal to portal case," i.e., door to door: the worker's presence inside the workplace can typically be considered time they should be compensated for. [Cornell law article] (see Nov 25)
The Equal Pay Act of 1963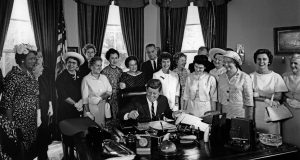 June 10, 1963:  President Kennedy signed The Equal Pay Act of 1963 prohibited discrimination in wages on the basis of sex. The result: women's earnings will climb from 62% of men's in 1970 to 80% in 2004  [EEOC article] (LH, see December 31, 1964; F, see July 2, 1964)
Voting Rights
Colegrove v. Green
June 10, 1946: the U.S. Supreme Court upheld uneven congressional redistricting plans in Colegrove v. Green. The case challenged an Illinois redistricting plan that concentrated voters into large districts in the center of the state and did not balance for population. The Court reasoned that districting was a political question for the states to decide without judicial interference. (VR, see August 29, 1957; Districting, see March 26, 1962)
Civil Rights Bill
June 10, 1964: the U.S. Senate voted to limit further debate on a proposed civil rights bill, shutting off a filibuster by southern lawmakers. (BH & VR, see June 14; Civil Rights Act, see June 19)
June 10 Peace Love Art Activism
Nuclear/Chemical News
June 10, 1963: at the commencement of American University President Kennedy spoke about service to country, but particularly about nuclear disarmament and announced that the US would stop above ground atomic testing as long as the other nuclear nations also did so. [JFK's speech] (see June 20)
June 10 Peace Love Art Activism
Grateful Dead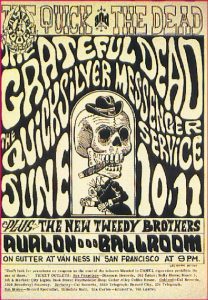 June 10 – 11, 1966: the Dead played the Avalon Ballroom in San Francisco The poster's central image was a drawing of a skeleton with a disproportionately large skull. The skeleton is very smartly dressed, wearing a cowboy hat and smoking a cigar. This poster is significant historically because it represents the first use of a skeleton as an emblem for the Grateful Dead. It predates the iconic Skeleton and Roses poster by Mouse Studios by several months which eventually became the signature of the Grateful Dead. (see Sept 16)
June 10 – 11, 1967: the KFRC Fantasy Fair and Magic Mountain Music Festival was held at the 4,000 seat Sidney B. Cushing Memorial Amphitheatre on the face of Mount Tamalpais in Marin County, CA. At least 36,000 people attended the two-day concert and fair that was one of the first in a series of San Francisco area events that became known as the Summer of Love. (see June 16)
June 10 Peace Love Art Activism
Stop and Frisk Policy
Terry v. Ohio
June 10, 1968: the U.S. Supreme Court established a legal basis for officers to stop, question and frisk citizens. The Court  held that the Fourth Amendment prohibition on unreasonable searches and seizures was not violated when a police officer stopped a suspect on the street and frisked him without probable cause to arrest, if the police officer had a reasonable suspicion that the person has committed, was committing, or was about to commit a crime and has a reasonable belief that the person "may be armed and presently dangerous." [Oyez article] (S & F: see September 1, 1971; 4th, see January 26, 1971)
Whren v. United States
June 10, 1996: the US Supreme Court unanimously "declared that any traffic offense committed by a driver was a legitimate legal basis for a stop."
The case's Supreme Court syllabus stated that the court held that "the temporary detention of a motorist upon probable cause to believe that he has violated the traffic laws does not violate the Fourth Amendment's prohibition against unreasonable seizures, even if a reasonable officer would not have stopped the motorist absent some additional law enforcement objective." In other words, it does not matter if the traffic stop was pretextual, so long as there was independent justification for the stop. [Oyez article] (see October 26, 2001)
June 10 Peace Love Art Activism
TERRORISM
June 10, 1986: a jury recommended the death sentence for David Lewis Rice who had murdered four members of the Goldmark family because he thought they were part of an international conspiracy among Communists, Jews and the Federal Reserve Board. (see May 17, 1987)
June 10 Peace Love Art Activism
SOUTH AFRICA/APARTHEID
Nelson Mandela
June 10, 1990:  the Central Intelligence Agency played an important role in the arrest in 1962 of Nelson Mandela. The intelligence service, using an agent inside the African National Congress, provided South African security officials with precise information about Mr. Mandela's activities that enabled the police to arrest him. The report quoted an unidentified retired official who said that a senior C.I.A. officer told him shortly after Mr. Mandela's arrest: "We have turned Mandela over to the South African Security branch. We gave them every detail, what he would be wearing, the time of day, just where he would be." (see Mandela fro expanded chronology)
June 10 Peace Love Art Activism
CLINTON IMPEACHMENT
June 10, 1998: former White House Deputy Chief of Staff Harold Ickes appears before the grand jury to testify about his involvement, if any, in the release of information from Linda Tripp's personnel records. (see Clinton for expanded story)
June 10 Peace Love Art Activism
Dissolution of Yugoslavia
June 10, 1999: Yugoslav troops begin leaving Kosovo, prompting NATO to suspend its punishing 78-day air war. (see DoY for expanded chronology)
June 10 Peace Love Art Activism
Sexual Abuse of Children
June 10, 2015: the Vatican announced that Roman Catholic bishops accused of covering up or failing to prevent the sexual abuse of children by priests would be subject to judgment and discipline by a new Vatican tribunal.
The decision was a measure that abuse victims had urged for years. The church had judicial procedures for judging priests accused of abuse, but until this announcement bishops accused of negligence or cover-ups were almost never held accountable by the church itself.
The tribunal would also deal with the backlog of cases involving sexual abuse, "which are still very numerous," a Vatican official said. The issue of accountability has been under discussion for some time, said the Vatican's chief spokesman, the Rev. Federico Lombardi. "As you see, it didn't remain on paper," he said. [Guardian article]  (see June 15)
June 10 Peace Love Art Activism
Environmental Issues
June 10, 2019: Prime Minister Justin Trudeau announced that Canada would join a growing global movement with a plan to ban single-use plastics blighting the environment.
Trudeau noted that Canada threw away 8 billion Canadian dollars' worth of plastic material each year and that, according to Environment and Climate Change Canada, the national environmental agency, that included more than 34 million plastic bags each day. By recycling and reusing plastic, Mr. Trudeau said, the country could reduce pollution, create 42,000 jobs and protect the environment. [NYT article]  (see June 17)
June 10 Peace Love Art Activism
Women's Health
June 10, 2019: Maine's Gov. Janet Mills signed a bill allowing medical professionals who are not doctors to perform abortions.
The bill would allow nurse practitioners, physician assistants and certified nurse-midwives to provide abortion medication and perform in-clinic abortions, which typically involve suction.
Maine joined other Democrat-led states moving to protect and in some cases expand abortion rights as GOP-led states push tighter restrictions .
"Maine is defending the rights of women and taking a step toward equalizing access to care as other states are seeking to undermine, rollback, or outright eliminate these services," Mills said. (see June 28)
June 10 Peace Love Art Activism
LGBTQ+
June 10, 2022: according to a report the number of young people who identified as transgender nearly doubled in recent years.
The analysis, relying on government health surveys conducted from 2017 to 2020, estimated that 1.4 percent of 13- to 17-year-olds and 1.3 percent of 18- to 24-year-olds were transgender, compared with about 0.5 percent of all adults.
The surveys, created by the Centers for Disease Control and Prevention, did not ask younger teenagers about nonbinary or other gender identities, which also have been rising in recent years. But nearly one-quarter of the adults in the surveys who said they were transgender identified as "gender nonconforming." [NYT article] (next LGBTQ+, see Dec 13)