June 14 Peace Love Art Activism
Anarchism in the US and Emma Goldman
June 14, 1917: Goldman and Alexander Berkman spoke at a No-Conscription League mass meeting. After the meeting, the police required men of draft age to show their conscription cards. As a result 30 men were detained and two arrested. (see Goldman for expanded story)
June 14 Peace Love Art Activism
BLACK HISTORY
Luisiana Prohibits Cohabitation
June 14, 1910: Louisiana's House of Representatives broadened its ban on interracial marriage by passing legislation, by a vote of 93 to 10, prohibiting Black people and white people from living together under any circumstances. Under the new legislation, cohabitation was a felony punishable by imprisonment for up to five years. Governor Jared Sanders signed the bill into the law on July 16, 1910. [EJI article] (next BH, see June 25)
Anti-lynching demonstration
June 14, 1922: Blacks from Washington, DC staged a silent parade to protest continued lynchings and in an effort to promote action by Congress on the Dyer anti-lynching bill before the Senate Judiciary Committee. [Washington Area article] (see June 23)
Scottsboro Tragedy
June 14, 1937: Haywood Patterson's conviction upheld by the Alabama Supreme Court. (see SB  for expanded story)
Robert Kennedy
June 14, 1963: Attorney General Robert Kennedy used a bullhorn to address civil rights demonstrators at the Justice Department. The demonstrators marched to the White House, then to the District Building, and wound up at the Justice Department. [image]
Maryland martial law
June 14, 1963: Maryland Gov. J. Millard Tawes declared martial law and sent National Guard troops to Cambridge to quell protests there after segregationists clashed with the 500 protesters marching downtown. Weeks after the National Guard left, protesters were assaulted again, leading to more protests. The National Guard returned. [Liberation article] (see June 15)
Freedom Summer
June 14, 1964: having announced (March 20, 1964) a voter registration drive in Mississippi called "Freedom Summer," SNCC began volunteer training at Western College for Women in Oxford, Ohio. (BH, see June 16; VR, see June 15)
Statue of Liberty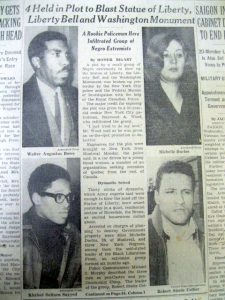 June 14, 1965: a Federal Court jury found Robert S Collier, Walter Bowe, Khaleel Sayyed  guilty of conspiring to blow up the Statue of Liberty and other national shrines and of smuggling dynamite from Canada for that purpose. [Justia article] (BH, see July 1; Terrorism, see Nov 4)
Minnie Lee & Mary Alice Relf
June 14, 1973: fourteen-year-old Minnie Lee Relf and her twelve-year old mentally disabled sister, Mary Alice, were sterilized without their knowledge or consent after nurses with the Montgomery Family Planning Clinic, a federally funded family planning agency, deceived their illiterate mother into believing that she was consenting to the girls receiving Women's Health shots.
Two years earlier, after moving into public housing with their family, Mary Alice, Minnie Lee, and their older sister, Katie, had been administered experimental Women's Health injections by the local family clinic without their informed consent and initially without their parents' consent. After the federal government ended the experimental Women's Health trials, clinic nurses decided that the girls should be sterilized. The clinic targeted the girls for the procedure because they were poor, black, and living in public housing. More cognitively advanced than her younger sisters, Katie narrowly escaped sterilization on June 14 by hiding from the clinic nurse who came to their house.
After the procedure, Mary Alice and Minnie Lee revealed to their parents that instead of receiving shots, they had undergone surgery. [Black Then article] (BH, see June 21; Relf family, see June 27)
Dee/Moore Murders
June 14, 2007: James Seale convicted by a federal jury on one count of conspiracy to kidnap two persons, and two counts of kidnapping where the victims were not released unharmed. (BH, see Aug 10; see Dee/Moore Murders for expanded story)
Laquan McDonald
June 14, 2019: Showtime network released "16 Shots" a documentary examining the 2014 shooting of 17-year-old Laquan McDonald by Chicago police officer Jason Van Dyke and the cover-up that ensued. After the police initially declared the shooting as justified, journalists and activists fought for footage of the event to be released, sending the Chicago Police Department and local Chicago government officials into upheaval as the community demanded justice. (rogerebert.com review) (B & S, see June 18; LMc, see July 18)
Crime and Punishment
June 14, 2021:  the U.S. Supreme Court ruled that some crack cocaine offenders sentenced to harsh prison terms more than a decade ago cannot get their sentences reduced under a federal law adopted with the purpose of doing just that.
At issue in the case was the long and now notorious history of sentencing under the 1986 Anti-Drug Abuse Act, which established harsh mandatory prison sentences based on the amount of drugs that the defendant possessed or sold. The triggering amount, however, was different for crack cocaine used most often by Black people, and powder cocaine, used most often by whites.
Indeed, the ratio was 100-to-1, so that a five-year mandatory minimum penalty, for instance, was triggered by possession of 5 grams of crack, whereas the same penalty was triggered by 500 grams of powder cocaine. [NYT article] (next BH, see Sept 27; next C & P, see September 26, 2022)
June 14 Peace Love Art Activism
US Labor History
Industrial Workers of the World
June 14, 1924: the Ku Klux Klan attacked members of the Industrial Workers of the World at the IWW's meeting hall in San Pedro, California, during a benefit for the families of two workers killed in a railroad accident. The KKK beat many of the 300 members; kidnapped, tarred, and feathered others; destroyed everything inside the building; and scalded two children by burning them with a pot of coffee. [U of Washington article] (Labor, see August 25, 1925; Terrorism, see June 1, 1925)
June 14 Peace Love Art Activism
Cannabis
Federal Bureau of Narcotics
June 14, 1930: the Federal Bureau of Narcotics formed as an agency of the United States Department of the Treasury. It consolidated the functions of the Federal Narcotics Control Board and the Narcotic Division.  Harry J. Anslinger was appointed its first commissioner. He had joined the Treasury Department in 1926 and by 1929 was Assistant Commissioner of Prohibition.
As part of his effort to propagandize the so-called evils of cannabis, Anslinger sought crime stories that he tied to cannabis use. These stories collectively became know as the "Gore Files."  He used these stories in his many public speeches regarding his perceived danger of cannabis.
He also erroneously but deliberately connected the etymologies of the words hashish and assassin.
Criminalization
In 1933, marijuana became the target of government control. Sensationalist stories linked violent acts to cannabis consumption. Many of the most outlandish stories appeared in newspapers published by William Randolph Hearst. Hearst reportedly had financial interests in the lumber and paper industries. He may have sought to eliminate competition from hemp.
The first laws against cannabis in the United States were passed in border towns with Mexico. Hearst was an up-and-coming newspaper tycoon, owning twenty-eight newspapers by the mid-1920s. Hearst dropped the words cannabis and hemp from his newspapers and began a propaganda campaign against 'marijuana,' (see Cannabis for expanded marijuana chronology)
Hawaii decriminalization
June 14, 2000:  Hawaii broke new ground when it became the first state to enact a law to remove criminal penalties for medical marijuana users via a state legislature. Hawaii's governor Ben Cayetano submitted the original bill and signed the final measure into law on June 14, 2000.
Senate Bill 862 was passed by a vote of 32-18 in the House and 13-12 Senate, making Hawaii the sixth state to legalize medical marijuana." (see Cannabis Continued for expanded chronology)
June 14 Peace Love Art Activism
Free Speech
West Virginia State Board of Education v. Barnette
June 14, 1943: the US Supreme Court held that the Free Speech Clause of the First Amendment to the Constitution protected students from being forced to salute the American flag and say the Pledge of Allegiance in school. It was a significant court victory won by Jehovah's Witnesses, whose religion forbade them from saluting or pledging to symbols, including symbols of political institutions. However, the Court did not address the effect the compelled salutation and recital ruling had upon their particular religious beliefs, but instead ruled that the state did not have the power to compel speech in that manner for anyone.
Barnette overruled a 1940 decision on the same issue, Minersville School District v. Gobitis (also involving the children of Jehovah's Witnesses), in which the Court stated that the proper recourse for dissent was to try to change the school policy democratically. [Oyez article] (see Pledge for expanded story; FS, see March 26, 1948)
Flag Day
June 14, 1954: President Eisenhower signed the bill into law on Flag Day, stating, "From this day forward, the millions of our school children will daily proclaim in every city and town, every village and rural school house, the dedication of our nation and our people to the Almighty. … In this way we are reaffirming the transcendence of religious faith in America's heritage and future; in this way we shall constantly strengthen those spiritual weapons which forever will be our country's most powerful resource, in peace or in war."  [full text] (see October 31, 1969)
Newdow v. U.S. Congress
June 14, 2004:  the US Supreme Court overturned a Ninth Circuit Court decision that struck the addition of "under God" to the Pledge of Allegiance. The 8-0 ruling was reached on a technicality: that Michael Newdow did not have standing to bring the case in the first place. [Oyez article] (see February 1, 2018)
Political buttons
June 14, 2018: Minnesota law prohibited people from wearing a "political badge, political button, or other political insignia" in polling places on Election Day.
In Minnesota Voters Alliance v. Mansky, the US Supreme Court ruled 7-2 that Minnesota's political apparel law violated the First Amendment. The Supreme Court struck down the Minnesota law, finding that it is overly broad so people will not know what they can and cannot wear to polling places. (see July 10)
June 14 Peace Love Art Activism
Fourth Amendment
Trupiano v. United States
June 14, 1948: the US Supreme Court that ruled that warrantless searches following arrests were unconstitutional under the Fourth Amendment to the United States Constitution.  [Justia article] (4th, see June 27, 1949; Trupiano, see February 20, 1950)
June 14 Peace Love Art Activism
McCarthyism
General George C. Marshall
June 14, 1951:  Senator Joe McCarthy accused General George C. Marshall of assisting the cause of international Communism. As Army Chief of Staff and military adviser to President Franklin D. Roosevelt, Marshall was one of the heroes of World War II. He also served as Secretary of State under President Harry Truman (1947–1949) and was the author of the famous Marshall Plan, which was named for him, and which was designed to revitalize the economies of European countries after World War II as a way of fending off Communist influence. [Shmoop article] (see Sept 1)
President Dwight Eisenhower
June 14, 1953: in a commencement speech at Dartmouth College, President Dwight Eisenhower made one of his very few public criticisms of Senator Joe McCarthy (R–Wisconsin). Without mentioning his name, and as part of a discussion of courage, Ike told the graduates to not become "book burners." His comments were prompted by a recent event in which two of McCarthy's top aides toured American facilities in Europe, inspecting U.S. Information Agency libraries and demanding the removal of books by alleged "radicals" (see April 5, 1953). When asked about his comments at his next press conference, however, Eisenhower backtracked and denied that he meant to criticize McCarthy. [Civil Liberties History article] (RS, see June 19; Free Speech, see October 26, 1954)
June 14 Peace Love Art Activism
Nuclear/Chemical News
Civil defense drill
June 14, 1954:  the US went through its first nationwide civil defense drill. Though American officials were satisfied with the results of the drill, the event stood as a stark reminder that the United States—and the world—was now living under a nuclear shadow.
The civil defense drill was organized and evaluated by the Civil Defense Administration, and included operations in 54 cities in the United States, Puerto Rico, the Virgin Islands, Alaska, and Hawaii. Canada also participated in the exercise. The basic premise of the drill was that the United States was under massive nuclear assault from both aircraft and submarines, and that most major urban areas had been targeted. At 10 a.m., alarms were sounded in selected cities, at which time all citizens were supposed to get off the streets, seek shelter, and prepare for the onslaught. Each citizen was supposed to know where the closest fallout shelter was located; these included the basements of government buildings and schools, underground subway tunnels, and private shelters. Even President Dwight D. Eisenhower took part in the show, heading to an underground bunker in Washington, D.C. The entire drill lasted only about 10 minutes, at which time an all-clear signal was broadcast and life returned to normal. Civil Defense Administration officials estimated that New York City would suffer the most in such an attack, losing over 2 million people. Other cities, including Washington, D.C., would also endure massive loss of life. In all, it was estimated that over 12 million Americans would die in an attack. (see February 17, 1955)
June 14 Peace Love Art Activism
June 14 Music et al
Beatles VI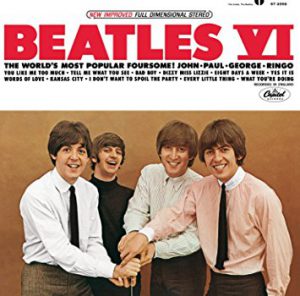 June 14, 1965, The Beatles released  Beatles VI. (the 6th Capitol label release. From All Music: Six months had elapsed since the release of Beatles '65 in America, and the powers that were at Capitol Records recognized that some new product was needed, especially as the group was about to tour the United States. The result was Beatles VI, using the remaining tracks off of the British-released Beatles for Sale album (going all the way back to the fall of the previous year), among them that album's highlight, a cover of Buddy Holly's "Words of Love," and four new songs, two of them from the second side of the soon-to-be-released U.K. Help! album.
All I Really Want to Do
June 14, 1965: The Byrds release their second single, Bob Dylan's All I Really Want to Do. It reached #40 on the Billboard Hot 100  (see June 15)
The Road to Bethel
June 14, 1969: John Roberts and Joel Rosenman received a certified letter from Wallkill Town Attorney Joseph Owen requesting submission of  fourteen divisions of production plans.
That day (or the next day or the day after) Abbie Hoffman called Michael Lang saying that he (Hoffman) needed money from Woodstock Ventures or else he (Hoffman) would shut down the festival. (see Chronology for expanded story)
June 14 Peace Love Art Activism
Vietnam
South Vietnam Leadership
June 14, 1965: mounting Roman Catholic opposition to South Vietnamese Premier Phan Huy Quat's government led him to resign. On this day, a military triumvirate headed by Army General Nguyen Van Thieu took over and expanded to a 10-man National Leadership Committee. The Committee decreed the death penalty for Viet Cong (aka, National Liberation Front) terrorists, corrupt officials, speculators, and black marketeers. The Catholics approved of Quat's resignation and warned the military against favoring the Buddhists, who asked for an appointment of civilians to the new cabinet. (V, see June 16; SVL, see September 3, 1967)
Spock et al convicted
June 14, 1968: Dr. Benjamin Spock, Michael Ferber, Mitch Goodman, and Rev. William Sloane Coffin were convicted of conspiracy to obstruct the draft during the Vietnam War. Author of Baby and Child Care (1946), Dr. Spock was the most famous pediatrician in the U.S. He first became an anti-nuclear weapons testing and then a vocal critic of the Vietnam War. Also convicted were. Co-defendant Marcus Raskin was found not guilty.
One of the principal documents offered by the prosecution was "A Call to Resist Illegitimate Authority," published on September 27, 1967. [NYT article] (Vietnam, see "in July"; Spock, see July 11, 1969)
June 14 Peace Love Art Activism
Environmental Issues
DDT banned
June 14, 1972:   the Environmental Protection Agency ordered a ban on continued domestic use of the pesticide DDT, to take effect at year's end. [PAN article] (see Oct 1)
Flint water polution
June 14, 2017: five officials in Michigan, including Nick Lyon the head of the state's health department, were charged. It was the closest investigators had come to directly blaming officials for the deaths and illnesses that occurred when a water contamination crisis enveloped Flint.
The tainted water had been tied to lead poisoning in children and prompted officials to begin a costly, years-long process of replacing pipes all over the city. Even now, officials recommend that only filtered tap water be consumed, and many residents say they can trust only bottled water, given false assurances they once received from state and local officials. [2018 CNN article] (see July 3)
June 14 Peace Love Art Activism
Falklands War
June 14, 1982: General Mario Menendez surrendered to Major General Jeremy Moore as British forces marched into Port Stanley. (see June 17)
June 14 Peace Love Art Activism
Sexual Abuse of Children
June 14, 2002:   American Roman Catholic bishops adopted a policy to bar sexually abusive clergy from face-to-face contact with parishioners but keep them in the priesthood. (see Sept 17)
June 14 Peace Love Art Activism
TERRORISM
June 14, 2005: following criticism from around the world and senators from his own Republican party, Vice-President Dick Cheney defended all means used at Guantanamo Bay prison as justified to prevent further attacks on the US.
A report published in Time magazine and authenticated by the Pentagon had described the treatment of one prisoner "Mohammed al-Qahtani" which included:
forced to bark like a dog

stand for prolonged periods

had his facial hair shaved off

pictures of scantily clad women hung round his neck.

forcibly injected with fluids after refusing food and water.

"invasion of space by a female", in which he was straddled by a woman soldier (see Nov 22) 
June 14 Peace Love Art Activism
LGBTQ
June 14, 2007: Massachusetts marriage opponents attempted to amend the constitution to strip away the freedom to marry, but the amendment was defeated when over 75 percent of the state legislature voted to stand up for all families. (see Aug 9)
June 14 Peace Love Art Activism