May 24 Peace Love Art Activism
Technological Milestone
Samuel F. B. Morse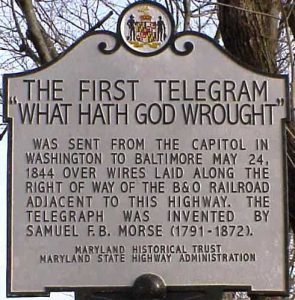 May 24, 1844: Samuel F. B. Morse dispatched the first telegraphic message over an experimental line from Washington, D.C., to Baltimore. The message, taken from the Bible, Numbers 23:23 and recorded on a paper tape, had been suggested to Morse by Annie Ellsworth, the young daughter of a friend. [Atlantic article] (see March 30, 1858)
May 24

Peace Love Art Activism
BLACK HISTORY
Laura Nelson & son L.D. Lynched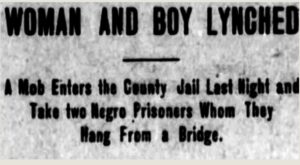 May 24, 1911: shortly before midnight, a mob of dozens of armed white men broke into the Okfuskee County jail in Okemah, Oklahoma, and abducted Laura Nelson and her young son, L.D. The mob took the Black woman and boy six miles away and hanged them from a bridge over the Canadian River, close to the Black part of town; according to some reports, members of the mob also raped Mrs. Nelson, who was about 28 years old according to census records, before lynching her alongside her son. Their bodies were found the next morning.
Hundreds of white people from Okemah came to view the bodies. Some even posed on the bridge to have their photos taken with the bodies of the dead Black woman and boy. Those photographs were later reprinted as postcards and sold at novelty stores.
When a special grand jury was called to investigate the lynching, the district judge instructed the white jurors to be mindful of their duty as members "of a superior race and greater intelligence to protect this weaker race." No one was indicted, prosecuted, or held legally accountable for lynching Laura and L.D. Nelson. [EJI article] (next BH and next lynching, see September 5, 1912 or see Lynching for expanded listing)
Freedom Riders
May 24, 1961: the Riders boarded buses from Montgomery to Jackson, MS under National Guard escort. They were jailed upon arrival under the formal charges of incitement to riot, breach of the peace, and failure to obey a police officer. [CRMVET dot org pdf]  (BH, see May 31; FR, see June 12)
Jack Johnson
May 24, 2018:  President Trump issued a posthumous pardon to boxer Jack Johnson, the first African-American heavyweight champion, who was jailed a century ago due to his relationship with a white woman.
"I believe Jack Johnson is a worthy person to receive a pardon, to correct a wrong in our history," Trump said. (see May 29)
May 24

Peace Love Art Activism
US Labor History
Toledo Auto-Lite strike day 2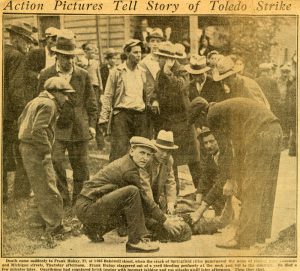 May 24, 1934 (Thursday): Ohio National Guardsmen, most of them teenagers, arrived in a light rain. The troops included eight rifle companies, three machine-gun companies and a medical unit. The troops cleared a path through the picket line, and the sheriff's deputies, private security guards and replacement workers were able to leave the plant.
Later that morning, Judge Stuart issued a new injunction banning all picketing in front of the Auto-Lite plant, but the picketers ignored the order.
During the afternoon, President Roosevelt sent Charles Phelps Taft II, son of the former president, to Toledo by to act as a special mediator in the dispute. AFL president William Green sent an AFL organizer to the city as well to help the local union leadership bring the situation under control.
During the late afternoon and early evening of May 24, a huge crowd of about 6,000 people gathered again in front of the Auto-Lite plant. Around 10 p.m., the crowd began taunting the soldiers and tossing bottles at them. The militia retaliated by launching a particularly strong form of tear gas into the crowd. The mob picked up the gas bombs and threw them back. For two hours, the gas barrage continued. Finally, the rioters surged back toward the plant gates. The National Guardsmen charged with bayonets, forcing the crowd back. Again the mob advanced. The soldiers fired into the air with no effect, then fired into the crowd—killing 27-year-old Frank Hubay (shot four times) and 20-year-old Steve Cyigon. Neither was an Auto-Lite worker, but had joined the crowd out of sympathy for the strikers. At least 15 others also received bullet wounds, while 10 Guardsmen were treated after being hit by bricks.
A running battle occurred throughout the night between National Guard troops and picketers in a six-block area surrounding the plant.[1][25] A smaller crowd rushed the troops again a short time after Hubay and Cyigon's deaths, and two more picketers were injured by gunfire. A company of troops was sent to guard the Bingham Tool and Die plant, a squad of sheriff's deputies dispatched to protect the Logan Gear factory, and another 400 National Guardsmen ordered to the area. Nearly two dozen picketers and troopers were injured by hurled missiles during the night. The total number of troops now in Toledo was 1,350, the largest peace-time military build-up in Ohio history.  [UFCW article] (see Toledo for expanded chronology)
May 24

Peace Love Art Activism
Immigration History
Equal Nationality Treaty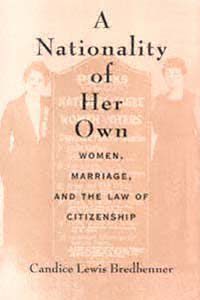 May 24, 1934: the Senate ratified the Equal Nationality Treaty and President signed it thus granting American women the right to transfer their nationality to their children. [Nat'l Women's Party article] (Feminism, see December 7, 1936; IH, see December 17, 1943)
Fourth Amendment
May 24, 2013: Judge G. Murray Snow of the United States District Court for the District of Arizona ruled that the Maricopa County, Arizona, Sheriff's Office (MCSO), led by Sheriff Joe Arpaio, violated the Fourth and Fourteenth Amendments to the Constitution by conducting raids and traffic stops that targeted Latinos based on race.
Statistical studies indicated that MCSO officers were between four and nine times more likely to stop a Latino driver than a similar non-Latino driver. In addition, though the MCSO's authority to enforce federal immigration law was revoked in 2009, the office continued to conduct immigration-related raids and traffic stops for four years afterward, in violation of federal law and the Constitution. A law enforcement expert at the Department of Justice described the MCSO's actions as the worst example of racial profiling that he had encountered. [USA Today article] (4th, see Aug 12; Immigration, see Oct 17)
Trump's Wall
May 24, 2019:  Judge Haywood Gilliam of the United States District Court for the Northern District of California granted a preliminary injunction that prevented the Trump administration from redirecting funds under the national emergency declaration issued in February.
Gilliam, who is overseeing a pair of lawsuits over border wall financing, ruled that the administration's efforts likely overstepped the president's statutory authority.
The injunction applied specifically to some of the money the administration intended to allocate from other agencies, and it limited wall construction projects in El Paso, Tex., and Yuma, Ariz.
The ruling quoted from a Fox News interview with Mick Mulvaney, the acting White House chief of staff, in which he said that the wall "is going to get built, with or without Congress." [NYT article] (next IH, see June 11; TW, see July 3)
Family Separations
May 24, 2021: a Department of Homeland Security inspector general report contradicted  assertions  that top Homeland Security Department officials made regarding President Trump's 2018 "zero tolerance"  policy that separated family units arriving at the border In order to criminally prosecuted the parents Immigration and Customs Enforcement deporting hundreds of individuals while their children remained in the United States.
At the time, DHS and ICE officials consistently stated those parents were all given the choice to take their children with them when they returned to their home countries, but opted to leave them behind.
The DHS report countered that claim, with investigators finding ICE employees made little effort to determine the parents' preferences, document their choices, or adhere to their decisions if they voiced a preference.
The findings differed from statements of former DHS Secretary Kirstjen Nielsen, former top ICE official Matt Albence and an agency fact sheet that asserted all of the deported parents opted to leave their children in the United States. [govexec article] (next IH, see July 17)
May 24

Peace Love Art Activism
Vietnam
Senator Barry Goldwater & nuclear weapons
May 24, 1964: Senator Barry Goldwater (R-Arizona), running for the Republican Party nomination in the upcoming presidential election, gave an interview in which he discussed the use of low-yield atomic bombs in North Vietnam to defoliate forests and destroy bridges, roads, and railroad lines bringing supplies from communist China. During the storm of criticism that followed, Goldwater tried to back away from these drastic actions, claiming that he did not mean to advocate the use of atomic bombs but was "repeating a suggestion made by competent military people." Democrats painted Goldwater as a warmonger who was overly eager to use nuclear weapons in Vietnam. Though he won his party's nomination, Goldwater was never able to shake his image as an extremist in Vietnam policies. This image was a key factor in his crushing defeat by opponent Lyndon B. Johnson, who took about 61 percent of the vote to Goldwater's 39 percent. [Daily Kos article] (Vietnam, see June 9; Goldwater & NN, see Sept 7)
South Vietnam Leadership
May 24, 1966: the government of South Vietnam regained full control of Da Nang from the pro-Buddhist Struggle Movement. In the fighting, approximately 150 South Vietnamese soldiers were killed. 23 Americans were wounded (Vietnam, see June Peace…; SVL, see September 3, 1967)
May 24

Peace Love Art Activism
FREE SPEECH
Lamont v. Postmaster General
May 24, 1965: the Supreme Court struck down a federal law that allowed the Post Office to deliver foreign "communist political propaganda" only upon the request of the recipient. The Court unanimously held the law to be an unconstitutional violation of the First Amendment.
Corliss Lamont, who had challenged the Post Office restrictions, was a longtime civil libertarian and served for many years on the ACLU Board of Directors. [Oyez article] (see June 7)
Virginia State Pharmacy Board v. Virginia Citizens Consumer Council
May 24, 1976: the US Supreme Court held that a state could not limit pharmacists' right to provide information about prescription drug prices. This was an important case in determining the application of the First Amendment to commercial speech. [Oyez article] (see October  4, 1976)
May 24

Peace Love Art Activism
The Beatles after live performances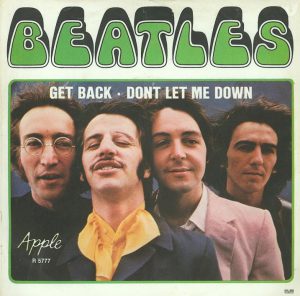 May 24 – June 27, 1969: "Get Back" #1 on the Billboard Hot 100. (see Get Back for expanded story)
May 24

Peace Love Art Activism
Falklands War
May 24, 1982: frigate HMS Antelope abandoned after bomb detonates while being defused by disposal officer. (see May 25)
May 24

Peace Love Art Activism
INDEPENDENCE DAY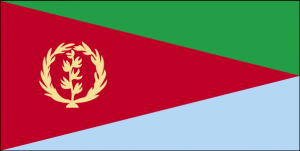 May 24, 1993: Eritrea independent from Ethiopia. (see July 4)
May 24

Peace Love Art Activism
TERRORISM
World Trade Center
May 24, 1994: Judge Kevin T. Duffy sentenced Mohammed A. Salameh, Nidal A. Ayyad, Mahmud Abouhalima and Ahmad M. Ajaj, the four men convicted of bombing New York's World Trade Center  to 240 years each in prison. Duffy said they would have no possibility of parole.  [NYT article] (see Dec 30)
May 24

Peace Love Art Activism
Native Americans
Executive Order 13007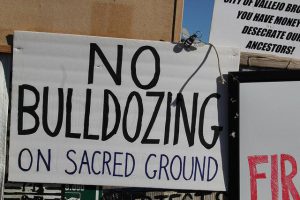 May 24, 1996: President Clinton issued Executive Order 13007. It directed federal agencies, to the extent practicable and allowed by law, to allow Native Americans to worship at sacred sites located on federal property and to avoid adversely affecting the physical integrity of such sites. [National Park Service article] (see September 20, 1998)
May 24

Peace Love Art Activism
STAND YOUR GROUND LAW
Dana Mulhall
May 24, 2013: a Flagler County jury  convicted Paul Miller, 66 of murder in the shooting death of his neighbor Dana Mulhall after an ongoing dispute prosecutors say was over a barking dog and rude remarks. The jury was told Miller went inside his house to retrieve his loaded hand gun off the top of a curio, concealed it by putting it in his back waistband before going outside and shooting Mulhall five times. "Miller's actions prove he intended to kill Mr. Mulhall. He was combative in his language, gesture and actions," said Assistant State Attorney Jaquelyn Roys. "If indeed the defendant feared his neighbor, as he claimed, he had an opportunity to call the police when he went inside the house. Instead, Miller chose to confront his neighbor with gunfire."  Miller had claimed self-defense, saying he lived in fear of his neighbor. The jury deliberated 90 minutes before finding Miller guilty. [News Journal article]  (see June 18)
May 24

Peace Love Art Activism

 
Nuclear/Chemical News
North Korea
May 24, 2018: North Korea said that it destroyed its only known nuclear test site, three weeks before the scheduled summit meeting between Korean leader, Kim Jong-un and President Trump.
North Korea used explosives to destroy three of its four tunnels at the Punggye-ri test site, according to dispatches by South Korean reporters at the scene.         The fourth tunnel had already been shuttered for fear of contamination after the North's first nuclear test in 2006.
North Korea did not invite any independent outside nuclear monitors to verify the dismantlement of the Punggye-ri site.
Some analysts played down the significance of North Korea's decision to shut down the site saying that after six tests, all conducted in deep tunnels, the site had most likely caved in and become too unstable for another test.
Meeting cancelled
May 24, 2018: President Trump notified Kim Jong-un that he had canceled their meeting to discuss steps toward denuclearization and peace because of recent "tremendous anger and open hostility" by Pyongyang toward members of his administration.
Trump left open the possibility that the two could meet in the future. But hours later, Mr. Trump warned that the United States and its allies are prepared to    respond should "foolish or reckless acts be taken by North Korea." (see June 1)
North Korea
May 24, 2020: North Korea's leader, Kim Jong-un, convened the country's top military-governing body, outlining "new policies for further increasing" its nuclear capabilities and promoting top weapons officials.
During the meeting of the Central Military Commission of the ruling Workers' Party of Korea, Kim was said to have promoted Ri Pyong-chol to vice chairman of the commission, expanding his influence. Mr. Ri had been in charge of building nuclear weapons and their delivery missiles. [NYT article] (next N/C N, see July 27)
May 24

Peace Love Art Activism

 
Voting Rights/Crime and Punishment
May 24, 2020:  Judge Robert L. Hinkle of the United States District Court in Tallahassee ruled that a Florida law requiring people with serious criminal convictions to pay court fines and fees before they could register to vote was unconstitutional, declaring that such a requirement would amount to a poll tax and discriminate against felons who cannot afford to pay.
Florida did not explicitly impose a poll tax, Hinkle wrote, but by conditioning felons' voting rights to fees that fund the routine operations of the criminal justice system, it effectively created "a tax by any other name."
"The Twenty-Fourth Amendment precludes Florida from conditioning voting in federal elections on payment of these fees and costs," Judge Hinkle wrote, calling the restriction an unconstitutional "pay-to-vote system." [NYT article] (follow-up to this story, see Sept 11; next VR, see July 16;  next C & P, see  June 16)
May 24

Peace Love Art Activism

 
Environmental Issues
May 24, 2021: the Biden administration said it would spend $1 billion to help communities prepare for worsening disasters, the latest sign of the toll that climate change was already taking across the United States.
The change doubled the current size of a Federal Emergency Management Agency program that gives money to state and local governments to reduce their vulnerability before a disaster happens — for example, building sea walls, elevating or relocating flood-prone homes.
"We're going to spare no expense, no effort, to keep Americans safe," said President Biden during a visit to FEMA's headquarters for a briefing on 2021's hurricane season. "We can never be too prepared." [NYT article] (next EI, see June 1)
May 24

Peace Love Art Activism