October 4 Peace Love Art Activism
Feminism & Matilda Josyln Gage
October 4, 1850: Gage [24 years old] signed petition stating that she would face a 6-month prison term and a $2,000 fine rather than obey the Fugitive Slave Law. (F, see June 21, 1851; see Gage for expanded story)
October 4 Peace Love Art Activism
BLACK HISTORY
National Convention of Colored Men
October 4, 1864:  150 black men representing seventeen states and Washington, D.C., assembled in Syracuse, New York, for the National Convention of Colored Men in the Wesleyan Methodist Church, in Syracuse, N.Y at 7 o'clock, P.M.
Rev. Henry Highland Garnet, of Washington, D.C., called the Convention to order, and read the call. John M. Langston, Esq., of Oberlin, O., was chosen temporary Chairman; and Wm. Howard Day, of New Jersey, and St. George R. Taylor, of Pennsylvania, Secretaries.
Frederick Douglass, the formerly enslaved man who had become a leader in the abolitionist movement, opened the convention by proclaiming, "We are here to promote the freedom, progress, and perfect enfranchisement of the entire colored people of the United States." Although the Civil War did not end for another six months, historians have referred to this four-day gathering as "the first Reconstruction convention."
In its Declaration of Wrongs and Rights, convention members summarized the rights they believed necessary to ensure freedom, progress, and meaningful citizenship:
The right to be heard in Congress[;] the right to respect; that due attention should be given to our needs; that proper rewards should be given for our services, and that the immunities and privileges of all other citizens and defenders of the nation's honor should be conceded to us.
The Declaration's first point read: As a branch of the human family, we have for long ages been deeply and cruelly wronged by people whose might constituted their right; we have been subdued, not by the power of ideas, but by brute force, and have been unjustly deprived not only of many of our natural rights, but debarred the privileges and advantages freely accorded to other men.
The Convention lasted until October 7. [Convention's complete proceedings] (next BH, see Dec 30)
William Spencer lynched
October 4, 1916: William Spencer, a 30-year-old Black man and a husband and father of four children, was lynched by a white mob near Graceton, Texas. Mr. Spencer, who was a farmhand, had a confrontation with the constable and was arrested and taken to a local jail, where a white mob seized and lynched him.  [EJI article](next BH, see In May 1917; next Lynching, see July 28, 1917 or see AL2 for expanded chronology)
October 4 Peace Love Art Activism
Emma Goldman
October 4 – 16,1893: Goldman was tried and found guilty of inciting to riot. She was sentenced to one year in the penitentiary on Blackwell's Island in New York's East River. (see Goldman for expanded story)
October 4 Peace Love Art Activism
Calvin Graham
October 4, 1944: Graham wrote to the Chief of Naval Personnel requesting a discharge certificate. Each of Graham's requests was denied upon the basis that his enlistment was void and therefore canceled. Also that month, Graham's claim for arrears of pay and mustering-out pay was presented to the General Accounting Office. (full story see Calvin Graham)
October 4 Peace Love Art Activism
Vietnam
October 4, 1945: French troops, under the leadership of General Jacques-Philippe Leclere, arrived in Saigon to take over from the British. (see March 2, 1946)
October 4 Peace Love Art Activism
Space Race
Sputnik 1
October 4, 1957: the Soviet Union launched Sputnik 1 into earth orbit. The first man-made satellite passes overhead, making one revolution every 90 minutes. [NASA article] (see Oct 5)
Luna 3
October 4, 1959: the Soviet Luna 3 flew  around the moon, taking the first photographs of the far side of the moon. Two more Soviet launches the following year will not achieve proper flight paths. Information about them will be suppressed. (article) (see April 13, 1960)
October 4 Peace Love Art Activism
FREE SPEECH
Lenny Bruce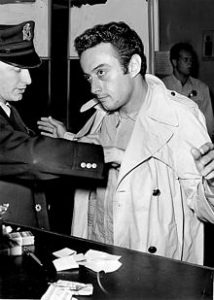 October 4, 1961: police arrested comedian Lenny Bruce  at the Jazz Workshop in San Francisco on obscenity charges for saying the word "cocksucker." Bruce was a pioneer in aggressive, politically oriented stand-up comedy, using humor to attack racism, sexual prudery, and religious hypocrisy in American life. Today's tradition of boundary-breaking stand-up comedy, with respect to language, sex, politics, race, and religion, originated with Lenny Bruce.
Many observers then and now argue that Bruce's arrests, including those in Chicago and New York City, were prompted not by dirty words but by his comedy routines that made fun of the Catholic Church, which offended local politicians and police. For his New York City arrest, see November 4, 1964. For that arrest, he was pardoned by New York Governer Pataki 39 years later on December 23, 2003. (see June 25, 1963)
Nazi march
October 4, 1976: Frank Collin, leader of a band of Nazi sympathizers from Chicago's South side, sends a letter to Daniel D. Brown, Director of Parks and Recreation, Skokie Park District, requesting that his group be permitted to march in Skokie's "Birch Park" on November 6, 1976. (see Oct 25)
Colin Kaepernick
October 4, 2016: NBA's  Rockets and Knicks opened the season joined arm in arm The Celtics also showed unity as a team, standing together with their arms crossed and heads down. (FS & CK, see Nov 6)
October 4 Peace Love Art Activism
World Series
Cold War: Yankees v Reds
October 4 – 9, 1961: World Series: NY Yankees vs. the Cincinnati Reds. Yankees won in five games to earn their 19th championship in 39 seasons. This World Series was surrounded by Cold War political puns pitting the "Reds" against the "Yanks".  next CW, see Oct 6)
Yankees v Giants
October 4 – 16, 1962: World Series matched the defending World Series champions NY  Yankees against the San Francisco Giants. The Yankees took the Series in seven games for the 20th championship in team history.
Cardinals v Red Sox
October 4 – 12, 1967: World Series: St. Louis Cardinals against the Boston Red Sox in a rematch of the 1946 World Series, with the Cardinals winning in seven games.
October 4 Peace Love Art Activism
October 4 Music et al
Beatles Ready Set Go
October 4, 1963: appear on BBC's Ready, Set, Go. Dusty Springfield does intros and asked fan questions. (see Oct 13)
Good Vibrations
October 4, 1966:  after over six months of recording and production work, the Beach Boys (actually Brian Wilson) released "Good Vibrations." (NPR story) (see December 10 – 16)
October 4, 1969, Gold Rush Festival (Lake Amador, CA): 40,000 people attended. (see 43 for expanded list of 1969 festivals)
Green River
October 4 – 31, 1969: Creedence Clearwater Revival's Green River is the Billboard #1 album.
Janis Joplin
October 4, 1970 – Janis Joplin, age 27, died. (27 Club) (Woodstock video)
October 4 Peace Love Art Activism
INDEPENDENCE DAY
October 4, 1966: Lesotho independent from United Kingdom. [SAhistory article] (see IDs for expanded list of 1960 Independence days)
WAR POWERS ACT
October 4, 1973: Joint conference committee irons out differences between House and Senate War Powers Act bills. (NYT article) (see Oct 10)
Watergate Scandal
October 4, 1974: the trial of Watergate conspirators HR Haldeman, John Ehrlichman, John Mitchell, Robert Mardian, and Kenneth Parkinson began, Judge John Sirica presiding. (see Watergate for expanded story)
TERRORISM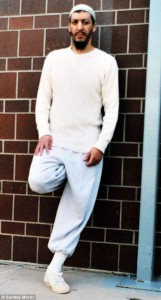 October 4, 2002: "Shoe bomber," Richard Reid, pleaded guilty to all eight counts. (NYT article) (see Nov 4)
Immigration History
October 4, 2019: the Trump administration announced that it would deny visas to immigrants who could prove they would have health insurance or the ability to pay for medical costs once they became permanent residents of the United States.
Trump's a proclamation ordered consular officers to bar immigrants seeking to live in the United States unless they "will be covered by approved health insurance" or can prove that they have "the financial resources to pay for reasonably foreseeable medical costs." The program would become effective Nov. 3. [NYT article] (see Oct 11)
October 4 Peace Love Art Activism