May 23 Peace Love Art Activism
BLACK HISTORY
Dyer Anti-Lynching bill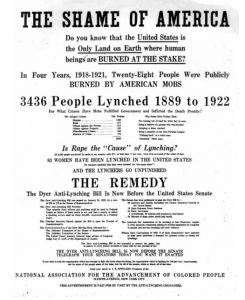 May 23, 1922; the Senate Committee on the Judiciary concluded that the Dyer Anti-Lynching bill was unconstitutional and for that reason could not submit it to the Senate.  [NAACP article] (see June 14)
George Lincoln Rockwell
May 23, 1961: George Lincoln Rockwell, center, self-styled leader of the American Nazi Party, and his "hate bus" with several young men wearing swastika arm bands, stops for gas in Montgomery, Alabama, en route to Mobile, Alabama. [2017 Washington Post article] (see May 24)
137 SHOTS
May 23, 2015: Judge John P. O'Donnell acquitted  Michael Brelo. O'Donnell stated, ""The state did not prove beyond a reasonable doubt that the defendant, Michael Brelo, knowingly caused the deaths of Timothy Russell and Malissa Williams." [NYT article] (see 137 for expanded story)
May 23 Peace Love Art Activism
US Labor History
Toledo Auto-Lite strike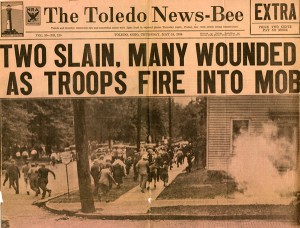 May 23, 1934 (Wednesday): at the Toledo Auto-Lite strike,  the sheriff of Lucas County (Ohio) decided to take action against the picketers. In front of a crowd which numbered nearly 10,000, sheriff's deputies arrested five picketers. As the five were taken to jail, a deputy began beating an elderly man. Infuriated, the crowd began hurling stones, bricks and bottles at the sheriff's deputies. A fire hose was turned on the crowd, but the mob seized it and turned the hose back on the deputies. Many deputies fled inside the plant gates, and Auto-Lite managers barricaded the plant doors and turned off the lights. The deputies gathered on the roof and began shooting tear gas bombs into the crowd. So much tear and vomit gas was used that not even the police could enter the riot zone. The mob retaliated by hurling bricks and stones through the plant's windows for seven hours. The strikers overturned cars in the parking lot and set them ablaze. The inner tubes of car tires were turned into improvised slingshots, and bricks and stones launched at the building. Burning refuse was thrown into the open door of the plant's shipping department, setting it on fire. In the early evening, the rioters attempted to break into the plant and seize the replacement workers, security personnel and sheriff's deputies. Police fired shots at the legs of rioters to try to stop them. The gunfire was ineffective, and only one person was (slightly) wounded. Hand-to-hand fighting broke out as the rioters broke into the plant. The mob was repelled, but tried twice more to break into the facility before they gave up late in the evening. More than 20 people were reported injured during the melee. Auto-Lite president Clement O. Miniger was so alarmed by the violence that he ringed his home with a cordon of armed guards. (see Toledo for expanded chronology)
May 23 Peace Love Art Activism
Judicial Milestone
Johnson v. Zerbst
May 23, 1938: the US Supreme Court held that the federal court had infringed upon Johnson's life and liberty by not giving him counsel to defend him during trial. Johnson, had been convicted in federal court of feloniously possessing, uttering, and passing counterfeit money in a trial where he had not been represented by an attorney but instead by himself.
Johnson filed for habeas corpus relief, claiming that his Sixth Amendment right to counsel had been violated, but he was denied by both a federal district court and the court of appeals.
This decision set the precedent that defendants [in federal court] have the right to be represented by an attorney unless they waive their right to counsel knowing full well the potential consequences.  [2009 World Socialist article] (see May 20, 1940)
May 23 Peace Love Art Activism
Fourth Amendment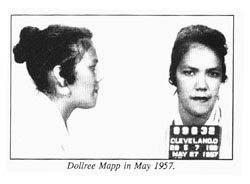 May 23, 1957: three police officers arrived at a house in Cleveland and demanded to enter. They wanted to question a man about a recent bombing and believed he was hiding inside. A woman who lived there, Dollree Mapp, refused to admit them.
Mapp told the officers that she wanted to see a search warrant. They did not produce one. A few hours later, more officers arrived and forced their way into the house. Ms. Mapp called her lawyer and again asked to see a warrant. When one officer held up a piece of paper that he said was a warrant, Ms. Mapp snatched it and stuffed it into her blouse. The officer reached inside her clothing and snatched it back.
The officers handcuffed Ms. Mapp — they called her "belligerent" — and then searched her bedroom, where they paged through a photo album and personal papers. They also searched her young daughter's room, the kitchen, a dining area and the basement.
They did not find the man they were looking for, but they did find what they said were sexually explicit materials — books and drawings that Ms. Mapp said had belonged to a previous boarder — and they arrested Ms. Mapp. [2014 NYT obit] (see June 19, 1961)
May 23 Peace Love Art Activism
Theme from a Summer Place album
May 23 – 29, 1960: Theme from a Summer Place album again Billboard #1.
"Cathy's Clown"
May 23 – June 26, 1960: "Cathy's Clown" by the Everly Brothers #1 Billboard Hot 100.
Hendrix restricted
May 23, 1962: Jimi Hendrix failed to report for bed check and was again given 14 days of restriction between May 24 and June 6. (see Hendrix/military for expanded chronology)
Our Man In Paris
May 23, 1963,  Dexter Gordon released Our Man In Paris album
1969 Festivals…
May 23 – 24, 1969, Aquarian Family Festival, San Jose, CA. (on the San Jose State University football practice field)
May 23 – 25, 1969: Northern California Folk-Rock Festival (Santa Clara County Fairgrounds, San Jose, CA)
May 23 – 25, 1969: Big Rock Pow Wow (Seminole Indian Village, Hollywood, FL).
May 23 Peace Love Art Activism
Feminism
May 23, 1983: Governor Michael J. Dukakis signed a proclamation which declared that Deborah Sampson was the Official Heroine of the Commonwealth of Massachusetts.  Two news services stated this was the first time in US history that any state had proclaimed anyone as the official hero or heroine. (see Sampson for expanded story)
May 23 Peace Love Art Activism
LGBTQ
BSA
May 23, 2013: the Boy Scouts of America ended its longstanding policy of forbidding openly gay youths to participate in its activities, a step its chief executive called "compassionate, caring and kind." [NYT article]  (LGBTQ see June 20; BSA, see Sept 7)
May 23 Peace Love Art Activism
Vietnam
May 23, 2016: President Obama announced at a news conference in Hanoi that the US had rescinded a ban on sales of lethal military equipment to Vietnam, ending one of the last legal vestiges of the Vietnam War.
Mr. Obama portrayed the decision as part of the long process of normalizing relations between the two countries after the Vietnam War. [White House archives article] (see Dec 3)
May 23 Peace Love Art Activism
FREE SPEECH
May 23, 2017: Middlebury College disciplined 67 students for their roles in shutting down a speech by the author Charles Murray on March 2.  The college spared the students the most serious penalties in the episode, which left a faculty member injured and came to symbolize a lack of tolerance for conservative ideas on some campuses.
The college issued a statement describing sanctions against the students "ranging from probation to official college discipline, which placed a permanent record in the student's file." The statement did not disclose how many students received the harsher punishment, but said, "Some graduate schools and employers require individuals to disclose official discipline in their applications." None of the students were suspended or expelled. [NYT article] (see June 19)
Colin Kaepernick
May 23, 2018: the National Football League's 32 owners decided to overhaul N.F.L. policy on protocol for the national anthem. At their two-day meeting in Atlanta, the owners said that the league would allow players to stay in the locker room during the playing of "The Star-Spangled Banner," but said that teams would be fined if players "do not stand and show respect for the flag and the anthem."
Those teams can then punish players however they see fit. (CK, see July 10)
Trump/Twitter
May 23, 2018: Judge Naomi Reice Buchwald, addressing a novel issue about how the Constitution applies to social media platforms and public officials, found that the president's Twitter feed is a public forum. As a result, she ruled that when Mr. Trump or an aide blocked seven plaintiffs from viewing and replying to his posts, he violated the First Amendment. (see June 14)
May 23 Peace Love Art Activism
TERRORISM
May 23, 2019: authorities released John Walker Lindh, known as the "American Taliban" after his capture in Afghanistan in 2001. He had served 17 years of a 20-year sentence.
Lindh received three years off for good behavior, though his probation terms include a host of restrictions: He would needs permission to go on the Internet; he'd be closely monitored; he'd be required to receive counseling, and he was not allowed to travel. (see Aug 3)
May 23 Peace Love Art Activism