May 23 Music et al
Theme from a Summer Place album
May 23 – 29, 1960: Theme from a Summer Place album again Billboard #1. Originally known as the "Molly and Johnny Theme", the piece is not the main title theme of the film, but a secondary love theme for the characters played by its stars Sandra Dee and Troy Donahue.
May 23 Music et al
"Cathy's Clown"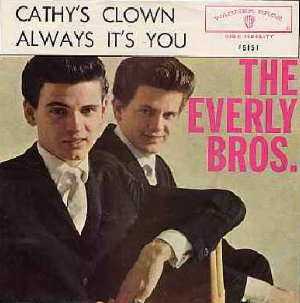 May 23 – June 26, 1960: "Cathy's Clown" by the Everly Brothers #1 Billboard Hot 100. The musicians included the Everlys on guitars, Floyd Cramer on piano, Floyd Chance on bass and Buddy Harman on drums. The distinctive drum sound was achieved by recording the drums with a tape loop, making it sound as if there were two drummers.
May 23 Music et al
Hendrix restricted
May 23, 1962: Jimi Hendrix failed to report for bed check and was again given 14 days of restriction between May 24 and June 6. (see Hendrix/military for expanded chronology)
May 23 Music et al
Our Man In Paris
May 23, 1963,  Dexter Gordon released Our Man In Paris album. The album's title refers to where the recording was made, Gordon (who had moved to Copenhagen a year earlier) teamed up with pianist Bud Powell and Kenny "Klook" Clarke were living in the City of Lights and were joined by the brilliant French bassman Pierre Michelot. Powell, Clarke and Michelot had often played together under the name The Three Bossesin Paris since Powell moved there in 1959. (see All Music)
May 23 Music et al
1969 Festivals…
Ask someone about 1969 and music festivals, their first While many people know about the Woodstock Music and Art Fair in Bethel, NY and the next one, usually the only other one, is Altamont at the end of 1969.  Most people don't realize that there were many many other major festivals that summer each with the same bands that Woodstock had. I will list them as their anniversary comes up. Here are the first three.
May 23 – 24, 1969, Aquarian Family Festival, San Jose, CA. (on the San Jose State University football practice field)
May 23 – 25, 1969: Northern California Folk-Rock Festival (Santa Clara County Fairgrounds, San Jose, CA)
May 23 – 25, 1969: Big Rock Pow Wow (Seminole Indian Village, Hollywood, FL).May 23
May 23 Music et al