101st Airborne Jimi Hendrix Discharged
The military is not for everyone and thinking about the incredible places Jimi Hendrix took guitar playing, it is easy realize that Jimi was one of those ill-suited people.
Jimi's music was never as political as other musicians of his time, though many call his iconic rendition of the  Star Spangled Banner at Woodstock a counter-cultural anthem.
True. And his 1970 "Machine Gun" is an equally powerful alternate perspective of the times.
Becoming Jimi Hendrix
In 2010, DaCapo Press published Becoming Jimi Hendrix: From Southern Crossroads to Psychedelic London, the Untold Story of a Musical Genius by Steven Roby and Brad Schreiber. [NYT review]
The musical part of Jimi Hendrix's sadly short life is well known, but less known is his path to fame, particularly his time in the military.
This post uses information gathered from Roby and Schreiber's book.
101st Airborne Jimi Hendrix Discharged
Guitar fascination
Growing up in a disruptive, disheveled,  and often overwhelming life, the child Jimi had found solace with a broom stick that was his make-believe guitar.
Later he made a guitar out of a cigar box.
Jimi's first actual instrument was a broken worn down one-stringed ukulele his recalcitrant  father had found.
Then a friend of his father cajoled a still stubborn Al Hendrix to buy a used acoustic guitar for $5.
Eventually Jim was able to purchase an electric guitar and played in various bands. He, like many musicians before him, faced the dilemma of playing popular covers or playing his own compositions.
101st Airborne Jimi Hendrix Discharged
The law steps in
May 2, 1961:  police stopped a car with four black kids in it. Among them was  18-year-old high school dropout Jimi. The car was stolen. Jimi said he didn't know that. Police released him to his father.
May 5, 1961:  similar arrest. Jimi locked up for 7 days.
On May 16, 1961, at his hearing, Jimi accepted the judge's plea bargain: a suspended 2-year sentence in exchange for enlisting in the military.
May 29, 1961: looking forward to a change, Jimi departed Seattle on a southbound train toward Fort Ord, near Monterey, California for eight weeks of basic training. He decided he wanted to earn the 101st Division Screaming Eagle patch.
101st Airborne Jimi Hendrix Discharged
Fort Campbell
November 8, 1961: having gotten through Basic, Jimi arrived at Fort Campbell in Kentucky.
101st Airborne Jimi Hendrix Discharged
Billy Cox
Jimi wrote to Betty Morgan, his girlfriend and apparent fiance, requesting she send his Danelectro guitar: his true love and what kept him from developing any camaraderie with his fellow soldiers .
Except one.
Billy Cox who heard Jimi playing and was instantly enthralled. Billy knew how to play bass. Together they began to play local gigs–still in the Army Airborne.
Billy and Jimi's constant search for time to play and practice obviously interfered with their military obligations. Despite cleverly designed maneuvers they used to evade military duties,  late night gigs often meant sleeping on the job.
In January 1962, Jimi and Billy formed the King Kasuals. Gary Ferguson (drums) and occasionally Major Charles Washington on Sax. The played at service clubs and occasionally in Clarksville, Tennessee.
101st Airborne Jimi Hendrix Discharged
GED & some military successes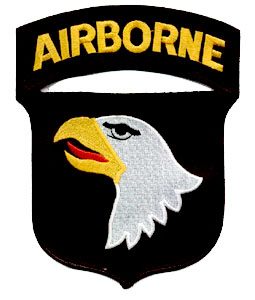 January 11, 1962: a proud, but increasingly homesick Jimi received his 101st Division Screaming Eagle patch.
Because he'd dropped out of high school, Jimi had to take the General Equivalency Diploma exams. He began on the 11th.
January 12: Jimi took the second round of GED.
January 15: the third round.
January 16: the fourth round.
January 22: the fifth and final round of the GED.
January 30: Hendrix is promoted to private first class.
February 7: Jimi has a successful parachute jump.
101st Airborne Jimi Hendrix Discharged
Military reversals
February 16, 1962: Captain Gilbert Batchman requested an evaluation of Hendrix. Part of that report read that, "Individual is unable to conform to military rules and regulations."
The warning that the Army might discharge him did not worry Hendrix.
March 22:  another successful parachute jump.
March 31: Jimi missed bed check after a late night gig. Rank reduced to general private status. His excuse was: "delay due to payday activities and weekend."
April 14: another late gig, another missed bed check. Restricted for 14 days from April 16 to 29.
May 22: a mental hygiene consultation done. Report included that Hendrix "There are no disqualifying mental defects sufficient to warrant disposition through medical channels…"
May 23: Hendrix missed bed-check. Again restricted. May 24 – June 6. That same day, Pvt. James Mattox, a fellow soldier, filed a report on Hendrix alleging dereliction of duties.
May 24: Jimi's platoon Sgt James C Speers filed a report which included: He has no interest whatsoever in the Army.
May 28: Sgt Louis Hoekstra filed a statement against Hendrix for missing bed check and being obsessed with his guitar.
May 31: Capt. John Halbert wrote in a report that, "The individual's behavior problems are not amendable to hospitalization and or counseling. Unit punishment has no effect…"
101st Airborne Jimi Hendrix Discharged
Discharged
June 1: supply officer Lyndon Williams filed a report against Hendrix for lack of interest and inability to concentrate.
June 2: Sgt William Bowman filed a report against Hendrix for sleeping on duty, masturbating in the latrine, and owning money for a laundry bill.
June 27: Jimi received his general discharge certificate. The reason given was "unsuitability–under honorable conditions."
June 29: the honorable discharge approved.
101st Airborne Jimi Hendrix Discharged
Gone
July 2: Jimi left Fort Campbell with $400 in his pocket. He decided to go to Clarksville, TN and visit the Pink Poodle, a place he and Billy Cox had played.
He bought drinks for himself and others and enjoyed himself.  He rented a room nearby and started to work odd jobs.
October 18: Billy Cox was discharged and joined Hendrix in Clarksville.
November 13: Hendrix meets guitarist Larry Lee.
101st Airborne Jimi Hendrix Discharged
2,470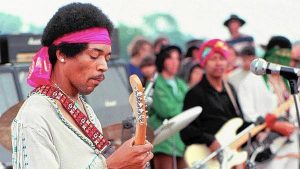 2,470 days later Hendrix, Cox, and Lee played together at the Woodstock Music and Art Fair.
101st Airborne Jimi Hendrix Discharged