May 4 Peace Love Art Activism
BLACK HISTORY
Ida B. Wells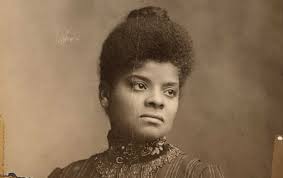 May 4, 1884:  Wells, an African-American native of Holly Springs, Miss., refused to give up her seat on a train, only to be dragged off by white men. After a lynch mob killed two of her friends, she started a crusade against lynching and was forced to flee Memphis. She later helped co-found the NAACP. (NYT obituary) (see March 17, 1886; Wells, see March 9, 1892)
MARTIN LUTHER KING, JR
May 4, 1960: police arrested King for driving without a Georgia license (he had one from Alabama and lived in Georgia at the time.) (BH, see May 6; MLK, see Oct 19)
Freedom Riders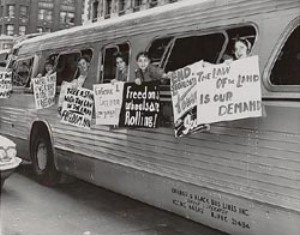 May 4, 1961: Freedom Ride with two buses began from Washington D.C. to New Orleans to test Boynton v Virginia. Organized by the Congress of Racial Equality (CORE, founded on March 9, 1942) and its director, James Farmer, the Freedom Ride began to challenge racial segregation in interstate bus travel in the deep south. The Freedom Ride was one of the most dramatic events of the civil rights movement, generating headlines around the country and around the world. Thirteen people boarded buses in Washington, D.C., planning to travel through the south (including Alabama and Mississippi) and reach New Orleans on May 17th, the anniversary of Brown v. Board of Education. The Ride was marked by violence and assaults of individual Freedom Riders (see particularly May 14, 1961). (see May 9)
George Whitmore, Jr
May 4, 1965: DA Frank Hogan formally dismissed the Wylie-Hoffert indictment pending against Whitmore. (see Whitmore for expanded story)
"Free Huey"
May 4, 1969: "Free Huey" [Huey Newton] rallies were held in 20 major cities at U.S. federal district courts. (BH, see May 10, Panthers, see Aug 16)
Rodney King
May 4, 1992: Los Angeles Mayor Tom Bradley lifted the emergency dawn-to-dusk curfew acknowledging the official end of the riots, but scattered violence continued for several days and the city maintained a military presence for weeks. The riots resulted in approximately 58 deaths, more than 3000 buildings destroyed, and upwards of $1 billion in property damage. (BH, see May 9; RR, see May 28, 1993)
May 4

Peace Love Art Activism
US Labor History
Haymarket Riot


May 4, 1886: a labor demonstration for an eight-hour workday at Haymarket Square in Chicago turned into a riot when a bomb exploded leaving more than 100 wounded and 8 police officers dead. After Chicago authorities arrested and detained nearly every anarchist and socialist in town, eight men, who were either speakers in or organizers of the protest, were charged with murder. (Illinois Labor History Society article) (Anarchism, see Aug 20; LH, see Sept 23)
May 4

Peace Love Art Activism
Marijuana
Marihuana Tax Act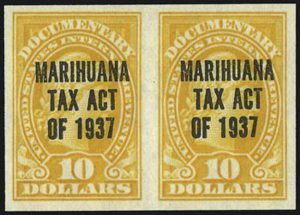 May 4, 1937: the American Medical Association opposed the proposed Marihuana Tax Act and supported research on medical cannabis The Committee on Ways and Means had held hearings on the proposed taxation of marijuana between 27 April and 4 May 1937. The last witness to be heard was Dr. William C. Woodward, legislative counsel of the American Medical Association (AMA). He announced his opposition to the bill and sought to dispel any impression that either the AMA or enlightened medical opinion sponsored this legislation. Marijuana, he argued, was largely an unknown quantity, but might have important uses in medicine and psychology. He stated: "There is nothing in the medicinal use of Cannabis that has any relation to Cannabis addiction. I use the word 'Cannabis' in preference to the word 'marijuana', because Cannabis is the correct term for describing the plant and its products. The term 'marijuana' is a mongrel word that has crept into this country over the Mexican border and has no general meaning, except as it relates to the use of Cannabis preparations for smoking..To say, however, as has been proposed here, that the use of the drug should be prevented by a prohibitive tax, loses sight of the fact that future investigation may show that there are substantial medical uses for Cannabis." (Leafly dot com article on Act) (see Aug 2)
May 4

Peace Love Art Activism
FREE SPEECH
May 4, 1961: the State Supreme Court upheld NYC's ban against folk singing in Washington Square Park. (see Ban for expanded story)
May 4

Peace Love Art Activism
Vietnam
National Liberation Front
May 4, 1961: at a press conference, Secretary of State Dean Rusk reported that Viet Cong (aka, National Liberation Front) forces had grown to 12,000 men and that they had killed or kidnapped more than 3,000 persons in 1960. While declaring that the United States would supply South Vietnam with any possible help, he refused to say whether the United States would intervene militarily. (see May 11)
Kent State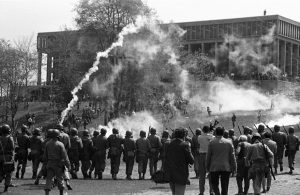 May 4, 1970: at Kent State University, national guardsmen ordered a noontime rally of some 2,000 students to disperse. The guardsmen fired tear gas and charged the crowd. A number of guardsmen fired their rifles at the students for 13 seconds, killing four and wounding from 9 to 11 others. (Kent State University article) (see May 6)
May 4

Peace Love Art Activism
May 4 Music et al
Andy Williams
May 4 – August 30, 1963 – Andy Williams's Days of Wine and Roses is the Billboard #1 album. 
May 4

Peace Love Art Activism
Feminism
No-fault divorce
May 4, 1969: California became the first state to adopt the no-fault divorce law, which enabled either party to terminate a marriage without cause. (legal zoom dot com article) (see Dec 15)
Women's Health
May 4, 2018: Iowa Gov. Kim Reynolds signed one of the country's most restrictive abortion bills into law : the so-called "heartbeat" legislation banned abortions once a fetal heartbeat had been detected, at about six weeks of pregnancy. Exceptions were made in cases of rape, incest or medical emergency. (see May 17)
May 4

Peace Love Art Activism
SEPARATION OF CHURCH AND STATE
Walz v. Tax Commissioner the Supreme Court
May 4, 1970: in Walz v. Tax Commissioner the Supreme Court rejected the argument that tax exemptions for churches violate the Establishment Clause of the First Amendment. The Court held that tax exemptions were granted to a broad range of non-profit organizations and that the exemption involved a minimal involvement with religion.
Justice William O. Douglas dissented, arguing that the tax exemption violated the Establishment Clause."A tax exemption is a subsidy. Is my Brother [Justice William J.] Brennan correct in saying that we would hold that state or federal grants to churches, say, to construct the edifice itself would be unconstitutional? What is the difference between that kind of subsidy and the present subsidy?" (see January 7, 1974)
May 4

Peace Love Art Activism
Falklands War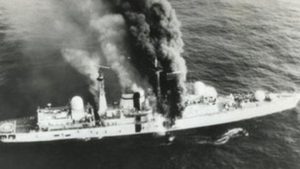 May 4, 1982: an Exocet missile hit the HMS Sheffield. The ship burned out of control; 20 sailors killed; it sank on May 10. (see May 19)
May 4

Peace Love Art Activism
Iran–Contra Affair
Lt. Col. Oliver North
May 4, 1989: Lt. Col. Oliver North, staff member with the National Security Council under President Ronald Reagan, was convicted on this day on three counts for crimes associated with the Iran-Contra scandal. In fact, the Iran-Contra affair was based on North's "neat idea" of secretly and illegally selling arms to Iran and then using the profits from the sales to secretly and illegally providing funds to the anti-Communist Contras in Nicaragua through the CIA. North was originally indicted on 16 counts of criminal conduct for his actions during the scandal; on this day, he was convicted of accepting a gratuity, obstructing a Congressional investigation, and ordering the destruction of government documents (see, for example, his infamous "shredding party" on November 21, 1986). His convictions were subsequently overturned on a technicality. For his defiant testimony before Congress on July 7, 1987, in which he belligerently refused to apologize for his illegal actions, he immediately became a hero among conservatives. (see April 7, 1990)
May 4

Peace Love Art Activism
DEATH PENALTY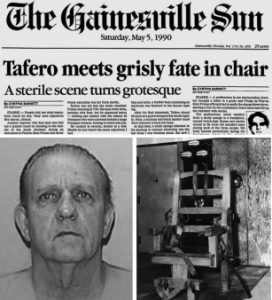 May 4, 1990: Florida executed Jesse Tafero despite three electric chair malfunctions which caused flames to leap from his head. Tafero's death sparked a new debate on humane methods of execution. Several states ceased use of the electric chair and adopted lethal injection as their means of capital punishment. (see April 21, 1992)
May 4

Peace Love Art Activism
Dissolution of the USSR
Latvia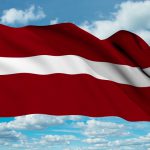 May 4, 1990:  Latvia declared independence from the Soviet Union. (Dissoulution, see Aug 30, ID, see April 9, 1991)
May 4

Peace Love Art Activism
TERRORISM
World Trade Center
May 4, 2006: a federal judge sentenced Zacarias Moussaoui to life in prison for his role in the 9/11 terrorist attacks. (Terror, see April 7, 2007; WTC, see January 22, 2008).
Adam W. Purinton
May 4, 2018: Judge J. Charles Droege of Johnson County District Court sentenced Adam W. Purinton [fatally shot an Indian-born engineer after angrily confronting him about his immigration status at a bar on February 22, 2017] to life in prison.
Purinton pleaded guilty in March [March 6]to first-degree murder and attempted first-degree murder after witnesses said he yelled "Get out of my country!" before firing the shots that killed the engineer, Srinivas Kuchibhotla, and wounded two others.
In addition to the life sentence, with no possibility of parole for 50 years, Judge Droege sentenced Purinton to nearly 14 years in prison for each of two counts of attempted premeditated first-degree murder. (Purinton also faces hate crime and firearm charges in federal court.) (see June 27)
May 4

Peace Love Art Activism
LGBTQ
King v. New Jersey
May 4, 2015: the US Supreme Court left intact New Jersey's ban on counseling intended to change the sexual orientation of gay children.
The court declined to hear a challenge to the law, meaning that a September ruling by the 3rd U.S. Circuit Court of Appeals upholding the ban was the final word on the matter. The appeals court said the ban, which Republican Governor Chris Christie signed into law in August 2013, did not violate the free speech or religious rights of counselors offering "gay conversion therapy" to convert homosexual minors into heterosexuals. (see May 21)
May 4

Peace Love Art Activism
Affordable Care Act
May 4, 2017: the House of Representatives narrowly approved legislation to repeal and replace major parts of the Affordable Care Act, as Republicans recovered from their earlier failures and moved a step closer to delivering on their promise to reshape American health care without mandated insurance coverage.
The vote, 217 to 213, held on President Trump's 105th day in office, was a significant step on what could be a long legislative road. Twenty Republicans bolted from their leadership to vote no. But the win kept alive the party's dream of unwinding President Barack Obama's signature domestic achievement.
The House measure faced uncertainty in the Senate, where a handful of Republican senators immediately rejected it, signaling that they would start work on a new version of the bill virtually from scratch. (Reuters articlej) (see "In June")
May 4

Peace Love Art Activism
Immigration History
May 4, 2018: the Department of Homeland Security (DHS) announced the end of Temporary Protected Status (TPS) for 57,000 Honduran citizens in the United States.
Homeland Security Secretary Kirstjen Nielsen gave them until January 2020 — the maximum 18-month period — to return to Honduras or seek different immigration status.
The Hondurans protected by TPS had been in the United States at least since Hurricane Mitch hit the country in 1998. (see May 7)
May 4

Peace Love Art Activism
Please follow and like us: