July 18 Peace Love Art Activism
Immigration History
President Chester Arthur
July 18, 1884: President Chester Arthur issued a proclamation that granted him and the federal government the power to quarantine persons entering the United States through its ports of entry to avoid the spread of "pestilence." Although the proclamation used the word pestilence several times, it did not mention the specific name of the dreaded disease from which Arthur was trying to protect the nation: tuberculosis. (Politico article) (see February 26, 1885)
Maria Palacios
July 18, 2018: Maria Palacios, 28,  was born in Mexico and moved to Georgia as a child and became an American citizen in June 2017. She wanted to run for the Georgia State House of Representatives.
Palacios was thrown off the ballot in May, first by an administrative law judge, then by the Georgia secretary of state, Brian Kemp.
On this date, Palacios hit another roadblock in an Atlanta courtroom when a Superior Court judge agreed with Kemp that she was ineligible to appear on the November ballot as the Democratic candidate in the 29th District. (see July 19)
July 18

Peace Love Art Activism
US Labor History
July 18, 1913: the Paterson, NJ ribbon weavers voted to abandon the general strike and seek a shop-by-shop settlement. The strike dwindles as silk workers gradually return to work. (Paterson Great Falls article) (see Aug 3)
July 18

Peace Love Art Activism
Black History
Maceo Snipes lynched
July 18, 1946: a white mob shot and killed Maceo Snipes, a 37-year-old Black veteran, at his home in Butler, Georgia. A day earlier, Mr. Snipes had exercised his Constitutional right to vote in the Georgia Democratic Primary, becoming the only Black man to vote in the election in Taylor County. For this he was targeted and lynched.
Snipes had served in the U.S. Army for two and a half years during World War II and, after receiving an honorable discharge, had returned home to Taylor County, Georgia, to work as a sharecropper with his mother. Mr. Snipes's family later recalled that he had received threats from the Ku Klux Klan in the days leading up to the election, but he still bravely went to vote in the gubernatorial primary on July 17, 1946.
When local authorities investigated Snipes's shooting, Edward Williamson admitted to killing him, but claimed Mr. Snipes had pulled a knife on him when he went to the Snipes home to collect a debt. A member of a prominent white family in Taylor County, Mr. Williamson's story was believed at face value despite contrary assertions in Mr. Snipes's deathbed statement and his mother's witness testimony. The coroner's jury ultimately ruled that the shooting had been in "self-defense," and no one was ever held accountable for Mr. Snipes's death.  [EJI article] (next BH & Lynching, see July 25)or see AL4 for expanded chronology)
Harlem Revolt
July 18, 1964: during the day, 4000 people gathered at organized demonstrations in Harlem and Brooklyn calling for the immediate prosecution and dismissal of the Lieutenant Gilligan as well as the resignation of the Police Commissioner Michael Murphy.
At 9.30pm that night, protestors marched on Harlem's 28th Police Precinct, but were met by a wall of 'tactical police', who pushed the demonstrators back from the building. Eventually the police charged the main group of protesters, sparking violent retaliation from the crowd. The crowd began to riot. The authorities closed 125th street between Third and Eight Avenue but this did not stop the trouble spreading as hundreds of people fought with police.
Civil unrest lasted for more than five days with trouble spreading into Bedford-Stuyvesant, Brooklyn. More than 6,000 police officers were deployed to quell the disorder. There were many violent incidents between police and residents. Stores were looted, people were beaten, and cars and buildings were set alight. (Black Past article) (BH, see July 24; RR, see Aug 2; Gilligan, see Sept 1)
Steve Reich Come Out
Steve Reich wrote Come Out (1966) an avant-garde piece dealing with riots. Come Out premiered at a benefit concert for the retrial of the "Harlem Six," a group of black youths charged with committing a murder during the riots. The voice of Daniel Hamm, a 19-year-old member of the Harlem Six–five of whom, including Hamm, were later acquitted–is first heard clearly saying, "I wanted to come out and show them." The phrase "Come out and show them" is then transformed through phasing to become an evolving series of rhythms, timbres and pitches.  (Pitchefork article)
Willie Brewster
July 18, 1965: Willie Brewster was on his way home from work in Anniston, Ala., when he was shot by white men. The men belonged to the National States Rights Party, a violent neo-Nazi group whose members had been involved in church bombings and killings of African Americans. Brewster died four days later. Damon Strange, one of the men, will be convicted and sentenced to ten years in jail. (Anniston Star article) (see Aug 6)
Hough Riots
July 18, 1966: The Hough Riots were race revolts in the predominantly African American community of Hough in Cleveland, Ohio that took place over a six-night period from July 18 to July 23, 1966. During the riots, four African Americans were killed and 30 people were critically injured. In addition, there were 275 arrests, while more than 240 fires were reported. (Cleveland Scenes photos) (BH, see July 30; RR, see Aug 7)
Willie Reed
July 18, 2013: Willie Reed, who had changed his name to Willie Louis after the murder trial of Emmett Till and had moved to Chicago, died. Louis, one of the last living witnesses for the prosecution in the Till case, died in Oak Lawn, Ill., a Chicago suburb. He was 76. (BH, see July 19; see Emmett for expanded story)
Samuel DuBose
July 18, 2017: Hamilton County prosecutor Joe Deters said he was dropping the case against Ray Tensing, as two previous juries couldn't reach a unanimous agreement on murder and voluntary manslaughter charges against the former University of Cincinnati officer who had shot and killed Samuel DuBose. (Washington Post article) (see Aug 2)
Laquan McDonald
July 18, 2019: the Chicago Police Board voted unanimously to fire Officers Ricardo Viramontes, Janet Mondragon, and Sgt. Stephen Franko for their roles in their alleged cover-up of the murder of Laquan McDonald by CPD Officer Jason Van Dyke.
According to the board, all three officers made false statements, among other violations of department rules, in an attempt to have the shooting of McDonald by Van Dyke deemed as justified.
The Board also fired Officer Daphne Sebastian
Sgt. Franko was charged with violating five different rules and regulations of the Chicago Police Department, including taking action to "impede the department's efforts to achieve its policy and goals" and "making a false report, written or oral." (next B & S, see Aug 18; LM, see Oct 14)
July 18

Peace Love Art Activism
Miles Davis
July 18, 1960: Miles Davis releases "Sketches of Spain" album.
Brenda Lee
July 18 – Aug 7, 1960: "I'm Sorry" by 15-year-old Brenda Lee #1 Billboard Hot 100. According to the Billboard Book of Number One Hits by Fred Bronson, Lee recorded the song early in 1960 but her label, Decca Records, held it from release for several months out of concern that a 15-year-old girl was not mature enough to sing about unrequited love. (see Sept 19 – Sept 25)
Four Seasons
July 18 – 31, 1964: "Rag Doll" by the Four Seasons #1 on the Billboard Hot 100, their last #1 until March 1976 with "December, 1963 (Oh, What a Night)." Frankie Valli will have a #1 hit in August 1978 with Grease – his last #1.
The Road to Bethel
July 18, 1969: before their appointment with Max Yasgur,  Michael Lang and Ticia Bernuth explored Bethel area for another festival location.
Serendipitously, following Happy Road  they "discover" the site.
In the afternoon Lang, Mel Lawrence, Elliot Tieber, and Morris Abraham met with Yasgur. The property he initially offered (across from his home?) was far too flat. He offered another site which turns out to be the same spot Lang had seen that morning. (see Road for expanded story)
July 18

Peace Love Art Activism
Vietnam
Horst Faas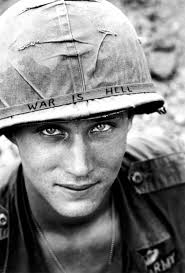 July 18, 1965: Horst Faas photographed  Larry Wayne Chaffina wearing a hand-lettered "War Is Hell" slogan on his helmet during the Vietnam War. Chaffina was with the 173rd Airborne Brigade battalion on defense duty at Phuoc Vinh airstrip in South Vietnam. (see July 21)
WAR POWERS ACT
July 18, 1973: the House of Representatives approved the War Powers Act by a vote of 244 – 170. (Law Library article) (see July 20)
July 18

Peace Love Art Activism
Watergate
July 18, 1973: Nixon reportedly ordered the White House taping system disconnected. (see Watergate for expanded story)
July 18

Peace Love Art Activism
AIDS/Ryan White
July 18, 1986: Indiana Court of Appeals declined to hear any further appeals in the White case. (see White for expanded story)
July 18

Peace Love Art Activism
Nuclear/Chemical News
July 18, 1989: the United States and the Soviet Union reached agreement on key elements of a treaty banning chemical weapons, including a timetable for destruction of such arms and procedures for inspecting chemical factories.
The recommendations of the two governments would be submitted to the 40-nation Conference on Disarmament in Geneva. The agreement was significant because the Soviet Union and the United States have by far the biggest arsenals of chemical weapons.
A State Department official said that the two sides had agreed in principle on "a mathematical formula" prescribing the amounts and types of chemical weapons to be destroyed over a 10-year period. [NYT article] (next N/C N, see June 1, 1990; chemical weapons destruction, see July 6, 2023)
Women's Health
July 18, 2005: Eric Rudolph officially sentenced to two consecutive life terms without parole for the 1998 murder of a police officer. (DoJ article) (see January 31, 2006)
July 18

Peace Love Art Activism
LGBTQ
July 18, 2014/Oklahoma
A federal appeals court in Denver struck down a second state ban on same-sex marriage, ruling that Oklahoma — like Utah before it – cannot prohibit gays and lesbians from marrying. The decision by a three-judge panel in the 10-year-old lawsuit will likely give the Supreme Court a choice: It can use either Utah or Oklahoma as its foil for judging the constitutionality of all such bans, or it can wait for more cases headed its way from Virginia and elsewhere.
The U.S. Court of Appeals for the 10th Circuit also has jurisdiction over Colorado, Kansas and Wyoming, as well as New Mexico, where same-sex couples already can marry. Its precedent applies to all those states, but the court blocked its ruling from taking effect while Oklahoma considers an appeal.
As was the case with Utah's appeal, the panel split 2-1, with Judges Carlos Lucero and Jerome Holmes voting to strike down the ban and Judge Paul Kelly dissenting. "Oklahoma's ban on same-sex marriage sweeps too broadly in that it denies a fundamental right to all same-sex couples who seek to marry or to have their marriages recognized regardless of their child-rearing ambitions," Lucero, an appointee of President Bill Clinton, wrote. "As with opposite-sex couples, members of same-sex couples have a constitutional right to choose against procreation."
July 18, 2014/Colorado
Colorado's Supreme Court ordered an end to gay marriages while the state's ban against the unions remains in place. The state's high court ordered Denver's clerk to stop issuing marriage licenses to same-sex couples. It responded to an appeal from Attorney General John Suthers who had been unable to persuade lower courts to stop clerks in Boulder and Denver from distributing the documents. (see July 21)
July 18

Peace Love Art Activism