July 25 Peace Love Art Activism
Vietnam
July 25, 1941:  the U.S froze Japanese assets, imposed an embargo, and terminated the export of petroleum to Japan when Japanese war- and troopships were near Cam Ranh Bay in Vietnam. It was an economic blow to Japan. (famous daily dot com article) (see Dec 8)
July 25 Peace Love Art Activism
Nuclear/Chemical News
July 25, 1946:  the U.S. detonated a 40 kiloton atomic bomb at a depth of 27 meters below the ocean surface, 3.5 miles from the Bikini Atoll in the Pacific. It was the first underwater test of the device. (2002 Guardian article) (see Aug 1)
July 25 Peace Love Art Activism
BLACK HISTORY
Lynching At Moore's Ford Bridge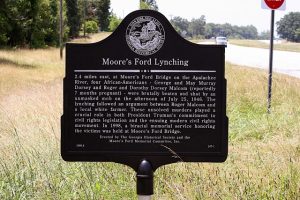 July 25, 1946: the lynching of two married African-American couples, known in some circles as the "Lynching At Moore's Ford Bridge," took place in northern Georgia. An angry mob of white men attacked the couples, with one of the wives seven months pregnant and a man in the group a World War II Army veteran. George Dorsey, the veteran who had been back in the States just nine months after serving in the Pacific, and his wife, Mae, worked as sharecroppers. Roger and Dorothy Malcolm also worked on the farm with the Dorseys and were expecting a child.
The FBI was sent to the town of Monroe, but the investigation yielded little as no one stepped forward to offer assistance or testimony. (2017 NC News article on re-enactment) (next BH, see Aug 10; next Lynching, see January 3, 1947; for expanded chronology of lynching, see also AL4)
The Greensboro Four
July 25, 1960: F.W. Woolworth employees Charles Bess, Mattie Long, Susie Morrison and Jamie Robinson were the first African-Americans to eat at the lunch counter. The headline of The Greensboro Record read "Lunch Counters Integrated Here". The Kress counter opened to all on the same day. (see Greensboro for expanded story)
Albany Movement
July 25, 1962: Martin Luther King Jr. canceled plans to lead a mass demonstration and declared a day of penance for the previous night's outbreak of violence. (see Albany for expanded story)
Medgar Evers
July 25, 1963: Byron de la Beckwith entered a state mental institution for court-ordered mental tests. (BH & Evers, see Aug 10) 
George Whitmore, Jr
July 25, 1968: The Appellate Division held George Whitmore, Jr.'s latest appeal in abeyance pending a hearing before Justice Julius Helf on the validity of the in-court identification by Elba Borrero in view of the fact that her initial identification of him was at a one-man show-up through a peephole. (see Whitmore for expanded story)
Tuskegee syphilis experiment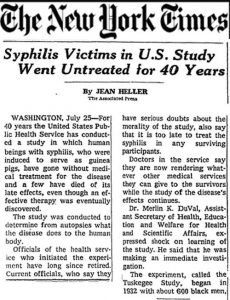 July 25, 1972: a story in The New York Times exposed the notorious Tuskegee syphilis experiment, which has been called "arguably the most infamous biomedical research project in U. S. history." Peter Buxtun, a Public Health Service investigator, had leaked the story to the Times. The experiment, which lasted from 1932 to 1972, studied the progress of untreated syphilis in poor people. U.S. Public Health Service used 600 poor African-Americans, 399 of whom already had contracted syphilis and were offered, in exchange, free health care. They were never told they had syphilis and were never treated, even though treatments existed with the development of penicillin in the 1940s.
Exposure of the experiment was one of several events leading to federal regulations for the protection of human subjects. The Belmont Report (see September 30, 1978) is a summary of ethical principles and guidelines for research involving humans. On May 16, 1997, President Bill Clinton held a White House ceremony in which he apologized to the surviving participants in the experiment whom he had invited to attend. (CDC  dot gov timeline) (Tuskegee, see May 16, 1997; BH, see Aug 20)
School Desegregation
July 25, 1974: in Milliken v. Bradley the US Supreme Court blocked metropolitan-wide desegregation plans as a means to desegregate urban schools with high minority populations. As a result, Brown will not have a substantial impact on many racially isolated urban districts. (Oyez article) (BH, see Oct 30; SD, see Sept 12)
Dee/Moore Murders
July 25, 2006: a federal court granted Charles Edwards immunity from prosecution. (next BH, see July 27; next D/M, see January 24, 2007)
Timothy Coggins
July 25, 2017: investigators began re-examining the case of Timothy Coggins (see October 9, 1983) after receiving new information in June, Spalding County Sheriff Darrell Dix said his office has been working with the Georgia Bureau of Investigation and the Griffin Judicial Circuit District Attorney's Office to re-interview old witnesses and re-examine old evidence.
"We have been in contact with a representative from Coggins' family and they have been briefed on where we are at in the investigation," Dix said. "Unfortunately, both of his parents are deceased, and we wish we would have been able to give them closure before they passed away."
The initial investigation in 1983 hit a snag when those suspected of being involved in the homicide threatened and intimidated potential witnesses, Dix said. (CNN article) (BH, see Sept 15; Coggins, see Oct 15)
Emmett Till
July 25, 2019: the University of Mississippi suspended three students from their fraternity house. They also faced a possible investigation by the Department of Justice after posing with guns in front of a bullet-riddled sign honoring slain civil rights icon Emmett Till.
One of the students posted a photo to his private Instagram account in March (2019) showing the trio in front of a roadside plaque commemorating the site where Till's body was recovered from the Tallahatchie River.
The photo, which was obtained by the Mississippi Center for Investigative Reporting and ProPublica, showed an Ole Miss student named Ben LeClere holding a shotgun while standing in front of the bullet-pocked sign. His Kappa Alpha fraternity brother, John Lowe, squatted below the sign. A third fraternity member stood on the other side with an AR-15 semi-automatic rifle. (next BH, see Sept 5; next ET, see Nov 2)
July 25 Peace Love Art Activism
Nixon nominated
July 25 – 28, 1960: in Chicago, the Republicans nominated Vice President Richard M. Nixon for President and Henry Cabot Lodge, Jr. for Vice President. (JFK dot org article)
July 25 Peace Love Art Activism
July 25 Music et al
Hard Day's Night
July 25 – October 30, 1964: A Hard Day's Night soundtrack the Billboard #1 album. Their third of the year. All three albums will occupy a total of 30 weeks during 1964. (see Aug 1)
Bob Dylan
July 25, 1965: Dylan played Newport Folk Festival. Many in audience booed his performance for playing an electric set with an impromptu band made up of Mike Bloomfield (guitar), Al Kooper (organ), Barry Goldberg (piano), Jerome Arnold (bass), and Sam Lay (drums).  (see Aug 28)
Wild Thing
July 25 – August 12, 1966: "Wild Thing" by the Troggs #1 on the Billboard Hot 100.
Road to Bethel/Neil Young
July 25, 1969:  Neil Young joined "Crosby, Stills and Nash" for the first time at a concert at the Fillmore East in New York. (see following)
Road to Bethel/workers
July 25 – 26 (?), 1969: screening process of police who wanted to work festival. Those approved told to report to site on August 14. (see Chronology for expanded story)
Seattle Pop Festival
July 25 – 27, 1969:  The Doors were billed as the headliner for the third day. After The Doors played, Led Zeppelin came on. When the festival was first being put together,Led  Zeppelin was still gaining momentum. According to the sources, Led Zeppelin stole the show. It was the only time The Doors and Led Zeppelin were on the same bill. (see Seattle for expanded story)
Midwest Rock Festival 
July 25 – 29, 1969: total attendance of about 45,000. The scheduled list of bands was even longer than the number that actually played – Jethro Tull, Jeff Beck and the Bob Seger System were scheduled on Sunday, but rain canceled many of that day's performances. (see Midwest for expanded story)
Roots of Rock
July 25, 1984: blues singer Willie Mae "Big Mama" Thornton died in Los Angeles of a heart attack at age 57.  (RoR, see January 23, 1986; see Thorton for more)
July 25 Peace Love Art Activism
Women's Health
Humanae Vitae
July 25, 1968: Pope Paul VI issued Humanae Vitae ("Of Human Life"). Subtitled On the Regulation of Birth, it re-affirmed the traditional teaching of the Catholic Church regarding married love, responsible parenthood, and the continued rejection of most forms of Women's Health (other than "rhythm" method.) The encyclical rejected the majority report on the subject, embracing a minority report maintaining the status quo. (text via Vatican.va) (see March 21, 1969)
In-vitro
July 25, 1978: the first baby conceived by in-vitro fertilization was born in Oldham, England. (2011 NYT article) (see July 2, 1979)
July 25 Peace Love Art Activism
Native Americans
Leonard Peltier
July 25, 1979: Santa Barbara, California. Police reported the capture of Leonard Peltier, the activist, who had escaped from a Federal prison on July 20, Peltier was hiding in a tree. (Colorado Historic article) (see June 30, 1980)
Pope Francis Apologizes
July 25, 2022: Years after a Canadian-government-funded commission issued findings detailing a history of physical and sexual abuse of Indigenous children in the country's Catholic-run residential schools, Pope Francis issued an apology on Canadian soil.
"I am sorry," the pope said, speaking in Maskwacis, Alberta, at the lands of four Cree nations.
"I humbly beg forgiveness for the evil committed by so many Christians against the Indigenous peoples," Francis said near the site of the former Ermineskin Indian Residential School, where ground-penetrating radar has been used to try to locate unmarked graves of students who died while attending the school. (NPR article) [next NA, see Oct 5)
July 25 Peace Love Art Activism
AIDS
July 25, 1983: San Francisco General Hospital  opens the first dedicated AIDS ward in the U.S. It is fully occupied within days. (2011 UCSF article) (see Sept 9)
July 25 Peace Love Art Activism
CLINTON IMPEACHMENT
July 25, 1998: word emerged that Independent Counsel Ken Starr has served President Clinton with a subpoena that calls for his testimony before the Lewinsky grand jury next week. Negotiations are underway on the scope, timing and format of Clinton's testimony. (see Clinton for expanded story)
July 25 Peace Love Art Activism
Immigration History
July 25, 2008: Brandon Piekarsky and Colin Walsh were arrested in the death of Luis Ramirez on July 12. (see Ramirez for expanded story)
July 25 Peace Love Art Activism
Student Rights/Fourth Amendment
July 25, 2009: the US Supreme Court ruled in Safford Unified School District v. Redding that a strip search of a middle school female student violated the Fourth Amendment prohibition of unreasonable searches and seizures. Thirteen-year old Savana Redding had given a classmate four prescription-level pills and some over-the-counter medicine. Based on the suspicion that she had more drugs, school officials searched her, and at one point made her strip down to her underwear, pull out her bra and shake it, and also pull out her underpants and shake them. Officials did not contact her parents prior to the search. School policy prohibited the possession of any prescription drugs on campus without prior school approval. (Oyez article) (next 4th, see March 28, 2012; next SR, see March 10, 2014)
July 25 Peace Love Art Activism
DEATH PENALTY
July 25, 2019: Attorney General William P. Barr said that the federal government would resume executions of death row inmates after a nearly two-decade hiatus, , countering a broad national shift away from the death penalty as public support for capital punishment had dwindled.
The announcement reversed what had been essentially a moratorium on the federal death penalty since 2003. Five men convicted of murdering children will be executed in December and January at the federal penitentiary in Terre Haute, Ind., Barr said, and additional executions will be scheduled later. (next DP, see Nov 6)
July 25 Peace Love Art Activism