1969 Seattle Pop Festival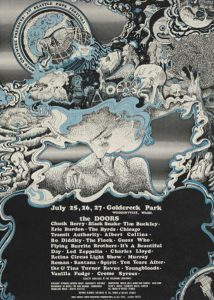 July 25 – 28, 1969
Gold Creek Park, Woodinville, WA
1969 Seattle Pop Festival
1969 Festival #27
Another 1969 summer weekend. Another 1969 festival. The Seattle Pop Festival was the 27th festival of that year (at least as I keep finding new ones to add to the list). And like the event named Woodstock that was not in Woodstock, this Seattle event was not in Seattle.
The lineup was a good one and if 400,000 people had shown up, if it had been in New York, and if Boyd Grafmyre, its organizer, had filmed and recorded it, we'd know even more about it today. Alas those "ifs" are mainly "nots."
1969 Seattle Pop Festival
Boyd Grafmyre
Boyd had attended the Monterey Pop Festival in 1967. It inspired him to do the same in Seattle two summers later. According to Grafmyre, there were 30,000 attendees on first day, 60,000 the second day, and 90.000 on day three.
Friday 25 July

Crome Syrcus
Bo Diddley
Flying Burrito Brothers
Ten Years After
Guess Who

Murray Roman
Albert Collins
Santana
Youngbloods
Tim Buckley
It's a Beautiful Day
Byrds

Saturday 26 July

Floating Bridge
Charles Lloyd
Santana
Albert Collins
The Flock

It's a Beautiful Day
Ike and Tina Turner Revue
Guess Who
Bo Diddley
Lonnie Mack
Chicago Transit Authority
Chuck Berry
Tim Buckley

Sunday 27 July

Blacksnake
Youngbloods
Guess Who
Spirit
Bo Diddley
Vanilla Fudge

The Flock
Albert Collins
Flying Burrito Brothers
Ike and Tina Turner Revue
Charles Lloyd
Led Zeppelin
Lee Michaels
Doors
Chuck Berry
1969 Seattle Pop Festival
Woodstock West (sort of)
1969 Seattle Pop Festival
Multiple performances
Unlike most festivals, you will notice that many of the better known bands played more than one day, such as Bo Diddley (3 days), the Flying Burrito Brothers (2 days), Guess Who (3 days), Albert Collins (3 days), Santana (2 days), Tim Buckley (2 days), Charles Lloyd (2 days), The Flock (2 days), It's a Beautiful Day (2 days), Ike and Tina Turner Revue (2 days), and Chuck Berry (2 days).
It must have been nice to see your favorite bands more than once at the same venue the same weekend.
According to the Invisible Theme Park site, the following were notable characteristics about the Seattle Pop  Festival:
Led Zeppelin and The Doors played together on the same ticket–the only time they did so.
The "Forgotten Woodstock" preceded the real Woodstock by one month.
Chicago Transit Authority eventually became Chicago.  Their first album had been released only 3 months before Seattle Pop Festival.
This is Led Zeppelin on the cusp of fame.  1969 was the year they first came to America.
Crome Syrcus?  They were a psychedelic Pacific Northwest band that broke up in 1973, best known for "Love Cycle" and "Take It Like a Man."
Murray Roman?  He was a stand-up comedian, a bit of a poor man's Lenny Bruce, who had an album called You Can't Beat People Up and Have Them Say I Love You.  He died in 1973 in a car crash on PCH.
The Flying Burrito Brothers was formed a year before Seattle Pop from former Byrds members Gram Parsons and Chris Hillman.
Forgotten Woodstock:  25 acts, 50,000 fans.  The East Coast Woodstock:  32 acts, 500,000 fans.
WMMR Article
On July 25, 2023, WMMR had an article about the event. It pointed out that tickets for the event cost $6 for a day or $15 for the whole weekend.
1969 Seattle Pop Festival
Next 1969 festival: Midwest Rock Festival