1969 Midwest Rock Festival
July 25,  26, &  27, 1969
State Fair Park, Milwaukee, WI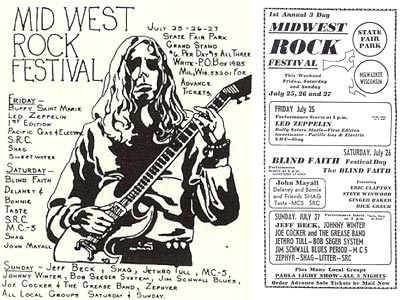 1969 Midwest Rock Festival
1969 Festival #29
The same weekend as the Seattle Pop Festival and coming in at number 26 on my list of 1969 rock festivals, we have the 1969 Midwest Rock Festival. And there will still be three more before getting to the "one" rock festival of that year.
Once again, a stellar line up of bands and performers languishes in history because of its location (not New York, San Francisco, or Los Angeles), smaller number of attendees (not a half-million), not recorded, and not filmed.
There are some recordings, but like so many others outside those of the Woodstock Music and Art Fair, the quality is poor.
1969 Midwest Rock Festival
The scheduled line-up
Friday 25 July

Led Zeppelin

Buffy Sainte Marie

First Edition

Pacific Gas & Electric

SRC

Shag

Saturday 26 July

Blind Faith

Delany and Bonnie and Friends

Sunday 27 July

Jeff Beck

Joe Cocker and the Grease Band

Jethro Tull

Bob Seger System

Jim Schwall Blues Period

MC5

Zephyr

Shag

LItter

SRC
You will notice that some bands played on multiple days. Some were local bands given exposure in a large setting.
1969 Midwest Rock Festival
Notes
Led Zeppelin would leave after their Midwest Pop Festival performance to fly to Seattle for the Seattle Pop Festival and play that Sunday.

Johnny Winter played on Sunday. He was everywhere that summer.

Joe Cocker, Sweetwater, and Winter would all be in Bethel, NY the next month for the Woodstock Music and Art Fair.

Like most festivals, the Midwest Pop Festival  was held in an enclosed area–a racetrack in this case. And the stage was simply a flatbed trailer. 

there was a total attendance of about 45,000 and it cost $15 for the 3 days.

rain cancelled the Sunday performances of Jethro Tull, Jeff Beck and the Bob Seger System.
The djtees site had this description: The coverage of the festival in newspapers mentioned widespread pot-smoking in the stands(well, duh!), and afterward a state legislator from West Allis, Robert Huber, took strong exception to that, saying the weekend "would make Haight-Ashbury blush." Dude, you need to loosen up and get with the programme. For 3 days in the summer of 69 what made Milwaukee famous was not beer but kick ass rock 'n' roll.
There is also a site dedicated to this event with more information. Check it out: Midwest Rock Festival
1969 Midwest Rock Festival
Next 1969 festival: Atlantic City Pop Festival