Beatles Say Legalize Grass
July 24, 1967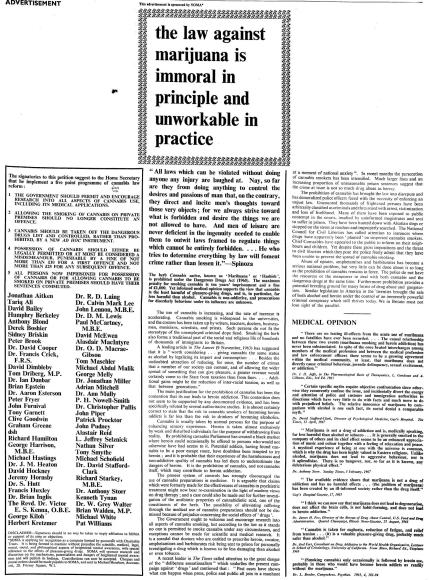 Beatles Say Legalize Grass
Controversy and the Beatles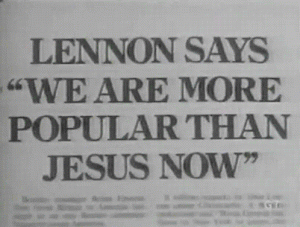 By 1967, the Beatles were used to media scrutiny and controversy. Sometimes the media thrust it upon them; sometimes the Beatles put themselves out front. John's 1965 comment comparing the Beatles' popularity to that of Christ resulted in some radio stations banning their music and some record stores refusing to sell their records.
The original 1966 album cover for "Yesterday and Today" with them sitting in bloody butcher smocks holding pieces of meat and broken baby dolls was so controversial that Capital Records immediately withdrew the album, re-covered it, and only then re-released it.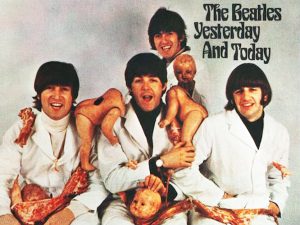 Beatles Say Legalize Grass
John Hopkins
In 1967, most people and their govenments continued to view marijuana as a gateway drug, addictive, and deadly. While research had already suggested that none of those views were accurate, society continued to legislate against its use, sale, and production.
Those familiar with the substance saw it in a different light.
John "Hoppy" Hopkins was a British photographer, journalist, researcher and political activist. He used marijuana and a jury found him guilty of its possession and use. The judge sentenced Hopkins to 9 months in prison.
A "Free Hoppy" movement resulted.  [2015 Guardian obituary]
Beatles Say Legalize Grass
Stephen Abrams
Stephen Irwin Abrams was an American drug policy activist living in the United Kingdom. He led the "Free Hoppy" movement and wrote a full page advertisement that demanded cannabis law reform.
Beatles Say Legalize Grass
Beatles join
Among the dozens of researchers, academics, scientists, and other well-known people, Abrams sought out the Beatles imprimatur. They not only granted the use of their names to the petition, Paul paid for the advertisement in  The Times. Paul did not want it known he had done so, but having such an illustrious person sponsoring such a controversial piece in a major paper meant the secret was poorly kept.
The text's lead sentence read, "The law against marijuana is immoral in principle and unworkable in practice."
It went on to speak to the view of marijuana's danger and dispute those views.
64 signatures appeared.  After each of the Beatles' names, the initials M.B.O. appeared: Member of the Most Excellent Order of the British Empire. Queen Elizabeth had honored them with the award on October 26, 1965.
Click on the following to view the entire text, from the excellent Beatles Bible site.
Beatles Say Legalize Grass
John Lennon, ex-M.B.E
Two years later, on Nov. 25, 1969, John Lennon returned his MBE medal stating, "Your Majesty, I am returning my MBE as a protest against Britain's involvement in the Nigeria-Biafra thing, against our support of America in Vietnam and against 'Cold Turkey' slipping down the charts. With love. John Lennon of Bag"
Likely, many of the same people who had criticized the Queen's honoring John with the award because they felt him unworthy, again criticized Lennon for returning it.
Gosh darn it. The Beatles: damned when they do. Damned when they don't.
Beatles Say Legalize Grass