Controversial Beatles Yesterday Today
Released in the USA on June 20, 1966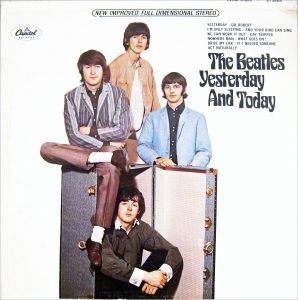 Controversial

Beatles

Yesterday Today
Sort of new
Every once in awhile there would be a new Beatle album. Sort of. Yesterday and Today was a new Beatle album. Sort of.
I was one (of the legions of) American kids who didn't realize that Beatle albums we bought  were different than the Beatle albums UK kids bought. Perhaps the reverse was true as well.
Controversial

Beatles

Yesterday Today
Backlog
The Beatles UK releases typically had 14 songs, not like the 12 on American releases. As a result there was a backlog of Beatles songs that didn't reach American kids on their Beatles albums.
It doesn't take much actuarial thinking to figure out that releasing an album with those backlogged songs and a couple of others made all kinds of business sense. The Beatles themselves did not like the idea of releasing two different versions of their albums. The UK version with 14 songs was the one they wanted. They took time deciding the sequence of songs. By 1965, they designed their albums as a whole, not a collection of single songs.
Controversial

Beatles

Yesterday Today
USA Yesterday and Today
In any case, here's the breakdown of the Beatles Yesterday and Today:
from the UK LP Help!, "Act Naturally" and "Yesterday" 
from the UK LP Rubber Soul, "Nowhere Man" and "What Goes On"  "Drive My Car" and "If I Needed Someone"

the single "Day Tripper"/"We Can Work It Out"

from the not-yet-released UK LP Revolver, the tracks "I'm Only Sleeping", "Doctor Robert", and "And Your Bird Can Sing."
Controversial

Beatles

Yesterday Today
Controversy
And as was often the case the Beatles stepped in some controversy. The original album cover, nowadays known as the "butcher cover" barely saw the light of day.
The photo was part of a shoot by Robert Whitaker. The Beatles were tired posing for typical group shots and Whitaker's idea of putting them in butcher smocks, holding pieces of meat, and broken doll parts seemed a good change of pace.
John Lennon later joked, My original idea for the cover was better–decapitate Paul. [from Anthology]
Controversial

Beatles

Yesterday Today
Backlash
It seemed a good enough idea for Capital Records to print 750,000 copies of the record and send them out. Immediately some critics, radio stations, and fans (lucky enough to get a copy) complained. Insensitive. Gross. Inappropriate.
Keep in mind that in 1966, a band had a toilet removed from its cover!
Capital recalled all. Some covers went to a landfill. Some had the new cover pasted over the old.
Controversial

Beatles

Yesterday Today
Defense
John Lennon and Paul McCartney defended the decision saying that at a time when so many defenseless men, women, and children were dying in Vietnam, such a cover spoke to that senselessness.
George Harrison later said in Anthology: "I thought it was gross, and I also thought it was stupid. Sometimes we all did stupid things, thinking it was cool or hip when it was naïve and dumb, and that was one of them. But again, it was a case of being put in a situation where one is obliged, as part of a unit, to cooperate. So we put on those butchers' uniforms for that picture."  
Bad idea or not, the refurbished album reached #1 on the US Billboard charts by 30 July 1966 and certified gold soon after. It stayed at number one for five weeks.
My Lai Massacre
635 days later was the My Lai Massacre. 1,295 days later Americans could view those pictures.
Controversial

Beatles

Yesterday Today